Cruises
All-You-Can-Drink Packages Gaining Popularity
Several major cruise lines now offer optional all-you-can-drink packages. Party on?

Credit:
Caught off-guard by all the drink charges piling up during your cruise vacation? You might not have to worry about it the next time you set sail. Several major cruise lines have added optional all-you-can-drink packages to some of their sailings.
As reported on Cruise Log, Royal Caribbean will be adding "all-you-can-drink" alcohol packages across its entire 22-ship fleet starting in early 2013.
Royal Caribbean had been testing the concept on a handful of its ships over the past year, and apparently it's been enough of a success to roll out fleet-wide. Celebrity Cruises has offered a similar package since 2010 on all of its ships, and Carnival and Norwegian both recently started testing the concept on a few of their ships.
Do these inclusive alcohol packages save money? Riders that can mow through a half-dozen mojitos every day for a week will probably end up saving some cash. But for more, uh, temperate drinkers, it's a toss-up.
Let's look at the Royal Caribbean packages. The Classic Beverage Package includes beer, house wine by the glass, non-alcoholic cocktails, fountain sodas, and juices for $45 per person per day. The Premium Beverage Package includes all of the above, plus all alcoholic cocktails and frozen drinks for $55 per person per day. Both packages include gratuities and are available to cruisers 21 years and older on trips of seven nights or longer.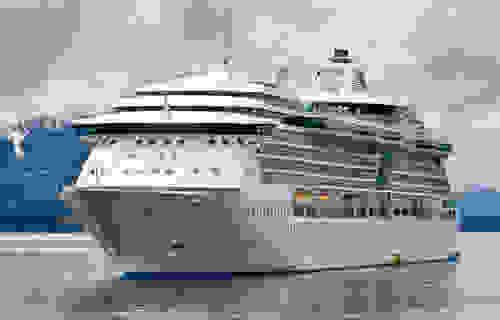 Sounds reasonable. But the package is only available if you buy it for every night of the cruise. Overdo it one night, and you'll pay for it the next day—because, y'know, you'll be hungover, and the compulsory $55 for that day's booze will probably go to waste. Oh well, at least the drink ticket includes ginger ale.
Also, if one rider in a cabin buys the drink package, all riders 21 years and older must buy the package as well—no sneaking drinks. So a two-person party on a seven-night Royal Caribbean cruise will need to plunk down $630 up front for the basic package. (The Carnival, Norwegian, and Celebrity packages are all similarly priced, with similar conditions.)
Before you commit, take a look at the prices on your drinks-of-choice, be honest with yourself about how much you'll be knocking back—you are on vacation, after all—and do the math. Party on?