Whether you first traveled Down Under through the "Mad Max" action movies or escaped through the "Lord of the Rings" fantasies, there's no mystery as to how the exotic landscapes of Australia and New Zealand make up two of the world's most sought-after travel destinations. Many travelers put them on the bucket list and then, considering cost and travel time, eventually lump them into one big vacation. But there's more to see than either country can accommodate in a week or even two—Australia alone is almost the size of the continental United States.
Cruising offers a reasonable option for those who wish to tackle both countries in one big trip. On a typical 14-day cruise, you'll depart out of Australia making the two-day Tasman Sea crossing to visit a series of New Zealand ports, then returning to Australia. Other itineraries depart from Sydney or Melbourne, ending in Auckland (or vice versa). There are a few ships a year that circumnavigate the entire Australian continent, while other variations venture north to Fiji or New Caledonia.
It's easy to add some time on either end of a cruise to explore father afield. Aside from driving on the "wrong" side of the road, touring Australia and New Zealand independently is highly enjoyable.
The good news: With the Australian and New Zealand dollars trading near all-time highs against the U.S. dollar and most other currencies, cruising can be a more affordable way to see these pricey destinations.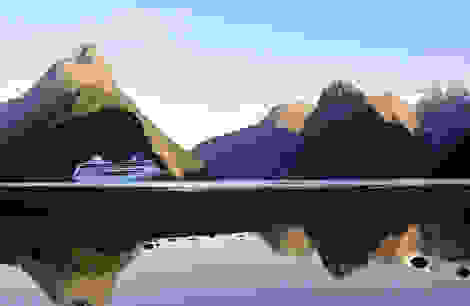 The cruise season Down Under runs September through April, and most of the major cruise companies offer Australia and New Zealand itineraries (major exception: Disney Cruise Line).
Princess has long been the dominant player, with five ships operating out of Australia and New Zealand for the 2016-17 season—two of them cruise here almost year-round. But Royal Caribbean is stepping up this year with five ships, including Ovation of the Seas, the largest cruiser ever to operate Down Under. Holland America will have two ships dedicated to the region for 2016-17, while Celebrity will offer itineraries aboard Celebrity Solstice.
Carnival put a big toe in the water in 2012 when it moved Carnival Spirit Down Under, making Sydney its year-round homeport. The move was successful enough that Carnival Legend also now sails out of Australia for half the year, dividing its time with Alaska itineraries in the American summer.
Upscale operators Crystal, Cunard, Oceania, Regent, Seabourn, Azamara, and Silversea will also have various ships exploring the region this year. Even Norwegian, which has not cruised these waters in recent memory, will be operating three cruises on Norwegian Star in January-February 2017.
As USA Today's cruise editor Gene Sloan explained, "The region appears well on its way to joining the Caribbean, Europe and Alaska as a hot spot for cruising."
And this enthusiasm has led to a positive change. In the past, cruisers in search of the newest and best ships wouldn't usually find them in Australia and New Zealand. This season, Royal Caribbean and Seabourn are each bringing their newest ships to the region, Ovation of the Seas and Seabourn Encore—a real vote of confidence in the burgeoning cruise market.
Australia
Top ports in Australia start with Sydney, the city that regularly scales the heights in reader polls of favorite destinations. Perhaps best known for the Sydney Opera House, a daring architectural triumph completed in 1973, the enormous, elegant harbor itself is a big part of the appeal of a cruise visit. But take time to explore the Rocks, the now-trendy historical district once inhabited by Britain's convicts, climb the sweeping Sydney Harbour Bridge, or make the trek to world-famous Bondi Beach, where the swells and surf congregate.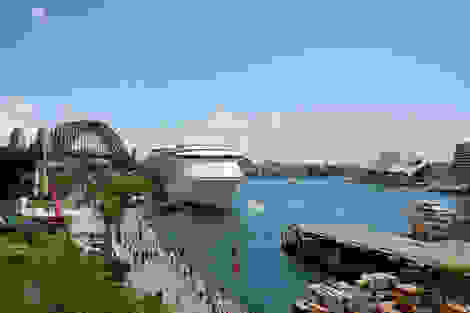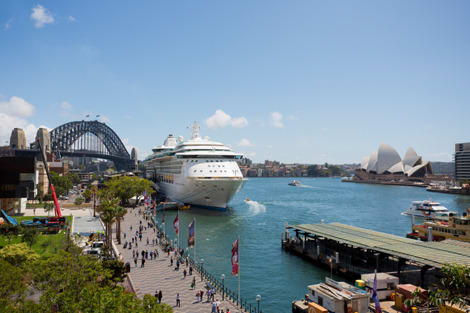 Within Australia, Sydney often competes for favor with Melbourne, the country's second-largest city. Laced with Victorian-era architecture and divided by the Yarra River, Melbourne is worth exploring for shopping districts, a museum-stuffed arts precinct, and the Royal Botanic Gardens, Australia's top horticultural attraction.
Semi-tropical Brisbane is the cosmopolitan capital of Queensland. The 20-acre Alma Park Zoo is a good place to get up close to Australia's native species (for koala cuddling, head to the Lone Pine Koala Sanctuary, a few miles out of town), while brewery tours and river excursions on foot or by ferry are other attractions. Brisbane is the closest most cruise ships get to the Great Barrier Reef, the world's largest coral reef system—the reef itself actually starts another 200-plus miles north, so you'll probably need to see it before or after your cruise.
The island of Tasmania is just a one-day sail from Sydney or Melbourne, so a number of cruises take in this unusual outpost. Ships usually dock in Hobart, Tasmania's compact main city and Australia's second oldest (like Sydney, it was largely developed by former convicts). Salamanca Place is a collection of warehouses developed during the whaling days, now a collection of restaurants and nightclubs, galleries and shops. If you dock on Saturday, Hobart's weekly open-air market is a find.
Perth, located on the west coast of Australia merits mention. The city is usually included on repositioning cruises coming from Europe or Asia, as well as on itineraries that circumnavigate Australia. Its isolation far from any other cities is both appeal and curse, but Western Australia is booming, thanks to mineral wealth, and Perth is the prime beneficiary. The famous wines of Western Australia can be sampled on a boat cruise to the nearby Swan Valley.
New Zealand
New Zealand is divided into two main islands, and although the North Island is somewhat smaller, three-quarters of the country's population resides here; the South Island is more mountainous, with large swaths of undeveloped land. Virtually all ships swing through Auckland, and although an ill-planned building boom over the last few decades neutered much of the charm from New Zealand's largest city, the setting—pockmarked by small volcanoes overlooking a lacy harbor dotted with lovely islands—is undeniably beautiful. Auckland is also home to the world's largest Polynesian community.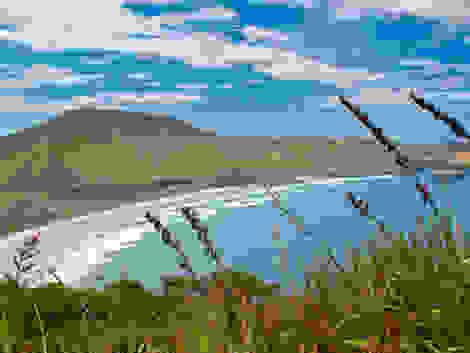 North of Auckland, the Bay of Islands receives a number of cruise calls. This is New Zealand's warmest, most tropical postcard-like setting—150 undeveloped islands that beckon with sailing, kayaking and diving. The Maori connection is notable: It was here in 1840 that the Treaty of Waitangi was signed between Maori chiefs and the British Crown, creating a British colony in the South Pacific.
Located in the Bay of Plenty, Tauranga is worth investigating on its own, but the town is also the gateway to the geothermal wonderland of Rotorua, a 90-minute drive inland. This is another area rich with Maori culture and history, and shore excursions avail commercialized interpretations of Maori traditions, such as concerts and hangi meals. Closer to Tauranga, take a cruise to go swimming with dolphins in their natural environment, or make the trek to the top of Mt. Maunganui.
New Zealand's capital is Wellington, a compact city that overlooks another fabulous harbor. Nicknamed Windy Welly for its tempestuous weather, the city's top attraction is the superb national museum, Te Papa, covering the history, culture and art of New Zealand. Also worth investigating is Zealandia, a wildlife sanctuary nestled into a valley at the edge of the city, and the charming Wellington Zoo that features many of the country's more unique species. Wellington is also home to New Zealand's film industry—it's been dubbed Wellywood—and studios and locations for the "Lord of the Rings" and "Hobbit" films are nearby.
On the South Island, New Zealand's second-largest city Christchurch was severely damaged by the 2011 earthquake and, along with it, its main port. For now, most cruise ships call in delightful Akaroa, a tiny French settlement located about 50 miles from Christchurch. Further south, Dunedin is a surprisingly appealing college town, with rich Victorian architecture, a terrific brewery tour, and fine sightseeing along the Otago Peninsula. The peninsula is loaded with wildlife, including the only mainland royal albatross nesting colony and beaches visited by yellow-eyed penguins.
New Zealand's most iconic image is undoubtedly that of Mitre Peak towering above Milford Sound, and cruise ships actually travel into the dramatic fiord. The trip to get here—by sea, by road, or by air—takes some effort, but Milford Sound is truly one of the wonders of the world.
Updated February 12, 2016 to include ships for the 2016-17 season.
Our editors review and recommend products to help you buy the stuff you need. If you make a purchase by clicking one of our links, we may earn a small share of the revenue. Our picks and opinions are independent from any business incentives.