Cruises
Is Now the Time to Book a Carnival Cruise?
Carnival is suffering from bad PR at the moment. Bargain-hunters are finding big savings for upcoming cruises.

Credit:
You've heard the news about the cruise from hell. You probably know the subsequent unfolding storyline, too: Carnival Cruise Lines has been battered and bruised following a succession of mechanical problems on multiple ships.
So who would want to book a Carnival cruise now?
We will. There's a fire sale going on, so we'd take advantage of a 7-day Alaska cruise departing September 10 on Carnival Miracle. The brochure price—which, admittedly, almost no one ever pays—was originally $2029 for an inside cabin; the per-person rate was discounted to $854 earlier this month, then a week ago dropped an additional 19 percent, to $694. Today the same cabin is $629, down another 10 percent.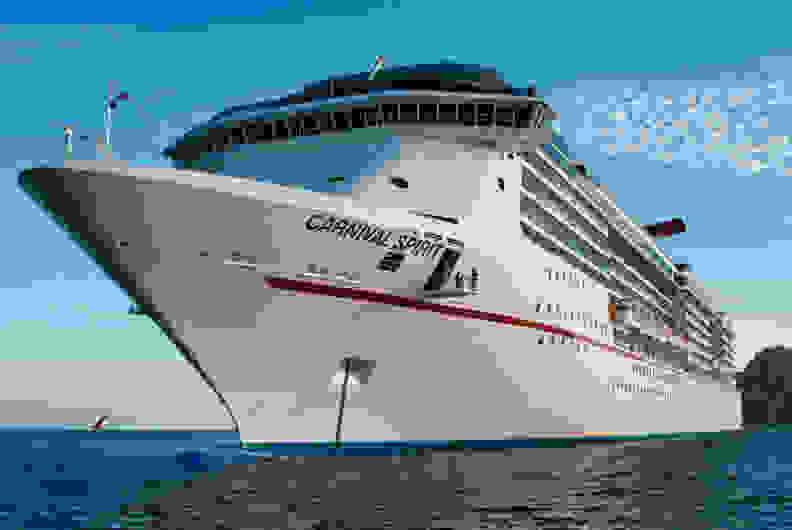 Or we'd grab a balcony cabin on the newly refurbished Carnival Sunshine for a 9-day Mediterranean cruise on August 30. The brochure rate was $3019, but it was priced $1529 less than a week ago, then $1429, followed by a drop to $1054. Today that cabin is priced $989—just $110 per person per day.
Know any resorts in the Med that can deliver a room, meals, entertainment and a daily change of scenery for that price? In summer? We don't.
What Exactly Led Carnival to This Point?
Carnival's troubles are a cruiser's gain. The line's problems should be traced to November 2010, when Carnival Splendor experienced an engine fire off the coast of Baja, California, leaving the ship virtually powerless; it limped back to port four days later. It was a familiar situation this February, when the engine room on Carnival Triumph also suffered a fire in the Gulf of Mexico. It shut down most of the ship's power, leaving 4,229 guests and crew stuck at sea. The Triumph fire had different origins, but after a few guests called home reporting overflowing toilets and urine-soaked carpets, it landed the ship and Carnival as a whole in the media's crosshairs.
So a few weeks later when the Carnival Dream encountered technical issues in St. Maarten, the company made headlines yet again. Passengers had to be flown home, and a subsequent cruise on Dream was canceled to make the necessary repairs. No sooner had charter flights been arranged for Dream passengers than both Carnival Legend and Carnival Elation experienced propulsion and steering issues, respectively, requiring port deviations. Minor problems like these are not that unusual—under normal circumstances they would be ignored in mainstream media outlets—but four seemingly unrelated problems in barely two months left many wondering if Carnival was skimping on maintenance and safety.
Throw in the 2012 Concordia disaster, a ship owned by Carnival's Italian subsidiary Costa Cruises, and Carnival is living in a world of hurt. Although the company reported few cancellations following the Triumph fire, new bookings initially dropped by double-digits. It should be no surprise that deals and incentives for booking a Carnival cruise have started to appear, most of them focused on summer 2013 itineraries.
Should You Be Avoiding a Cruise With Carnival?
We're news junkies, and we're in the cruise business, but even we found the wall-to-wall coverage of the Triumph problems a bit excessive. Certainly the story was newsworthy, and passengers no doubt experienced varying degrees of discomfort. But we thought it telling that more than one passenger disembarked Triumph and likened the experience to an unplanned camping trip (flashlights were one commodity almost everyone wished they had brought aboard).
Carnival has been reasonably generous with refunds and credits to affected passengers—rebates on affected portions of the cruise, refunds on nonrefundable transportation costs, and credits toward future cruises.
But make no mistake: Carnival Cruises must regard this confluence of calamities large and small very seriously. The Carnival Splendor fire alone displaced 47,000 cruise travelers and wound up costing the company $65 million in repairs and lost revenue. Carnival's very future is at stake, and plans are afoot for serious investments into fleet-wide upgrades. These will include redundancy systems to limit the fallout from a loss of power, better fire prevention, detection and suppression, and broadening the scope of hotel services (lighting, flush toilets, etc.) that can be operated while on generator power.
Meanwhile, some of Carnival's normally modest cruise fares have dropped through the floor, with upgrades, pre-paid gratuities, on-board credits, and other incentives piling up. We have one Carnival cruise booked today—no regrets—and as soon as Carnival starts to schedule the behind-the-scenes renovations, we'll be booking more. Life under the microscope can't be very fun for Carnival execs right now—after all, another incident on the scale of the Triumph fiasco might well spell doom for the brand. So we think now is a great time to book a Carnival cruise, and we'll pocket the savings for another sailing in the future.
But we're bringing a flashlight this time—just in case.