Cruises
Southern Caribbean: A Quick Guide for Cruisers
A quick-guide for the sites and activities of the Southern Caribbean region and its seaports.

Credit:
The islands of the southern Caribbean are an exotic mix of multicultural influences. There's Dutch flavor on Aruba, Bonaire and Curacao, while it feels distinctly French on Martinique and Guadeloupe and very British on Barbados and Antigua. Others, such as Grenada and St. Lucia, have their own rich Caribbean culture.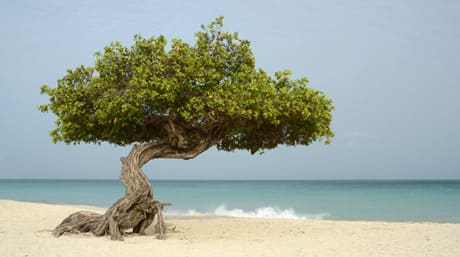 Antigua, known for its beautiful 365 beaches, one for every day of the year as its marketers claim, was once the main Caribbean base for the British Navy. The restored dockyard, now a national park, bears the name of Horatio Nelson, who arrived in 1784. Ferries carry visitors to sister island Barbuda, a nature lover's paradise with quiet stretches of pink-sand beaches.
Riding a restored narrow-gauge railroad, once used to transport sugar can to mills, is a highlight on St. Kitts, which has a bustling open air market near the ship dock. St. Kitts and enchanting nearby Nevis make up a two-island nation, independent from Great Britain since 1983.
Butterfly-shaped Guadeloupe's main city of Pointe-a-Pitre offers tempting shopping in boutiques and outdoor markets, within a short drive of the pretty beaches of Gosier, the still-active volcano of La Soufriere and the national park that surrounds it. Nearby is Dominica, the pristine island known for its stunning rainbows, mountains and rainforests.
Christopher Columbus landed in Martinique in 1502 but the island was claimed by France in 1635 and it remains a region of France. There's French sophistication and cuisine in the harbor city of Fort-de-France. But it's a distinctly Caribbean atmosphere, evident in the warmth of the people, the musical rhythms and spicy creole dishes.
St. Lucia's two landmark Pitons, volcanic ridges that rise 2,600 feet above the ocean, mark it like no other Caribbean island, full of lush rainforests, hot springs, small villages and ringed with awe-inspiring beaches.
St. Vincent and the Grenadines, known for their turquoise lagoons and coral reefs, are some of the Caribbean's less-traveled islands. St. Vincent has one main city, colorful, bustling Kingstown, where it's a short cab ride to hilltop 19th century Fort Charlotte and the Botanical Garden, the western hemisphere's oldest.
Afternoon tea is still a ritual on Barbabos which retains strong British influence. Some of the Caribbean's most breathtaking scenery is found here: rocky cliffs, mountains and large swaths of pink-sand beaches, including Crane Beach with dunes and cliffs and the idyllic stretch between Sandy Land and Payne's Beach.
In Grenada, which suffered severe damage from Hurricane Ivan in 2004, the scent of cinnamon, cloves and nutmeg is in the air. Just south of the charming capital of St. George's is Grand Anse Beach, a two-mile long sandy expanse with water sports and snorkeling.
Port of Spain is the modern and urban capital of Trinidad and Tobago, an island nation once under British rule but whose culture was heavily influenced by Indians, Africans and Chinese. You'll hear calypso music and steel drums and see brightly colored Carnival costumes. Hundreds of species of birds can be seen at Asa Wright Nature Center.
Aruba, Bonaire and Curacao, known as the ABC islands, lie in the most southern part of the Caribbean, just 20 miles from Venezuela. In 1499, the Spanish laid claim to the islands but 200 years later the Dutch captured them and that heritage remains, seen in quaint pastel-colored buildings.
Aruba has the most developed tourism infrastructure of the three with duty-free shops galore, golf courses, casinos and diving outfitters that take visitors to numerous shipwreck sites. Bonaire and Curacao are more laid back and offer all that any Caribbean beach-goer can ask for and more beneath gently swaying palm trees and on soft powdery sand.