Cutlery
Everything you need to know about buying flatware
It's time to replace those old forks and knives.
Credit: CB2
Whether you are purchasing a set of flatware for your new home, or looking for the perfect wedding gift for a friend, flatware is one of the most commonly used items in your household—a high-quality set is an investment that can last you a lifetime.
There are a few things to consider when buying flatware including the material, whether it's stamped or hand-forged (which will affect the weight), and of course, functionality. Here is a helpful guide to use when deciding which flatware set to purchase.
Deciding how many pieces to buy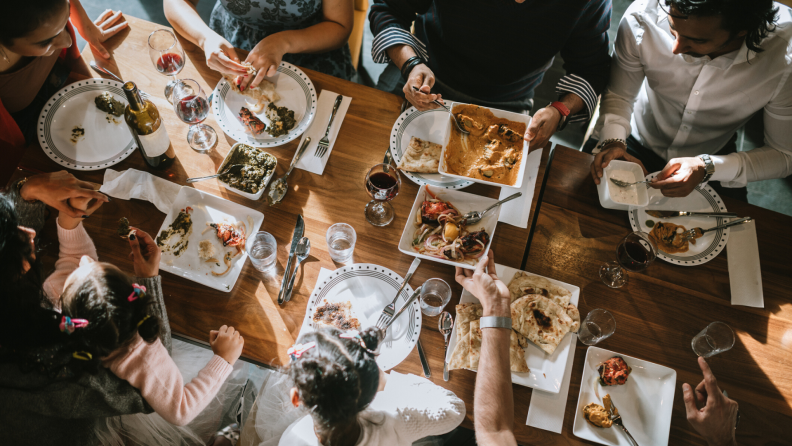 Flatware can be sold as boxed sets or individual pieces, usually called open stock, which is convenient if you need to replace one or two pieces in your set. Deciding how many pieces you should purchase depends on the size of your household.
A good rule of thumb is to have one set of flatware for every dinnerware place setting—12 is a commonly recommended number to have on hand to account for your household and any guests you're entertaining. It's also best to have more flatware than you need in case a few forks and spoons become dirty throughout the evening and need to be replaced.
Most standard boxed sets sold at retailers include five pieces (a salad fork, dinner fork, knife, soup spoon, and teaspoon) and are packaged in five- or 20-piece sets, making them good for one or four place settings, respectively. Serving pieces such as butter knives, cake servers, and pierced spoons are often sold separately.
Choosing the weight of your flatware
Flatware comes in three materials: stainless steel, sterling silver, or silverplated. Stainless steel flatware is most commonly used and is recommended for everyday use. It is made out of both chromium and nickel, which is represented by the two numbers you might find on the package such as: 18/10, 18/8, 18/0.
The first number (18) represents the chromium content, or how much it's resistant to rust and stain, while the second number (10, 8 or 0) represents the percent of nickel. The higher the nickel content, the brighter and shinier the flatware, so if you prefer a matte appearance, look for flatware with the label 18/0.
Some sets like this brushed gold flatware set from CB2 has both a shiny finish and matte handles.
Stainless steel flatware is also made in two ways:
Stamped: Each piece is individually stamped out of a flat piece of stainless steel. Stamped flatware is generally lighter in weight.
Hand-forged: Hand-forged flatware uses a thick slab of stainless steel and heat to cut and form each utensil, which results in heavier-weighted pieces.
Sterling silver, as the name implies, is made out of silver and is generally reserved for more formal settings. Silverplated flatware is made out of metal (i.e. nickel, copper, or zinc) and then coated with a silver finish.
Selecting the type of finish
Selecting a finish is a personal preference. In general, there are two main types of flatware finishes: satin and mirror.
A satin finish, also called matte, is less likely to show fingerprints and creates a more casual appearance.
A mirror finish has more shine than a brushed or matte finish, which gives it a more formal and classic appearance—perfect for dinner parties.
Caring for your flatware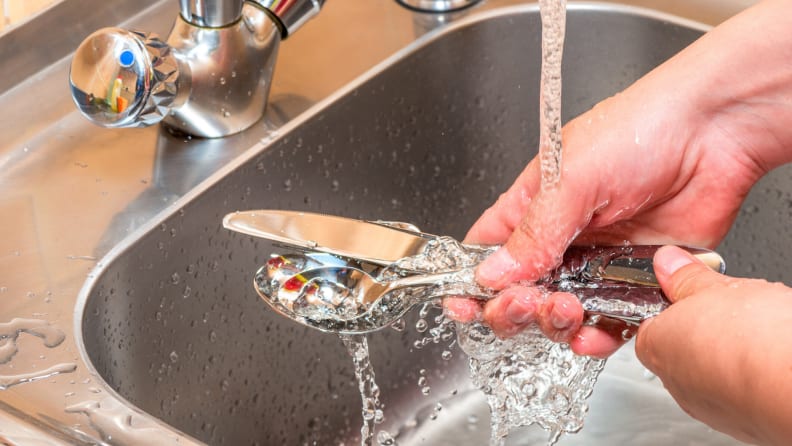 Stainless steel flatware doesn't require a lot of maintenance and, if properly cared for, can last you a long time. Samara Tuchband, vice president of merchandising at Crate & Barrel, suggests buying flatware constructed of high-quality stainless steel, as it's the easiest material to care for.
"Whether you're using the dishwasher or hand washing, dry the flatware as soon as possible to avoid spotting and pitting, especially on the knives," she says. "If using a dishwasher, load the utensils and serving pieces loosely and use a spot-free rinsing agent."
For sterling silver and silverplated flatware, it is best to hand-wash and hand-dry.
The product experts at Reviewed have all your shopping needs covered. Follow Reviewed on Facebook, Twitter, and Instagram for the latest deals, product reviews, and more.
Prices were accurate at the time this article was published but may change over time.