Dishwashers
IKEA Renlig IUD8555DX Dishwasher Review
This affordable panel-ready Ikea lets you camouflage your dishwasher with a cabinet door.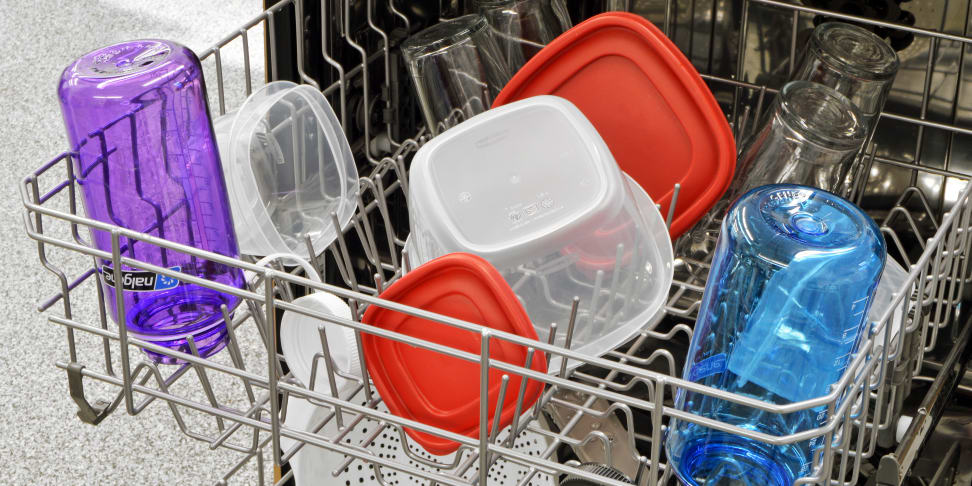 Credit: Reviewed.com / Matthew Zahnzinger
By the Numbers
To boil it down, we'd have to say that the IKEA Renlig IUD8555DX does a fine job. It cleaned adequately, dried dishes well, and was within the range of acceptability in terms of efficiency. There are plenty of dishwashers out there that cost less and clean better, but you're buying this for its panel-ready exterior and 5-year warranty, remember?
For first-time homeowners and renovators on a budget, Swedish giant IKEA is the go-to for contemporary kitchens. In addition to shelves and drawers, Ikea has paired with Whirlpool to build a line of appliances that fit the company's modern kitchens, all backed by an industry-leading five-year warranty.
Starting at $849, the US-built IKEA Renlig IUD8555DX dishwasher is one of the cheapest panel-ready dishwashers on the market. With about 25 different panels to choose from starting at just $10, your exterior options are plentiful.
As with any standard dishwasher, we brought a Renlig into our labs for a week's worth of testing. Our conclusions? If you're only concerned about the cleaning prowess of your dishwasher, give this model a pass. While it did a fine job cleaning dishes during our test regimen, many similarly-priced dishwashers have done better. Despite its aesthetically versatile front, it lacks almost any kind of interior customization and has a somewhat inflexible layout.
If you're set on hiding your dishwasher behind cabinetry, the Renlig is fine—but a few hundred dollars more could net you a significantly better panel-ready machine.
Is it Swedish?
Flexible exterior, inflexible interior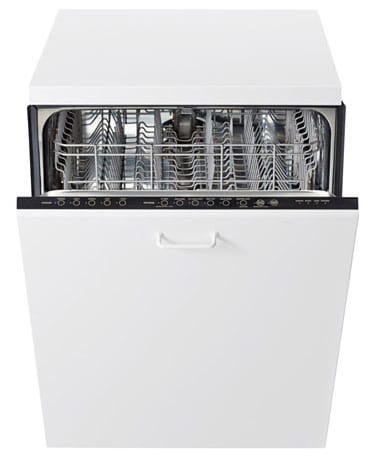 Despite its unique name and presence amidst meatballs and assemble-it-yourself furniture, the Renlig has more in common with Skokie than Scandinavia. While its exterior is capable of fitting European-style custom panels and its 24-inch depth allows for flush installation with Ikea cabinetry, this dishwasher's insides don't hold any surprises. In fact, behind the panel, it's identical to any entry-level stainless interior dishwasher made by Whirlpool.
On the bottom, the tines are mostly fixed. That means there's a limited number of places to put dishes, especially ones of unusual size. The upper rack cannot be adjusted. There is one row of tines that can be lowered to accommodate large pans, but it's not going to make much of a difference if you've just used every dish in the house.
As with most integrated dishwashers, you'll find controls set atop the door. While the layout isn't exactly stylish, the simple setup is easy to use and the buttons were surprisingly responsive. You won't have to worry about pushing down your fingers trying to get a response, and the small blue LED lights make it easy to track what options are selected. Instead of a timer, an LED display tracker lets you know which stage of a cycle is currently underway... but chances are it will be hidden beneath a countertop.
Behind the panel, it's identical to any entry-level stainless interior dishwasher made by Whirlpool.
You can bolster all five cycles with up to five different options, including a Sani Rinse feature. Most features can be used with most cycles, but you'll want to consult with your user manual to figure out exactly what pairings are possible.
Online, pricing may seem a bit confusing. IKEA sells seven dishwashers bearing the Renlig name. The least expensive model is actually quite different than the one we tested, and we've reviewed the $599 front-control model earlier.
The Renlig we're reviwing here is listed online as the Renlig Fully Integrated Dishwasher and has an Article Number of 202.889.20. It sells for $849.99 without a panel, but it's identical to pricier Renlig models with doors. Those machines simply include the cost of one, two, or three panels in the total price.
A five-year warranty is what sets Ikea appliances apart.
As with all IKEA products, the panels you choose determine the model numbers on the boxes you bring home. It can get confusing, so we recommend chatting with customer service first or making a trip to the store if possible. Speaking of confusing: We can't guarantee that the Renlig will fit panels other than those from Ikea—but a search of the many Ikea-hacking forums online indicates that a little elbow grease and ingenuity can go a long way.
Cleaning Performance
Normal and Heavy cycles successfully removed almost every stain from our test dishes, and even kept redeposit to a bare minimum. One dish here and there still had a few bits of food left on them—common for dishwashers in this price range—but most stains won't be nearly as challenging to clean as the ones we use in our tests.
The one key exception was baked-on spinach: Of the four bowls we used, Heavy only got one bowl sparkling, while Normal failed to perfectly clean any of them. The same was true of 1 Hour, which also was unable to clean the milk glasses. And the oatmeal bowls. And the baked meat. Generally speaking, you may want to limit your use of the 1 Hour cycle to lighter stains.
Drying Performance
Odds are good that your dishes won't be dripping when they come out of this IKEA—at least if you're using a cycle that incorporates Heated Dry. All of our cups, plates, and cutlery were devoid of droplets at the end of the Normal cycle. However, about half of the dishes cleaned using the 1 Hour option—which does not automatically engage Heated Dry—were still moist, especially glasses.
Can it Wash the Dishes?
It doesn't stand out
Despite its premium price—with respect to something out of IKEA, anyway—we found that the Renlig performs like most entry-level Whirlpools.
Stain removal is perfectly acceptable on cycles like Normal and Heavy, which thoroughly cleaned almost all of our dishes. Redeposit didn't spray many stains across the load, and any cycle that incorporates Heated Dry turned out totally dry dishes.
Every cycle tested had issues with our baked-on spinach, though, so you'll want to make sure caked-on and grimy plates don't sit for too long prior to running a load. Water and energy use weren't too high, but they didn't help the Renlig's cause, either. The machine's noise rating is just 48 dB, quieter than a typical conversation, but this may be affected slightly by the panel you choose.
For in-depth performance information, please visit the Test Results Page.
Need the Warranty?
A five-year warranty is what truly sets Ikea appliances apart from the competition. While the Whirlpool it's based on only gets a year, IKEA ups coverage to five—and all service is provided by an authorized Whirlpool repair person. You can find the full text of the appliance warranty on IKEA's website.
Panel-Ready on a Budget
It's quite literally a niche product
With the inclusion of home appliances, IKEA may genuinely be a one-stop shop for affordable home furnishings. The Renlig may not be as good at cleaning dishes as less-attractive models, but it's still one of the most affordable panel-ready units on the market.
If you're happy with standard stainless and still want IKEA's 5-year warranty, there's no real reason to pick this over, say, a base Renlig model that's just $599. But if you need to hide your dishwasher behind a cabinet and you don't want to spend a fortune, check this one out.