Dishwashers
Kenmore 15692 Review
There are a lot of good, affordable dishwashers on the market. The Kenmore 15692 is one of them.
Credit:
If you're looking for a dishwasher that cleans well, doesn't use too much water or energy, and fits a lot of dishes, the Kenmore 15692 (MSRP $899.99) is a good choice.
Of course, there are a lot of other dishwashers that fit that description, so it's easy for shoppers to get overwhelmed. We'll cut to the chase: We like the Kenmore because of its easy-to-use control panel, sleek design, and low sale prices. We don't like its tricky cutlery basket, inflexible shelves, and long wash cycles.
Design & Usability
Three color choices
The Kenmore 15692 has a sleek exterior with no visual interruptions except for a flat, sculpted handle designed to match other Kenmore appliances. On the top, all wash cycles and options are hidden in a row of raised buttons. Unlike some of the control panels we've used, these aren't touch-sensitive: They offer tactile feedback when you choose a cycle or option, but require a little more effort to press. The 15692 is white, but you can get a version of this dishwasher in black as the 15699, and in stainless (for an MSRP of $999.99) as the 15693. Our review applies to all three models.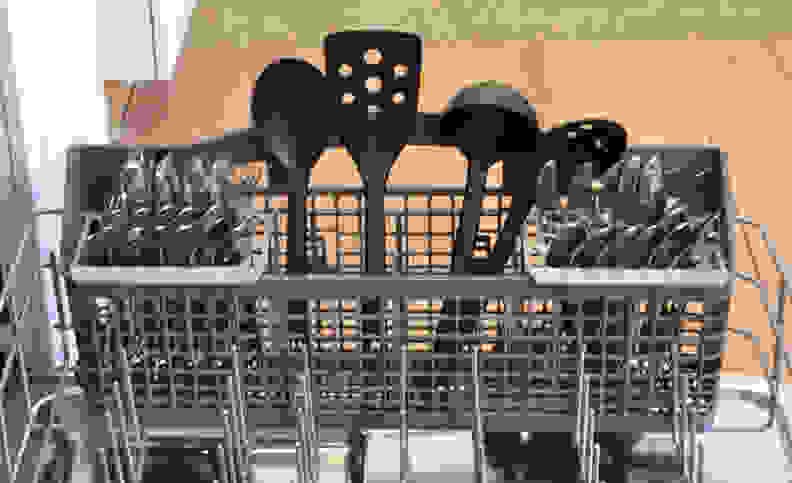 We're fans of the hinges used on the doors of high-end Kenmores: They'll keep the door in whatever position you leave it, and won't let it slam shut or fall open. Open that trick door all the way and you'll find two racks with room for ten standard place settings. Only one row of tines in the bottom rack can be moved to accommodate odd-shaped dishware. The giant cutlery basket spans the entire length of the bottom rack, and can't be split apart or otherwise adjusted. Up top, you can adjust the rack height by pressing firmly on two tabs and lifting or lowering the rack.
If the 15692 looks familiar to you, it's likely because you've seen one of its close relatives before. Like most Kenmore dishwashers, this one is based on a Whirlpool design. This one uses a washable filter design instead of a hard food disposer, but also has a heated dry option—a hybrid of European and American-style designs.
Features
As powerful as you want it to be
The Kenmore 15692 offers multiple cycles and options. The usual suspects are there: Normal, Pots & Pans, China/Gentle, an automatic sensor-based Smart Wash cycle, and a quick wash that Kenmore calls 1 Hour Wash. You can also choose a Quick Rinse for dusty dishes, a High Temp wash for deep cleaning, and a Sani Rinse for a final rinse hot enough to kill bacteria. A Heated Dry option turns on an exposed heating element at the base of the washer to help dry dishes. Like similar options on other dishwashers, it does use more energy and may damage plastics in the bottom rack.
TurboZone is what Kenmore calls its version of the Whirlpool-designed ProScrub system. It uses powerful, rotating jets at the back of the dishwasher to pummel your most stubborn baked-on stains with water. Turn it on if you've got particularly messy casserole dishes or lasagna pans.
A couple of familiar options finish off the list of features: 4 Hour Delay and Control Lock. Sadly, there is no flexibility in the delay feature. It's four hours or it's nothing.
Performance
Takes its time, but does it right
Fine if you're washing dishes overnight, bad news if you're in a hurry.
Generally speaking, cycles took a long time but got dishes clean. Redeposit—when a dishwasher takes dirt off one dish but sprays it onto another—was minimal. But the Normal cycle took a whopping two hours and 44 minutes, while the Heavy Duty cycle took three and a half hours. That's fine if you're washing dishes overnight after dinner, as most Americans do, but bad news if you're in a hurry.
Luckily, there's a solution. The 1 Hour Wash cycle was quite competent, took a few minutes less than an hour, and removed nearly every stain we put on our test load of dishes. It only had issues with greasy, oily foods. You should feel comfortable using it if you run out of wine glasses at a party, or need more plates for hors d'oeuvres.
Energy and water efficiency was impressive: We estimated that a year of using the Kenmore 15692 should cost the average consumer a little more than $28.
For in-depth performance information, please visit the Science Page.
Conclusion
An equal to its rivals
The mid-range dishwasher market is a crowded one, and it takes a lot for one to stand out. The Kenmore 15692, available only at Sears and KMart, doesn't blow away the competition. But it does get dishes quite clean using relatively little energy and water. Its core cycles last a long time, but a 1 Hour Wash will do if you're in a pinch. If you find this dishwasher on sale, or if you appreciate its control panel, or if its design matches your kitchen, it's a good choice.
By the Numbers
In the appliance showroom, it's hard to tell dishwashers apart. All those sleek boxes look alike. But in the lab, our objective tests can determine how well a machine will clean your dishes, how many place settings it can fit, and how much it will cost you to run. Read on to find out just why the Kenmore 15692 is a good choice for a mid-range machine.
Performance
Redeposit isn't a major issue, thankfully.
Our two biggest performance concerns are whether a dishwasher can remove stains, and whether those stains end up redeposited on other dishes. We're happy to report that this Kenmore didn't raise any red flags on either count.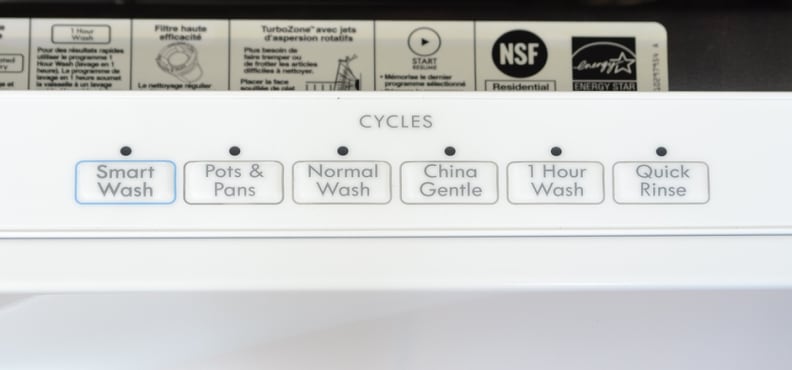 On the Normal cycle, stains like baked-on dairy, tea, oat flakes, egg, and minced meat were no match for the Kenmore's cleaning power. Only waterproof lipstick and chopped spinach gave this dishwasher trouble. Since those are some of the hardest stains to remove, we were impressed with what the 15692 did manage to scrub off.
We gave the Pots & Pans cycle a tougher task: removing burnt sugar, baked-on lasagna and other messy, oily stains. The Kenmore had no problems here. Sure, it took three and a half hours, but even our casserole dishes emerged spotless.
The 1 Hour Wash was the biggest surprise, as it managed to clean nearly all dishes in just under an hour. Only oily stains like baked-on dairy were left behind. It didn't even use any more water or energy than slower cycles, and cost only about ten cents per wash to run.
Efficiency
Relatively efficient
This dishwasher proved to be relatively efficient. We estimated that a year's worth of water and energy would run around $28 for the average American, which isn't that much more than the most efficient competitors we've tested.
We estimated that the 1 Hour Wash cycle would cost about ten cents a cycle, while the Normal would cost 13 cents and the Pots & Pans would run around 19 cents.
Capacity
An inflexible and unwieldy cutlery basket gets in the way of loading.
While we found that the Kenmore 15692 could hold 10 full place settings, we weren't thrilled with the layout. A giant cutlery basket spanned the whole bottom rack, taking up valuable space where plates, pots, and pans could go. It couldn't even be split in half. Only one row of tines could be folded into a few other positions. The top rack featured clips to keep light plastic items from bouncing around and collecting water.