Brewing Process
After you've poured milk into your cup, the Krups Barista EA9000's brewing process isn't difficult to handle and there are quite a few options for those looking to customize.
Step 1
Making a cappuccino is a bit different than you may be used to. Unlike many other espresso brewers in which you place the milk froth on top of your coffee, the Krups Barista EA9000 requires you to steam the milk you place in your cup first. You decide how thick you want the froth on the interface and the steam wand will lower from inside the machine and heat up the milk.
Step 2
Now that you've made the milk froth, you can decide how strong you want your cappuccino to be or the amount of steam applied to it.
Step 3
You can now hit the brew button on the interface and your cappuccino will start pouring out. In all, this process should take about four minutes.
Cleaning & Maintenance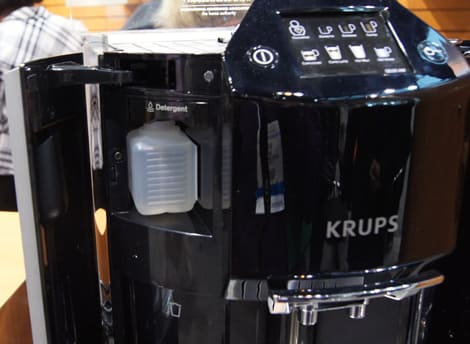 The only part of cleaning the Krups Barista EA9000 that you'll have to worry about is ensuring its cleaning fluid container is full. Beyond that, the machine takes care of the rest. In addition to cleaning the steam wand for you after every use, which a lot of users have a tough time with, the fluid runs through and cleans the entire system after 15 uses.
Another benefit after you've registered your machine is that you'll have access to the Krups Elite service to help with any issues with your machine. Krups representatives said that, with this service, you'll be able to get directly to a support team member on the phone.
Customization
There is no shortage of customization with the Krups Barista EA9000's touch screen back-lit user interface. Beyond choosing how fine you want your beans ground or the type of pressure you want applied to your brew, the Krups Barista EA9000 allows you to save a "profile" of eight of your favorite drinks. These saved drinks are based on settings such as brew temperature, froth type, quality, or brew strength. You can have eight profiles, or 64 saved drinks total.
Other Features
The top of the machine also serves as a cup warmer.
Our editors review and recommend products to help you buy the stuff you need. If you make a purchase by clicking one of our links, we may earn a small share of the revenue. Our picks and opinions are independent from any business incentives.
Sections