Best of all, our performance tests revealed just what we always want to see in a freezer: cold, consistent temperatures. That's the best way to keep food from getting freezer burn, and it proves that the FFFH17F2QW also excels at food preservation.
If you're in the market for an upright freezer, this is the one to buy.
Design & Usability
A glossy expanse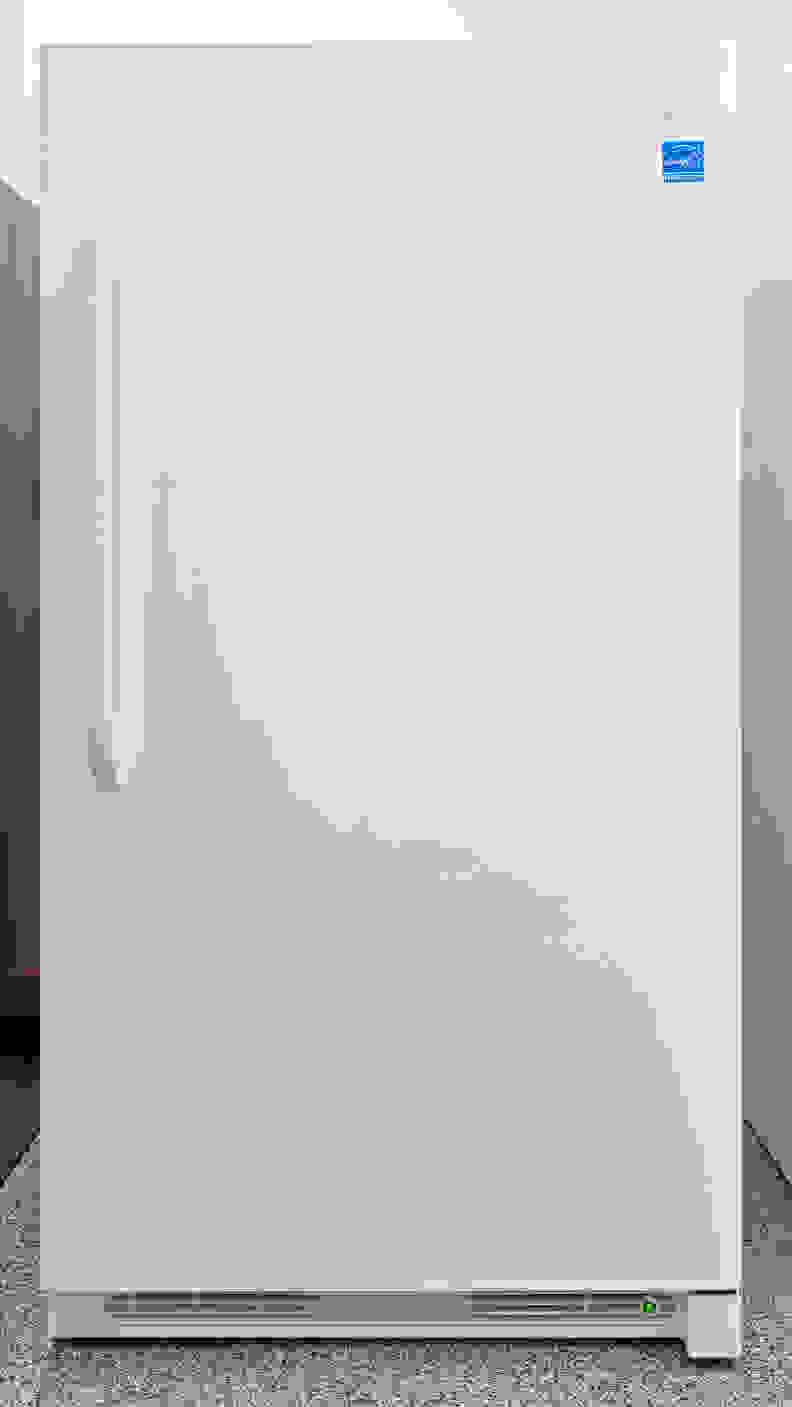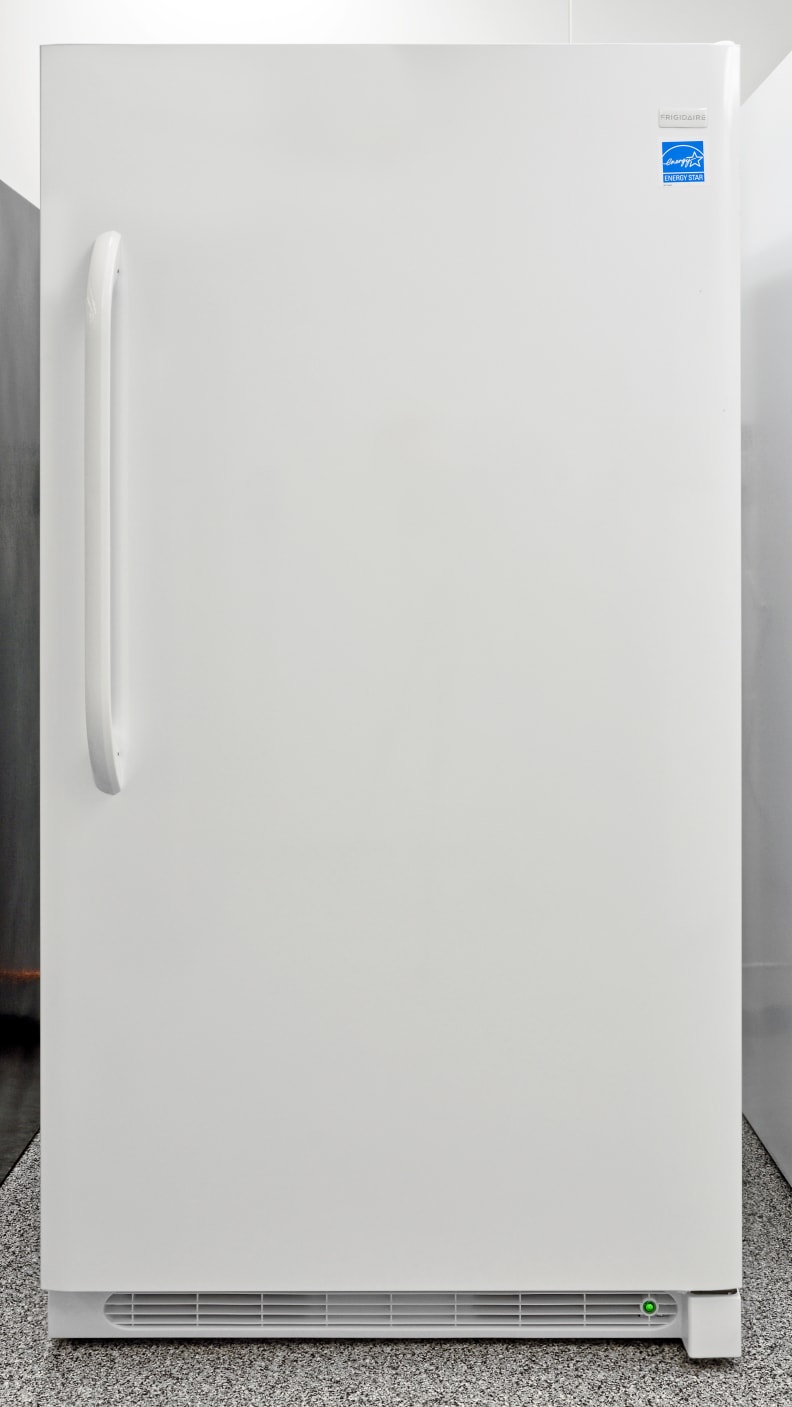 The FFFH17F2QW's front is glossy and white, interrupted only by the handle and a pale Frigidaire logo. It's bland—but then again, freezers are typically kept in a garage or basement.
Down at the bottom, a small green indicator light serves as a helpful reminder that the freezer is on and working. On the left side by the door handle, you'll find the Frigidaire's only extra feature: a door lock.
Inside, LED bulbs shine pale blue light down onto a set of wire shelves. When the freezer is full of food, the light gets blocked. The shelves are just shallow enough to accommodate a large amount of food but not so deep that you could easily lose something.
All of the wire shelves can be adjusted, but there's only one extra shelf slot. As such, your customization options are limited in the main section. On the door you'll find five large, fixed shelves.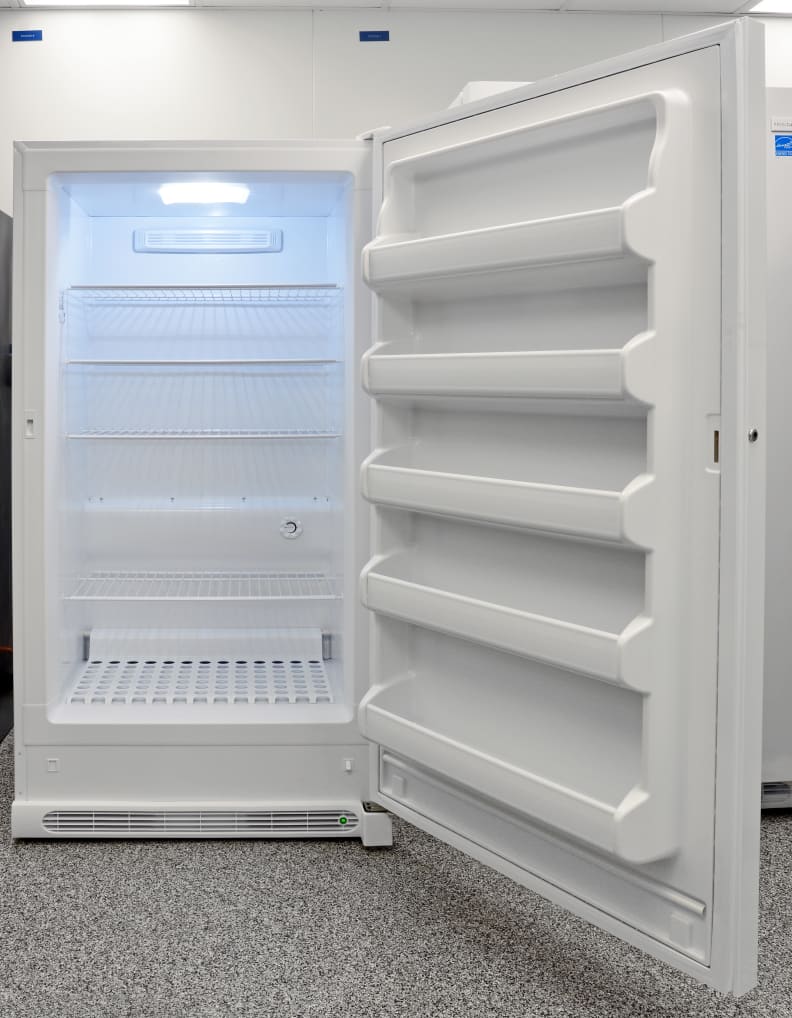 ×
Design
Controls & Performance
Low-tech controls with high-end freezing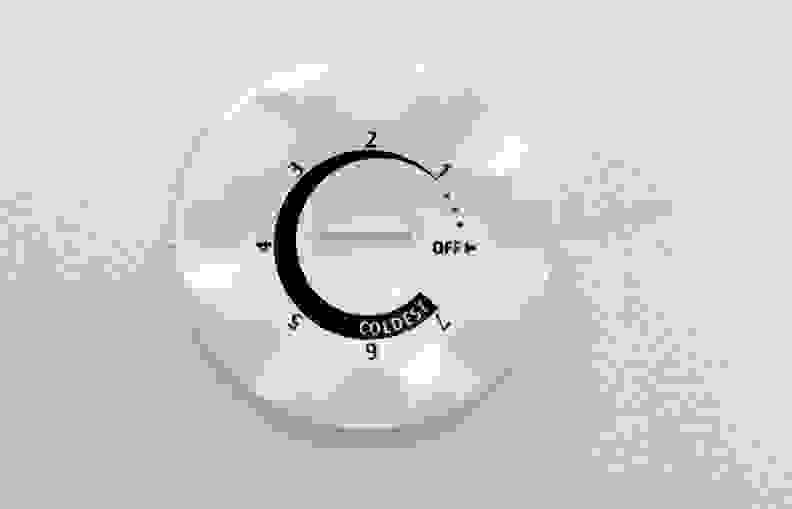 Unlike some upright freezers—like the pricey but attractive Kenmore 27003—which feature electronic external temperature controls, the FFFH17F2QW's thermostat is just a basic dial, the same kind we find on many basic chest freezers. It's located inside the freezer on the back wall, down by the lowest shelves.
For the purposes of our tests, we set the 0-7 thermostat to 4. Normally, we'd suggest you turn it down a bit for optimal performance. While that is still true for the FFFH17F2QW, you'd also be fine leaving it at the recommended manufacturer's setting.
Temperatures inside this upright were quite chilly throughout, with an overall average of -2.8°F. Keeping temperatures below 0ºF is how you can prevent freezer burn, and only a few warmer spots crept that high.
Temperatures inside this upright were quite chilly throughout.
What's more, fluctuations over time and between any two points in the interior were minimal. That's great news for long-term food storage, as consistency helps reduce the risk of freezer burn.
For in-depth performance information, please visit the Science Page
Frozen Excellence
Simple, functional, and effective, it's the freezer to buy.
If you're looking for an upright freezer that will hold enough food for a family, minimize freezer burn, and avoid frost buildup, this is the one for you.
It's 16 cubic feet, and it also has an automatic defrost function. Unless you consider LED lighting an extra perk in an upright freezer, the Frigidaire FFFH17F2QW is completely devoid of bells and whistles.
But, at $565 on sale, it's a great deal. And our tests showed that excelled at preserving food. In fact, it's one of the best freezers we've ever tested.
The Cold Hard Facts
Occasionally, a freezer's manufacturer-recommended settings run a bit too warm. In the case of the Frigidaire FFFH17F2QW (MSRP $799), however, following instructions turned out just right.
Temperature Performance
The Frigidaire's biggest strength lies in its ability to cool consistently over both time and space. On average, temperatures hovered around -3.3°F throughout the compartment, which is ideal—there's nothing wrong with cooling food below 0°F.
Our sensors recorded minimum and maximum temperatures running from -7.7°F all the way up to 2.8°F, but despite the occasional warm spike—most likely due to the automatic defrost—most of the time this Frigidaire was cooled below 0ºF. For truly optimal performance, you could turn the thermostat down a notch or so, but it's not necessary in this case.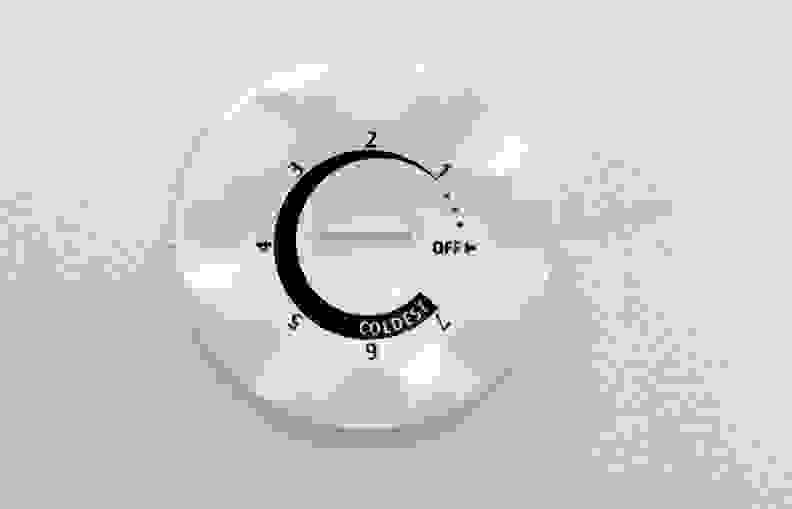 The FFFH17F2QW is also very consistent. On average, we noticed a fluctuation of just ±0.7°F, with only a roughly ±1°F difference between any two points inside the freezer at a given moment. That means this model is cooling consistently throughout, so your food should be fine no matter what shelf it goes on.
Freezing & Thawing
Not only does the FFFH17F2QW cool food consistently, it also cools food quickly. Our labs are carefully climate controlled, and it only took 90 minutes for our room-temperature sensors to reach 32°F, and just over 8 and a half hours to reach a flat 0°F.
To simulate a power outage, we simply unplug the freezer and leave it alone. After 36 hours pass, we extract our sensors to collect test data. At the end of that time period, temperatures inside the Frigidaire had warmed up to 29.9°F.
Storage Space
While the storage spaces inside the Frigidaire may not be terribly customizable, they are ample. 10 shelves total—five in the main section, five on the door—provide you with 14.92 usable cubic feet of space. That's pretty close to the advertised 16.6 cubic feet, enough that we feel you're getting your money's worth with this model.
Meet the tester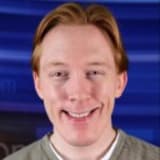 Matthew Zahnzinger
Logistics Manager & Staff Writer
@ReviewedHome
Matthew is a native of Brockton, MA and a graduate of Northeastern, where he earned a degree in English and Theatre. He has also studied at the Gaiety School of Acting in Dublin and spends most of his free time pursuing a performance career in the greater Boston area.
Checking our work.
Our team is here for one purpose: to help you buy the best stuff and love what you own. Our writers, editors, and lab technicians obsess over the products we cover to make sure you're confident and satisfied. Have a different opinion about something we recommend? Email us and we'll compare notes.
Shoot us an email