Freezers
Baskin-Robbins Honors Vets With Camouflage Ice Cream
We didn't see this ice cream coming.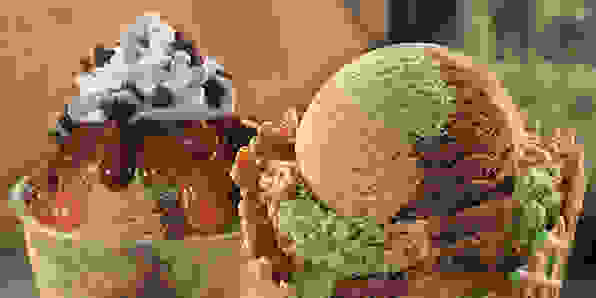 Credit:
In honor of Veteran's Day, Baskin-Robbins is having a little fun with its ice cream of the month. The company is now offering its First Class Camouflage ice cream, which combines chocolate, salty caramel, and cake flavors into one camo-themed dessert.
In addition to the new incognito ice cream, Baskin-Robbins is also offering a camouflage waffle cone and waffle bowl. And if that's not enough to satisfy your sweet tooth, there's also a First Class Camouflage Layered Sundae with a caramel praline topping, hot fudge, and Oreo cookie pieces.
On a more serious note, the company is launching a couple of promotions aimed at helping our veterans. On Veteran's Day, for every scoop of ice cream sold, Baskin-Robbins will donate 10-cents of the purchase to the United Service Organizations.
The company says its goal is to help vets start their own businesses.
But the company is offering a bigger opportunity to veterans themselves with its "veteran's incentive program," which waives the $25,000 franchise fee for vets who want to open a store in the U.S. Baskin-Robbins will also offer a 0% royalty rate for the first two years of franchise ownership, and a reduced rate for years three through five.
The company says its goal is to help vets start their own businesses. Sounds like a pretty sweet deal to us.
Via: QSRweb.com
Source: Baskin Robbins
Up next
Get Reviewed email alerts.
Sign up for our newsletter to get real advice from real experts.