Freezers
The World's Most Over-the-Top Ice Cream Sundae Costs $1K
Conspicuous consumption for the sweet tooth set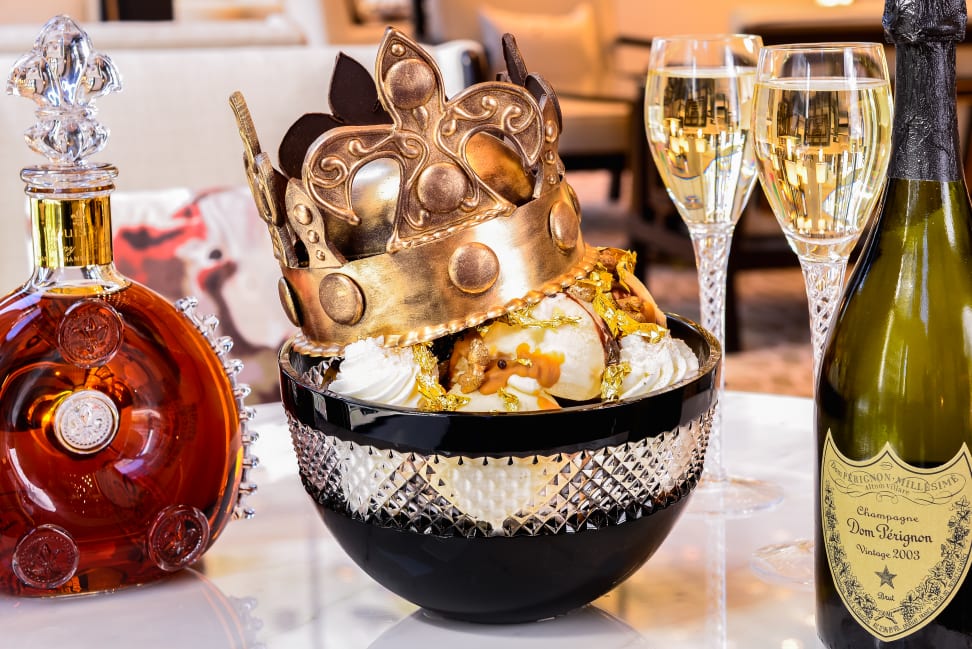 Credit:
Sure, we've gagged at the $666 "Douche Burger," and speculated about a $325,000 ultimate margarita—but what about a $1,000 ice cream sundae?
Well, why not?
Indeed, "why not?" is the justification Scott Green, executive pastry chef at the Langham Chicago's Pavilion restaurant, gave for the existence of his gold-embellished, MacBook-priced dessert.
Green told the Huffington Post that the thousand-dollar sundae starts with specially crafted chocolate and vanilla ice cream. The former is made with premium Guittard Complexite 70 percent chocolate, while the latter is flavored with three different varieties of vanilla: fruity Tahitian, traditional Madagascar-Bourbon, and peppery Mexican. And that's just the ice cream.
Complementing the chocolate and vanilla are caramelized golden peanuts, 24-karat gold dust, dark chocolate croquant, hot fudge, salted caramel, butterscotch, whipped cream, and—just to kick things up a notch—some ultra-expensive Louis XIII de Rémy Martin cognac.
The sundae is literally crowned with a 24-karat gold leaf edible chocolate crown.
Finally, the sundae—fittingly dubbed the "Victoria"—is literally crowned with a 24-karat gold leaf edible chocolate crown. It's also served in a Wedgwood crystal bowl, which customers get to keep, and paired with a bottle of 2003 Dom Perignon. If you're a teetotaler, don't worry: A non-alcoholic version can be crafted on request.
"You never know who will come through the door," Green told the HuffPo. "Maybe a high-powered CEO who has some colleagues in town and wants to impress them, or someone who wants to make an extra special engagement night. This is for the guest who wants to go all out."
That makes a certain amount of sense. But if there's one thing I'm certain of, it's that I'll never order a sundae that costs more than my rent.
Via: Huffington Post