The Best Bed Sheets of 2019
By Camryn Rabideau, August 16, 2018, Updated March 01, 2019
Sheets might not be the most glamorous purchase you make this year, but they're pretty important: We spend a third of our lives sleeping, lying between sheets and under our favorite comforters. Don't you want to be comfortable for that huge chunk of time?
Here's the problem, though. There are thousands of different sheets out there. They're available from a wide range of retailers and at just about every price point—how are you supposed to pick the perfect set, especially if you can't test them out first?!
Well, we did the testing for you—I spent so much time napping, you don't even know—and discovered one of the best sheet sets you can buy right now is the Brooklinen Luxe Core Sheet Set (available at Brooklinen for $149.00).
But we realize not everyone looks for the same thing in a pair of sheets. Some people prefer a more crisp feel; some like it oh-so-soft. Some want to be toasty warm, while others like to stay cool. So, we tested all sorts of sheets.
Here are the bed sheets we tested, ranked in order:
Brooklinen Luxe Core Sheet Set
Mellanni Bed Sheet Set
Boll & Branch Solid Hemmed Sheet Set
L.L. Bean 280-Thread-Count Pima Cotton Percale Sheet Set
Threshold Performance Sheet Set
The Company Store Comfort Wash Solid Linen Bedding
Ralph Lauren Home Graydon Mélange Sheet Set
The Company Store Classic Percale Collection Solid Sheet Set
Snowe Percale Sheet Set
Pottery Barn Classic 400-Thread-Count Organic Sheet Set
AmazonBasics Microfiber Sheet Set
Updated March 01, 2019
Advertisement - Continue Reading Below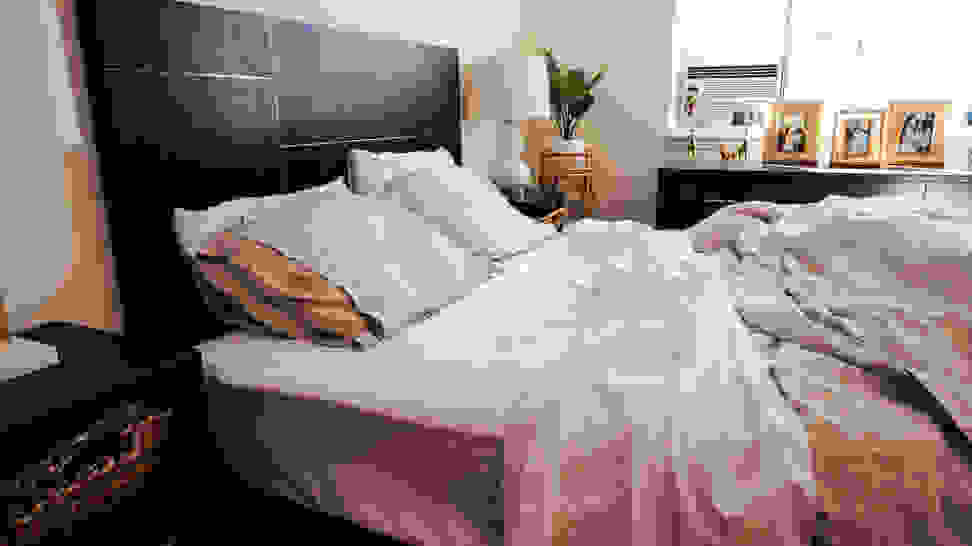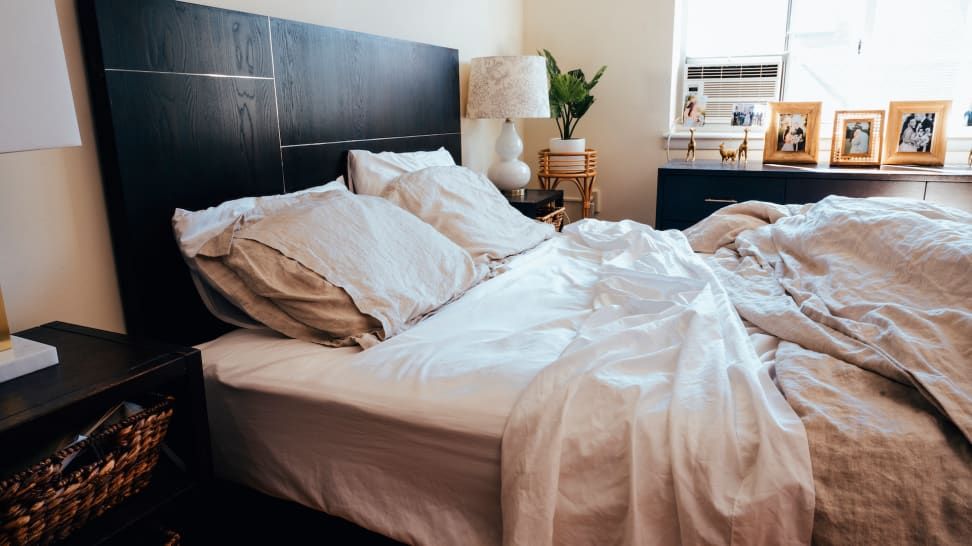 How We Tested
The Tester
I'm Camryn Rabideau, a freelance contributor here at Reviewed. I've always struggled to buy sheets I like—it seems that they're either too rough or poorly made—which is why I readily volunteered to test out some of today's top sheets to find a soft, well-made set. (Plus, who doesn't want an excuse to nap during work hours?) Once upon a time, I went to school for Textiles, Fashion Merchandising and Design, so it was an added bonus that I was finally able to apply my knowledge of textile science to my job!
The Tests
If you've ever wished you could get paid to sleep, prepare to be jealous.
To test out each pair of sheets, I slept in them twice: overnight and for a one-hour nap. I evaluated how soft/comfortable each felt, as well as how much noise they made when I shifted around.
Next, I put each set through a series of tests to see how much they wrinkled and if stains were easy to remove. (Admit it, you eat in bed sometimes.) I stained them with cranberry juice and Diet Coke, crumpled them up in a ball, and left them sealed in a bag overnight. The next morning, I evaluated their wrinkles then rinsed them in warm water and put them through the wash. I didn't use any stain remover or pre-treatment for this test—just regular laundry detergent.
Finally, each set was evaluated for construction. Personally, I always find that the corners of inexpensive sheets rip at the seams, so I used my background in textiles to evaluate the quality of the stitching. I also considered how deep the pocket on each fitted sheet was, as well as how easy the sets were to store.
Percale vs. Sateen Sheets
We tested a variety of sheets, including both percale and sateen constructions. Percale sheets have a traditional woven structure, which makes them more crisp and breathable. The downside is that they can be a little rougher and wrinkle fairly easily. Sateen, on the other hand, are typically smoother and feel almost silky thanks to their unique weave. They're less prone to wrinkles, but aren't quite as breathable and can pill if not properly taken care of.
---
Other Bed Sheets We Tested
More Articles You Might Enjoy
Advertisement - Continue Reading Below