The Best Reciprocating Saws of 2019
By Adam Doud, Updated March 12, 2019
When it comes to home projects or demolition work, there are a number of tools you can use. While circular saws are great for precision cutting, they can't cut in curves. That's where reciprocating saws come in. From cutting pipes to fitting a window, reciprocating saws are incredibly versatile, which is why we put seven of them to the test.
After hours of testing, the Milwaukee Sawzall (available at Amazon) ended up being our top pick—not too surprising since reciprocating saws are often known as Sawzalls, after the Milwaukee brand. With its comfortable grip, included charger, and superior cutting power, we were impressed with its abilities to complete all our tests. Reciprocating saws can be pretty expensive, so it's important to find a good one to invest your money. Fortunately, we were largely satisfied with most of the saws we tested.
Here are the best reciprocating saws we tested ranked, in order:
Milwaukee 2720-21 M18 FUEL
Bosch RS428
Ryobi One+ P514
Bosch CRS180-B14
DeWalt DWE305
Black and Decker BDCR20B
Ridgid R3031
Advertisement - Continue Reading Below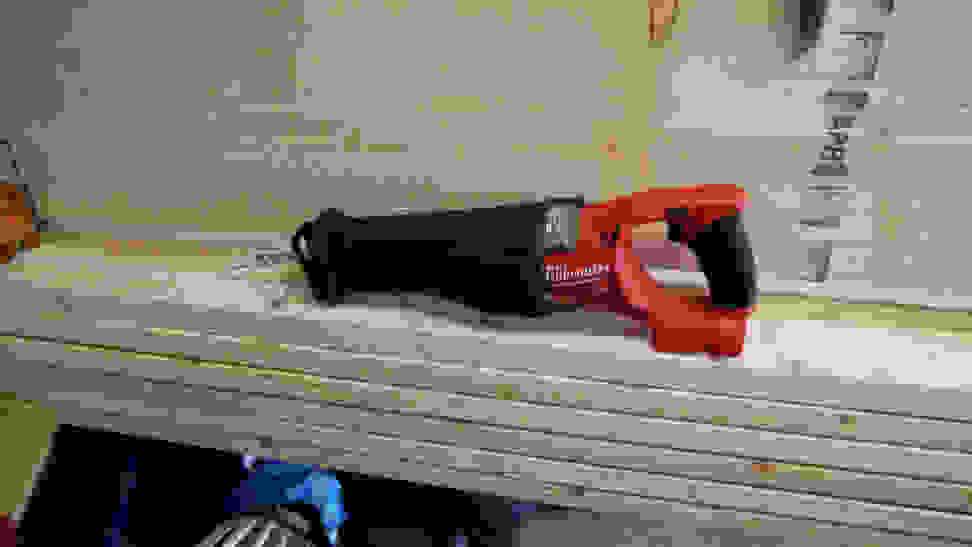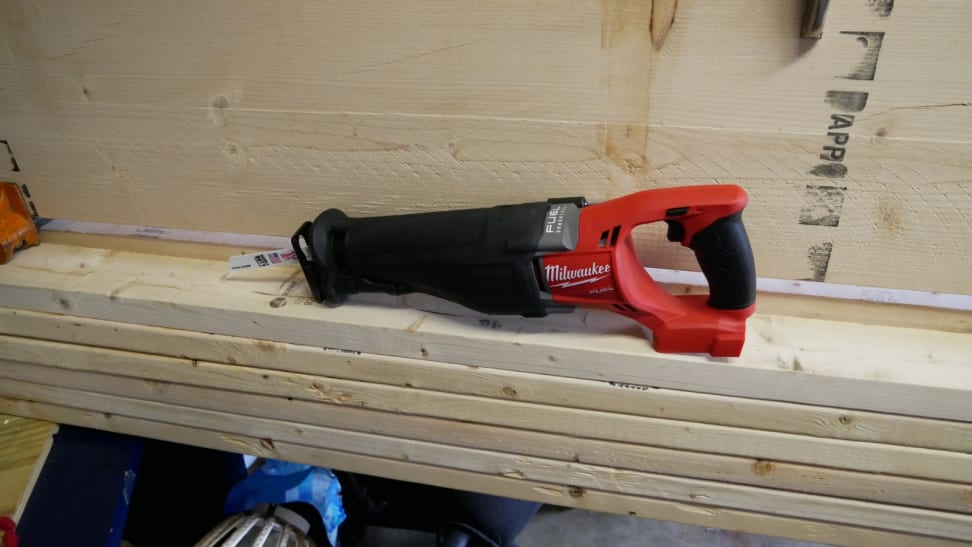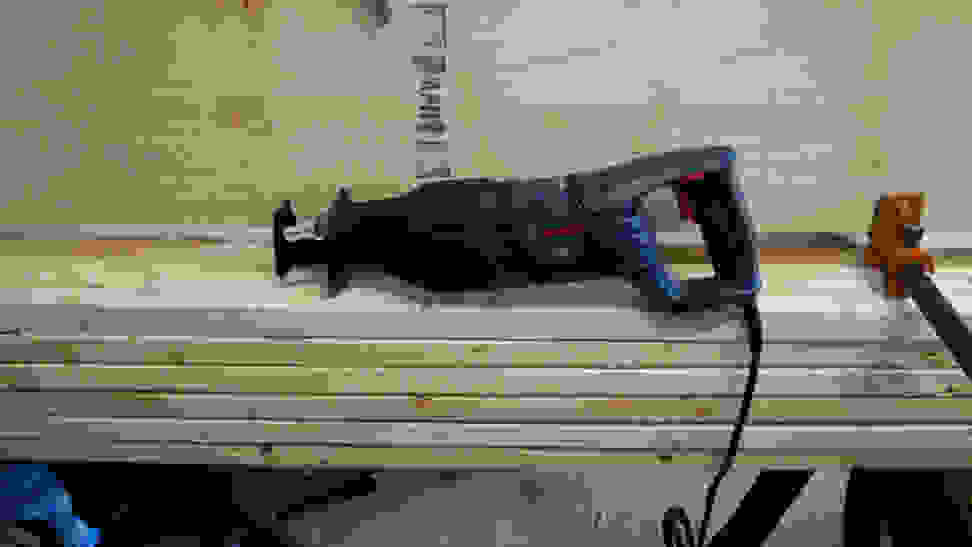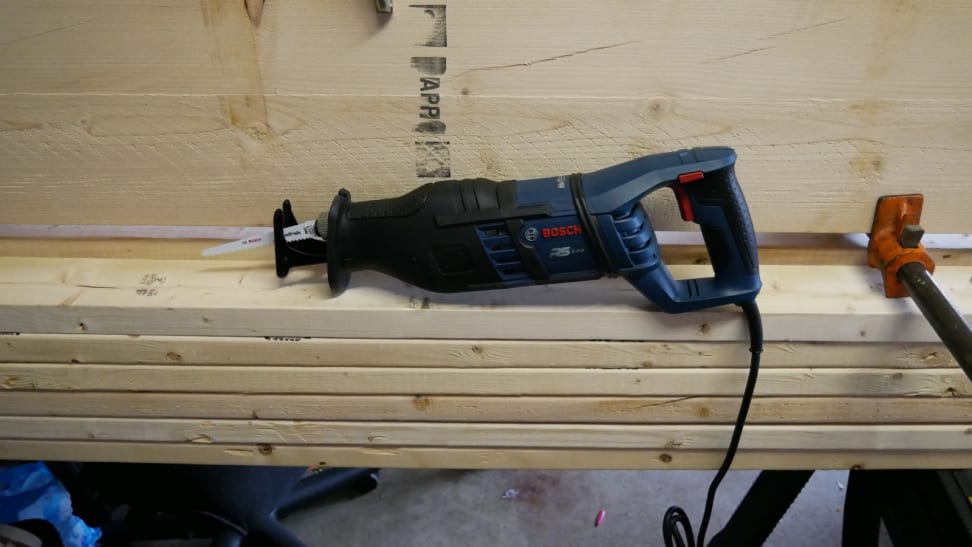 How We Tested
The Tester
Hi, my name is Adam Doud. I'm a technology reviewer and podcast host of the Android Authority podcast and the DGiT Daily podcast. Growing up, my father was a general contractor and I spent most of my formative years in his garage or on a job site helping out. I started with a broom and worked my way up from there. After college, I worked with my father for three years as a general contractor and electrician. All this makes me uniquely qualified to evaluate tools for Reviewed.
The Tests
The testing process consisted of five different tests, but there were some variables we needed to consider first. Only one of the saws came with a metal cutting blade along with a wood/general use blade. To remedy this, I bought some Diablo Demo Demon general purpose blades for wood and metal cutting. We then tested five different cutting scenarios—Nail-embedded wood, 2x4 cutting, plywood cutting, metal cutting, and for our battery testing, we included an endurance test. I conducted all testing in the exact same order for each saw. The order was: nail embedded wood, 2x4 test, plywood cutting, endurance testing for battery-powered saws, and finally metal cutting. Here's how we ran each test:
Nail Embedded Wood
I bought two pine 2x12 boards and glued them together using wood glue. Then I drove ten nails into the end of the wood, five into each board. After that, I clamped the wood to my work table and proceeded to cut in a downward stroke. I performed each cut four times. Twice, I held the saw and applied pressure with my second hand. Two other times, I hung a 10-pound weight on the saw near the controlling hand grip. I used my second hand just to guide the saw, letting gravity do the work. I recorded each of the four times and averaged both sets of times.
2 x 4 Wood
I bought several pine 2x4" boards and clamped them in a staggered fashion to my work table. The boards were staggered so that I could cut in a downward motion through three 2x4's with space in between each board. I performed this test four times, twice by hand and twice with the 10-pound weight as described above. I recorded and averaged two sets of times for each test.
Plywood Obstacle Course
I used an 8x4' sheet of ¾" OSB plywood, ripped down the center (to make 2-2x8' boards). I drew a 2 ½" wide staircase pattern to test the saw's agility in turns. I tested each saw twice, recording the times of the cuts and measuring the turning radius of each saw. I did not conduct this test with a 10-pound weight as that would have put undue stress on the cutting blade during the horizontal portion of the test.
Endurance Test
Using a pine 2x4" board, I held down the trigger of the saw and cut downward, cutting off approximately 1" of wood at a time. When the battery died, I recorded the number of cuts made. During testing, I had one outlier in the data, so I performed the test with that saw a second time.
Metal Cutting Test
I replaced the blades in the saws with Diablo metal cutting blades. I clamped a 1" diameter steel pipe, a ¾" diameter steel pipe, and a piece of ¼" rebar (note: measure the rebar) to a table in a horizontal fashion. I cut approximately 1" off the end of each piece of metal in succession, adding up the times it took to cut through all three pieces of metal (and not including the time moving from piece to piece). I conducted this test twice and averaged the times together.
What is a Reciprocating Saw?
The "reciprocating" part of the saw's name refers to the motion of the blade—it goes in and out just like a normal hand saw. This is just a mechanical hand that moves at thousands of strokes per minute. It's shaped a little like a nerf gun with a pistol grip one end, but on the other side instead of soft darts, you'll find a blade.
Reciprocating saws are generally used in demolition work when you need something to go away. It might be a wall, it might be a door, it might be a metal pipe. Reciprocating saws don't care. If you've heard the phrase "using a scalpel instead of a broadsword," a reciprocating saw is the broadsword in this analogy.
The bottom line is that they're handy and good at doing what they do. They're not necessarily part of an essential DIY repairman's toolbox unless your projects involve a lot of demolition work. They're not accurate. They are powerful machines and mishandling one can lead to a very bad day.
---
Other Reciprocating Saws We Tested
Other Articles You Might Enjoy
Advertisement - Continue Reading Below