A stainless steel skillet should be your go-to kitchen workhorse, capable of cooking almost anything. Searing, braising, frying, sautéing, and making pan sauces—your skillet can do it all. And if it's a good one, it should last a lifetime.
Because your stainless steel pan is likely to stick around for a while, it's reasonable to wonder if it's worthwhile to splurge on a spendy skillet. To find out, we chose seven of the best stainless steel skillets out there at a variety of price points and tasked a trained chef (you guessed it, me!) to put them to the test. I had a ton of fun tossing vegetables and searing steaks, and I found a few skillets that I'd easily recommend as your new, favorite all-purpose cooking tool.
Our winner, the All-Clad Stainless Steel 12-inch Fry Pan, proves that pricy pans may indeed be worth the money—but not to worry, we also have a great budget pick if you're seeking something a bit cheaper.
Updated January 05, 2018
Advertisement - Continue Reading Below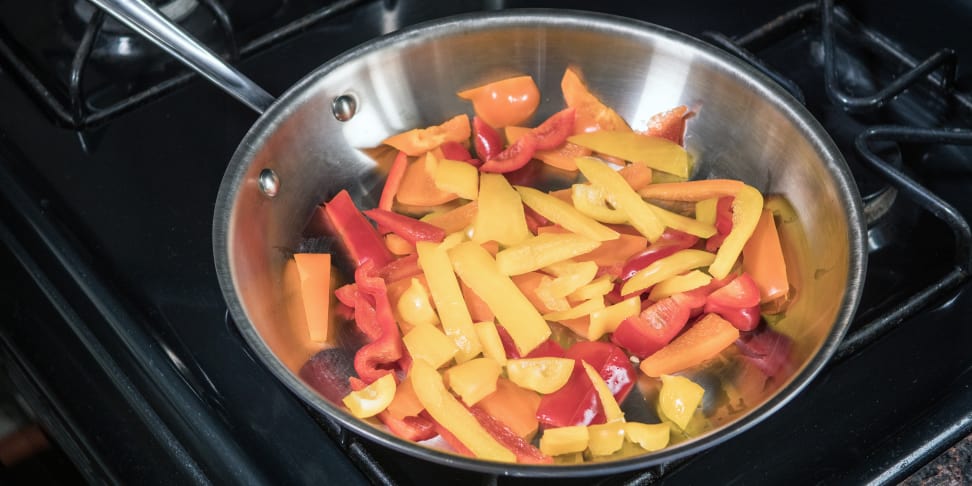 All-Clad 4112 Stainless Steel Tri-Ply 12-inch Fry Pan
All-Clad 4112 Stainless Steel Tri-Ply 12-inch Fry Pan
Best Overall
The All-Clad 4112 Stainless Steel Tri-Ply 12-inch Fry Pan is the king of the cookware, the ultimate stainless steel pan, and our top choice. Its USA-made, fully clad, tri-ply construction delivered both perfectly seared steaks and pan sauces that reduced beautifully without any signs of scorching.
The flared sides make tossing food feel effortless, and the 9.5-inch cooking surface area provides plenty of room for the ingredients to breathe. You could easily cook an entire broken-down chicken in this pan with enough room for each piece to brown without stewing in its own juices.
The weight had me worried in the beginning (lighter pans have difficulty retaining heat, and this was the lightest pan in the group), but my concerns were soon laid to rest as it heated up quickly and retained heat nicely. It was the best in the group at even heating, with only a 20°F variation between the hottest and coldest spots. Even after hours of testing, the handle was cool to the touch.
Sure, this pan isn't cheap but its performance makes it totally worth the cost. I have no reason to believe that it wouldn't last decades if treated properly.
Tramontina Gourmet Prima 12-inch Fry Pan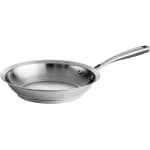 Tramontina Gourmet Prima 12-inch Fry Pan
Best Value
If spending $100+ on a skillet isn't your thing, the Tramontina Gourmet Prima 12-inch Fry Pan makes an excellent budget alternative. Like the All-Clad, this Tramontina features tri-ply stainless construction. There's a lot to like about this skillet, but it really shines when it comes to heat distribution and retention. While some of the other pans heated faster, this skillet retained heat better and more consistently.
The Tramontina was heavier than the All-Clad but still light enough to comfortably hold with one hand. The angled handle prevented excess heat during use and worked well to balance the pan's heft. The fluted edges are deeply sloped, providing a cooking surface area of only 8.5-inches (the smallest of all the pans). These edges were quicker to stain than the other pans, but they came out with a quick scrub in soapy water.
I was impressed with its performance, and given its solid construction—and lifetime warranty!—this skillet should be built to last. Tramontina makes an excellent value choice.
How We Tested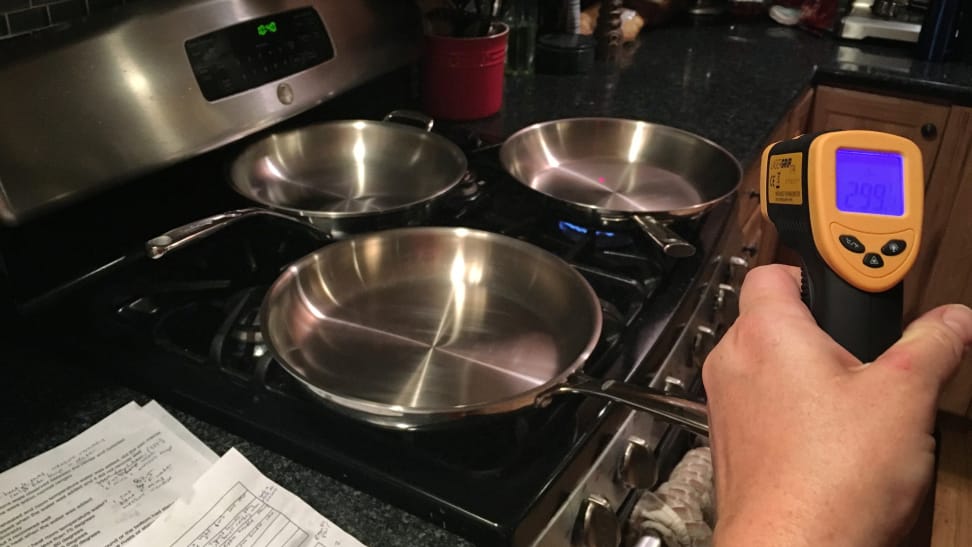 The Tester:
Hi, I'm Lindsay Mattison, trained professional chef and skillet enthusiast.
I've been cooking most of my life, but at some point I decided to make it official and go to culinary school. I've spent the last five years working in professional kitchens. After making hundreds (if not thousands) of sauces at the pasta station and pan-frying more oysters than you can imagine, I've come to know exactly what to look for in a skillet. And because I've owned my personal skillet for eight years, I'm especially invested in locating great pans that you'll be glad to hang onto.
The Tests:
We tested seven 12-inch stainless steel skillets with varying layers of aluminum and stainless construction (including dual core, tri-ply, and 7-ply). We rated each pan on three major criteria: weight, even heating, and overall design.
Weight is an important factor in a skillet. Heavy pans heat more evenly, but increased weight makes the skillet harder to handle and clean. Very heavy pans also retain heat for longer, which can make it difficult to adjust temperatures quickly. We boiled water to test each pan's speed heating, seared steak to measure its heat retention capabilities, and determined whether the pans felt light enough for everyday use.
Hot spots are unavoidable—every burner creates them—but a good pan should accommodate for heat variations. We tested for even heating by measuring the pan's quadrants with an infrared thermometer and watching how the skillet reduced pan sauces.
When it came to overall design, we assessed how the design choices affected our cooking. Did the handle angle assist in balancing the pan's weight? Did the bevels from any extra handles create cleaning problems? Did the flared sides assist in tossing food or negatively affect the cooking surface area?
We also looked at ease of cleaning and whether the pans were damaged by the tests. Most stainless pans are don't stain (get it, stainless?), but they do get covered in sticky oil and reduced sauces, and sometimes oxidize with consistent use.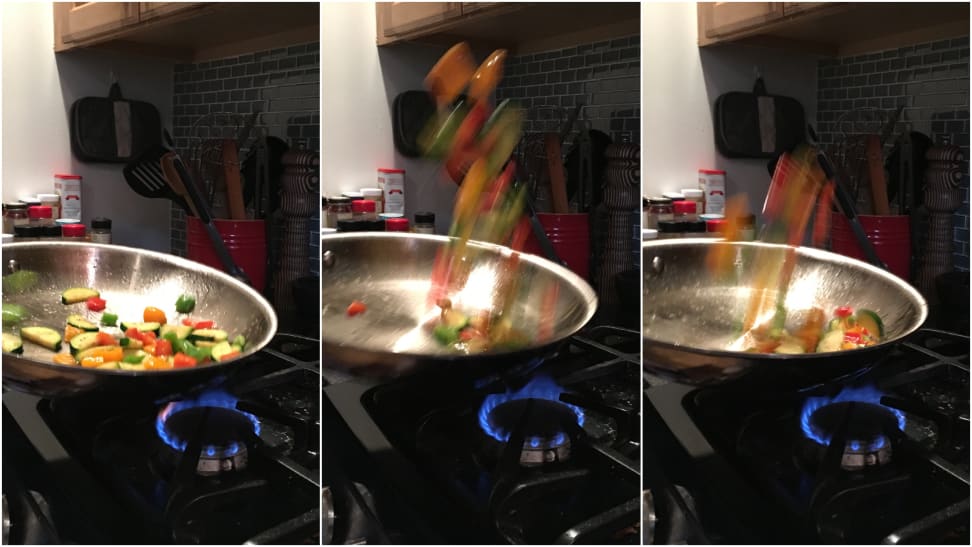 Other Stainless Steel Skillets We Tested
Emeril Lagasse 62953 Stainless Steel 12-inch Fry Pan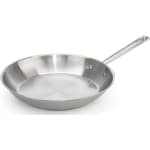 Emeril Lagasse 62953 Stainless Steel 12-inch Fry Pan
The Emeril Lagasse 62953 Stainless Steel 12-inch Fry Pan is actually made by All-Clad (although it's manufactured in China instead of the USA), so it's not surprising that it rose toward the top of our list. While the pan stained more easily than its competition, it rivaled the All-Clad for even heating and retained its heat as well as the Tramontina. The flat handle did get very hot throughout testing, but it did a nice job of balancing the light, three-pound pan.
My major concern with this pan is longevity, as it is tri-ply (that is, three layers of metal bonded together) in the encapsulated base only, while the rest of the pan is single ply (one layer of metal).
Calphalon 1948233 12-inch Omelet Pan
Calphalon 1948233 12-inch Omelet Pan
There's nothing particularly special about the Calphalon 1948233 12-inch Omelet Pan. Its flared sides and handle design are helpful when it comes to tossing food, and its heft works in its advantage when it comes to even heating.
On the flip side, it had a poor showing at simmering the pan sauce, and the vegetables caught on the bevels from the extra helper handle. It didn't underperform, but it also didn't impress us.
Demeyere Proline 5-Star 11-inch Frying Pan
Demeyere Proline 5-Star 11-inch Frying Pan
The Demeyere Proline 5-Star 11-inch Frying Pan was so heavy I actually audibly grunted every time I picked it up. Every one of my testing notes ended in, "…but it's so heavy."
The 7-ply construction adds up—to five pounds, if you want to get specific. That means it weighs almost twice as much as the All-Clad. While it performed well on almost every other test, this pan is simply too heavy for us to recommend it.
OXO Good Grips Stainless Steel Pro 12-inch Open Frypan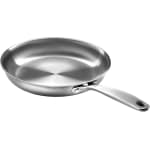 OXO Good Grips Stainless Steel Pro 12-inch Open Frypan
Avoid
Unfortunately, the OXO Good Grips Stainless Steel Pro 12-inch Open Frypan misses the mark. During testing, we found it riddled with hot spots, and it didn't sear the steak evenly on either side. It failed to be memorable or impressive in any testing criteria, earning it a spot at the bottom.
Cuisinart MCP22-30HN 12-Inch Skillet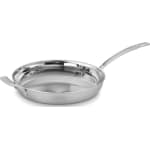 Cuisinart MCP22-30HN 12-Inch Skillet
Avoid
The Cuisinart MCP22-30HN 12-Inch Skillet's design is more sauté pan than skillet, with tall, vertical sides that barely flare. This gives it the largest cooking surface area of the group at ten inches.
Between the straight sides and the extra handle rivets, this pan did a poor job of sauteing the vegetables. In addition to its underwhelming test results, the pan actually warped during testing. You'll want to avoid this one.
Advertisement - Continue Reading Below