Home & Garden
15 things we keep buying over and over again
Things so nice we bought them twice
Credit: Genteele, Nintendo
You know that amazing feeling you get when you buy the perfect product that does exactly what you want? The only thing better than buying the perfect product is buying it again and knowing you're in for another dose of Just Right.
With that in mind, I asked my colleagues which items have earned their adoration and loyalty. The result? A list of 15 amazing things we can't seem to stop buying on repeat.
1. A great bath mat for that "spa" feel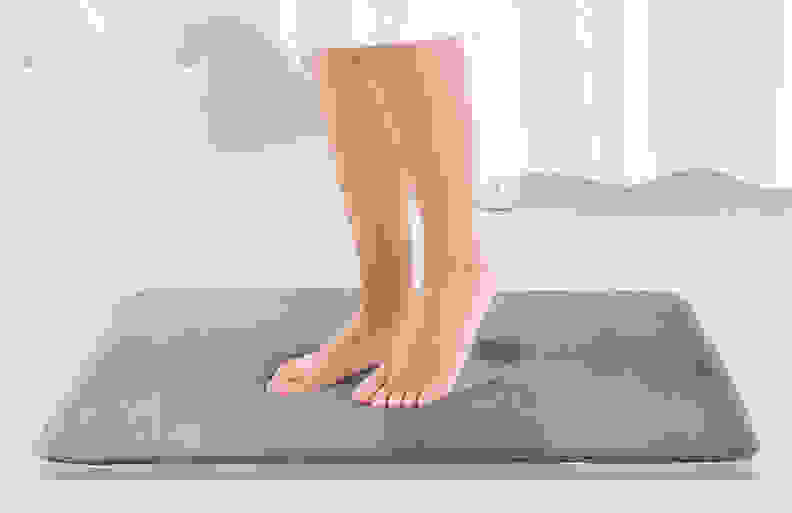 I keep buying this Genteele bath mat again and again. I really like the feeling of stepping out onto a foam pad instead of a rug after a shower. This bath mat feels very comfortable without being expensive, and it seems to dry pretty quickly. I also love that I can wash it, because bathroom germs freak me out. It's thick, comes in nice colors, and looks great. It adds a "spa" touch to my tiny apartment bathroom. - Patricia Camerota, Social Media Editor
Get the Genteele Memory Foam Bath Mat on Amazon for $15.99
2. Portable notebooks to stay organized—plus a solid pen
I'm sure I'm not alone when I say that my days are pretty busy. Staying organized is everything, and a good notebook helps me do that. These fantastic little notebooks from Fabriano are my part of my everyday carry. They're just large enough that I don't feel like I'm cramming notes in, but small and thin enough (only 40 pages) that they add virtually no weight to my bag. Each lasts for a few months and I can switch colors to help me differentiate during that transition period when you need to carry both the old notebook and the new one.
And what's a notebook without a good pen? The Staedtler Triplus Fineliner lays down a no-smear, thick line of ink with minimal pressure—perfect for fast note-taking. I learned the hard way that the tip will wear down quickly if you bear down on it too much, but it's still my top recommendation. - David Kender, Senior Vice President, Editorial
Get Fabriano Ecoqua Blank Pocket Size Notebooks (4-pack) on Amazon for $10.94
Get Staedtler Triplus Fineliner Pens (10-pack) on Amazon for $9.73
3. The best basic T-shirt to wear every day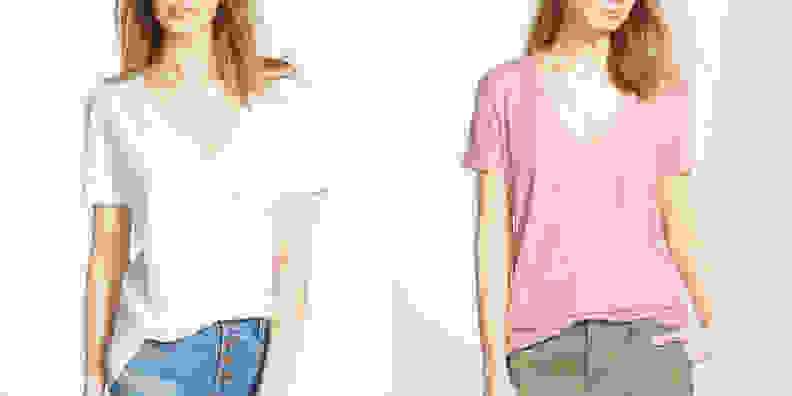 I own this t-shirt in tons of different colors and patterns. Madewell clothes are (wait for it) made well. I could honestly sell all of my other clothes and just live in these t-shirts. I'm kidding, but I'm also not. - Samantha Matt, Manager, Audience Development
Get the Madewell Whisper Cotton V-Neck Pocket Tee at Nordstrom for $19.50
4. Dry shampoo to stretch the time behind washes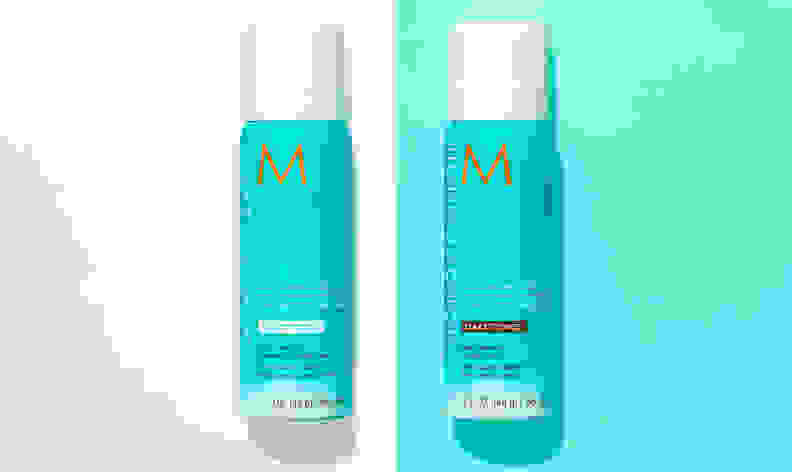 While dry shampoo has a tendency to dull your hair and leave it feeling chalky, weighed down, and overall gross, this Moroccanoil dry shampoo is the only exception. It is made with ultra-fine rice starch that actually makes oily hair feel clean, shiny, and smooth, and has a delicious, subtle vanilla scent. Its performance leaves me justifying the price every single time I rebuy. - Jessica Teich, Staff Writer, Home & Beauty
Get the Moroccanoil dry shampoo at Sephora for $26.
5. This classic baking sheet for any kitchen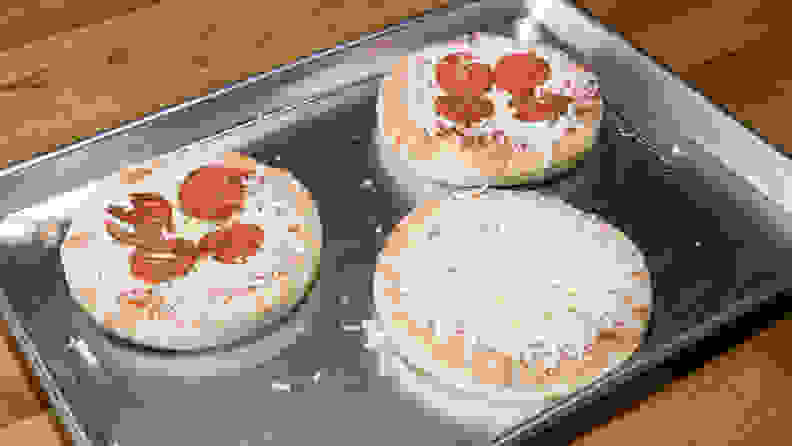 I owned this classic baking sheet for about 6 months before I bought a second one. Why? It's so cheap, it's light, and it's stackable—which means it's really easy to store in my tiny kitchen. You can never really have too many baking sheets, so why not double-up on the best one you can buy. Bonus: On my second purchase I went with the version that comes with plastic lid for an extra buck. - Jeremy Stamas, Video Production Manager
Get the Nordic Ware baker's half sheet on Amazon from multiple sellers
6. A pair of boots that's both sturdy and stylish
I spend a good portion of everyday moving fridges and washing machines around so I need a good pair of boots. However, part of my day is also taken up by meetings and number crunching. That's why I've purchased Timberland's Euro Dub Boot multiple times. They're sturdy enough to withstand a warehouse setting, while looking stylish enough to wear around the office. - Jon Chan, Staff Writer & Appliance Reviewer
Get the Timberland Men's Euro Dub Boot on Amazon starting at $109.90
7. An affordable-but-cozy comforter to keep you warm this winter
I recommend this product to our readers often, because I buy it often. I have a lovely but incontinent cat at home. And you can only wash out cat pee smells for so long before they simply won't budge. So I have to replace my comforter every year or so, and I don't want to invest a ton of money into something my little furball is going to effectively ruin fairly quickly. This comforter is the perfect price point, especially considering how soft, comfortable, and warm it is! I pair it with one of these low-cost duvet covers ($24.99) to make it last a little longer. - Samantha Gordon, Editor, Ecommerce
Get the Equinox Down Alternative Comforter on Amazon for $31.99
8. This must-have device for gamers on the go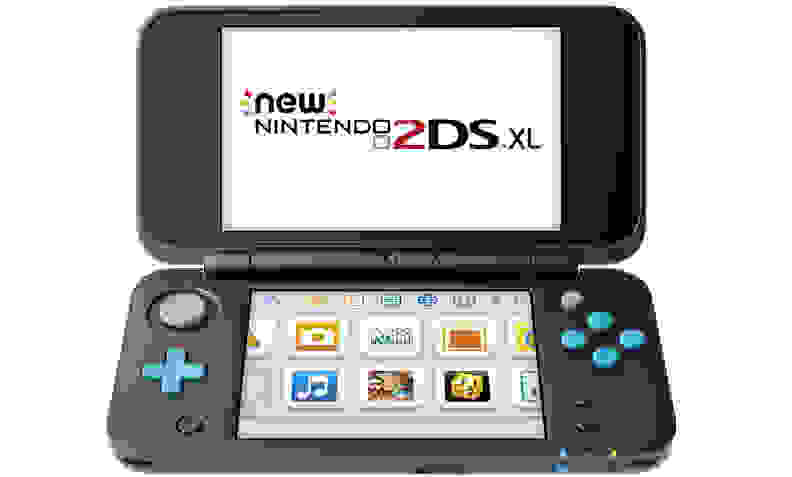 I think I've purchased more Nintendo DS systems than pairs of shoes in my life. The company tends to reiterate its hardware two or three times during a product life-cycle, and I've probably owned three of the regular Nintendo 3DS, a couple of the 3DS XL systems, the original 2DS, a New Nintendo 3DS XL, and now the latest New Nintendo 2DS XL. Suffice to say I've always got one in my bag—because if you can't play quality games on the go, can you really claim to be a gamer? - Lee Neikirk, Editor, Tech
Get the New Nintendo 2DS XL on Amazon for $121.49
9. Lip color for low-maintenance polish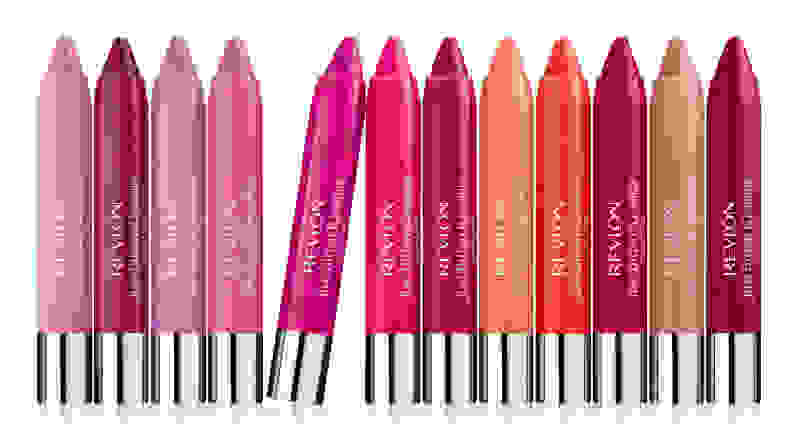 I'm incredibly lazy about makeup. If it takes more than a moment to apply, dries me out, costs a lot of money, or has super bold color that I need to plan my look around, I'm out. That's why you'll find a tube or two of Revlon ColorBurst Balm Stain in every bag I own. The stuff keeps your lips moist, and a quick swipe yields you a subtle touch of color that can really pull together an outfit. And it doesn't last forever, but when it wears off it does so in stages—first staining your lips, then vanishing evenly so that you don't end up with one of those awkward rings of color around your lips. I like the low-key red Romantic for day-to-day, the soft berry Crush for autumn wear, and the much more brightly-pigmented, hot pink Lovesick for the occasional burst of color. - Kori Perten, Editor, Home & Outdoors (that's me!)
Get Revlon ColorBurst Balm Stain in Romantic for $6.36 on Amazon
Get Revlon ColorBurst Balm Stain in Crush for $7.67 on Amazon
Get Revlon ColorBurst Balm Stain in Lovesick for $5.29 on Amazon
10. Pants that look classy but feel like yoga pants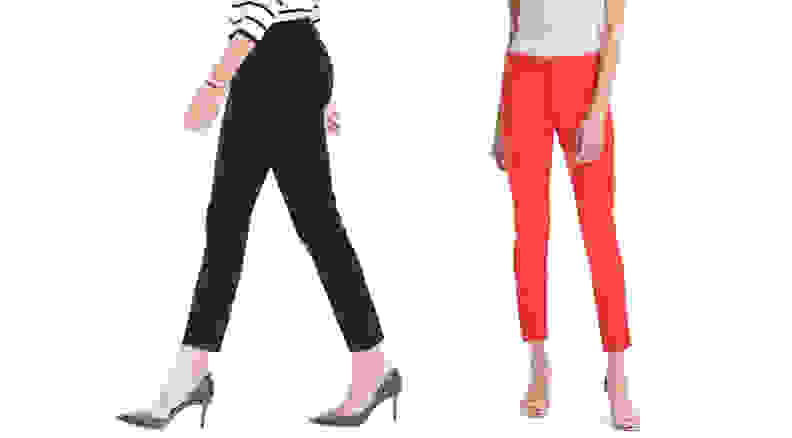 I love my Banana Republic Sloan-Fit pants. They fit amazingly well, are as comfortable as yoga pants, and somehow manage to look like dress pants. After I bought my first pair in black, I went back and got a striped pair. Then, I bought one in navy blue, which I wore all summer with white sneakers. I am watching for a sale, so I can buy them in another color, maybe leopard print or red. - Cindy Bailen, Staff Writer, Home & Outdoors
Get Sloan-Fit pants at Banana Republic for $88
11. Cheap, beautiful picture frames to dress up your home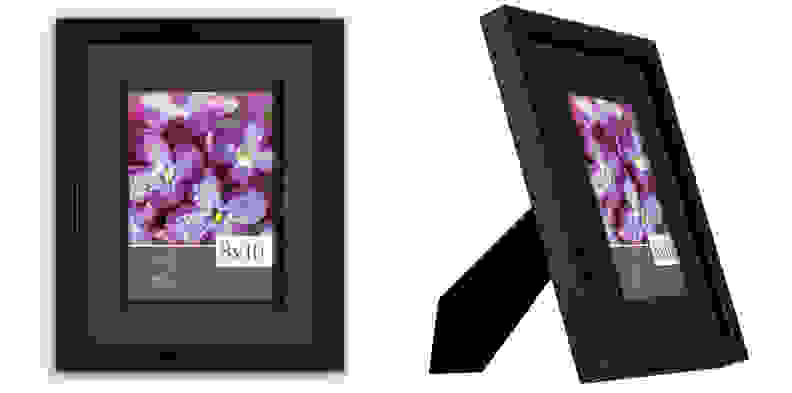 I love collecting weird posters and art prints, and I love having good, basic frames to hang them in. I've purchased at least 4-5 of these already and they're fantastic. Real glass, good quality wood, and a great price if you want to hang your art in something other than crappy plastic poster frames. I especially love these because they include a nice pre-cut mat that adds a little extra polish, and they come in virtually every size you could possibly need. - Samantha Gordon, Editor, Ecommerce
Get a Gallery Solutions Black Wood Frame in various sizes on Amazon for $9.97 and up
12. A Mr. Rogers calendar to track wonderful days in the neighborhood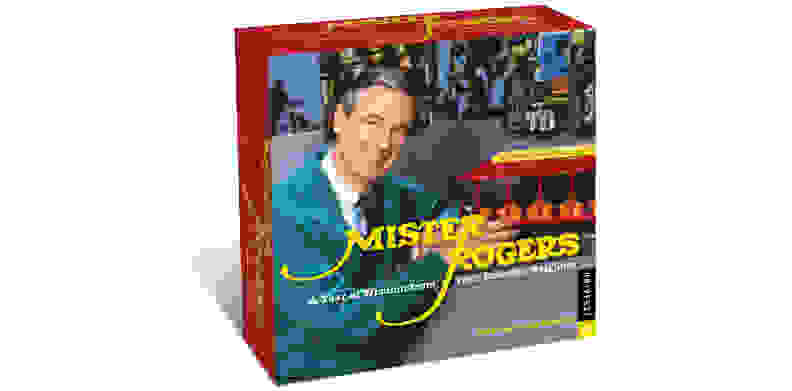 Here's a thing you REALLY have to buy year after year. Not just any calendar—a Mr. Rogers calendar. Yes, his universal message of neighborliness is a respite from a world full of anger and hate. But it's not just about childhood comforts. Mr. Rogers exhorts people to actively be better neighbors to each other, but is just as adamant that we must forgive others—and ourselves—when we can't live up to those ideals. If you—or the entire human population—is having a bad day, a few lyrics from one of Rogers' snappy songs will be enough to get you through the next few hours of work. - Keith Barry, Editor-in-Chief, Home & Auto
Get the Mister Rogers 2018 Day-to-Day Calendar on Amazon from multiple sellers
13. USB battery backups to keep your phone up and running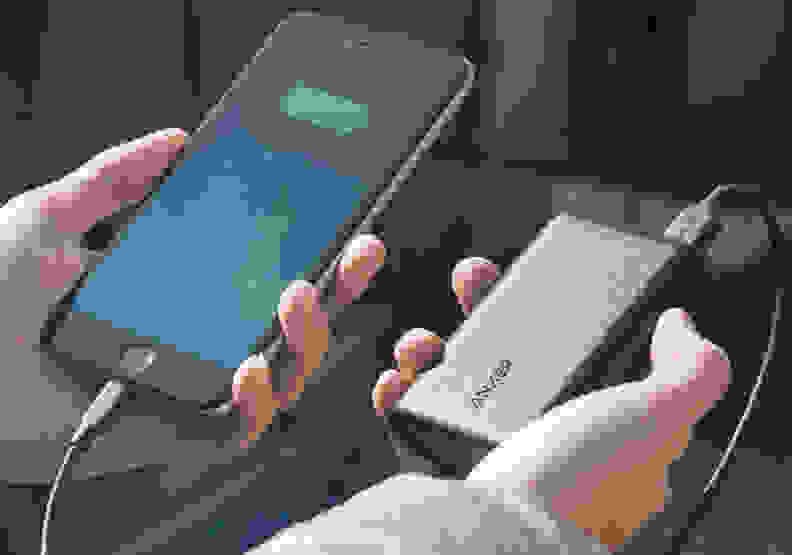 I have lost count of how many times my USB battery backup has saved the day for me. While I find it convenient that so much of my life and my job can be done right from my phone, there's nothing worse than trying to board a plane with an e-ticket and only having 3% battery remaining. My wife and I own five different USB backup batteries: a large 20,100mAh brick that can charge multiple phones at once 3-4 times over as well as several smaller ones like this 10,000mAh charger that easily fits into a bag or purse.
It may seem a bit much, but this way we never have to worry about our phones dying, whether we're traveling, out for a walk with our daughter, or taking a daytrip in the car. - TJ Donegan, Editor-in-Chief, Imaging & Electronics
Get the Anker PowerCore 10000 on Amazon for $29.99
Get the RAVPower QC 3.0 on Amazon for $53.99
14. Cadbury Mini Eggs because chocolate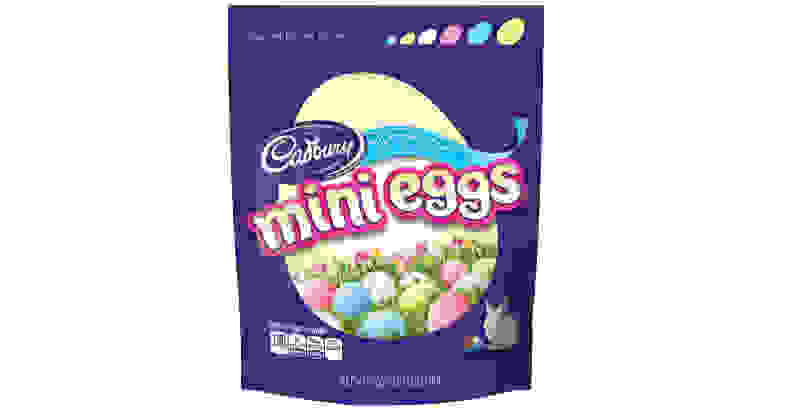 No matter what time of year it is, I always have a supply of milk chocolate Cadbury Mini Eggs on hand. I used to start stocking up when they would arrive in the grocery store in March, and then dread the day in late July when my egg stash finally disappeared. Then, I remembered that the internet exists, and now I just buy them in bulk multiple times per year. With a tasty milk chocolate center covered by a delightfully crunchy candy coating, how could I resist? - Julia MacDougall, Senior Scientist
Get Cadbury Mini Eggs (31-ounce bag) on Amazon for $19.99
15. This comfy sweater you can wear all season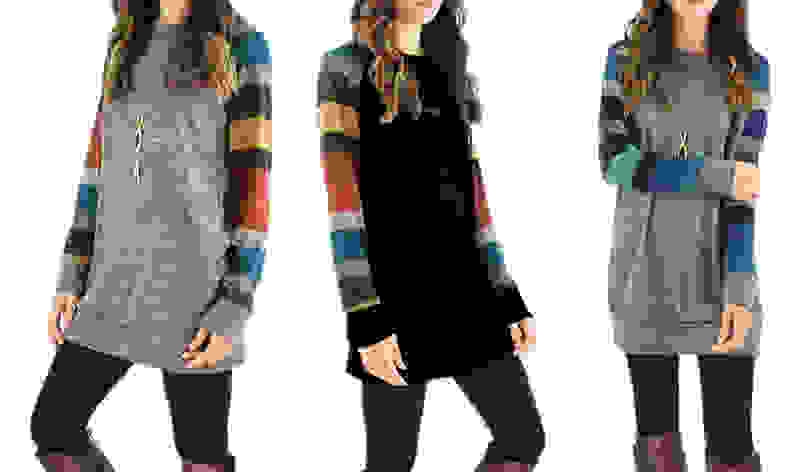 I'm obsessed with this sweater. It's super long and cozy, and I love all the different colors. The perfect fall sweater. - Ashley Barry-Biancuzzo, Staff Writer, Tech
Get the Poulax knitted tunic on Amazon for $18.99
Prices are accurate at the time of publication, but may change over time.