If you work an office job where lunch is catered every day, congratulations—how does it feel at the top? But if you're like the rest of us, you're probably torn between bringing your sad leftovers for lunch and splurging on some delicious takeout from around the corner on a daily basis.
We're here to let you know that lunch doesn't have to be a constant battle between the angel and devil on your shoulders. Packing your own lunch is a time-honored tradition that—with the help of our favorite, rigorously tested products and a little cooking knowledge—can be even better than eating out. Your wallet, diet, and taste buds will thank you.
1. Prepare something you're actually excited to eat with a multi-cooker
So many of us associate work lunch with nothing but sandwiches and salads. They're staples for a reason, yes—they're easy to make, convenient to transport, and almost never require reheating. But you wouldn't make yourself eat the same two things for dinner every night, so why would you do that with for lunch?
If you're looking for variety and quality hot meals that will actually get you excited to eat lunch, turn to the multi-cooker. These countertop appliances (like the much-loved Instant Pot) combine the functionality of a slow cooker, rice cooker, pressure cooker, yogurt maker, and more in one unit. They can save you a ton of time on weekday nights when tomorrow's lunch is low on your priority list—or on weekend nights when you're meal prepping your whole week ahead.
While we were impressed by the world's favorite Instant Pot, our testing of the best electric multi-cookers actually put the less-expensive Crock-Pot Express Crock Multi-Cooker on top. This deep, user-friendly appliance aced nearly all our tests and can transform how you approach all your meals, not just lunch.
Have an Instant Pot or Crock-Pot but out of lunch ideas? Try one of these 10 sophisticated vegetarian recipes you can make in your multi-cooker, or these freezer-friendly recipes that make meal-prepping easy.
Buy the Crock-Pot Express Crock Multi-Cooker on Amazon for $69.00
2. Or try a meal kit service and let the recipes come to you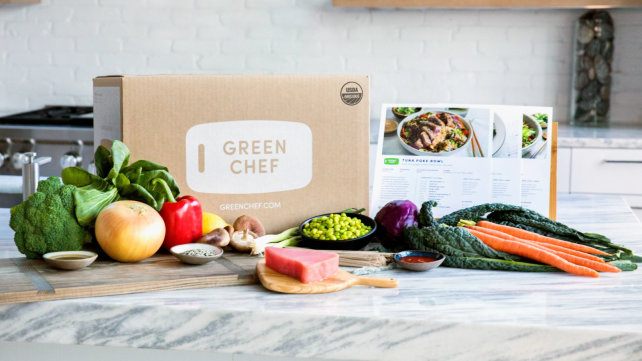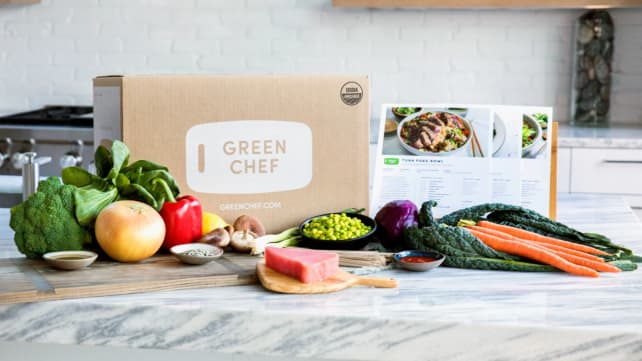 If you're still craving variety in your lunch routine, why not try out a meal kit delivery service? These highly customizable services deliver fresh ingredients to your door on a weekly or semi-weekly basis with recipe cards to help you make easy, unique meals that may have never occured to you otherwise. They can also help make you a faster, better, and more knowledgeable home cook. Most kits deliver meals with 2 to 4 servings, so they make the perfect leftovers for weekday lunch.
After months of testing the best meal kit delivery services on the market, the organic, flavorful Green Chef landed our top pick. We're in the midst of testing all these services (and more) again for an update to this round-up, so check back to see if a new contender claims the title.
Subscribe to Green Chef starting at $10.50 per meal
3. Get fridge-to-desk storage that will hold up through your commute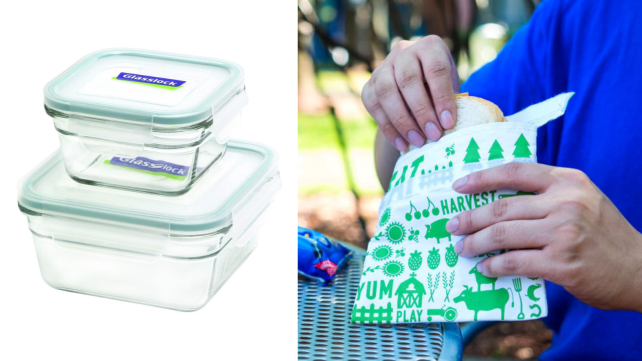 While using your old takeout containers to store leftovers and bring lunch is a solid form of recycling, the practice gets pretty old after a while. Those plastic containers get warped and dirty and tend to leak whatever you were trying to keep inside them all over your things. Not a great start to your day.
We tested the best food storage containers that Amazon has to offer and chose the Glasslock Assorted Container Set as our favorite. These glass containers are beautiful, nestable, and spill-proof, with rubberized seals to prevent leakage during transportation (and they'll help food stay fresh in the fridge, too).
If you're still more of a sandwich-and-snack person, we recently found the best reusable sandwich bags to be the Lunchskins Reusable 2-Pack Bag Set. Cute, convenient, and dishwasher safe, these reusable bags will help you ditch the plastic.
Looking for an adult lunchbox to keep your lunch snug in style? We tested the best lunch coolers and bags and found the Coleman 9-can Soft Cooler and PackIt Freezable Lunch Bag to be the best options for bringing all your food to work.
Buy the Glasslock Assorted Container Set on Amazon for $49.00
Buy the Lunchkins Reusable 2-Pack Bag Set on Amazon for $11.00
Buy the Coleman 9-can Soft Cooler on Amazon for $15.00
Buy the PackIt Freezable Lunch Bag on Amazon for $15.00
4. Measure out portions so you don't get hungry—or slip up on your diet
Sometimes our eyes are bigger than our stomachs when it comes to packing food for the future—you assume you'll be starving and need twice the food you'll actually eat. Or, if you're anything like me, you forget how much you need to get you through the day and assume an apple and a sandwich will be fine.
To take the guesswork out of packing lunch, learn exactly how much food you need to fuel you and prepare the right amount with the right tools. We love the My Weigh KD-8000 kitchen scale for precisely measuring dry ingredients, produce, and more. The scale took our top spot in our ranking of the best kitchen scales for its precision and accessibility. If you're dieting, a scale like the KD-8000 will help you stay on track.
While we recommend using scales for precision with dry ingredients, good measuring cups and spoons are your next best bet. We love the Pyrex Prepware 2-Cup Glass Measuring Cup for liquids, the Bellemain Stainless Steel Measuring Cup Set for dry ingredients and the Cuisipro Stainless Steel Measuring Spoon Set for spices and small amounts of anything. Check out our roundup of the best measuring cups and spoons to see our other favorite options.
Buy the My Weigh KD-8000 on Amazon for $38.39
Buy the Pyrex Prepware 2-Cup Glass Measuring Cup on Amazon for $12.25
Buy the Bellemain Stainless Steel Measuring Cup Set on Amazon for $18.95
Buy the Cuisipro Stainless Steel Measuring Spoon Set on Amazon for $13.00
5. Stay hydrated and ditch the plastic with reusable bottles and straws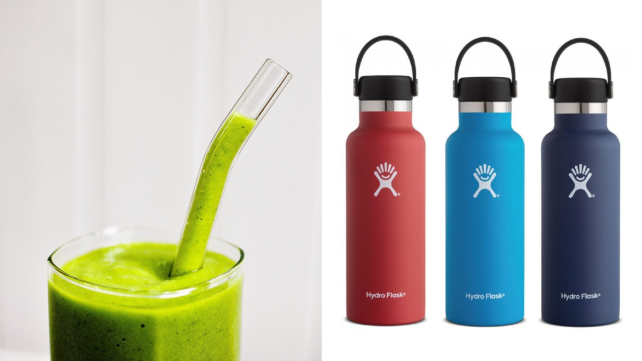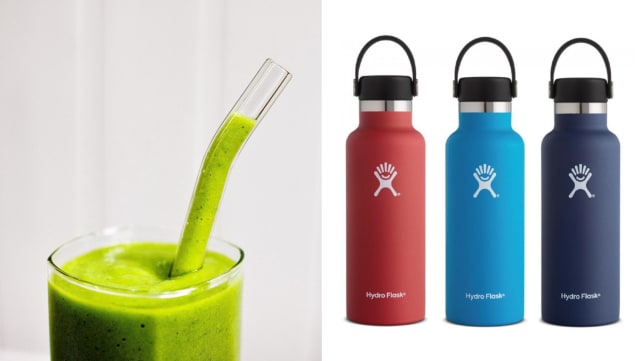 If you find yourself getting hungry early in the day despite eating breakfast, you could actually be dehydrated and in need of water more than food. To make sure you're drinking enough throughout the workday, invest in a reusable bottle you love, like the durable, insulated Hydro Flask Standard Mouth with Flex Cap, our top choice among the best reusable water bottles.
Another way to stay hydrated? Drink out of a straw. You're more likely to keep sipping through a straw then straight of a glass, so keeping a good reusable straw like the Hummingbird Glass Straw on hand will make it easy for you to reach your goal intake.
If you still find yourself running out for coffee when you get to work (and diving into the pastry section at the cafe), try one of the best travel mugs, the Zojirushi SM-KHE48, to help you cut down on those trips.
Buy the Hydro Flask Standard Mouth with Flex Cap on Amazon for $29.95
Buy the Hummingbird Glass Straw 4-Pack on Amazon for $26.00
Buy the Zojirushi SM-KHE48 on Amazon for $24.00
Our editors review and recommend products to help you buy the stuff you need. If you make a purchase by clicking one of our links, we may earn a small share of the revenue. Our picks and opinions are independent from any business incentives.