Panasonic unveiled its new lineup of TVs at a press conference today, before the actual CES festivities kicked off. Panasonic will continue to champion plasma TVs, with the new flagship ZT60 (specs) leading the charge.
One of the few manufacturers maintaining a strong stance in plasma (for the time being), Panasonic is once again putting a plasma first and foremost as its flagship. The ZT60 has an increased color gamut, 3000 FFD, and an 8-train speaker system. It also features a remarkably attractive V-shaped stand, which shows the progress Panasonic has made in product design in the last few years. It was only a short time ago that the company was still pushing out boxy bricks.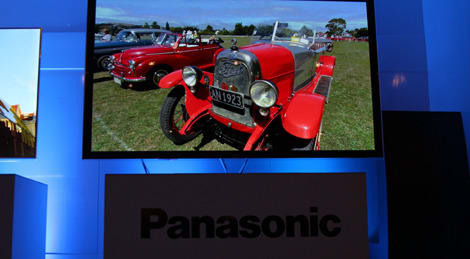 As far as smart content goes, Panasonic's big announcement is called "My Home Screen." Each user can customize his or her home screen, with the ability to access it via a built-in camera and facial recognition technology.
Swipe & Share 2.0 is a drag-and-drop feature that allows users to move photos and videos from Android and iOS tablets and smartphones right onto their Panasonic smart TVs. This feature can be coupled with the Touch Pen, which allows for writing and drawing on said images.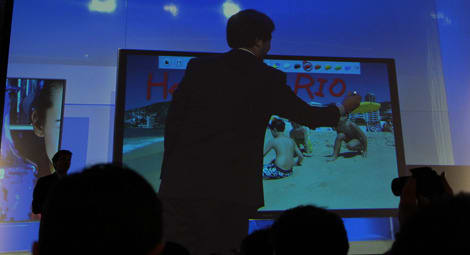 An exclusive app coming to the Viera ecosystem is the Home Shopping Network's Shop by Remote. This app will allow you to shop and purchase items from the Home Shopping Network on your TV during a live broadcast. For example, if a 900-watt pressure cooker is being shown, you can purchase it on the spot. There will be separate channels (like Amazon) to browse for and purchase specific items, as well. You will even be able to view videos of items from HSN broadcasts.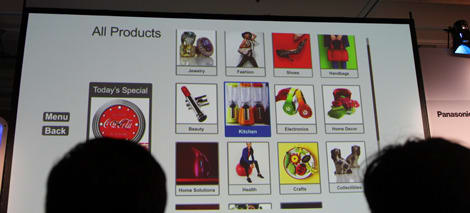 In total, Panasonic will be releasing 16 new LED TVs and 16 new plasma TVs in 2013. All Viera smart TVs will also come with the ability to control YouTube via a smartphone. We'll update this article with release dates and pricing info when it becomes available.
Additional Specs:
Panasonic Viera TC-L55WT60