Laundry & Cleaning
Roper RTW4516FW Top-Loading Washer Review
This 'budget' washer may cost you more money than it saves
Credit: Whirlpool Corporation
It's great to have a washer in your home, a big life improvement over lugging dirty clothes to the laundromat. With your own washer, you can do the laundry any hour of the day or night, and it can cost less to run each load. Put away your quarters. You won't need them to wash your clothes.
That said, washers can be expensive, so you might be tempted to purchase the cheapest one you can find. But buying the Roper RTW4516FW (available at Lowe's for $399.00) top-loading washer (sold only at Lowe's) is possibly not the best idea. You should wait until you can spend more on a better washing machine.

Of the washers we've tested in our laundry labs over the years, the Roper (made by Whirlpool Corporation) is one of the lowest scoring. We find that it's expensive to run, takes a long time to complete a cycle, gulps water, and leaves clothes soaking wet, meaning your dryer has to pick up the slack.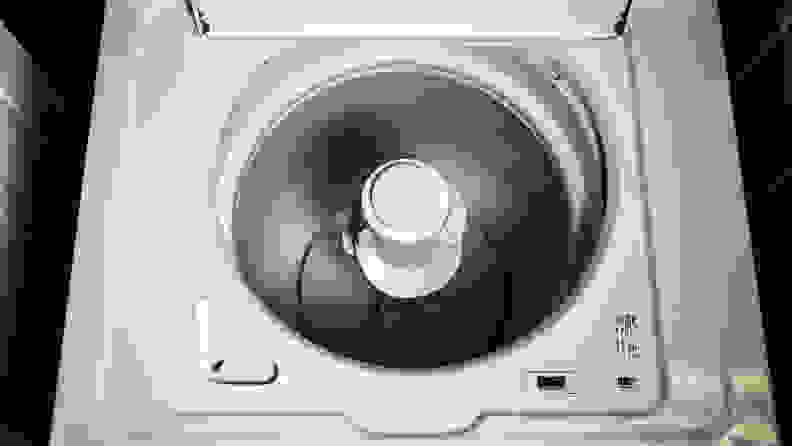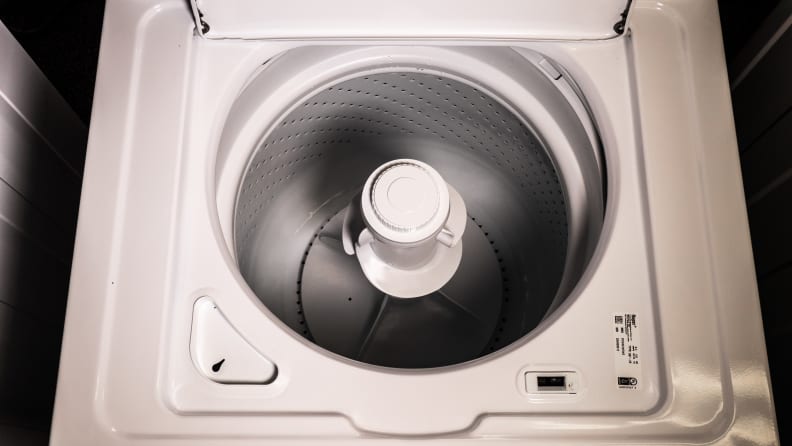 Design and Features
The controls on this white American-made washer couldn't be easier to use. There are only three knobs: Water level, temperature, and cycle selection. If you believe clothes need more water to get clean, you can select the Deep Water Wash option, though our tests indicate that adding more water usually results in dirtier clothes. Best to stick with Auto Sense and let the washer determine how much water is needed. Adding extra water dilutes the detergent.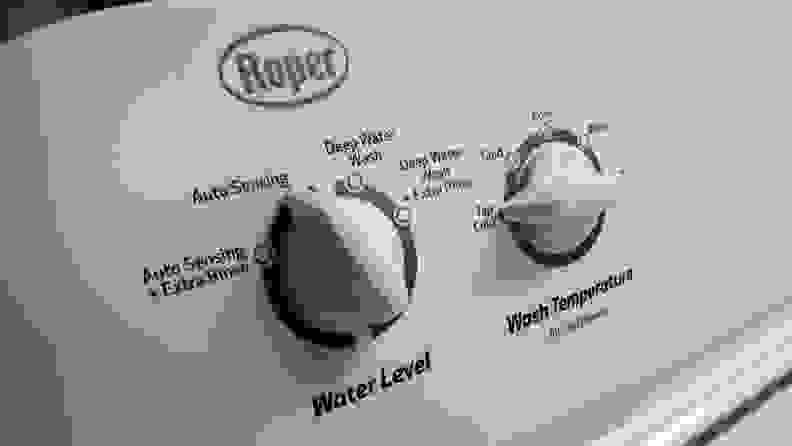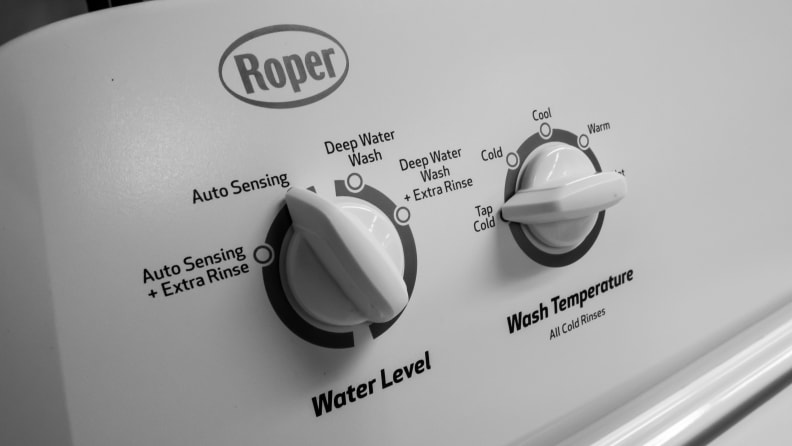 When you raise the washer's lid, you see a pole agitator (that tall corkscrew in the middle) and a porcelain tub. Your parents and grandparents probably had a similar view in their old washing machines. Those washers could run with the lid open. Sorry, this one can't, but it provides a late lid lock feature to allow you to toss in that last pair of socks before the spin starts.
Although it's inexpensive to purchase, this washer will make you pay in other ways.
Performance
The Roper's Heavy cycle did the best with cleaning overall, though it lasted 90 minutes. It also retained 75% of the water in the clothes. The Delicates cycle, which uses a slower spin, left behind 97.5% of the water, and worse, the Casual cycle left 101% of the rinse water in the laundry. Anything you wash in those cycles is going to come out wringing wet. Whether you hang them up or toss them in the dryer, those clothes are going to take a very long time to dry.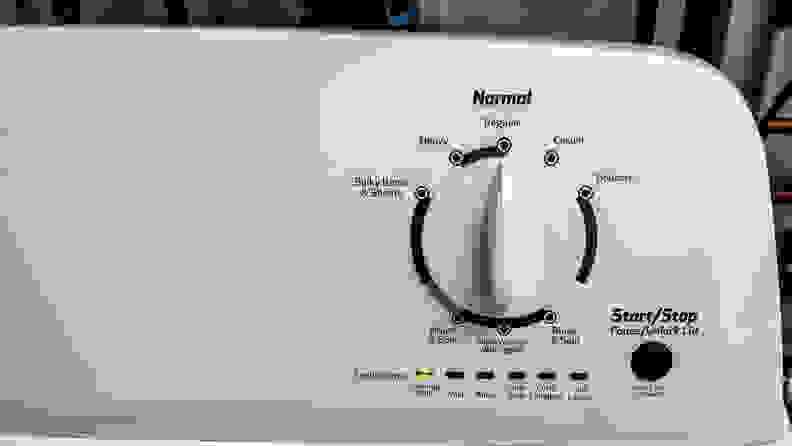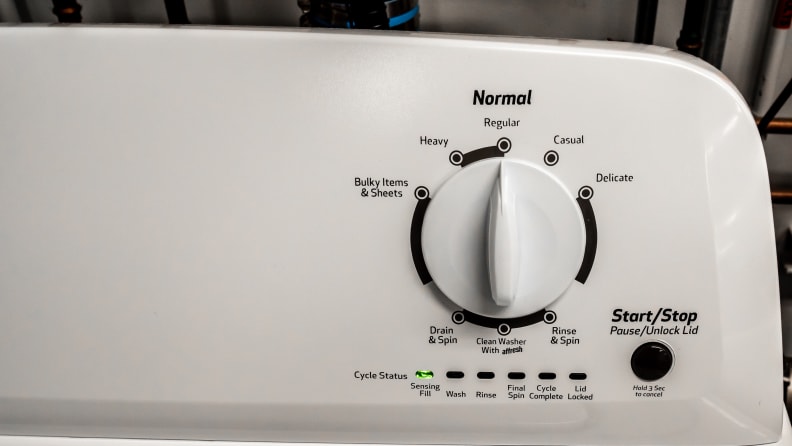 You only use the Normal cycle? It didn't clean as well as Heavy cycle in our tests. And consider—with Deep Water Wash selected, the Normal cycle used 35 gallons! Even the 19 gallons it used with Auto-Sense isn't exactly paltry. We estimate that this washer will cost about $89 a year to run. Over time, that will add up.
Warranty
The Roper washer comes with a one-year warranty.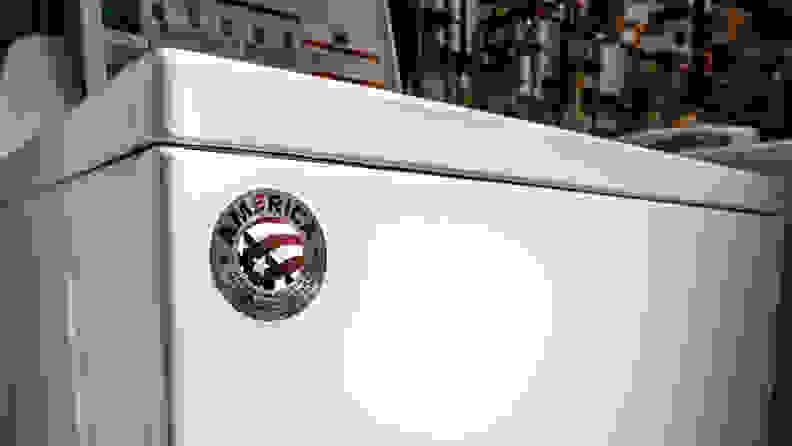 What user reviews say
Reviewers who own this washer are polarized in their opinions. A few owners are satisfied that it gets their laundry clean. Many complain that it develops serious problems within a year. Only 67% of owners say that they would recommend this washer. It received an average of 3.5 stars over a few sites.
The Bottom Line
Roper's pole agitator top-loader has simple dial controls and limited features, meaning you don't have to be a laundry expert to use it. That's one of this machine's advantages. One of the big issues around the Roper is that it consumes a great deal of water, leaving a startling amount in the clothes. It is not energy efficient, so although it is inexpensive to purchase, you'll end up paying in other ways. If you purchase the companion dryer, the Roper RED4516FW, it will need to tumble for a long time to get the laundry dry.
Up next
Get Reviewed email alerts.
Sign up for our newsletter to get real advice from real experts.