Laundry
Bosch Ascenta WAP24200UC Washing Machine Review
This compact Bosch will let you have in-unit laundry in a small living space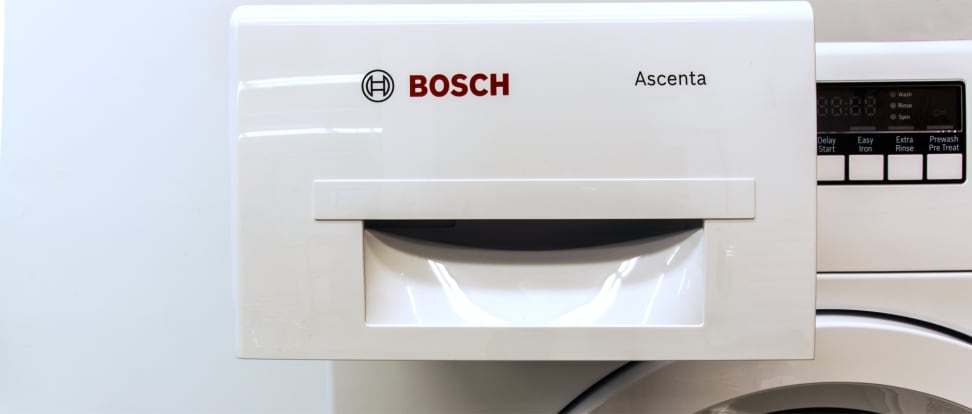 Credit: Reviewed.com / Jonathan Chan
The Bosch Ascenta WAP24200UC (MSRP $999) is a compact, front-loading washing machine that measures just 33 inches tall, 24 inches wide, and 24 inches deep—a tiny form factor designed to fit under a countertop or in a laundry closet.
So why would you want this little washer when you could have a much bigger one for the same price? Well, not everyone has room for a full-size laundry set. This Bosch also pairs with the ventless Ascenta WTB86200UC (MSRP $999), a condenser dryer, which can be stacked on top of the washer.
A tiny washer combined with a ventless dryer allows you to put this laundry set anywhere there's water, drainage, and a 240V outlet. If your apartment, condo, or small home lacks a dryer vent, the Bosch Ascenta WAP24200UC is a great workaround for the space-conscious consumer.
To read our review of this washer's matching dryer, the Bosch Ascenta WTB86200UC, click here.
By the Numbers
We put the Bosch Ascenta WAP24200UC through its paces in our controlled testing facilities. Over the years, we've found that stain removable and efficiency are the two strongest indicators of a good washer. Here we'll take a peek behind the numbers that informed our opinions on this Bosch.
Stain Removal
We calculate stain removal using stain strips. These bolts of cloth are mechanically coated with common household substances like cocoa and sweat. We place these strips in eight-pound loads of test laundry and run them through selected cycles.
When we analyzed the washer strips with a photospectrometer, which determines the difference in color of a stain from before a wash to after a wash, we found the Cotton Normal cycle with heat turned all the way up gave the best clean. It even performed 4% better than the Heavy Duty cycle, which was the second most powerful cycle. All this despite the fact that the Heavy Duty cycle required fifteen more minutes to complete.
The default Cotton Normal cycle came in third, finishing about 5% behind the Heavy Duty cycle. Although it did finish about forty minutes sooner.
The Delicates cycle came in last–13% less effective than Cotton Normal with high heat, but only 45 minutes long. This cycle did live up to its name though: Compared to the rest of the cycles, it was by far the most gentle on clothing.
Design & Usability
Small washer, big impact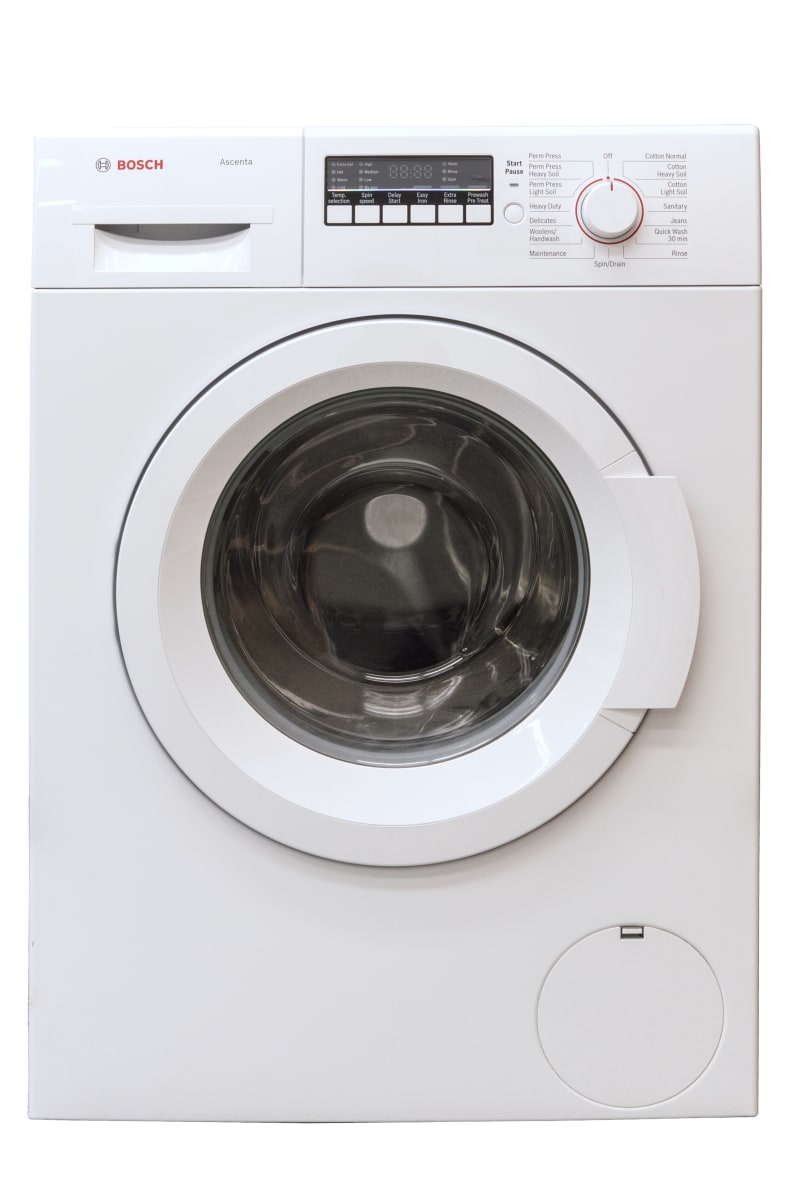 ×
Bosch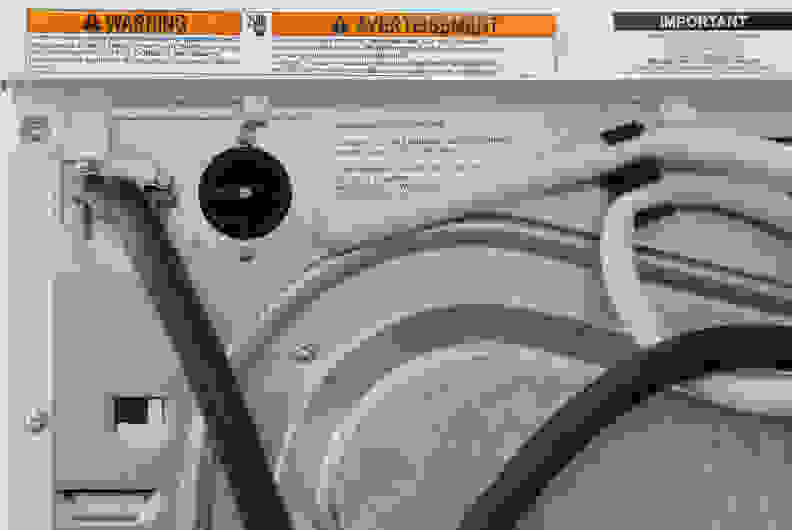 The Ascenta's design resembles larger front loaders–only smaller. With just 2.2 cu. ft. of capacity, this washer isn't for large families that do laundry once a week. If you have a washer this small, you should divide your laundry up into smaller loads that you wash more often. Just be aware that bulky items, like comforters or blankets, just won't fit inside this drum.
If you're used to using a full-sized washer, don't forget to consider the longer cycle times, too. This washer's Normal and Heavy Duty cycles both took over an hour to finish. We know this isn't ideal, but slow cycles are a hallmark of compact machines. Such is the price of saving space.
But European-style washers do have their advantages. For example, it's easier to reach to the back of the Ascenta's drum. Also, washers from Europe usually have lots of cycles, and this one is no exception: It has 12 wash cycles ranging from Sanitary to Jeans.
Efficiency
Efficiency is the measurement of how much a washer will cost you to operate over time. Our formulas take two variables into account: what goes into a washer, and what comes out.
Water and electricity go into a washer. We hooked up the Bosch to water and wattage meters, and based on national average use patterns and costs, we estimate the Ascenta will have an annual running cost of $32. That's on par with other front loaders.
The second part of the formula is a little more obscure. You can't wear your laundry without drying it, so that means the energy consumption of the dryer needs to be addressed. The amount of water a washer spins out directly affects the time your laundry needs to spend in the dryer. In this regard, the WAP24200UC was off the mark. On average, laundry came out having retained 76% of its weight in water. We like to see numbers close to 50%.
Performance & Features
The featherweight champ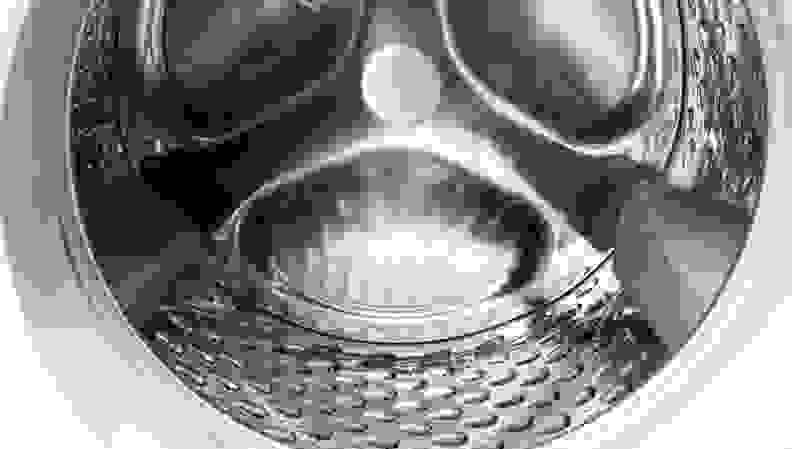 Although small, the Bosch Ascenta WAP24200UC packs quite a punch. Pound-for-pound, it goes toe-to-toe with full-size machines when it comes to stain removal and fabric wear, though it lags behind in water retention.
We credit the good use of hot water for getting our whites closest to white: Our sensors picked up temperatures north of 130°F, and high temperatures are the key to getting out sweat and grease stains. The Cotton Normal cycle led the way in terms of stain removal, while Heavy Duty came in a close second. However, to get this superior clean, you'll have to wait at least an hour and fifteen minutes.
Those long cycle times are made even longer by how wet the laundry comes out. The WAP24200UC has some issues spinning out water at the end of a cycle, and that's a problem. See, the more moisture your laundry carries out of the washer, the longer it'll have to spend in the dryer. And this washer's accompanying dryer–the Bosch Ascenta WTB86200UC–takes up to three hours to do its job.
For in-depth performance information, please visit the Science Page.
Conclusion
A good compromise
Life is compromise. With the Bosch Ascenta WAP24200UC, you're trading the capacity and quick cycles of a full-size washing machine for the ability to fit a washer in the space that you have in your house.
But this Bosch has some tricks up its sleeve: 12 cleaning cycles will cover almost all of your laundry needs–if you have the patience for them to finish. But while an hour and a half to clean 2.2 cubic feet of laundry may be too much for big families, if you live in a place where square footage is at a premium, the Bosch Ascenta WAP24200UC is worth a look.