Laundry
Electrolux EIED50LIW Dryer Review
Quick, efficient, and right on the money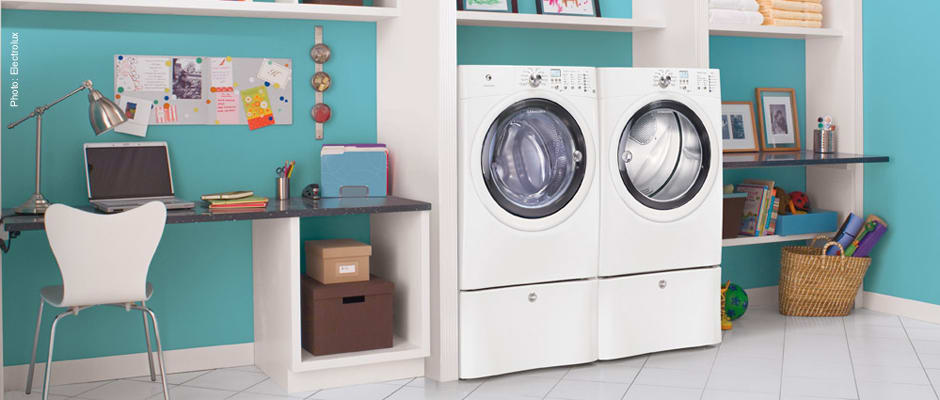 Credit:
I asked a man once what he wanted out of a dryer. He said, "I want a dryer that dries my clothes." I asked if he wanted steam. He replied, "No." What about all the cycles under the sun? No again. What about smart phone diagnostics? No. No. No. He just wanted a dryer that dried his clothes.
Cue the Electrolux EIED50LIW (MSRP $1,099).
Yes, it's a bit pricier than some bare-bones machines, but with good reason. The drum fits eight cubic feet of laundry, and it'll get an eight pound load dry in under an hour. The Fast Dry, Bulky, and Delicates all astonished us, too. In every test, this dryer performed exceptionally well, even if the door gave us some hassles. If a fast, effective dry sounds good to you, this Electrolux is definitely worth checking out. If you need more features, check out the higher-end Electrolux EWMED70JIW.
By the Numbers
The best way to win an argument is with facts, or a big stick. Here at Reviewed.com, we definitely favor facts. In the dryer world, it all comes down to collecting data on temperature and water removal. On these accounts, the Electrolux EIED50LIW reigns supreme.
Normal & Delicates Cycles
The Normal and Delicates cycles both utilize 8lb laundry loads wetted to 1.7 times their weight in water. These test loads were placed in their respective cycles with temperature sensors.
At the end of the Normal cycle, test loads were 98% dry. Our instruments told us that there was still moisture, but the test laundry was dry to the touch. In fact, a little moisture can help with the ironing process. The cycle lasted, on average, 48 minutes and reached a maximum temperature of 131.8°F. At that temperature, clothing damage will be kept to a minimum.
The Delicates cycle lasted around 46 minutes. When the chime sounded, we found that 95% of the moisture had been removed. hat's as close to perfect as we've seen on this tricky cycle, which has to balance clothes wear with moisture removal. The cycle reached a peak temperature of 133.7°F, well within the expected range.
Performance & Features
Electrolux brings the heat, but not too much
On the performance front, the Electrolux EIED50LIW had a strong repertoire of cycles. We chucked in wet laundry and it came out dry, end of story.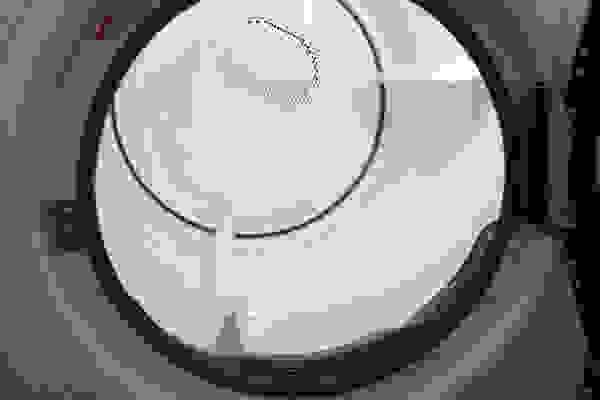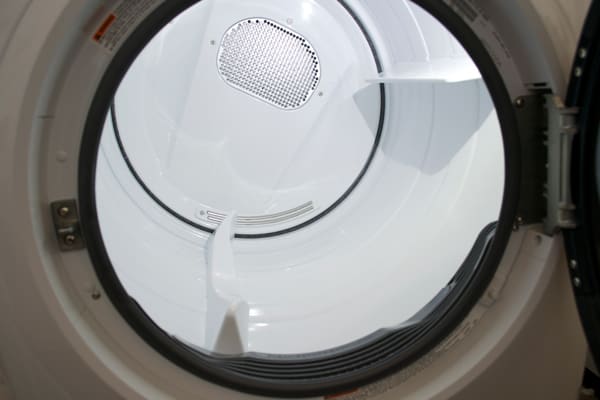 The Normal and Delicates cycles ran between 131-133°F. That's a good sign, since those temperatures are low enough to keep clothing damage to a minimum. Both cycles also lasted less than an hour and got clothing to a wearable state.
What surprised us the most was the Bulky cycle. In two hours and sixteen minutes, a comforter, wetted to 1.5 times its weight, ended up 90 percent dry. There are plenty of dryers that can't even get a wet blanket half dry.
Even though the EIED50LIW leads with its performance, Electrolux didn't overlook features. In fact, it's like the perfect valet, anticipating needs you didn't even know you had. For instance, I had to leave the room before a Casual cycle ended. When I returned, the extended tumble had activated. This kept the laundry rolling in order to keep it fresh. Similarly, damp alert, when activated, will sound off when it's time to take laundry out to line dry or damp iron.
For in-depth performance information, please visit the Science Page.
Bulky and Fast Dry
The Bulky cycle is the most tricky for many dryers. It's easy to get one side dry, but not the other. That's why a lot of dryers will signal you to flip your comforter mid-cycle. However, the Bulky cycle on the EIED50LIW managed to get our test comforter 90% dry without any assistance. Clocking in at 2:16 hours , we were thoroughly pleased with this result.
The Fast Dry cycle lived up to its namesake. It took only 18 minutes to finish. We found that this cycle removed 72% of all the moisture. This was done with a 4lb load. If we chucked it in a second time, we'd have dry laundry.
Design and Usability
Don't let the door hit you
I'll say this about the Electrolux EIED50LIW's door: it looks good. However, if you brush past it, it will pop open. Should you wish to close it, an exercise in trial and error will ensue. Call me crazy, but I'm sure I had to push in a different place every time to get the door to open or close.
Another baffling design choice: the only way to turn on the drum light is to open the door. Adding an independent drum light control would definitely benefit consumers looking to see if that pair of red socks made it into the dryer.
Our last gripe: lint easily got caught in the handle of the trap. Otherwise, this machine is stackable and elegant. Well-defined lines and tight seams make for a sleek finish. Plus, with a massive eight cubic foot capacity, size makes up a lot of ground for this appliance's quirky deficiencies.
Conclusion
For the family on the go
Quick and effective cycles combined with sleek design make this an ideal machine for the family on the go. You can even watch a DVD instead of reading the manual. The $1,099 MSRP isn't outrageous considering that the Normal cycle took 46 minutes and managed to get our test loads into a wearable state. If you're looking for a machine that's quick, stacks, and looks sleek, then Electrolux's EIED50LIW may be for you.