Laundry
Kenmore Elite 61422 Dryer Review
Sensible drying and some good looks too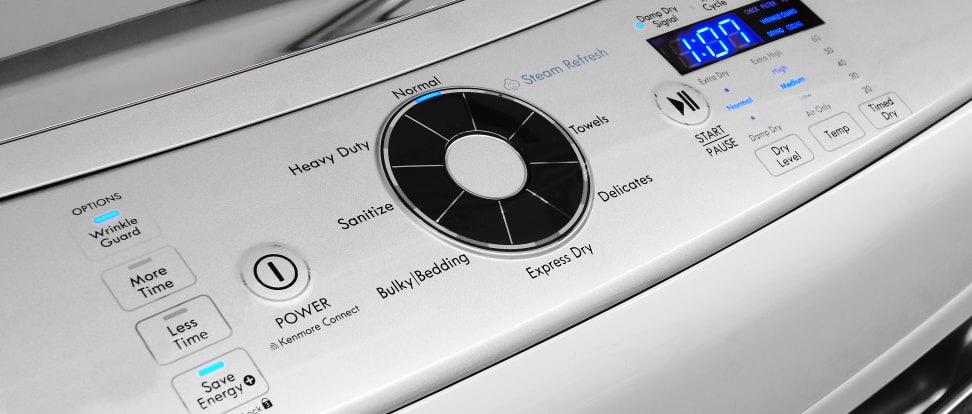 Credit:
The Kenmore Elite 61422 (MSRP $1,069.99) is an unusual dryer in terms of visual style, but a familiar one in terms of hands-on functionality. Based on similar models from LG, this Elite is a treat for the eyes.
But ignoring design and usability, as well as an uncommonly fast Delicates cycle, performance was below what we'd expect at this price. Most cycles ran a bit too warm, but a Save Energy mode allows you to turn down the heat in exchange for longer cycle times. Cycle versatility and extra features may seem a bit slim for such a high MSRP, but floor prices at Sears bring this machine down to about $900, making it a slightly more reasonable purchase.
By the Numbers
The performance Kenmore Elite 61422 (MSRP $1,069.99) doesn't quite live up to its glamorous exterior. But with retail prices hovering around $700, that's okay. Sure, it ran a bit warm more often than not, but the Save Energy+ mode lets you turn down that heat for gentler drying.
Design & Usability
Sloping curves that are more practical on the washer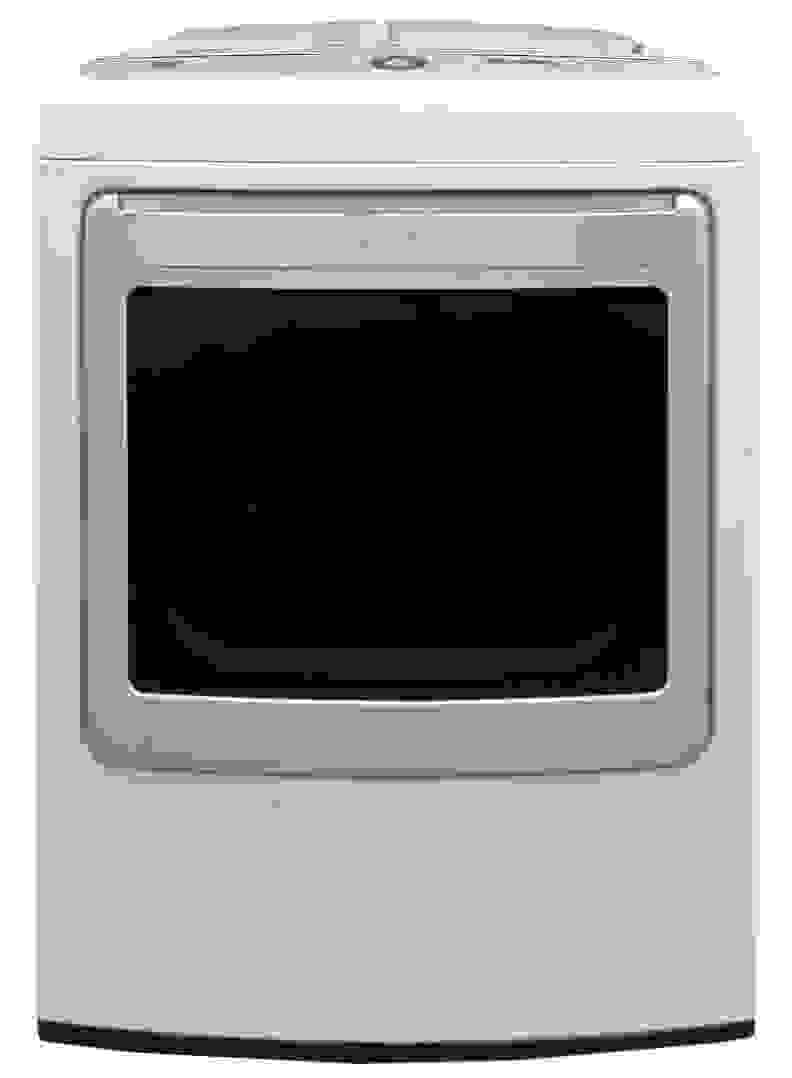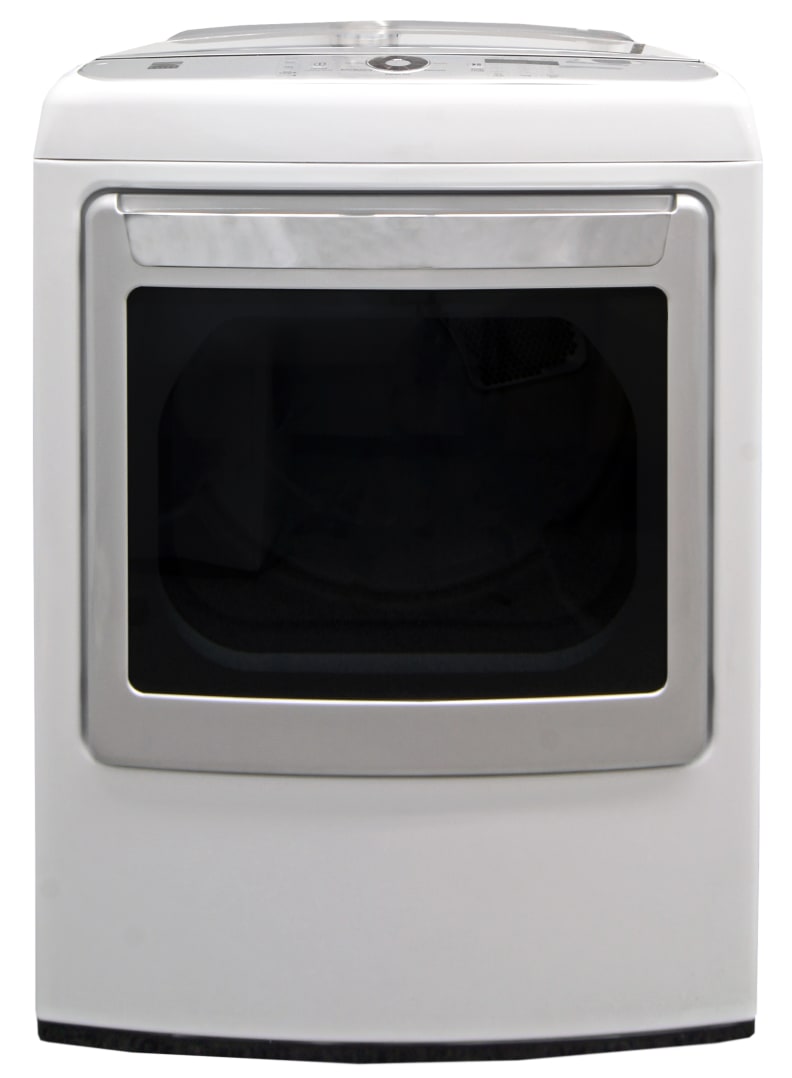 On this dryer's matching washer, the upward-facing controls on the front of the machine let the user access the interface even when the lid is lifted. But since the dryer's door is in front and not on top, the practicality of this design is somewhat lost here. At least we didn't have to stoop to access the dryer's controls, and it does look sleek.
With its shiny trim and silvery grey top, it's hard to believe Kenmore calls this a "white" dryer. If you're not partial to white, consider the 61423, a metallic silver version that costs an extra $100. Both models include stainless steel drums on the inside.
Instead of a traditional cycle knob or list, Kenmore decided to use a circular touch pad with bright blue indicator lights. It's easy to use and creates an uncluttered layout that's a snap to read, and it's an improvement over LG's clunky setup. The controls alone are reason enough to buy the Kenmore.
×
Design
Normal & Delicate
The Normal cycle didn't quite get our test loads 100% dry, but it came darn close: at 98% moisture removal, garments were ready for ironing or hanging. Of course, with cycle times averaging 53 minutes and temperatures peaking at 155.5°F, we'd have appreciated the removal of that final 2%.
Delicates was the only cycle that didn't run too warm, peaking at a gentle 114.3°F. With cycle times running a mere 58 minutes on average, 91% moisture removal is actually rather impressive.


Performance & Features
Not as interesting as the design
While this Kenmore may look pretty darn "Elite," its performance didn't stand out. Most of the cycles we tested ran for the typical duration, got a bit too warm, and (aside from Bulky/Bedding) dried clothes almost completely. Pretty standard stuff all around.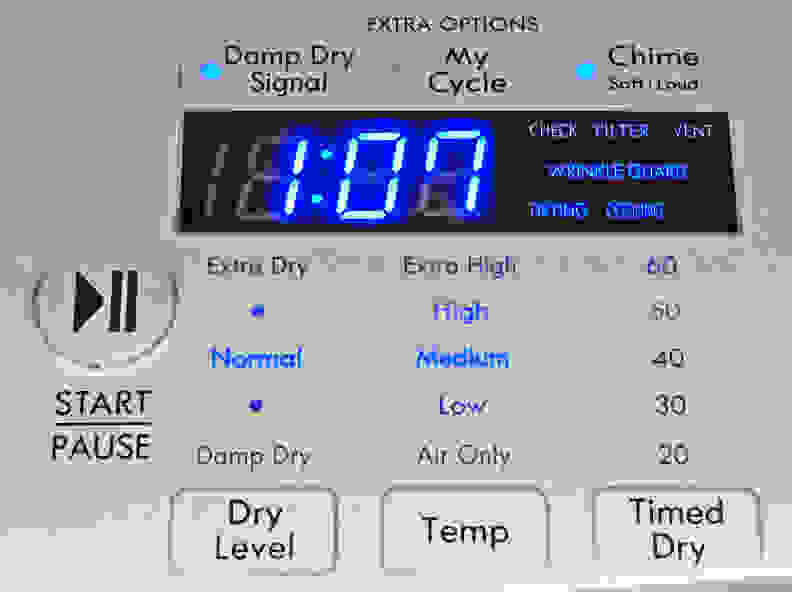 We measured a few standout points worth mentioning. For instance, Delicates finished in just under an hour, making it much faster than the norm. On the other end of the spectrum, Bulky/Bedding ran for almost an hour and only removed about 71% of all excess moisture. If you're not planning to finish up with a clothesline, you'll want to put anything large through a second time.
Features were pretty slim, but surprisingly practical. Wrinkle Guard—which tumbles dry loads left in the machine at certain intervals—is standard fare on all but the most basic machines, as is a Damp Dry Signal. You can also craft and save a customized load using My Cycle.
Save Energy+ is ideal for consumers concerned about high temperatures damaging or fading gentler garments. This mode drys clothes at cooler settings, and saves energy accordingly, but it also extends drying time to make up the difference. This feature is part of what earned the 61422 an Energy Star certification.
For in-depth performance information, please visit the Science Page.
Quick Dry & Bulky
Express Dry got our 4 lb. load 92% dry, all in 25 minutes. That's quite impressive, though a high peak temperature of 151.7°F explains this cycle's success.
The Bulky/Bedding cycle was easily the most disappointing. After 53 minutes, our large test comforter was only 71% dry despite peak temperatures of 151°F. We definitely seen better, and you'll want to run it twice to dry the opposite side of your comforter.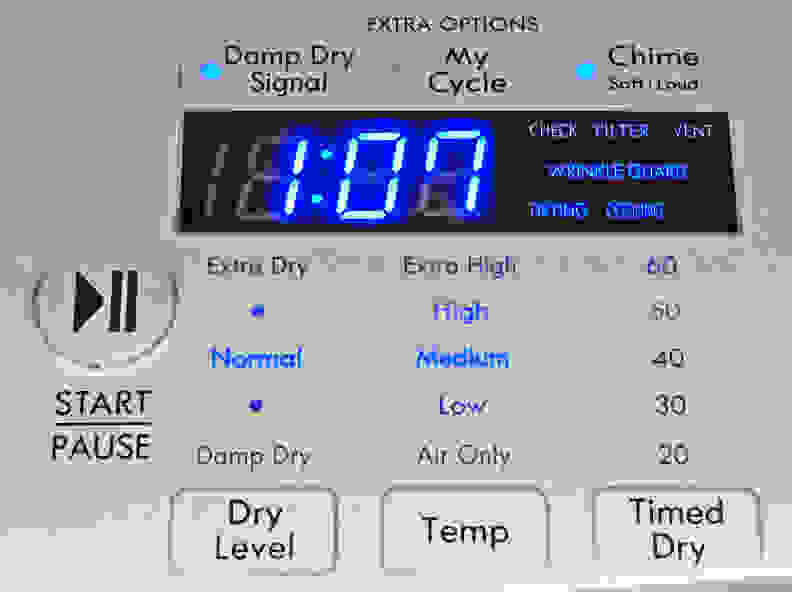 A Good Buy
Affordable, quirky, and effective
Top-loading washers with attractive paired dryers aren't all that common. The Kenmore Elite 61422 is a breath of fresh air in terms of design, even if it's just "pretty good" when it comes to performance.
Fortunately, a small list of useful features give this dryer an edge over basic models, while in-store prices of about $900 make it more affordable than top-of-the-line machines. If you're looking for a easy-to-use dryer with decent versatility and some visual flair to match, you could do a lot worse than the 61422.