Laundry
Samsung DV50K7500 Series Dryer Review
A great dryer that costs more than the competition.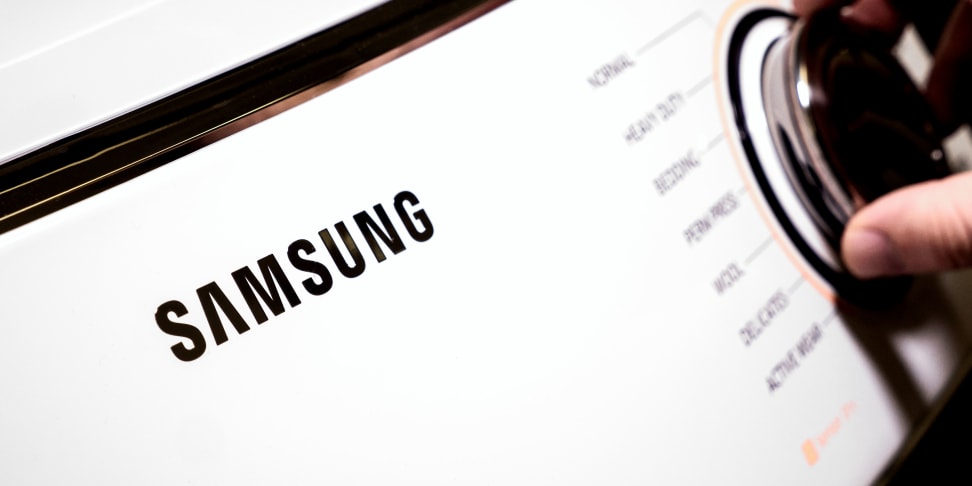 Credit: Reviewed.com / Kyle Looney
You've probably seen the Samsung DV50K7500 (MSRP $1,399-$1,599) in one of the many Samsung appliance ads that's currently blanketing the airwaves. At first glance, it looks like a great dryer: 14 cycles including steam, a 7.5-cu.-ft. stainless steel drum, and even a removable drying rack for shoes and delicate items. Not to mention the fact that it dries pretty darn well.
However, once the glow of a strong first impression faded, we quickly realized that almost every dryer we've tested that performs as well as this Samsung costs less money—sometimes hundreds less. And the useful cycles and features found on this Samsung aren't unique when compared to any other model in this price bracket.
Sure, the ability to add Smart Home capabilities is distinct to this Samsung... as long as you buy the separate Smart Home Adapter for about $25. But we think most buyers would prefer something more practical, like a dryer that costs $100 less and comes with a 10-year warranty that trumps this Samsung's conventional 12-month coverage.
We're also underwhelmed by this dryer's matching washer, the WF50K7500A with AddWash. It cleans clothes well, but it's similarly overpriced and we had some issues with the AddWash door. If you're shopping for a matching set, the washer doesn't really help improve this dryer's case.
Maybe Samsung spokescouple Kristen Bell and Dax Shepard can afford a sale price of $999—$1,200 (depending on color and whether it's gas or electric), but we think that's just too much. If the DV50K7500's average retail price drops below $900, then we'd be more eager to recommend it. For now, we think you should save some money and choose another dryer.
×
Design
Read our full review of this dryer's matching washer, the Samsung WF50K7500A.
The Nitty Gritty
If you do want to splurge, at least you can be comfortable knowing you'll have a good-looking product. Even with so many cycles and features on the control pad, we found it to be easy to read. It's always clear which cycle or features are active, and all the buttons were responsive. That said, we would have liked a sturdier cycle select knob; this one felt wobbly.
We also loved the semi-translucent, blue-tinted door. It reminded us of HAL 9000, and is probably the best-looking dryer door we've ever seen. (And yes, we know that bar isn't exactly set too high.)
We test our dryers with standard 8 lb. loads of mixed fabrics, plus smaller loads and a bulky Queen-size comforter. This machine was actually at its best when tasked with less-conventional loads. Workhorse cycles like Normal and Delicates removed all excess moisture in a reasonable amount of time, but did so with temperatures that got warmer than we'd like.
This machine was at its best when tasked with less conventional loads.
On the other hand, the 30-min. Quick Dry cycle did surprisingly well, removing 95% excess moisture from our 4-lb. test load. It got even hotter than Normal (it peaked at 155°F) but that's fine for occasional use.
The Bedding cycle also did well, removing 85% excess moisture from our large comforter in about 40 minutes on average. That's considerably faster than most bulky tests we've run. By comparison, other dryers take twice as long to get a comforter that dry.