We don't just recognize appliances for superior performance and value. We also examine connectivity, new technology, and design. These are the home appliances that most impressed us in 2013.
Best Smart Home Platform
Whirlpool 6th Sense Live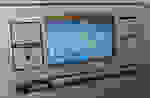 Whirlpool's new suite of connected appliances are simple and straightforward. They don't tweet, and they don't play music, but they will text you when your laundry is done and let you order supplies from a smartphone app. Most importantly, they can save you money. Press the Smart Grid button, and your appliances will automatically run during off-peak hours, when energy costs are lowest. Unlike other smart grid compatible appliances, these don't even need a special smart electric meter. Instead, they connect to an online database of energy prices.
Read more about Bosch's Whirlpool 6th Sense Live here
Best Design—High End
Bosch New Dishwasher Platform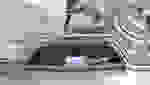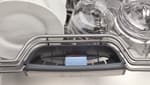 Bosch spent $50 million revamping their American dishwasher lineup, and we're impressed with the resulting products. Some models get an adjustable third rack for washing silverware, cutlery, and ramekins. But it easily moves out of the way to accommodate champagne glasses and other tall items below. The detergent dispenser has been optimized for use with tablets, and a unique new control panel option looks sleek and modern. If you choose hidden controls, you can also opt for TimeLight, which projects how much time is left in a wash cycle onto the floor beneath the dishwasher.
Read more about Bosch's New Dishwasher Platform here
Best Design—Mid-range
Whirlpool White Ice
We first heard about Whirlpool's White Ice finish back in 2012, but we first tested a White Ice appliance this year. It looked great. Clean and modern, White Ice matches a glossy white finish with brushed metal accents. Black Ice does the same in a darker shade. While the new finishes won't fit in every kitchen, we're glad to see a major appliance manufacturer trying something different that's also affordable.
Read more about Whirlpool White Ice here
Best Design—Value
GE Artistry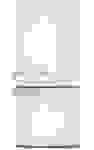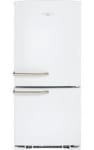 It was love at first sight when GE showed us the Artistry series of home appliances. With retro design cues like chrome handles and badge straight out of the company archives, the dishwasher, refrigerator, oven, and even microwave combine classic looks with new technology and energy efficiency. Most importantly, the whole suite is inexpensive and interesting to look at. Even if you're not a fan of the '50s look, you've got to respect a company that tries something different with its designs.
Read more about GE Artistry here
Our editors review and recommend products to help you buy the stuff you need. If you make a purchase by clicking one of our links, we may earn a small share of the revenue. Our picks and opinions are independent from any business incentives.