Laundry
GE GFWH2400LWW Front Loading Washing Machine Review
GE's GFWH2400LWW is a feature-packed washer found on sale for around $750. Still, cheaper washers do the basics just as well.
Introduction
GE's GFWH2400LWW is a high-end front loading washer with lots of custom cycles and a feature that claims to reduce vibration during spin cycles. The washer did well in our tests, with especially impressive results on stain removal analysis, but we can't ignore where it stands in GE's lineup. For about $300 less, you can buy the GE-GFWN1100LWW which, though less full-featured, had some of the best performance of any washer that's come through our labs.
The more expensive model might be worth it if you're placing a washer on a second floor and need to keep vibration to a minimum, or if you like lots of cycles that can be easily customized. Otherwise, the GFWH2400LWW's toughest competitor comes from the same factory.
Front
Like the false fronts of saloons in the old west, there's a slight ridge on the 's top. It doesn't mean it can't be stacked with a dryer, but to do so you'll have to buy a bracket from GE.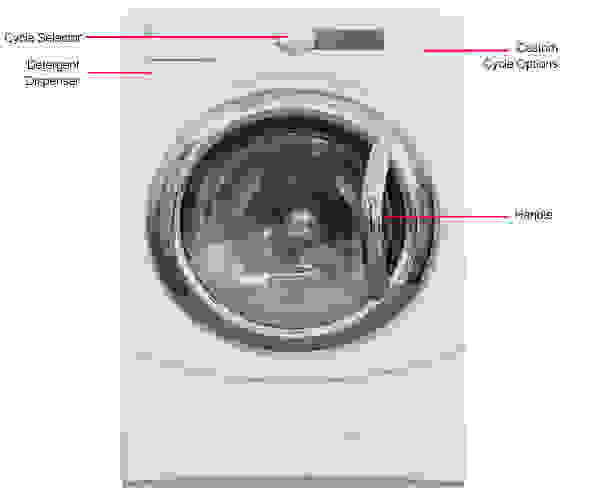 Controls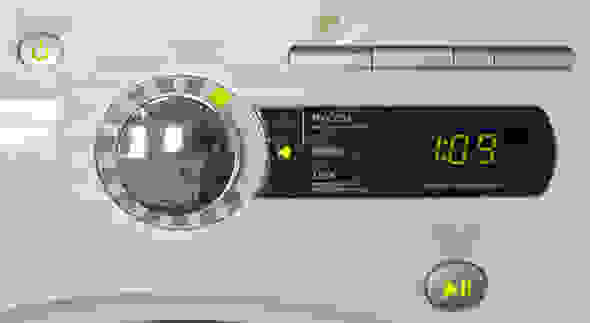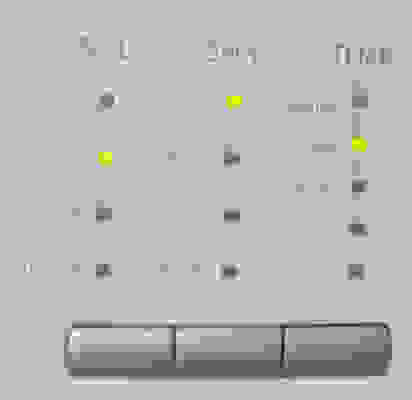 Drawer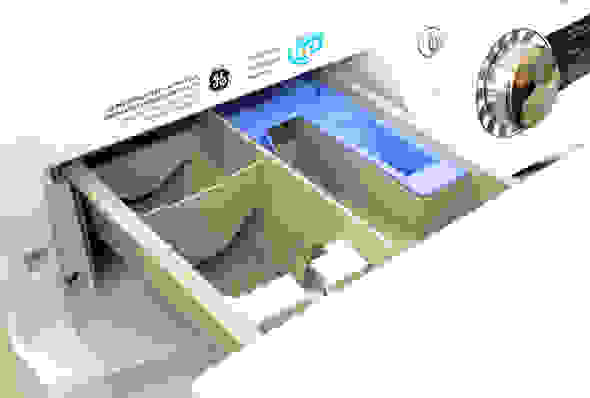 Interior
Sides
Back
Electricity Use
When it comes to running a washer, the electricity used is of minimal cost. Obviously, this GE used a little more than other washers that don't spin as fast or heat up the water internally.
Water Use
The used a lot more water than comparable units. Even the speed wash used more than 13 gallons, and the average wash used more than 16 gallons. That adds between six and eight cents to the cost of each wash.
Cost Per Wash
A normal wash cycle will cost 13 cents on the . That's a few pennies more than similar units we've tested, and largely due to the amount of water this washer uses. A speed wash still costs nine cents.
Yearly Running Cost
Accounting for the average cost of water, the price of electricity and the expense of running a hot water heater, a year's worth of washing with the should set you back about $37.96. We've tested washers that cost nearly twice that amount, but we've also tested some that cost about ten dollars less.
Washing Speed
Washing Cycles
There are eight full cycles on offer, plus "rinse and spin" and "drain and spin" options. If you've washed a particularly filthy load of clothes, you might want to run the "BasketClean" cycle, which washes the drum.
Customization
All wash cycles can have their soil level, spin speed and temperature adjusted. Not all options work with all cycles, but there's also the choice of creating a custom preset cycle known as "My Cycle." The custom wash buttons are extremely easy to use.
Though there's no specific "Sanitize" cycle, it's possible to choose it as an option on the wash temperature menu. In order to truly sanitize clothes, the water temperature should reach 155 degrees Fahrenheit. In this case, it only hit 152.4 degrees.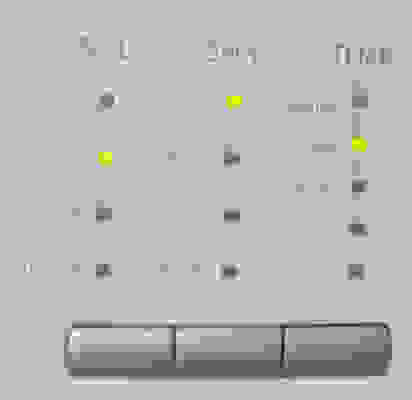 Additional Wash Options
The offers several wash options, including a delayed start, pre-wash and extra rinse. There's also an "eWash" option, which reduces the amount of energy and water used in a cycle.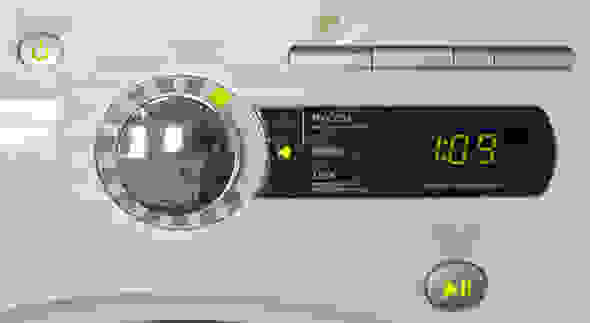 Washing Options
Detergent Dispenser
A very big door with a very big handle slides open to reveal compartments for everything from fabric softener to bleach and liquid detergent.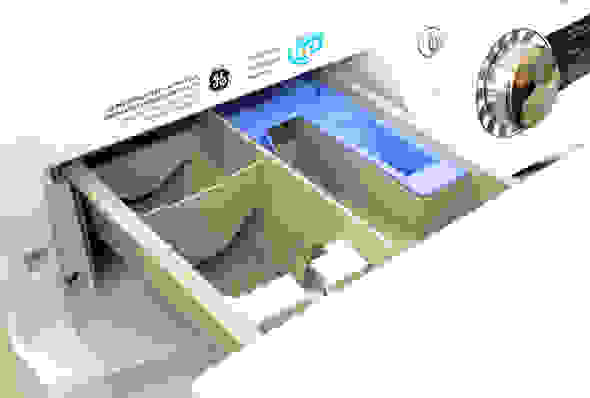 Washer Door
A large door with a big handle is easy to open, but feels a little bit cheap. Our test model's door felt loose on its hinges and squeaked every time we opened and shut it. Compared to the superior feel of a washer we tested from Bosch -- the kings of fit and finish -- this door didn't inspire confidence.
Ease of Use
A wide door, large buttons, easy-to-read labels and bright displays make the extremely easy to use. It would be a great choice for a technophobe who still wants high-end features.
In addition to wash options, the also features Adaptive Vibration Control, which adapts spin cycles for specific kinds of flooring. We didn't empirically test this feature, but can say that after leveling our washer didn't shake or walk like others we've seen. It may be worth looking into if you're planning on putting a washer on a second floor.
Controls
The has one of the best selector knobs we've ever tested. Cycles are offset and matched to indicator lights, so it's easy to see which wash you've selected. Different cycles also have different color lights that correspond to the intensity of the cycle. A bright LED shows how much time is left on a wash. It's not stylish, but it works.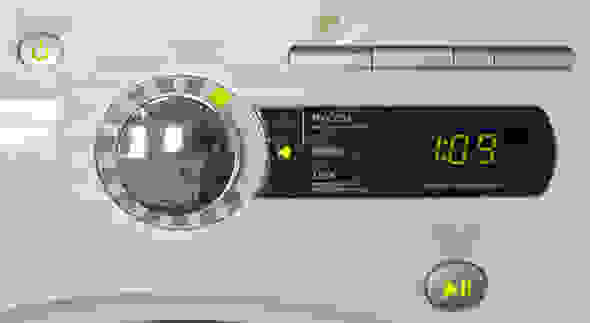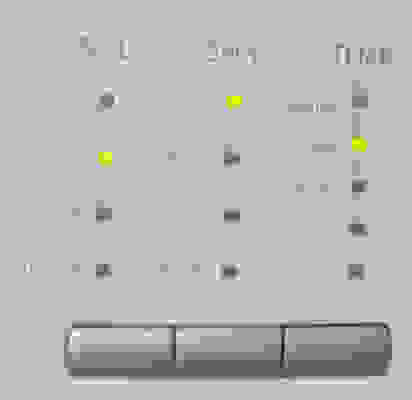 Comparison
The GFWN1100LWW is the 's younger sibling. After witnessing the career paths of the Jackson 5, the Osmonds and DeBarge, we should've known that the little brother would also become the breakout star. When it comes to bang for the buck, the cheaper GE washer moonwalks all over its higher-priced labelmate. The two washers' performance is about equal, and the 's ineffective sanitize cycle and features just won't be worth the added cost for most buyers.
Normal Stain Performance
Comparison
Selling in about the same price range, Whirlpool's WFW94HEXW is marginally less effective than the GE at removing stains, but a little bit better at getting out debris. The Whirlpool is a more energy efficient washer, too, though its cycles took a very long time.
Normal Stain Performance
Comparison
This matchup is a matter of personal preference. The less expensive Frigidaire offers dedicated allergen and sanitizing cycles, and was slightly more energy efficient and gentler on clothing than the GE. However, the GE did a better job getting out stains, and the Frigidaire's sanitizing cycle fell far short of the all-important 155 degree mark.
Normal Stain Performance
Efficiency
The was more efficient than most top-loaders we've tested, but it still used a lot more water than other
Performance
Stained laundry was no match for the , which did a great job at removing red wine, oil, carbon and blood from white cloth. It did have a little trouble getting out dirt and debris, and spin cycles were a bit rough on delicate items.
Features
The features a number of ways to customize a wash cycle, plus a feature known as Adaptive Vibration Control that adjust the drum's movement to avoid excessive vibration. If you're putting a washer on an upper floor, it may be worth buying.