Laundry
Kenmore Elite 91583 Gas Dryer Review
The Swiss Army Knife of gas dryers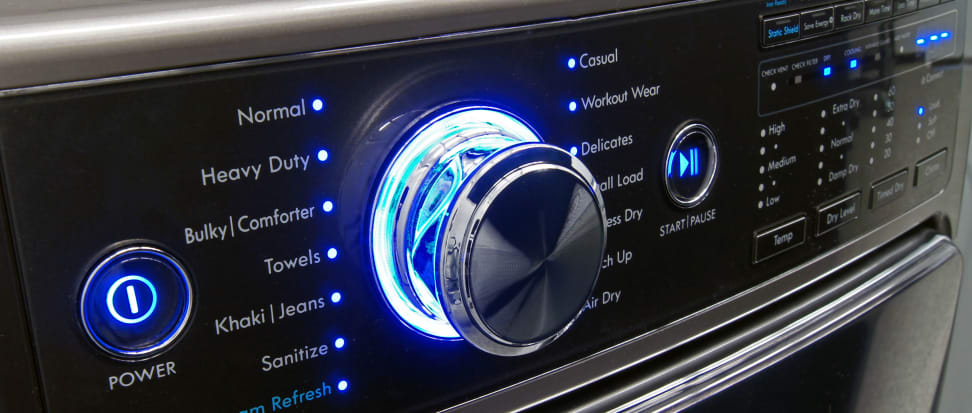 Credit: Reviewed.com / Matthew Zahnzinger
Editor's Note
This is a review of the Kenmore Elite 91583. We tested its electric counterpart, the Kenmore Elite 81583, but you can expect identical performance. For more information, read our review of the Kenmore Elite 81583.
After testing over a hundred different dryers over the past five years, we've found that dryer price often correlates to the number of features and the size of the drum... but not always. The Kenmore Elite 91583 (MSRP $1,529.99) is an outrageously versatile 7.4-cu.-ft. gas dryer that you can buy for just $910 on sale at Sears.
With its bright blue indicator lights, streamlined console, and metallic silver finish, we'd argue it's one of the most attractive dryers we've tested. And if you don't care about that silvery gray exterior, there's also a white version—the 91582—which costs $70 less.
Our biggest caveat is the actual drying. Our tests found this model errs on the hotter side—over 160°F for Normal, which is 15-20°F warmer than we'd like. Fortunately, the Save Energy+ feature lowers temperatures (but extends cycle times) for more gentle drying. We'd recommend just leaving it on.
Be sure to read our full review of this dryer's matching washer, the Kenmore Elite 41583.
Why To Buy
With 14 cycles and a whole slew of useful features, the high-tech 91583 may look intimidating if you're used to a simpler machine. Once you get the hang of it, though, it's clear this Kenmore crams a lot of useful functionality into a surprisingly accessible package.
The removable drying rack is a huge perk right out of the gate. It's a great help drying items that you shouldn't tumble—like sneakers—and is easy to remove for all other loads.
This is also one of the few dryers we've tested that gives you access to steam features without a water line. There's a pull-out reservoir in the front, and it feeds cycles like Steam Refresh and features like Static Shield. It's the best solution if you don't want to hook a dryer into your washer's water line.
For much more information, refer to our full review of the nearly identical Kenmore Elite 81583.