Laundry
LG DLE2250W Dryer Review
The LG DLE2250W impressed us with its cycle and feature settings.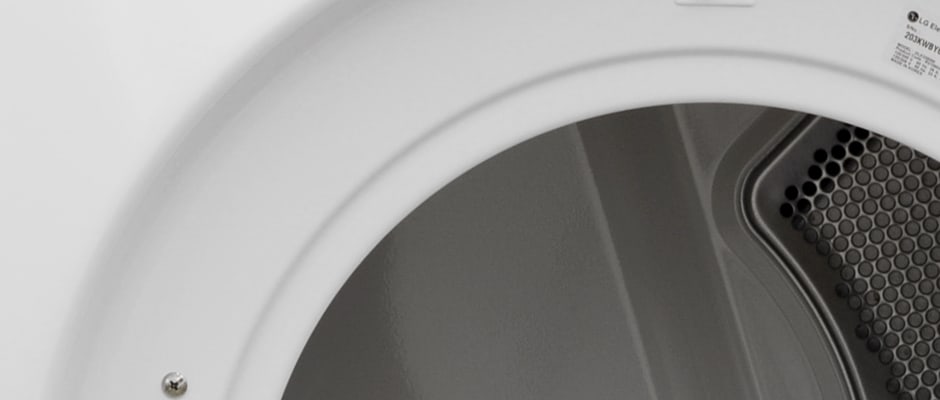 Credit:
Introduction
There's a slew of sub-$1000 dryers available on the market today, and yet the still managed to catch our eye. It wasn't for its drying performance, which was fairly strong and unusually quick, albeit a bit warmer than average. Rather, this impressed us primarily in its cycle and feature settings. Features like an Anti Bacterial setting and customized cycle memory aren't usually found on models with an MSRP of $799; having those options is a nice addition to the seven comprehensive cycles available on the . When you consider that retailers are offering this model for as little as $599, it becomes clear that this inexpensive LG is worth a close look.
Design & Usability
An LG with some flair
The inclusion of color on the cycle select indicator and the unusual control panel layout adds some flair and pizzazz to an otherwise average-looking appliance.
Controls appear somewhat complicated, they're actually really simple.
It may not be the flashiest model on the market, but this LG is intuitive and pleasant to use. While the controls appear somewhat complicated, they're actually really simple and straightforward. Buttons that are clearly labeled activate extra features, adjust cycle duration, and alter program settings the same as any other average dryer. The timer is also easy to read, though the drying stages on the screen next to it—as well as the indicator light reminding you to check the lint trap—may be too small for certain consumers to see without glasses. Also of note, the control knob feels a bit insubstantial, as though it wouldn't require too much force to remove.
Performance & Features
A timely worker with some high-end extras
The amount of useful features available is surprising for a machine with such a low price tag.
There are only seven main cycles available on the , but they're all quite useful. Few machines this affordable include an Anti Bacterial cycle, and options like Wrinkle Care and Damp Dry are nice touches.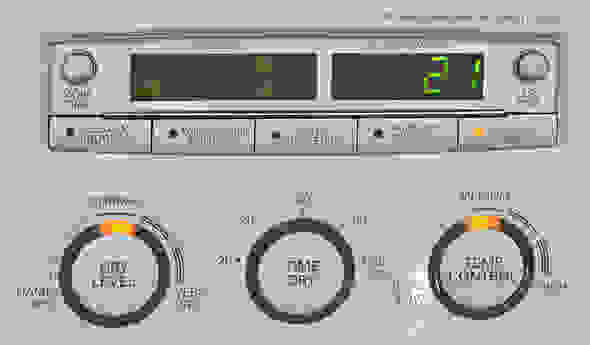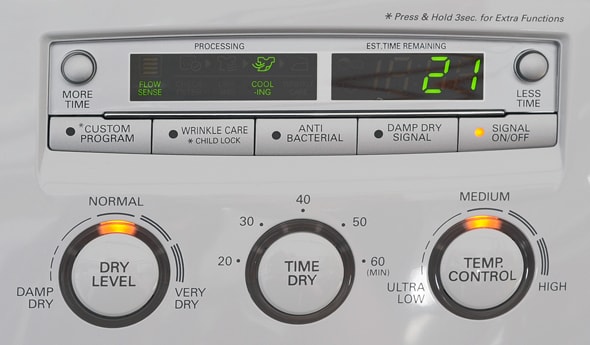 The four sensor-based options cover all the primary clothing elements, though folks who want really specialized options, like Workout Wear or Wool, will have to look elsewhere. The manually-timed cycles may be a bit redundant, but they take the hassle out of sifting through the options of a standard Timed Dry feature: Speed Dry is for quick drying and small loads, while Freshen Up is 's equivalent of a Wrinkle-Out option.
Five dryness levels and five temperature settings make this machine one of the more comprehensive that we've tested. Manually adjustable cycles can be set to durations of 20 to 60 minutes (in 20 minute intervals) using the large button on the control panel, but the More and Less Time buttons on either side of the digital display allow you to tweak that to suit your specific drying needs.
Lastly, we should note this LG's strong drying performance. Generally speaking, the DLE2250W finished its drying cycles in less time than we usually see. The Normal cycle was just under an hour, the Delicate cycle was just over, and the Bulky cycle—flawed though it was—finished in just under half an hour. While loads didn't end up bone dry, the fact that the LG DLE2250W performed as well as it did in less time than many other models is certainly to be commended, and a little moisture can help decrease wrinkles.
It's Worth It
When extras go the extra mile
On sale for under $600, the LG DLE2250W's pricetag belies its features and performance. Extra features—including an Anti Bacterial setting, a customized cycle memory, and five temperature and dryness settings—usually cost hundreds more. Temperatures got a bit warmer than we'd like, and some laundry loads needed a little time to air dry, but overall drying was very good. It's rare to come across such a feature-packed and capable dryer for this little money.
Science Introduction
We wish this LG scored as high on overall performance as it did in terms of timely work and great extra features. Our tests reveal some of this dryer's troubles.
Performance Tests: Cycle Duration and Temperature
Timely work and gentle temperatures are important parts of a dryer's job
During its 53 minute duration, a very efficient time-frame, this LG's Normal cycle heated up to 155ºF. That's a bit hotter than we typically like to see. As long as you restrict your use of this cycle to hardier garments, it should be fine. Temperatures like this will be tough on certain fabrics over time, though.
In just 25 minutes, the 's Quick Dry cycle peaked at the same temperature as the Normal setting: 155ºF. The same goes, then, with regards clothes care.
One of the more remarkable things about this machine is its Delicate setting. This cycle finished in only 65 minutes; typical Delicate cycles can take an extra half hour to finish. As with the aforementioned tests though, temperatures got a bit warmer than we like to see, peaking at 126ºF. This isn't terrible for delicate fabrics, but it may cause a bit more wear than some gentler machines that are out there on the market.
Performance Tests: Water Retention
The golden question—Will it dry the laundry?
With great dry times and fairly acceptable temperatures, the next question is how much water the is able to evaporate from each test load.
The Normal cycle pleases, expelling 100 percent of the moisture from clothes, while the timely Delicate cycle falls just a bit short at only 96 percent. We would complain more about the latter fact if it weren't for this Delicate cycle's notably short duration. The Quick cycle comes in third here, achieving just 93 percent of the test load's original bone dry weight, and the Towels cycle that we used for the Bulky test was the worst of all. Clearly its sensor wasn't picking up on moisture that had been pushed to the middle of our test comforter, because it only got it down to 67 percent of the way to dry. We've seen better, even in situations where the sensor decided to stop after a clearly insufficient amount of time. On the other hand, we've also seen much worse. It's annoying and arguably shouldn't be necessary, but this flawed result could be circumvented by flipping large items around at the end of the cycle and throwing them back in for another spin.
Other Tests