Laundry
LG DLGX8001W Gas Dryer Review
It's big and gets hot—the Texas of dryers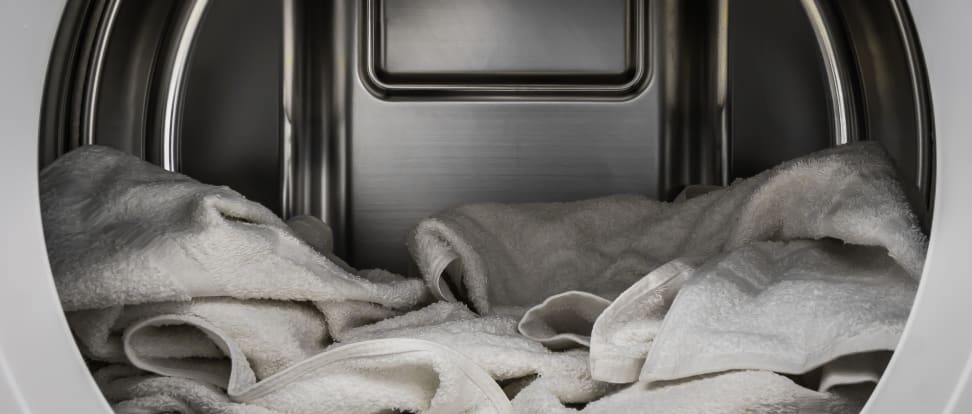 Credit: Reviewed.com
Editor's Note
This review covers the LG DLGX8001W. We tested its electric counterpart, the DLEX8000W, but you can expect identical performance. For more information, read our review of the LG DLEX8000W.
Think bigger is better? Then the LG DLGX8001W is probably the dryer for you. Out of all dryers we've tested over the years, this LG's massive 9-cu.-ft. drum is the largest so far. If you've got a big family, or just a lot of dirty clothes, this dryer will cut down on the time you spend doing laundry.
Of course, convenience comes at a cost. Not only is this LG one of the biggest dryers we've tested, but in-store prices of about $1,350 also make it one of the most expensive. In fact it's more than twice as much as some of its competitors.
While this machine's Quick Dry and Normal cycles are both fantastic, our large comforter was too much for even this gigantic drum. If you've got a single large item to dry, you should still plan on fluffing it mid-cycle to get all the moisture out.
Be sure to read our full review of this dryer's matching washer, the LG WM8000HVA.
What's Unique?
While size is definitely the selling point for this LG, it's not the only one. You'll want to read through the manual to get a handle on all the cycles available—Anti Bacterial is self-explanatory and great for families with small kids, but less familiar cycles like Jumbo Dry or Spot Clean will require some familiarization (they're for comforters and shirts respectively, FYI).
Another perk is steam. No water hookup is required. Instead, this dryer includes a pull-out water tray that you can fill periodically.
But all is not perfect with this model. For example, its massive door hides a surprisingly small opening, so getting clothes in and out won't be any easier than a regular dryer. And again, the $1,350 average retail price may make some folks balk, especially when there are marginally smaller units available for much less. The 8-cu.-ft. Electrolux EIGD50LIW is one such competitor, and costs just $900.
For much more information, refer to our full review of the nearly identical LG DLEX8000W.