Laundry
Maytag MET3800XW Washer Review
It's great.. assuming you're forced to use a little closet for your laundry.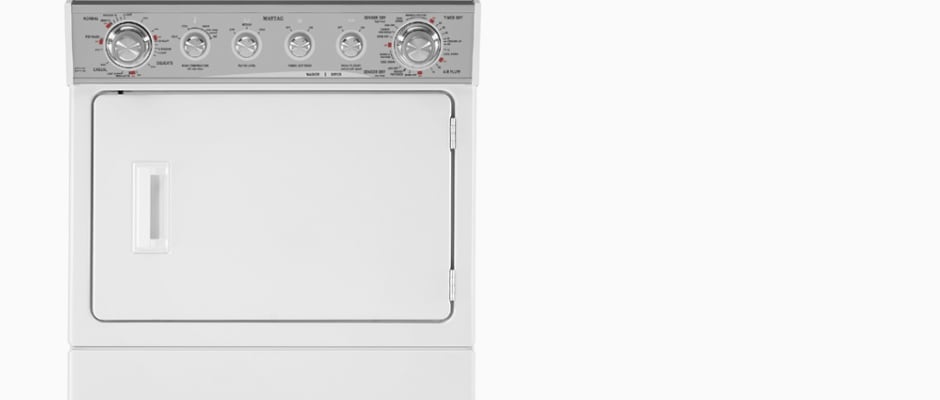 Credit:
Introduction
The Maytag MET3800XW combo unit supports all your laundry needs. The washer on its own managed to do a good enough job removing stains across all the cycles, though it had trouble getting out dirt, plus loads emerged quite wet. Also, aside from the Delicates cycle, this washer was rough on fabrics. There aren't many customization features either, and even though it has a fairly good cleaning performance, better washers can easily be found if you have the necessary space.
Design & Usability
It sits beneath a dryer; controls for both appliances are at the top of the whole unit.
Definite throwback: track the washer's progress based on how much the dial has moved.
For those used to push-button washers, the Maytag is a definite throwback: turn a dial so it's in line with a cycle mark and pull to start the water flow. You can track the washer's progress based on how much the dial has moved.
We hate that the door only opens about 45 degrees, making it hard to load and unload laundry and impossible to rest a laundry basket on top of it. On the plus side, this means it requires less bending down than with a stacked front-loader.
Performance & Features
Quick washes and decent performance
It delivers on the Heavy/Hot cycle we used for cottons and whitest whites.
The Normal Regular Warm cycle is what the manual describes as the catch-all setting. It took just over a half hour and removed many of the standardized stains on our test strips. It didn't do so well on oil-based stains, though, and its overall stain lifting power is eclipsed by many standalone washers on the market.
After all our tests, we concluded that the Normal Heavy Warm cycle is probably what you'll want to use most. More heat means more stain removal, and it delivers on the Heavy/Hot cycle we used for cottons and whitest whites. Even oily stains were significantly lifted. We'd recommend this cycle for every wash, as it barely topped 100ºF and still only took 38 minutes. There's only one additional wash option: a pre-wash for normal cycles. There's no way to delay a cycle or change spin speed.
Conclusion
This is an affordable option for folks in small houses who still want the convenience of a full laundry set.
There's nothing special about the 's washing performance, though it's good enough at lifting stains and takes very little time. Clothes emerge pretty wet after all wash cycles, and heavy agitation may damage fragile fabrics. All these wash cycles aren't very efficient either. It will cost about $55 a year to run in total.
This washer's most appealing feature is its small size. But if you must have this style of machine, we'd go with the Whirlpool WET3300XQ.
Science Introduction
The produced only moderate cleaning performance in our tests. Being a top-loader, it was very rough on clothing and used a large amount of water. Its saving grace is its ability to fit in a closet with its accompanying dryer.
Performance Tests: Efficiency
A very thirsty washer
When we set up the , we hooked it up to water and watt meters to record the water and energy consumption for each cycle. This washer's water usage cast a long shadow.
Though it only has a 2.5 cubic foot capacity, the Maytag MET3800XW still guzzles gallons. Most top-loaders use more water than front-loaders, but the Maytag is a veritable swimming pool for clothes. It uses 21 gallons for each Delicates cycle, and about 20 gallons for the others. At the end of the year, the Maytag MET3800XW will cost an average of $54.98 in electricity and water.
Performance Tests: Cleaning
Stain today, still here tomorrow
We assert that the had average cleaning performance, and we're not just pulling that out of our hats. To come to this conclusion, we used stain strips, which are standardized pieces of cloth coated with patches of common household substances like blood and cocoa. Along with an eight-pound load of test laundry, the strips go through each washing cycle. When the buzzer sounds, we take the strips out and analyze them using a light spectrometer, which tells us how much of the stain was lifted during the wash. This little Maytag managed to work out an average amount, neither impressive or disappointing.