Laundry
Whirlpool 90HE Series Dryer Review
A great dryer, but not as good a value.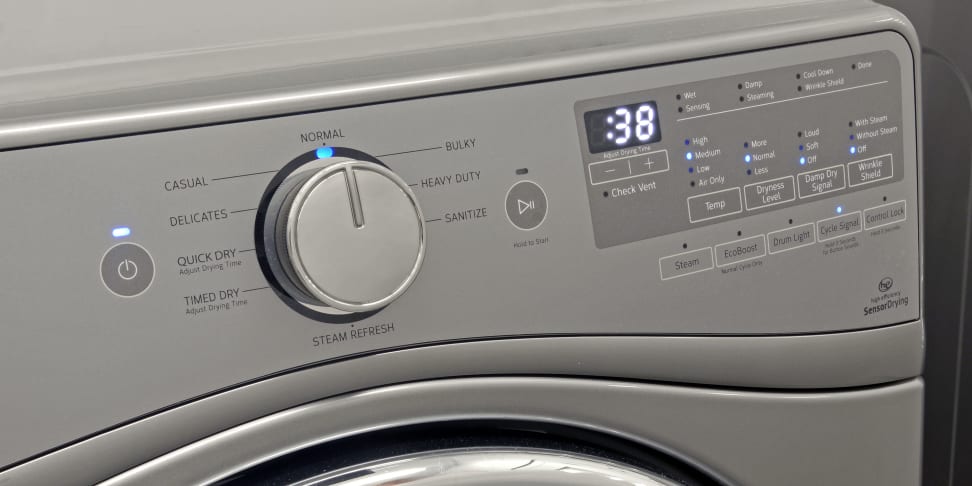 Credit: Reviewed.com / Matthew Zahnzinger
The Whirlpool 90HE (MSRP $1,099-$1,299) series is the newest set of dryers from the Michigan-based manufacturer. Despite its position as the new top-of-the-line Whirlpool, it's actually a fairly run-of-the-mill dryer.
Featuring steam and a 7.4 cu. ft. drum, plus advanced moisture sensing and four baffles that Whirlpool says will untangle your clothes, it has what you'd expect for a dryer that costs around $700. Unfortunately, this machine costs between $900 to $1,075 on sale—depending on whether you choose white or Chrome Shadow, gas or electric. That's just too high for what this machine has (or doesn't have) to offer. It feels like an unasked-for update to an older model—one that we think is a better value at just $720.
Throw in the fact that you can buy a similar-featured machine from Samsung that only costs $599, or Electrolux's new flagship for the same price, and the 90HE suddenly seems less attractive—even in Chrome Shadow.
Read our full review of this dryer's matching washer, the Whirlpool WFW90HE.
Normal & Delicate
The Normal cycle on Whirlpool's 90HE series dryer is a fine workhorse option. After 54 minutes, out test load came out 100% dry. With peak temperatures reaching 149.5°F, we're not surprised.
Perhaps the best thing about this model is that it knows when to turn down the heat. The Delicates cycle also got our clothes 100% dry, and it did so using temperatures that only got up to 107.5°F. True, it took about 1 hour and 38 minutes worth of tumbling, but the gentler temperatures are suited to more fragile fabrics.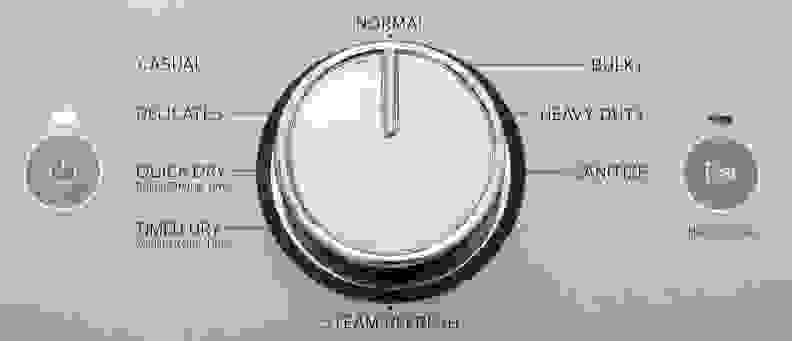 Design & Features
Simple elegance
Whirlpool hasn't really done anything to update the design for the 90HE. This 7.4-cu.-ft. dryer comes in either basic white (as the WED90HEFW in electric or in gas as the WGD90HEFW) or a gray tint Whirlpool calls Chrome Shadow (as the WED90HEFC in white or the WGD90HEFC in gas). Interestingly, a rust-proof stainless drum is only available on the gas version.
We thought that the dryer's curves soften its unavoidable boxiness. Blue lights highlight the cycles or features that are selected, and we found all text easy to read.
A list of eight cycles provides useful functionality without cluttering up the interface, especially since one of those cycles is Sanitize. With only four temperature settings and three dryness levels, however, this Whirlpool isn't quite as flexible as many comparable machines. The feature list is pretty slim, too—but does include Steam and power-saving EcoBoost functionality for consumers who want them.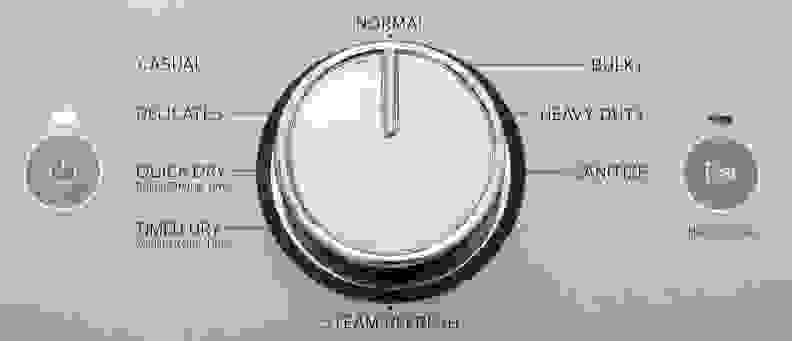 Quick Dry & Bulky
The Quick Dry cycle, which defaults to 13 minutes but can be adjusted, wasn't enough to tackle our 4-lb. load. Peak temperatures of 132.2°F only removed 44% excess moisture. Most quick dry options are best suited to between two and four items, especially when it's this fast. Still, the Whirlpool was definitely underwhelming in this category.
Finally, the Bulky cycle managed to remove 77% excess moisture from our large comforter. This was after 1 hour and 6 minutes of tumbling on average, and with temperatures capping out at 136.5°F. That's par for the course, which means you'll want to make sure any large items are flipped mid-run in order to get even drying.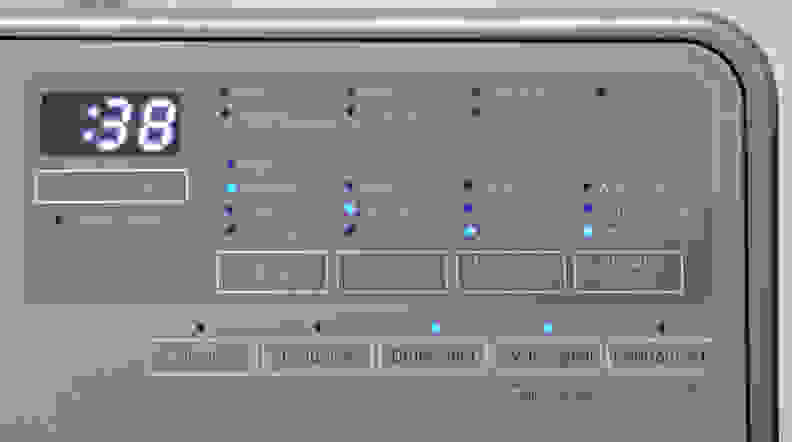 Performance
It does just what you'd expect
We spent three days drying test loads in this machine. On the whole, we had no major issues with this dryer's performance: Normal was too hot for delicates, but fine for average loads. Delicates was plenty cool, and both cycles managed to remove all excess moisture from our test load.
Quick Dry is best suited to very small loads—a soccer uniform, or a shirt and skirt—and wasn't quite able to tackle our 4-lb. test load. Bulky, too, couldn't dry our large comforter without the help of a mid-cycle flip. That said, both of these issues are common for all dryers, and didn't come as any surprise.
For in-depth performance information, please visit the Science Page.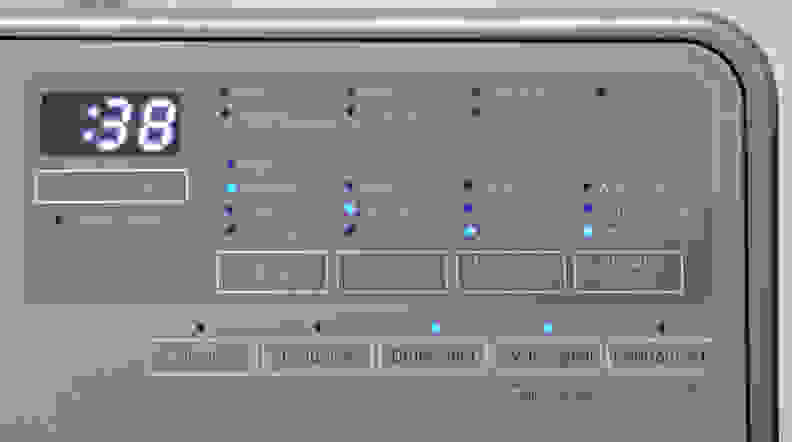 Warranty
A basic warranty is pretty standard for a dryer: one year limited parts and labor coverage is what you get for this machine.
Save Your Money
Spend less money for something just as good
We don't have anything against Whirlpool's new 90HE series of dryers. They look good, feel good, and dry clothes well.
However, we can't understand why they cost so much. Even a $900 sale price for the white, electric version is too much compared to other models on the market today that are just as good.