Laundry
Whirlpool Cabrio WTW7300DW Washing Machine Review
Taking the guess work out of laundry.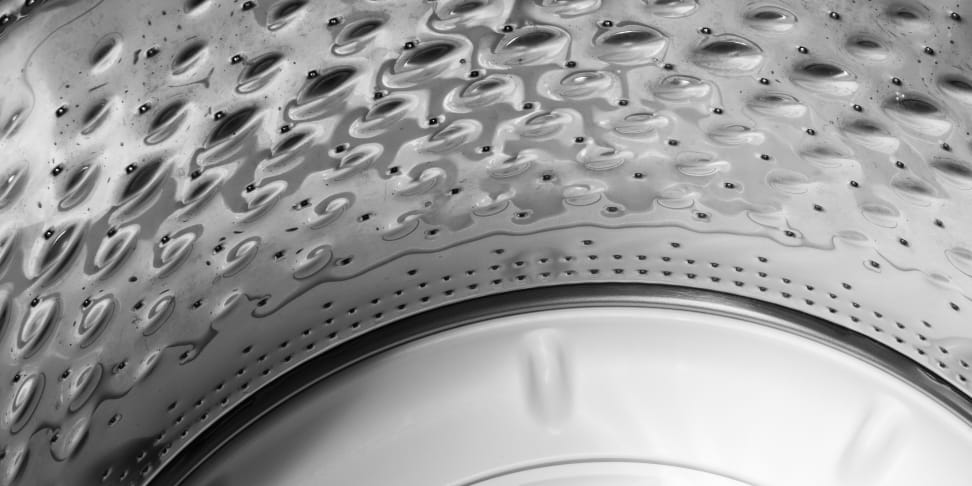 Credit: Reviewed.com / Jonathan Chan
Laundry's a chore. As with any laborious task, the easier you can make it, the better. That's what the 4.8-cu.-ft. Whirlpool Cabrio WTW73000DW (MSRP $899) is all about.
Like all new Whirlpool washers, it features the brand's new Intuitive Touch Controls, divided into two self-explanatory sections: "What to Wash" and "How to Wash." By streamlining your washer, Whirlpool hopes you can clean more effectively and efficiently.
True, it's not perfect: The WTW7300DW isn't as efficient as some other new washers, plus it tends to suffer from long-ish cycles during the more rigorous settings. Still, if you think that washers should do more to make your laundry interaction more sensible, the WTW7300DW is worth checking out.
To read our full review of this washer's matching dryer, the Cabrio WED7300DW, click here.
By the Numbers
This page is devoted to the science behind our reviews. When it comes to washing machines like the Whirlpool Cabrio WTW73000DW, it's all about stain removal and efficiency.
Cleaning Performance
The core of cleaning performance in a washing machine is stain removal. To track this from one model to another, we utilize mechanically stained cloth strips. These are coated with common household stains like cocoa and red wine, and then placed in eight-pound test loads that are washed using a unique, standardized detergent.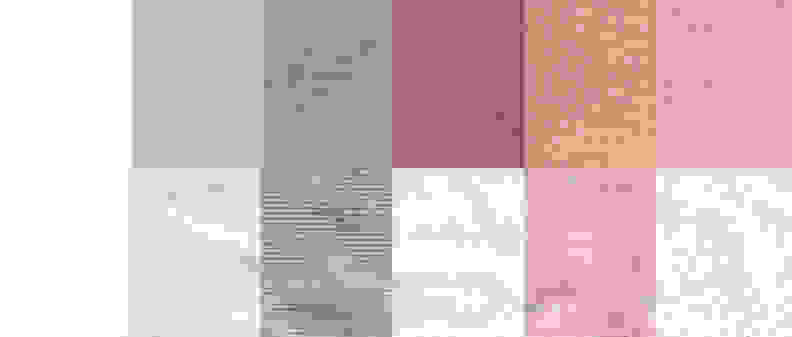 After a wash is done and we let the strips dry, they're scanned with a photospectrometer—a device that measures color by recording how much light reflects back from a surface. This allows us determine just how much of each stain was removed from the cloth strips.
The WTW7300DW showed average stain removal capabilities compared to similarly priced top loaders. The Mixed Cycle set to Normal with the soil level all the way up turned out to be the best. It cleaned 4% better than the next best cycle–Whites set to Normal soil level. That, in turn, did 3% better than the Mixed cycle set to Normal with a moderate soil level.
This model excelled against food stains like red wine, cocoa, and blood. However, it lacked the heat needed to erase dirt and sweat.
Design & Usability
You need the right mindset
When we reviewed the flagship WTW8500DC last year, we concluded its $1,299 MSRP was too high. Sure, it looked pretty and performed well, but the Intuitive Touch Controls didn't make enough of a difference to merit the expense over the competition.
With its smaller price tag—and size—the WTW7300DW is a more sensible choice, and can compete more directly with similar models. Consumers who like to have some control over their laundry cycles, but become overwhelmed by industry jargon (just what is Permanent Press, anyway?) will appreciate the interface on this mid-range washer.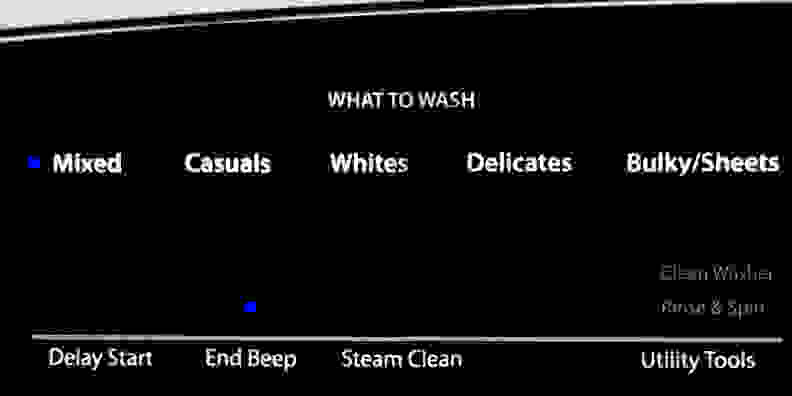 While the control layout looks intuitive, the actual touch-sensitive buttons can be finicky. Once you get used to the two-stage selection process and questionable responsiveness, only then will the controls become second-nature. Based on standard use patterns, the Quick and Normal options on the How to Wash side are probably what you'll gravitate toward most often.
If you've never followed the instructions on your clothing labels because they're just too difficult to translate into Washer-ese, or if your kids use your machine's complicated dial as an excuse for skipping out on chores, the controls on the WTW7300DW might be perfect. If you're accustomed to traditional dial controls, however, it may take some time to adjust.
Efficiency
Efficiency is two-fold with washers. First, you've got to consider what goes into a washing machine: water and electricity. Using data gathered from water and wattage meters, and comparing those results to national averages, we calculate that the annual operating cost of the WTW7300DW will be around $50.76. That's about as good as you'll get from a top loader.
However, that's not the whole story. What comes out of a washer is important, too. If you're left with a sopping wet pile of clothes, it means your dryer will have to work harder, which means more energy consumed. If a washer can spin out more water, it means a lower energy costs all around. On average, the WTW7300DW spun out 56% of excess water. We think that any number around 50% or higher is good enough.
Performance & Features
Focused on technology
Of all the washers we've tested, there are similarly priced ones that removed more stains and ones that removed fewer. Based purely on performance, the WTW7300DW is firmly in the middle of the pack.
Against specific stains, the WTW7300DW handled cocoa and blood stains most effectively. Removing protein-based stains (like blood) means a washer needs to add water that's been heated to the right temperature at just the right time. Add the hot water too early and proteins will get "cooked" onto the fabric. If a washer waits too long, the stain just won't come out.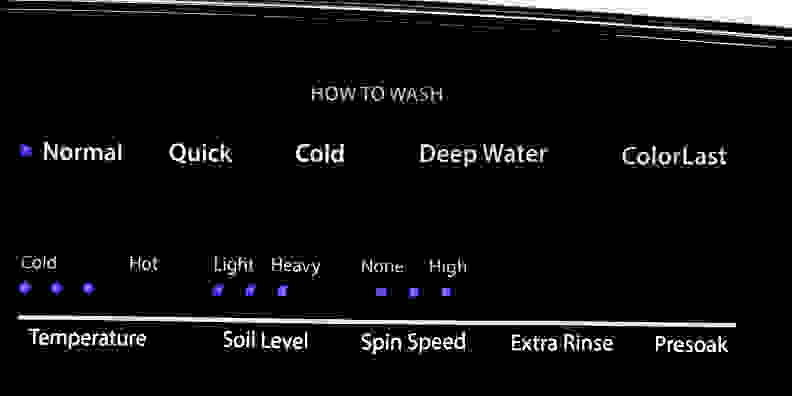 We found the Mixed Cycle, set to Normal with the soil level turned all the way up, removed the most stains. The tradeoff is time: This cycle will eat up an hour and 16 minutes. When we knocked down the soil level one pip, stain removal dropped by 7%, but it also shaved 23 minutes off the cycle time.
We also tried out the Quick option paired with the Mixed setting. It brought a 53-minute cycle down to 34 minutes, and still got some stains out. As far as time-saving measures go, that's not bad.
The biggest drawback of the WTW7300DW is its water usage. It's not as thirsty as a traditional top loader, but it's not the most efficient model on the market, either. Based on national electricity cost and use patterns, we estimate this Cabrio will cost you around $51 a year to run—most of that going to the water bill.
For in-depth performance information, please visit the Science Page.
Warranty
The Whirlpool Cabrio WTW7300DW is covered by a one-year limited warranty. This warranty covers parts and labor for any failures caused by damage or defects incurred prior to purchase. If your washer needs to be replaced, the warranty will not be renewed for the replacement unit.
Middle of the Road
Look beyond the tech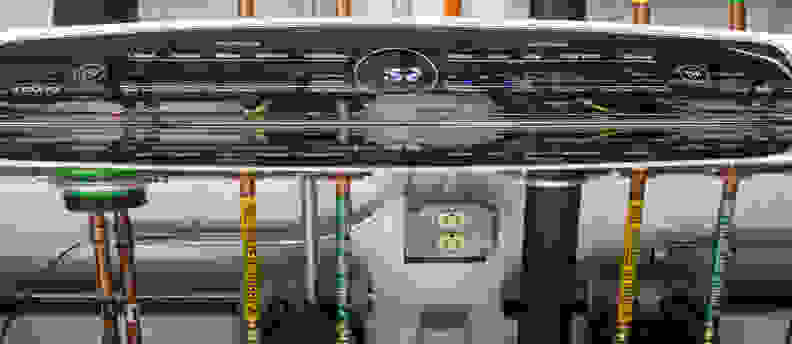 Does the WTW7300DW make it easier to do your laundry? Well, this Cabrio definitely takes the guesswork out of cycle selection, and it's easier for your kids to use. But if you're buying this washer to replace another, the new system might take some getting used to.
The other question you need to ask is whether it will clean your clothes. In that regard, we can say the WTW7300DW does a fair job in relation to what you pay for it. If you've owned a mid-range top-load washing machine before, you'll know what you're getting. This is a washer that's good at removing food stains, but lacks an internal water heater to tackle heavy-duty jobs.