Lenses
Fujifilm Lens Buying Guide
Ready to upgrade your Fujifilm kit? Here's what you need to know.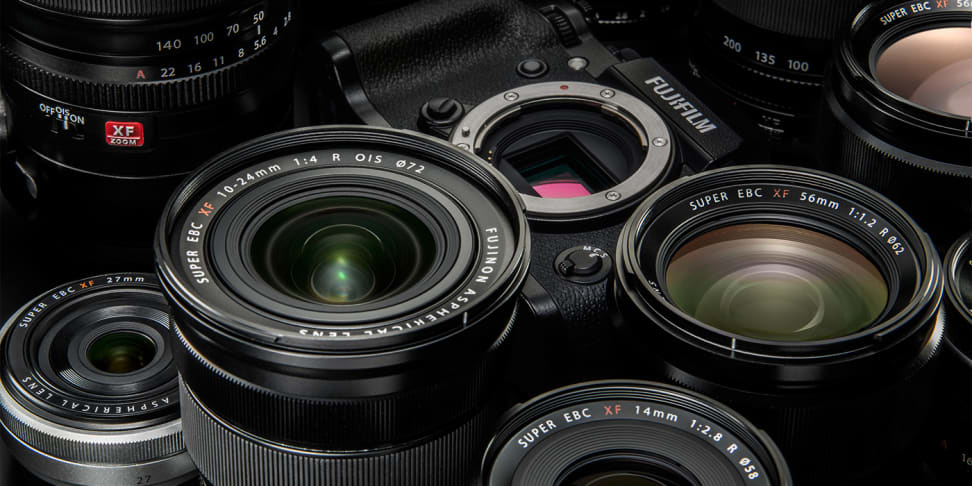 Credit: Fujifilm
What Fujifilm Has to Offer Small brand, big quality
Fujifilm X-Mount Lenses Enthusiast photographers, you'll feel right at home.
Terms to Know The knowledge you need to get the lens you want
---
1. What Fujifilm Has to Offer
Small brand, big quality
While some of the other legendary names in photography—including Canon, Nikon, and Pentax—stuck with their old lens mounts when they made the leap from film to digital, Fujifilm took the opportunity to start from a clean slate. The result is the X mount, a lens system designed from the ground up to provide brilliant image quality on the company's mirrorless cameras.
X-mount lenses (particularly of the XF variety) are defined by their impressive build quality, solid optical performance, and enthusiast-oriented features like aperture rings and wide maximum apertures.
---
2. Fujifilm X-Mount Lenses
Enthusiast photographers, you'll feel right at home.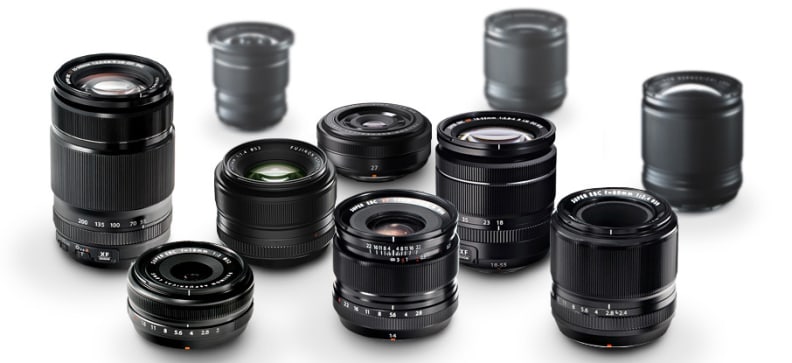 Since kicking off in 2012 with the release of the X-Pro1, the X-mount lens system has grown with surprising speed. Today it encompasses 16 lenses, including eight primes and eight zooms.
Most of these options cover the most popular focal lengths, suggesting that future releases may be geared toward special interests—think extreme telephotos, fisheyes, and macros. Indeed, 90mm f/2 and 120mm f/2.8 macros are on the company's roadmap for the next two years.
The brand is perhaps best known for its prime lenses, which walk the fine line between high image quality and accessible pricing. A particular standout is the 56mm f/1.2 portrait lens, which offers exceptional sharpness and beautiful bokeh. But even Fuji's entry-level zooms are a cut above the usual fare, as the standard 18-55mm f/2.8-4 is commonly regarded as the best kit lens on the market.
Like other mirrorless systems, the X mount can accept a wide variety of lenses from other mounts via inexpensive mechanical adapters. That means you can use the lenses you find at yard sales or in your grandparents' closet, giving them new life in the digital age.
---
3. Terms to Know
Flummoxed by Fuji's acronyms? Here's your glossary.
Fujifilm proves that even smaller brands can bring a lot of proprietary terminology to the table. Its lenses come littered with acronyms describing everything from class, to stabilization, to the internal lens elements. Sit back and we'll break it down for you.


XF: Describes Fujifilm's line of enthusiast-oriented prime and zoom lenses, usually featuring metal bodies, aperture rings, and "Made in Japan" branding. (There are exceptions: The XF 27mm f/2.8 and XF 18-135mm f/3.5-5.6 are made in China, and the 27mm does not include an aperture ring.)
XC: Describes Fujifilm's line of compact, inexpensive, largely plastic lenses. They are typically bundled with cheaper X-mount cameras, and are made in China.
R: Indicates that a lens includes a physical aperture ring.
OIS: Denotes the inclusion of optical image stabilization.
LM: Stands for "linear motor," a type of autofocus drive system designed to produce quieter, smoother focus. Currently found in many X-mount zoom lenses.
WR: Short for "weather resistant," indicating that a lens is sealed against moisture and dust. For now, the Fujifilm X-T1 is the only matching weather-resistant X-mount camera.
Super EBC: This stands for "Super Electron Beam Coating," a treatment applied to Fujifilm lens elements to reduce flare, ghosting, and internal reflections.
APD: Indicates a lens includes an apodization filter, a lens element that produces softer, rounder bokeh at the expense of light transmission.