Sigma, like many other Japanese manufacturers, had to make a choice a few years ago: Continue manufacturing in Japan and deal with ever-rising costs, or off-shore development to another country and risk a drop in quality. For a company that had generally positioned itself as merely a low-cost alternative to more expensive, better-built Canon and Nikon alternatives, the choice to off-shore seemed obvious.
Instead, Sigma zigged when many other companies—Canon and Nikon included—zagged, continuing to manufacture its lenses entirely in Japan. To make the numbers work, Sigma had to move upmarket. Thus the Art series was born, a collection of new high-quality, higher-cost lenses that are meant to compete with some of the best lenses on the market.
The new 24mm f/1.4 DG HSM Art (MSRP $849) lens is the latest in what is quickly shaping up to be a very well-respected line-up that includes the spectacular 50mm f/1.4 DG HSM Art as well as the 35mm f/1.4 and 18–35mm f/1.8 lenses—the latter of which is still the only lens of its kind.
Can Sigma keep up the incredible momentum? Can this new lens once again stand toe-to-toe with Canon and Nikon's best? And at $849, can it really compete with lenses that cost at least twice as much? We went hands-on with the lens at CP+ 2015 to see what we could find out.
Sigma's Art series goes just a little bit wider now.
The Sigma 24mm f/1.4 DG HSM Art lens is a wide-angle prime lens that is meant for digital 35mm full-frame SLRs. It's composed of 15 elements in 11 groups, with an aperture range of f/1.4–16 and a nine-bladed diaphragm. It has three FLD glass elements, two aspherical elements, and four SLD elements inside.
On the outside, you'll find a 77mm filter thread diameter, a large focus ring with soft (but slightly clicky) stops at either end of the range, and a focus scale. The focus ring handles very smoothly, with enough travel for making fine focus adjustments—perfect for shooting subjects up close.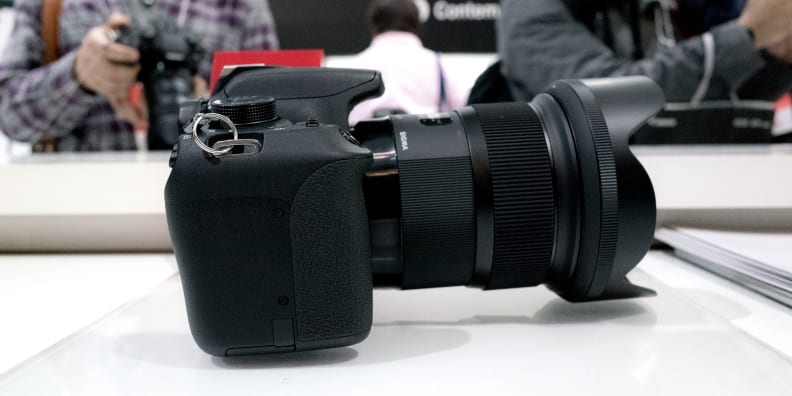 There's also an autofocus/manual focus switch, though even the "AF" setting has a constant manual override. Minimum focus distance was around four to five inches from the end of the lens in our experience, with the HSM focus motor operating smoothly, quickly, and quietly.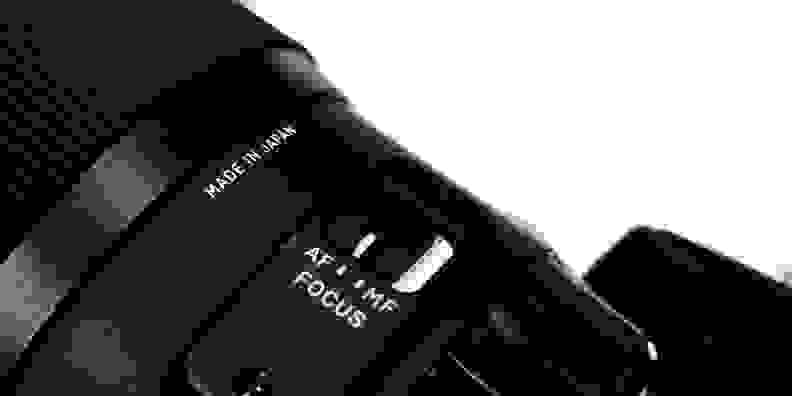 It's very similar in terms of size and weight to the Nikon and Canon equivalents. Though it's an ounce or so heavier by the spec sheet, you'd be hard-pressed to tell the difference with your eyes closed.
Similar performance, half the price?
While it's impossible to gauge performance critically in the limited time afforded to us at a trade show like CP+ 2015, we do have one thing to go by: MTF charts. Though theoretical MTF charts aren't an effective substitute for actual lab testing, in this case it's basically all we have to go by.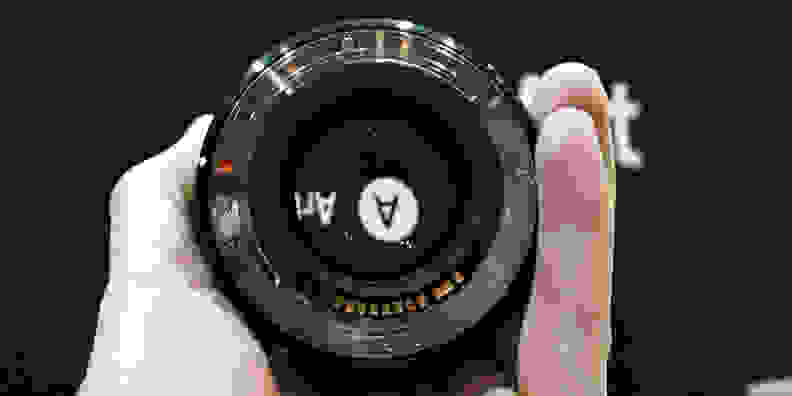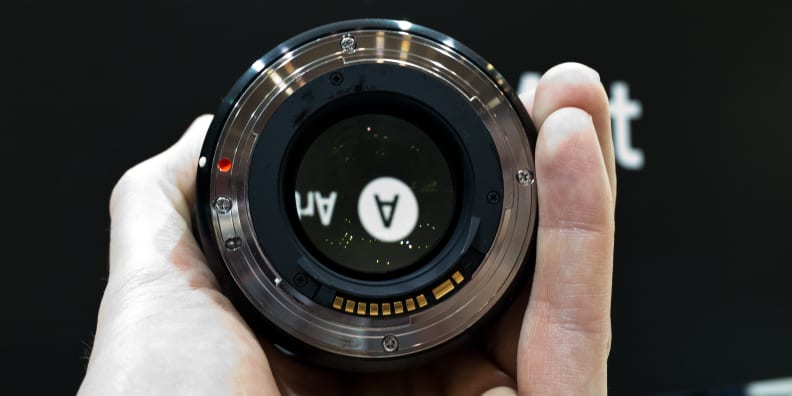 And going by the MTF charts, this 24mm is shaping up to be an incredible value. Looking at the Sigma, Canon, and Nikon charts side-by-side-by-side, the Sigma doesn't seem noticeably worse—certainly not considering the price of admission.
All three lenses are relatively sharp in the center, with the Sigma sitting between the Nikon and Canon. While the Canon's got the better performance from the center to the corner when stopped down, it's somewhat inconsistent. The Sigma and the Nikon more rapidly fall off towards the corner, but should be better in the corners when wide open, with more consistent and pleasing bokeh.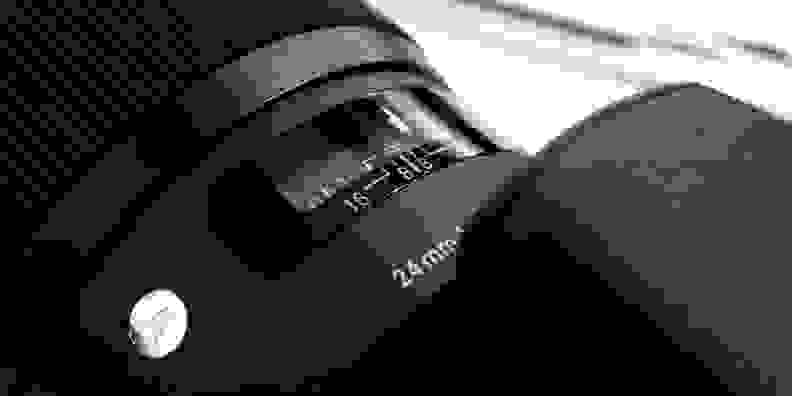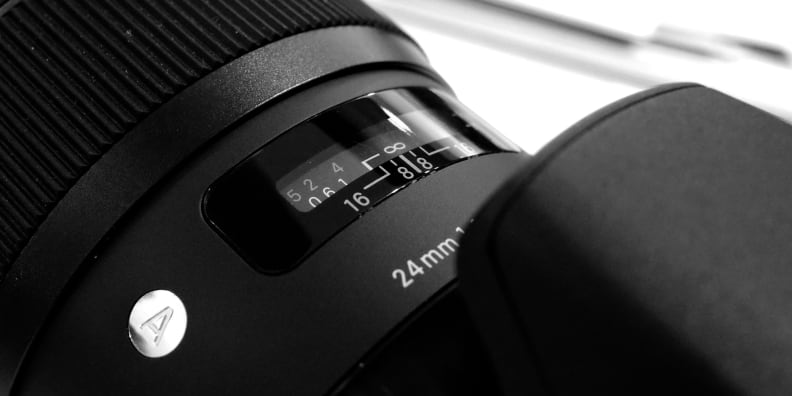 That's a conclusion that's borne out in most critical reviews of the Nikon and Canon 24mm lenses. In the samples we could shoot on the show floor, the Sigma seemed to exhibit similar performance-wise, though it was mounted to a Canon 1Ds Mark III that certainly wasn't doing it any favors.
The real story here, as far as the Sigma is concerned, is that this lens is even in the same ballpark as its competition. This is an $849 lens, easily standing alongside a $1,649 Canon L-series lens and a $2,199.95 piece of Nikkor glass. Even if the Sigma 24mm is the worst of the three, it still represents an incredible value.
What we can tell from our time with the lens on the floor is that it does everything else quite well. Focus speed is nice and snappy, with a near silent focus mechanism. The front element also doesn't rotate while focusing, either—crucial if you plan to employ a circular polarizer while shooting landscapes.
Sigma appears to have done it again.
Sigma's journey from third-party supplier of relatively low-cost, high-volume lenses to premium lens dealer has been incredible to see. The Art series emblem is fast becoming a mark of quality every bit as reliable and impressive as Canon's pro-level L-series and its red ring.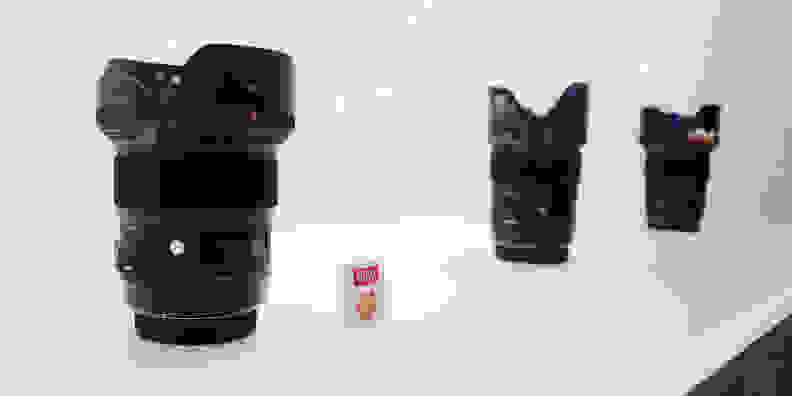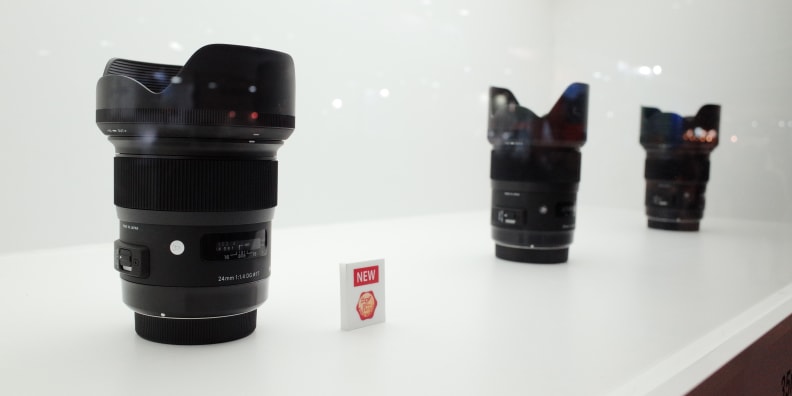 This new 24mm f/1.4 DG HSM lens may not have the universal appeal of Sigma's 50mm f/1.4 or be as groundbreaking as the company's 18–35mm f/1.8 zoom, but it once again challenges assumptions about just how expensive a high-quality lens has to be. The only hangup is that the Art series lenses are not weather-sealed, something that is increasingly looking like a glaring oversight for professionals who need a field-ready lens.
Sigma has been successfully playing David to Canon and Nikon's Goliath for the past two years.
Despite that, it's hard to overstate just how surprising Sigma's transition has been. The photographic lens industry is over 150 years old, progressing at a practically glacial rate. Despite that, Sigma's been successfully playing David to Canon and Nikon's Goliath for the past two years, to great effect.
While we won't know exactly how close Sigma's 24mm f/1.4 has come to matching Canon and Nikon until we get it into our labs, this appears to be yet another rock aimed right between the eyes. And given Sigma's recent track record, you certainly wouldn't bet on it to miss.
Meet the tester TJ Donegan
Executive Editor
@TJDonegan
TJ is the Executive Editor of Reviewed.com. He is a Massachusetts native and has covered electronics, cameras, TVs, smartphones, parenting, and more for Reviewed. He is from the self-styled "Cranberry Capitol of the World," which is, in fact, a real thing.
Checking our work.
Our team is here for one purpose: to help you buy the best stuff and love what you own. Our writers, editors, and lab technicians obsess over the products we cover to make sure you're confident and satisfied. Have a different opinion about something we recommend? Email us and we'll compare notes.
Shoot us an email