That's not a huge variety of options, but Sony is working hard to fix its shortcomings. At Photokina 2014 in Cologne, we saw four new prototype lenses under glass: a 24–240mm f/3.5–6.3 OSS, 28mm f/2, Zeiss Distagon T* 35mm f/1.4 ZA, and 90mm f/2.8 Macro G OSS. At CP+ 2015, all four are present and accounted for as working pre-production samples, to the delight of the home crowd here in Yokohama, Japan.
Though we weren't able to hang on to any sample photos as evidence, we were able to spend some hands-on time with the 24–240mm f/3.5–6.3 OSS (MSRP and availability TBA) at Sony's booth. While we came away impressed with the lens's build quality and handling, we also found some reasons for concern over its image quality, particularly at the long end of the zoom range.
Heavy metal
In Cologne, we got to play with the new Zeiss-branded Sony 16–35mm f/4 and were blown away by its build quality. Though the 24–240mm isn't built to quite the same standard, it's still an extremely well-made lens.
The rather large body appears to be made of all metal, with a broad rubberized zoom ring and a narrower focusing ring. The broad barrel flares out from the E-mount and looks downright meaty on the diminutive A7-series bodies, but gives you plenty to hang onto. Zooming feels very smooth and well damped, and while the focusing ring has a lighter feel, it's still extremely smooth for an autofocus lens.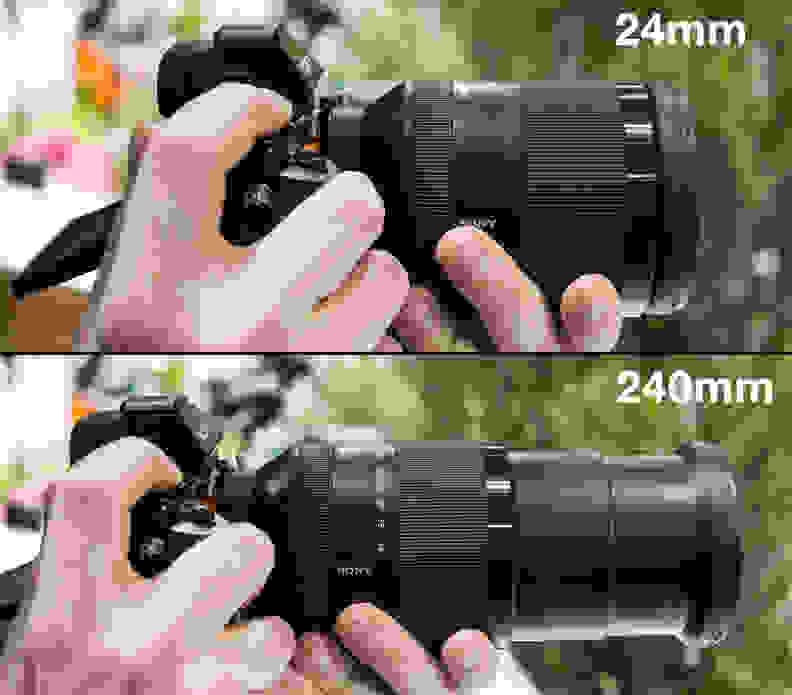 It's unclear at this time whether the 24–240mm is weather-sealed. We weren't allowed to remove it from the camera to check the mount, and Sony hasn't provided any specifications. We also don't know how many lenses or groups are involved in its optical design, or whether it includes any exotic glass.
The lens features prominent OSS (Optical SteadyShot) branding, but there is no switch on the body to turn it on or off. In fact, the lens in its current form is completely bereft of any buttons or switches.
×
Tour
Caveat zoomer
Designing a superzoom lens requires all kinds of optical compromises, which is why so few of them produce stellar results. Even fixed-aperture attempts with shorter zoom ratios (like Nikon's 24–120mm f/4) struggle with massive distortion and sharpness wide open. Sony's new 24–240mm lens isn't immune to these challenges.
At 24mm, the lens looks very good, but 240mm paints a very different picture.
At 24mm, the lens looks very good. Even with the relatively narrow f/3.5 maximum aperture, there's plenty of background blur and the bokeh is pleasing for a zoom. Sharpness is solid across the frame; stop down to about 5.6 and the lens gets a lot sharper, as you'd expect. There's some barrel distortion, but it was difficult to gauge how much without more serious testing.
Results remain more or less consistent up to around 100–120mm, where sharpness (particularly at the borders) begins to drop away. By the time you get to 240mm, even the center of the frame doesn't seem to be very sharp. That's disappointing, especially since telephoto reach is the main reason to buy a lens like this over a traditional standard zoom.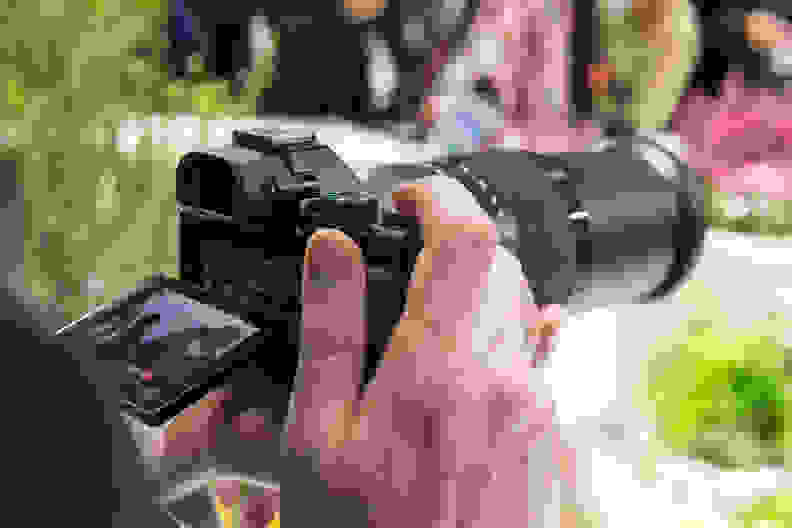 That said, there are a couple mitigating factors. First, this is a pre-production lens; there's no telling whether the production version will offer the same performance or tighten up some problem areas. Second, shooting on a show floor presents its own challenges that may have affected our results. The A7 that I was using wasn't set up to my preferences, and the lighting was poor—quite a few of my test shots at the longer end of the zoom range suffered from motion blur, despite setting the camera to Auto ISO.
All of this is to say that you shouldn't take these impressions as gospel. Lab testing will reveal the true capabilities of the 24–240mm f/3.5–5.6 OSS, not a brief visit to the Sony booth.
A big question mark
As always, it's tough to draw hard and fast conclusions about a product from hands-on time at a trade show. What we can say with certainty is that the Sony 24–240mm f/3.5–6.3 OSS is an extremely well-made lens, but a metal body and smoothly turning rings can only carry you so far. Unfortunately, it appears that this lens may suffer from many of the same foibles as other superzoom lenses.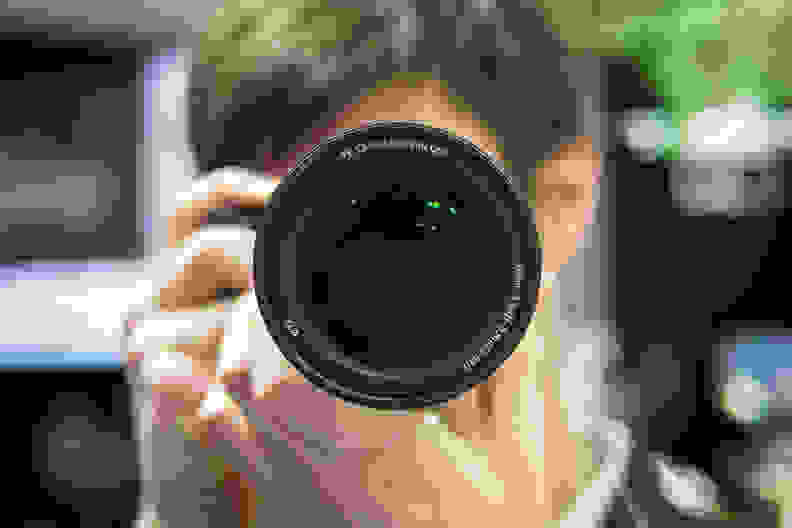 But even if those fears prove true once we get a copy into our labs for testing, that doesn't necessarily mean this isn't a lens worth buying. Nikon's 24–120mm f/4 and Canon's 24–105mm f/4L each have notable shortcomings in resolution, distortion, and vignetting, yet they sell like hotcakes. Their more extreme 28–300mm f/3.5–5.6 superzooms produce even gnarlier results, but have their fans as well.
Clearly, even the enthusiasts who buy full-frame cameras have a thirst for a go-everywhere, do-everything lens, and Sony is smart to prioritize producing one.
Pricing and availability are unknown at this point, though Sony previously stated that the lens could be available as early as this month. It seems unlikely the company will hit its expected launch at this late date, so we'll have to wait and see when the final version hits store shelves.
Meet the tester Ben Keough
Contributor
@ben_keough
Ben is an experienced industry journalist who formerly served as Senior Editor of News and Features at Reviewed. He now contributes as a freelance writer and editor. Most recently hailing from the vast wilds of the American southwest, he is an avid photographer who is deeply disturbed by the lack of wide open landscapes in Boston.
Checking our work.
We use standardized and scientific testing methods to scrutinize every product and provide you with objectively accurate results. If you've found different results in your own research, email us and we'll compare notes. If it looks substantial, we'll gladly re-test a product to try and reproduce these results. After all, peer reviews are a critical part of any scientific process.
Shoot us an email