But that's all changed. The Swedish company was purchased by Slovenia's Gorenje group in 2010, and last year entered into an alliance with luxury appliance manufacturer Sub-Zero Wolf. Now, it's possible to buy a single suite of appliances that includes a Wolf range, Sub-Zero fridge, and Asko dishwasher, all shipped from the same distributor. You can even get matching handles for all three.
So, you've decided on Wolf and Sub-Zero and want to take the package deal. What do you get from your Asko dishwasher? Well, in our test of the panel-ready Asko D5534XXLFI (MSRP $1,365) you get smooth-gliding racks, a flexible interior, an ultra-fast quick wash cycle, and impeccable cleaning performance.
Design
Makes loading dishes a joy.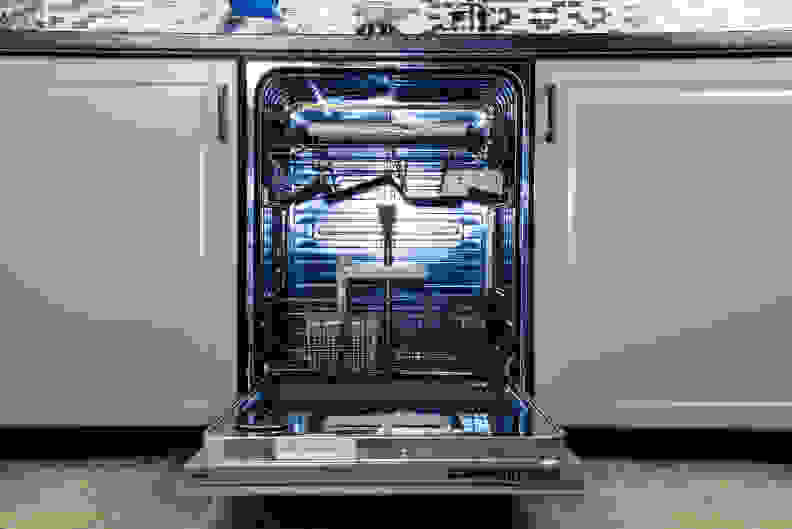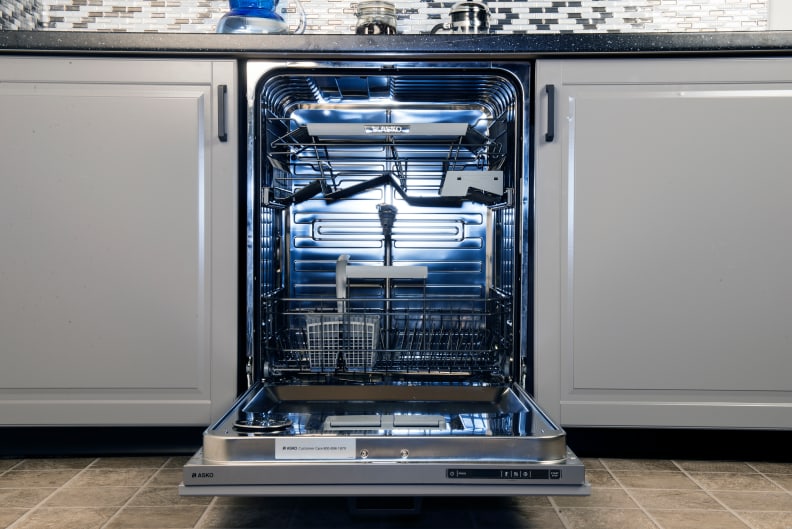 Dishes that aren't loaded properly don't get clean, but it's often hard to make sure everything is facing properly, let alone fit all your dirty dishes. Luckily, the D5534XXLFI has many usability features that turn loading dishes into a hassle-free experience.
The bottom rack has many tines that can be folded down, allowing for pots and pans to fit without any trouble. The upper rack doesn't have the same level of adjustability, but there's plenty of room for mugs and glasses, a row of supports for smaller plates and bowls, and a pair of fold-down cup shelves that double as stemware holders.
Many dishwashers' cutlery baskets can only fit in a few positions, and take up valuable real estate. However, this Asko's basket is compact and designed to sit anywhere along one of the sets of tines on the lower rack.
Unfortunately, that cutlery basket lacks enough slots for keeping flatware separate. A plastic piece at the center of the basket can be folded over one of the basket's six sections to provide a very limited number of these slots. While this is clever design, it doesn't fit many items, and you'll likely find the majority of your silverware clumped together elsewhere in the basket.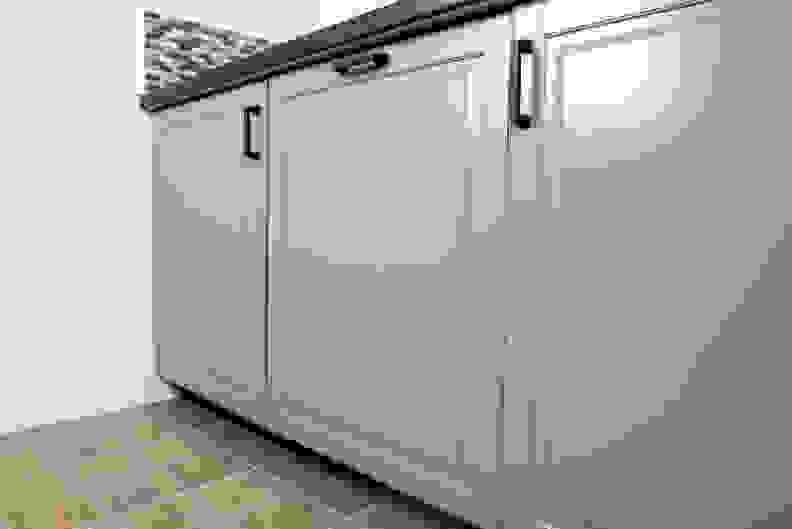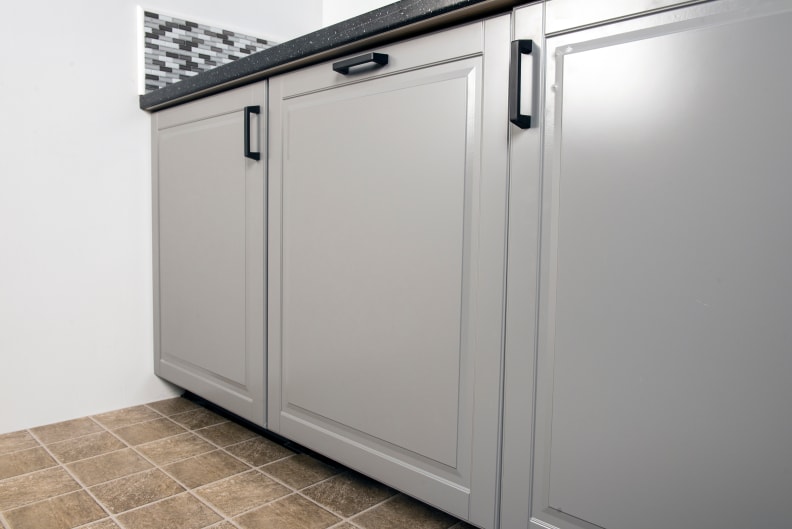 On the outside, you might not even notice that the D5534XXLFI exists. It's custom panel ready, so it's easy to blend it in perfectly with your kitchen's cabinetry. If you don't want to match your cabinets, you can purchase a stainless door panel and any of three styles of handle. The dishwasher is 22 7/8-inches deep, so it can be fit flush with cabinetry.
Lastly, and in contrast to the D5534XXLFI's interior, this Asko's control panel is the source of many usability gripes. The touch-sensitive buttons are a little unresponsive, a tad too small, and you have to toggle through each of the dishwasher's cycles with one button to select the one you want. That's normally not a huge hassle on other machines, but the D5534XXLFI has a whopping nine wash programs to choose from.
×
In Situ
Cleaning
Nearly flawless
The D5534XXLFI's Normal and Heavy cycles delivered near-perfect cleaning results. Our only real complaint is that the Normal took around 2 hours and 20 minutes, which is a bit on the longer side. If you're doing dishes after dinner, this makes it harder to squeeze in another load if needed.
Clocking in at 1 hour and 19 minutes, the D5534XXLFI's Quick cycle hardly lives up to its name. However, it includes a drying cycle by default, which most fast cycles on other dishwashers skip in favor of speed. Also unlike the fast cycles on other dishwashers, the Asko's gave great results that were comparable to the Normal cycles on other, less pricey machines.
But if you're really in need of speed, Super Quick can take care of light stains in a brisk 21 minutes. We found it did an adequate job removing lipstick and margarine stains, and it completely removed the wine stains that we left out to dry overnight.
If you frequently find yourself running out of glassware during cocktail parties, the addition of this cycle makes the Asko D5534XXLFI a great choice. The only other dishwashers to offer similar cycles cost hundreds of dollars more.
Super Quick can take care of light stains in a brisk 21 minutes.
The Rinse & Dry and Rinse & Hold cycles don't use detergent, but they serve very different, equally useful purposes. If you suddenly find yourself with extra guests and have to break out the extra place settings that have been gathering dust in a cabinet, Rinse & Dry gets them refreshed and ready for immediate use. If you've had a half-load sitting in the dishwasher for a few nights and it's starting to stink, Rinse & Hold will keep things fresh until you're ready to do a full load.
×
Loaded Gallery
Interestingly, the D5534XXLFI calls for a cold water line instead of hot water, so we programmed our faucets to dispense water at 60°F instead of the usual 120°F. We found that this machine uses much less water compared to other dishwashers, but also a bit more electricity—used mostly to heat the water. In total, though, the D5534XXLFI will cost you only $30.08 per year in utilities, which is actually pretty average. It also means less work for your hot water heater. Chances are, you won't run out of hot water if you take a shower and run the dishwasher at the same time.
For in-depth performance information, please visit the Science Page.
Why We Like It
A cycle for everything.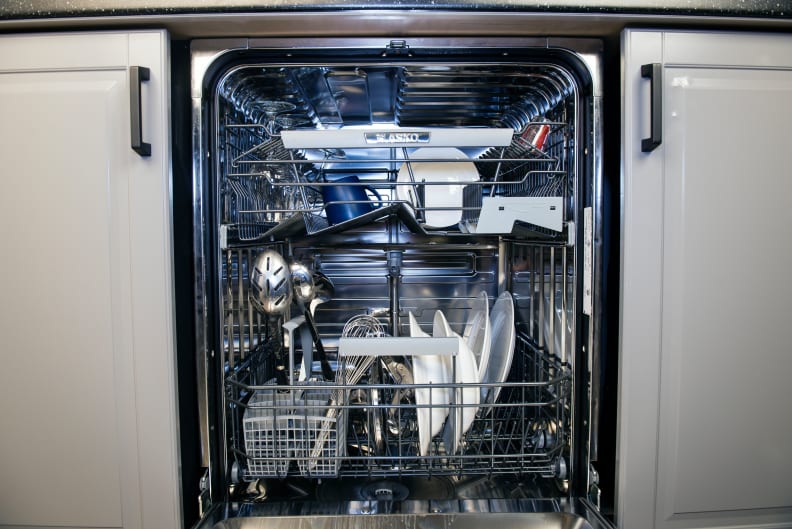 This Asko's strengths lie in its broad cycle selection and interior flexibility, making it a great choice for a high-end kitchen. After installing a custom panel to match your cabinetry, the D5534XXLFI not only fits your kitchen, but has all the cycles to fit your dishwashing needs.
That said, the D5534XXLFI isn't exactly perfect. If you prefer a dishwasher with a bigger, more responsive control panel or a third rack for holding more silverware, you'll want to look elsewhere. But if it's coming on the same truck that's delivering your Sub-Zero fridge and Wolf range, rest assured that the D5534XXLFI won't disappoint.
Photo Gallery
×
Design Gallery
By The Numbers
Powerful cleaning performance should be a given from a high-end dishwasher, but it's still important to know that you're paying for a machine that does what it's supposed to. That said, the Asko D5534XXLFI certainly delivers.
Performance
The Heavy cycle was nearly perfect, and actually finished faster than the Normal.
There's very little to say about the D5534XXLFI's Normal cycle, which removed 100% of most stains we threw at it. At 2 hours and 20 minutes, though, it's a bit on the slow side. Still, this cycle serves its purpose as an everyday workhorse cycle.
The Heavy cycle was also nearly perfect, and actually completed 10 minutes faster than Normal. We got 100% clean nearly across the board, except for the dreaded burnt cheese stain. The Heavy only managed an average of 77.59% removal rate between two tests on this difficult stain.
The Quick cycle is hardly fast, taking nearly an hour and a half to finish, but it includes a drying cycle. Also, with performance scores similar to the Normal cycle of less expensive dishwashers, this cycle actually does a decent job against heavier stains like baked-on oatmeal, milk, and egg remnants.
Efficiency
The D5534XXLFI uses a cold water line instead of hot water, and the results show in the efficiency data we gathered. While water usage in general was very low, every cycle used more electricity compared to similar cycles on other dishwashers.
Normal used 1.09 kWh of power and 3.69 gallons of cold water, Heavy used 1.54 kWh and 4.50 gallons, and Quick used 1.25 kWh and 2.79 gallons. The savings on water were canceled out by the extra power consumption, and we calculated an annual utility cost of $30.08 a year for the D5534XXLFI. Many dishwashers hover in the $28-30 range, so this is actually about average.
Capacity
We were able to fit ten place settings and a serving setting inside the D5534XXLFI. Although there's a section of the cutlery basket that has slots for keeping silverware separated, we found those slots to be too narrow for our standard forks, knives, and spoons. Otherwise, we had little trouble loading everything—The spacious upper rack was perfect for fitting all our glasses and mugs.
×
Capacity Gallery
Meet the tester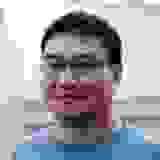 Johnny Yu
Staff Writer
@ReviewedHome
Johnny Yu writes news, features, and reviews for Reviewed.com. He graduated from U-Mass Boston with a Bachelor's in Social Psychology and spends much of his free time expanding his gaming horizons. Sometimes, he does his laundry at work.
Checking our work.
Our team is here for one purpose: to help you buy the best stuff and love what you own. Our writers, editors, and lab technicians obsess over the products we cover to make sure you're confident and satisfied. Have a different opinion about something we recommend? Email us and we'll compare notes.
Shoot us an email