luxuryhome
Bertazzoni MAS365GASXE 36-Inch Gas Range Review
Uniquely interactive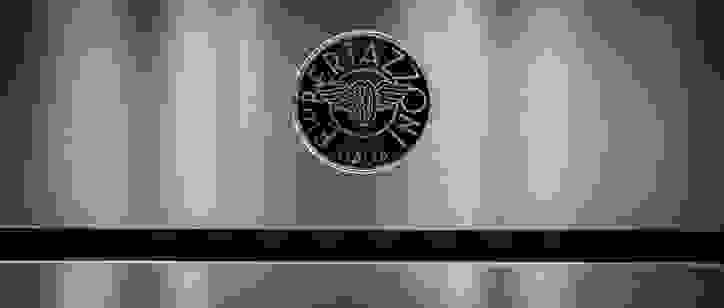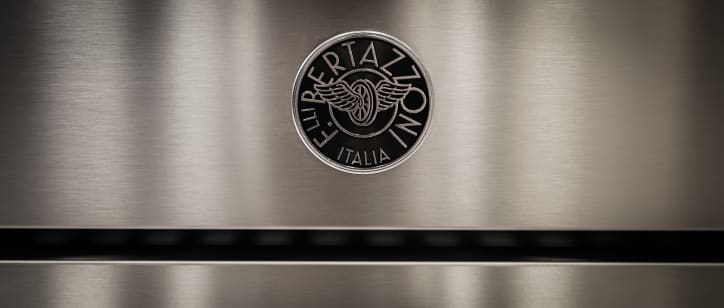 Credit: Reviewed.com / Chris Snow
There is a variation of the Bertazzoni Master Series MAS365GASXE called the Bertazzoni Master Series MAS365GASXELP. It is very similar to the Bertazzoni Master Series MAS365GASXE in most respects.
The Bertazzoni MAS365GASXE 36-inch gas range (MSRP $2,999) is one unique appliance.
Made in Italy and part of the manufacturer's entry-level Master Series, it's more sleek and more affordable than many pro-style ranges, but it's also full of distinct design elements that, we think, make it quite beautiful. Even if you disagree, you have to admit that it would add significant visual appeal to any kitchen.
But this Bertazzoni's looks aren't the only thing that make it unique—which is both good and bad. For instance, in our tests, we found that it requires the user to take a particularly hands-on approach to cooking. If you find touchscreens and preset cooking modes an affront to your grandmother's recipes, read on.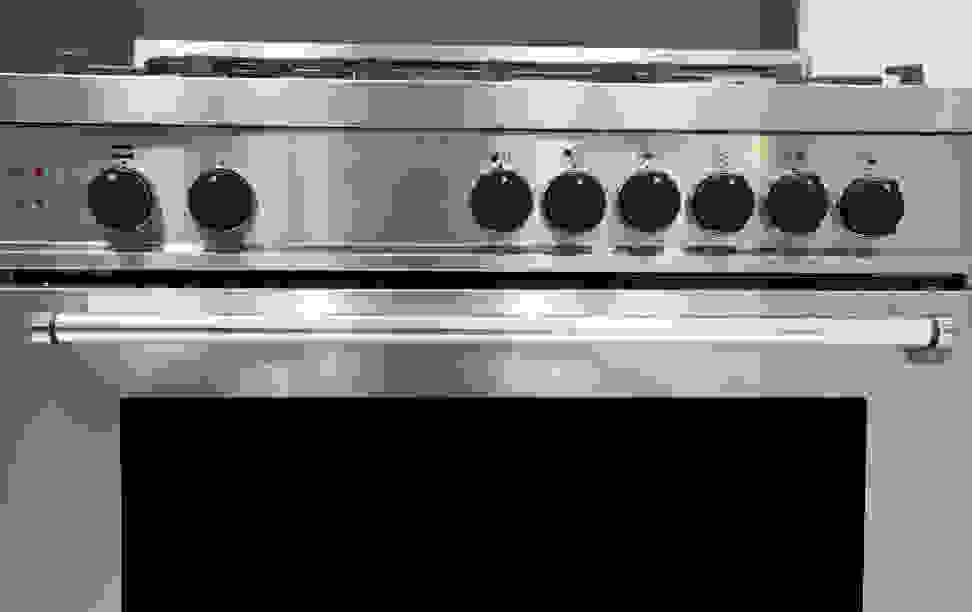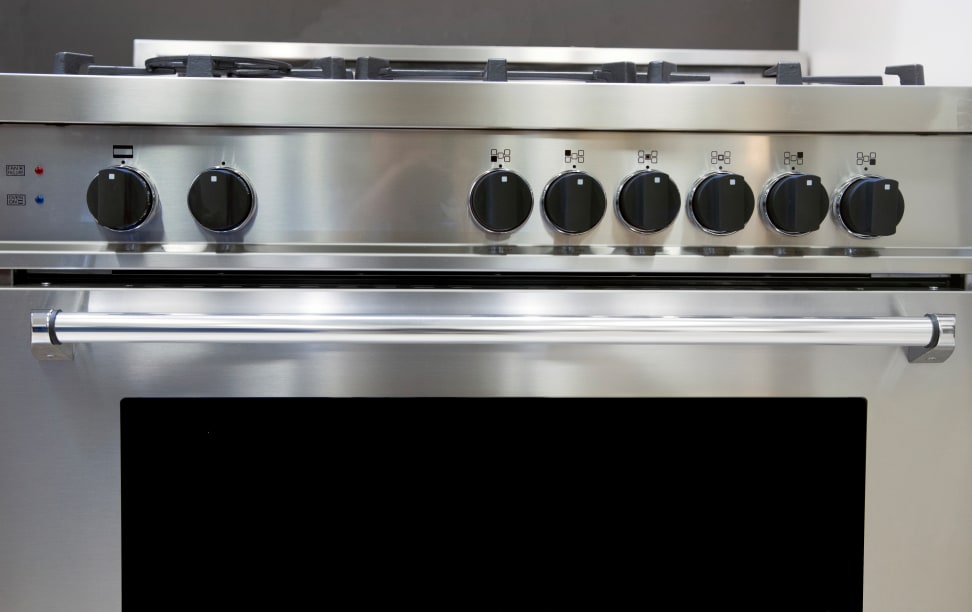 Once you've started cooking, you'll find that the MAS365GASXE's gas rangetop boasts a broad range of temperatures, and the gas oven heats up impressively quickly. Unfortunately, our extensive scientific testing process showed the oven struggles to properly regulate the temperature of its 4.4 cubic-foot cavity, resulting in hot and cold spots throughout.
If you want an oven that takes the work out of cooking for you, look elsewhere. Other ranges cost thousands less and require less effort. But if you want an attractive range with a heavy dash of personality, the MAS365GASXE is worth a closer look.
Design
Sharp lines make this range sleek
At 36 inches wide and 25 inches deep, the MAS365GASXE offers an expansive rangetop. Its overall look is that of a professional-style range, but some some seriously sharp lines give it a contemporary edge.
Shiny, height-adjustable legs match the shiny professional-style handle and show off the floor beneath—perfect for standalone installation.
The rangetop's black grating isn't terribly nice to look at, but it's certainly functional, as is the sleek—but unremarkable—backguard. We think the black plastic control knobs on the front range take away from its utilitarian-meets-luxury look, but they do manage to break up the color scheme, which is otherwise almost exclusively stainless steel.
A centrally-located Bertazzoni logo is set proudly below the large oven window, also serving to add visual interest to that broad expanse of silvery stainless. It's the same logo that adorned the company's wood-fired ovens from centuries earlier.
Also set prominently—but not as proudly—is a red "Fan Failure" light set just above a blue "Oven On" light. If that red light turns on, it means that the cooling fan that automatically cools the control panel and oven door when you are cooking has malfunctioned. Bertazzoni advises users to shut off their rangetop and call customer service in this event. We've never before seen a range with an error alert light in such an eye-catching location.
Love it or hate it (and we love it), Bertazzoni seems to have put a lot of thought into this range's aesthetic presentation.
Customizability and Warranty
Trim, rangetop, and oven add-ons
Like all Bertazzoni appliances, the MAS365GASXE comes with a 2-year labor and parts warranty.
Design-wise, it has a lot to offer. If you want even more, you may want to check out Bertazzoni's optional accessories.
We like the range's shiny adjustable legs, but if you want to install the range in-line with cabinetry, feel free to purchase a separate stainless steel toekick panel. You can also add a trim kit to fit the rangetop flush with an island or a side trim set for cabinetry, both of which are made of stainless steel.
For additional rangetop versatility it's possible to purchase a cast iron simmer ring, wok ring, or a griddle plate in either stainless or cast iron that can fit over the burners. Increase the versatility of your oven as well, if you'd like, with the addition of a glass or porcelain tray, or telescopic glide shelf guides.
Bertazzoni is known for colorful oven finishes, but if it's fancier knobs or a rainbow of exteriors that you're seeking, you won't find it with this Master Series range. Only the pricier Professional Series offers these kinds of options.
Rangetop
A quick center burner with great temperature variance is best in show
The Bertazzoni MAS365GASXE's five sealed aluminum gas burners are topped by three continuous cast iron grates. They have a finish that's rough enough to make it difficult to move cookware around, and we feared they might scratch our pans. However, you also won't be able to accidentally push aside anything you set down on the grates. Accessories—such as griddles and wok rings—are extremely affordable add-ons.
Most 36-inch ranges put a warming burner, griddle, or grill in the middle of the rangetop. But not Bertazzoni. The central burner is the most powerful and the most versatile. It's a dual-ring setup, and has a whopping 18,000 BTU output. We measured a temperature range of 148°F to 431°F.
By comparison, that's not as wide a spread as Viking's PowerPlus burner, which got just as high but dipped closer to 120ºF. Our gold standard for low temperatures is Thermador's exceptional ExtraLow burner, which we measured at 85ºF.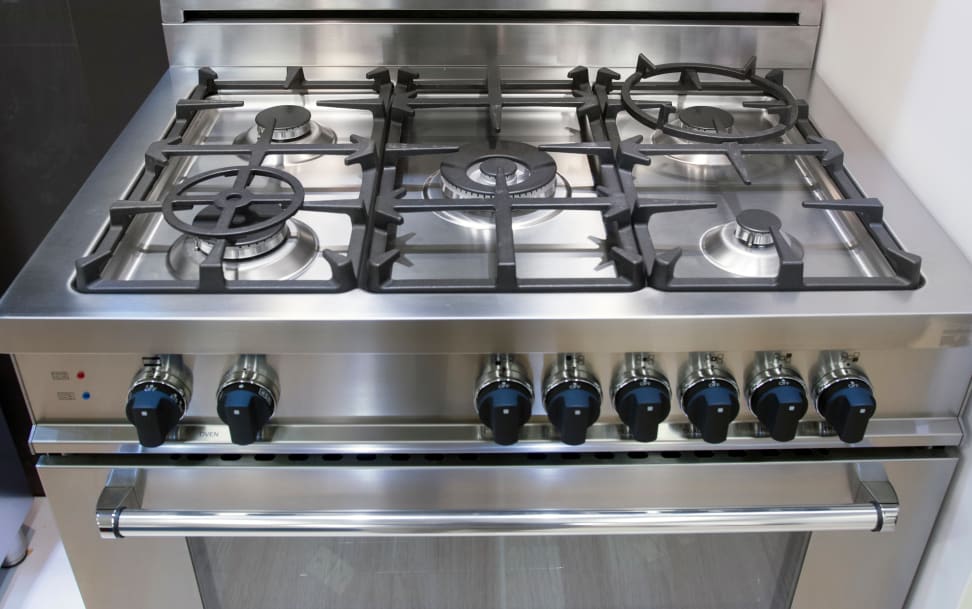 We weren't impressed at all by our time-to-boil tests. Only the center burner and 11,000 BTU burner could boil 6 cups of water in under 10 minutes. By comparison, many other gas ranges we've tested take less than 6 minutes. The other burners are even less useful. There are two 6,500 BTU burners, each of which had a narrow range of temperatures, and one 3,400 BTU auxiliary burner that's best used for keeping food warm.
We are fans of the physical setup, however. With only one center burner sitting beneath the center grate, there's room to set down pots and pans at the front and back of the rangetop.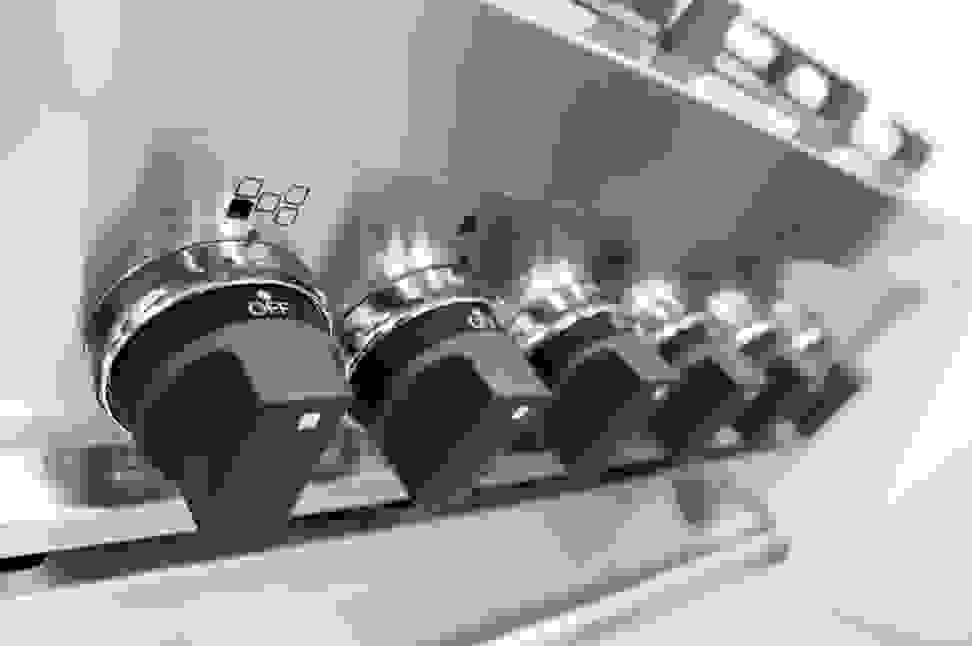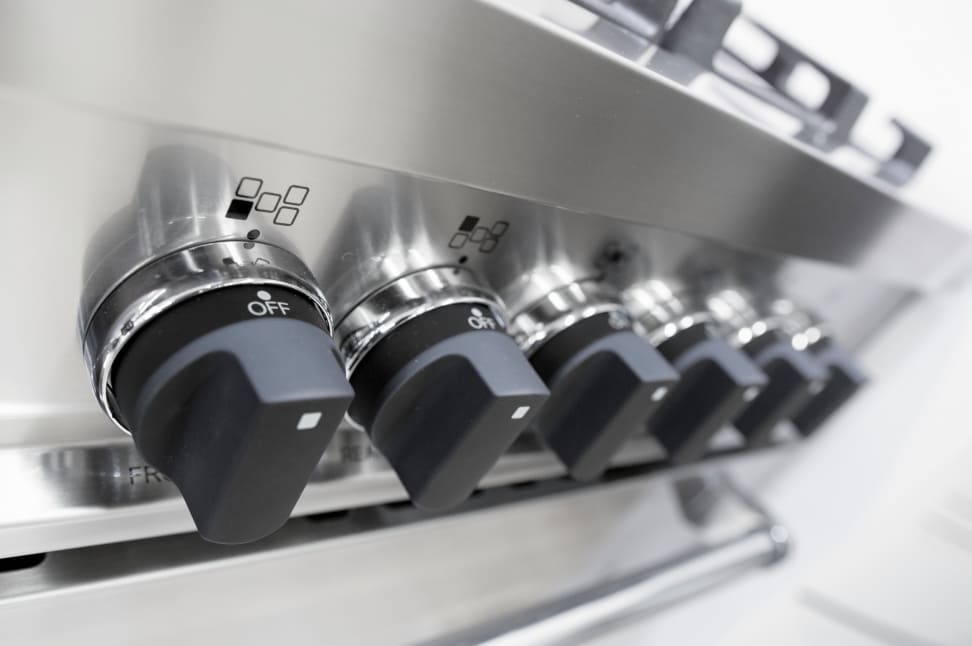 The range is controlled by matte black knobs made of a lightweight plastic. They didn't look or feel particularly high-quality. To turn on a burner, users must push the knob inward, turning it all the way to the left to ignite the burner—a process that results in a louder "click" than on other ranges we've tested. Only then can you release the pressure and twist the knob to adjust the temperature.
A thermocouple safety system stops the flow of gas to a burner if the flame goes out—even if the power has been shut off—and won't allow gas to flow if the burner knobs have been turned without proper flame ignition. Unfortunately, we noticed that the unfinished edges of the control panel were sharp enough to cut a user's finger.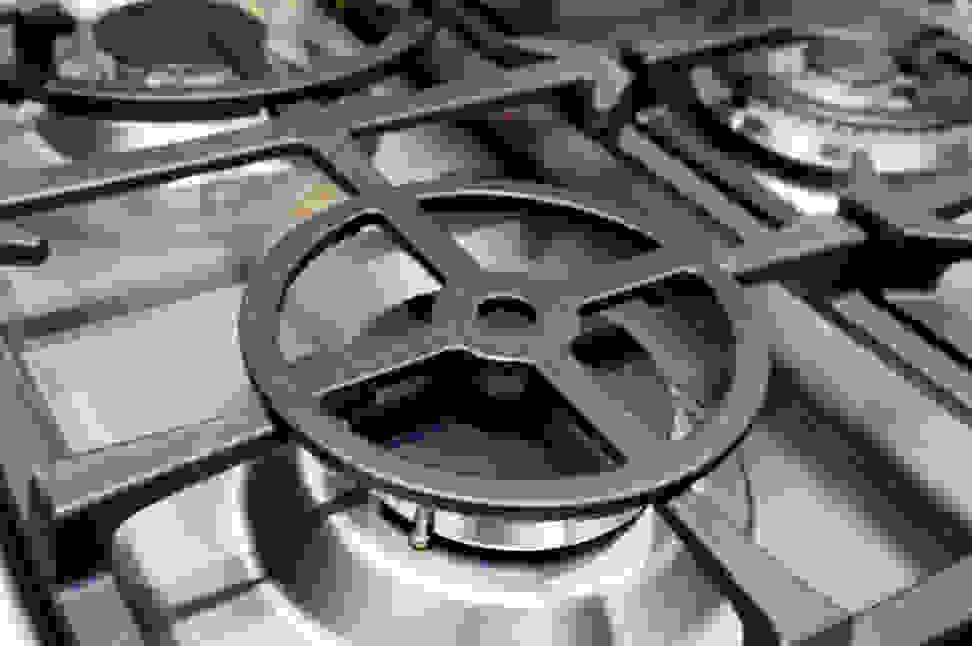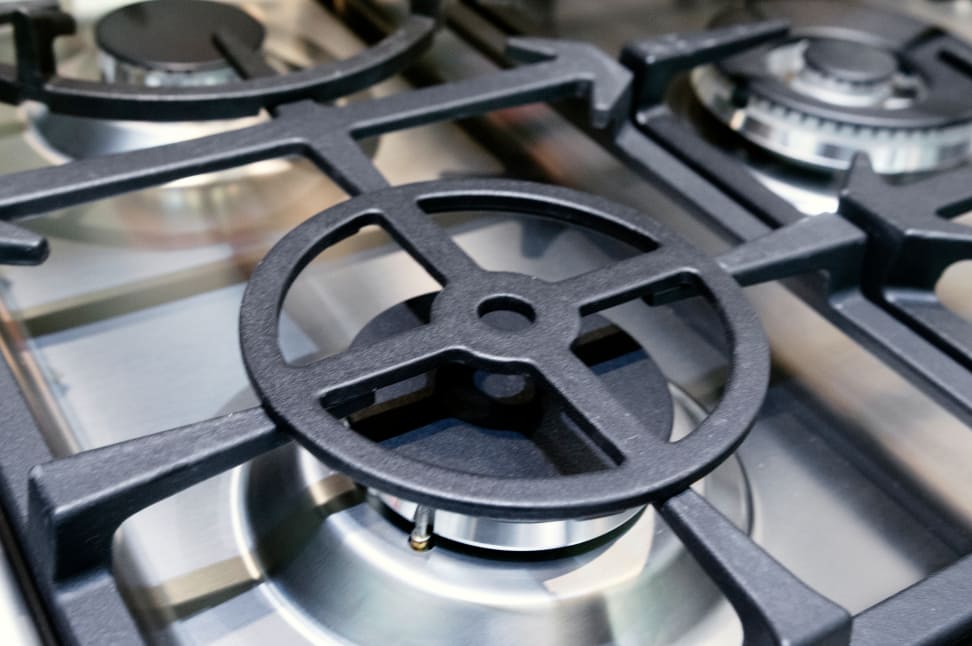 Oven
Unlike any other oven
The MAS365GASXE's 4.4 cubic-foot oven comes with two standard racks and a triple-glass door for extra heat insulation. The door has a thick, shiny, professional-style handle. Instead of a soft open or close, it tends to drop open or slam shut.
The process of operating the oven is a bit mystifying: To get started, users must first open the oven door. Then, it's time to select a cooking mode using one of the two oven control knobs located on the front of the range. Push in the other dial, and wait for the oven to ignite. Only then can you use it to select temperature or broiler settings. Once you've checked to see if the flame has ignited, you can finally shut the door and start baking.
On the one hand, we found this process inconvenient and a definite adjustment from other oven controls, which ignite at the touch of a button. On the other, we appreciated how this oven really forced us to engage with it. There's no Chicken Nugget or Pizza preset to be found here—users will have to get a little more hands-on than that—which might be either a pro or con, depending on personal preference.
For all that work, you can choose from a standard bake mode, convection, defrost/dehydrate, or broil. The rest is up to you, but our tests show it may be a little difficult for even skilled cooks to coax perfection out of this Bertazzoni.
While it has incredibly fast oven and broiler preheats, it fell somewhat short in our real world bake and roast tests. With standard oven settings, cakes and cookies were not even or consistent in their browning. When we switched on the convection setting, cookies were even more varied in their browning, but cakes saw a vast improvement, coming out near-perfect. It seems that convection improves items with longer cook times.
When we roasted pork loin in the oven, our results were just okay. Surface browning was uneven with standard roasting, and convection dried the meat out too much. Other ranges we've tested—including a similarly-priced Dacor—did a much better job with this task.
We're also looking forward to testing the dual-fuel version of this same range, as an electric oven will likely be easier to use and provide more even baking.
Before You Buy
Something special, flaws and all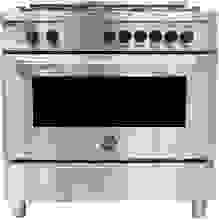 Yes, the Bertazzoni MAS365GASXE has its flaws. But, in a way, some of those flaws are also part of its charm.
The rangetop is the star here. It has one stellar burner, a great layout, and superb customizabilty, although non-primary burners lack the temperature range of its competitors. The oven, however, has some definite issues with hot and cold spots throughout the cavity.
The MAS365GASXE's real draw, however, aren't the specifics of its performance during testing. Consumers will purchase this range because it calls for an out-of-the-ordinary level of user engagement, because it takes a professional style and adds some sharp, contemporary design elements, and because it leaves a lot of room for home cooks to craft food with their own personal flair.
Many will take issue with this Bertazzoni's quirks, but a niche consumer group looking to add something truly special and interactive to their kitchens will find it just right.
Our editors review and recommend products to help you buy the stuff you need. If you make a purchase by clicking one of our links, we may earn a small share of the revenue. Our picks and opinions are independent from any business incentives.
Our editors review and recommend products to help you buy the stuff you need. If you make a purchase by clicking one of our links, we may earn a small share of the revenue. Our picks and opinions are independent from any business incentives.
Advertisement - Continue Reading Below
Our editors review and recommend products to help you buy the stuff you need. If you make a purchase by clicking one of our links, we may earn a small share of the revenue. Our picks and opinions are independent from any business incentives.
Advertisement - Continue Reading Below
Advertisement - Continue Reading Below
Advertisement - Continue Reading Below
Advertisement - Continue Reading Below
Advertisement - Continue Reading Below
Get Our Newsletter
Real advice from real experts. Sign up for our newsletter
Thanks for signing up!