Well-rounded.
The rangetop was especially impressive, reaching temperatures as high as 533°F and as low as 120°F. Three of the four burners took between 5 and 7 minutes to boil 6 cups of water, with the fourth burner boiling six cups in just under 11 minutes—pretty quick all around. We made pancakes on every one of the rangetop's burners and found no indication of uneven heating.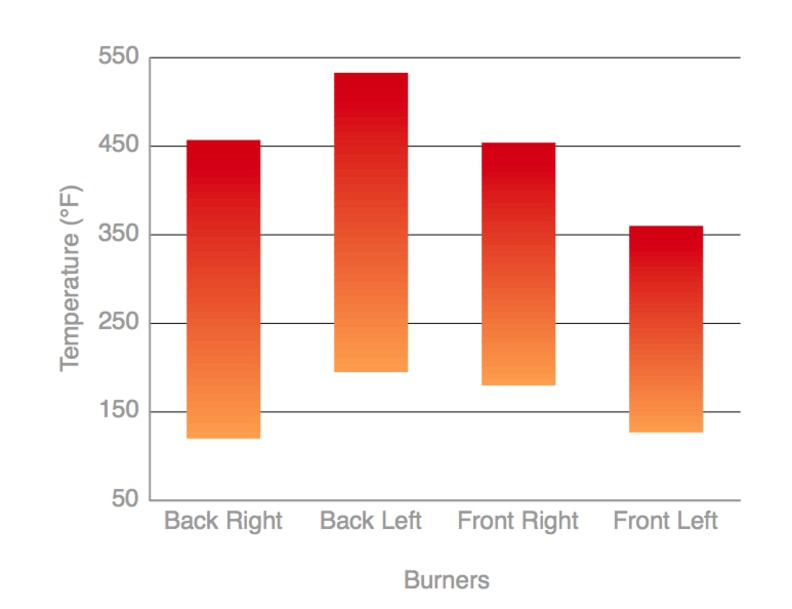 ×
Rangetop charts
The oven was quick to preheat, taking just over 11 minutes to reach 350°F with standard settings. Turn on convection, and that time decreases to just over 9 minutes. The broiler hit 650ºF in just over 7 minutes.
A major part of our oven testing is our real world baking tests, in which we bake both a standardized batch of cookies and two cakes, then measure variation in browning with the aid of a photospectrometer.
The regular oven setting tended to brown cakes and cookies more thoroughly when they were located on the right side the cavity, indicating a hot spot. Switching on the convection fan made a huge difference, though, and cookies baked with convection matched one another a bit more closely. Cakes were far more evenly baked with convection than with standard settings, but the oven continued to brown the right sides of our baked goods slightly more than the left. We'd recommend that users rotate their pans halfway through baking.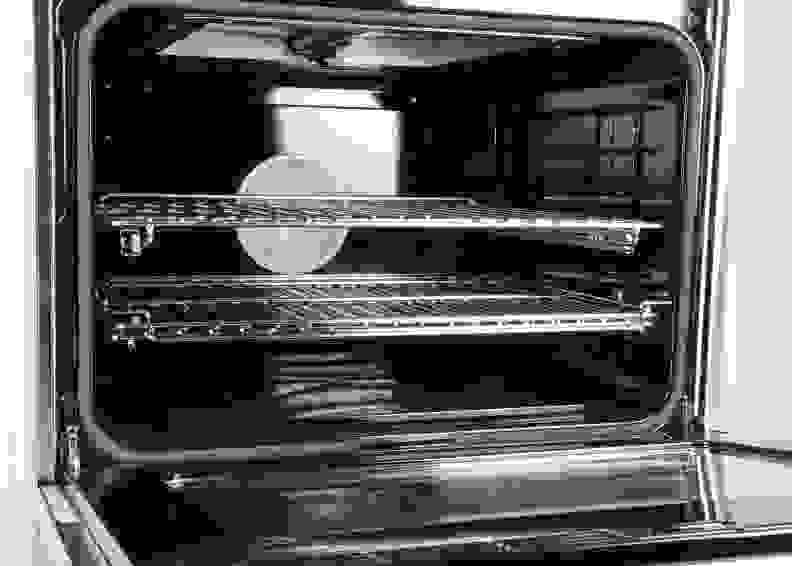 We also roasted a pork loin in the oven using both regular and convection settings. At regular oven settings, the pork cooked more quickly than we've seen in other ovens, but still retained a lot of its moisture, losing only 0.66 lbs of water. However, browning varied significantly throughout the roast.
That decent roasting score became excellent with the addition of the convection fan, though. It took a bit longer to cook, but lost only 0.62 lbs of moisture during baking, and also browned much more evenly—quite impressive!
The Dacor Distinctive DR30GS gas range (MSRP $3,860) is an upscale appliance that's not ornate or loaded with features. Rather, it's sleek, powerful, and functional.
That's the point. Yes, the California-based manufacturer makes smart appliances, like this voice-controlled oven. But the Distinctive line is designed to stay out of the way of chefs who know what they're doing, while still giving them the vital tools they need.
The 30-inch stainless steel range is topped by a spacious gas rangetop—including an 18,000 BTU burner—with continuous, black porcelain enamel grates. A 4.8 cubic-foot gas convection oven sits below the rangetop, and the whole setup looks simple and clean. So does the list of features. For instance, Baking modes are limited to standard baking, Broil, Convection, and Convection Broil. There aren't any touch panels or visible electronic components.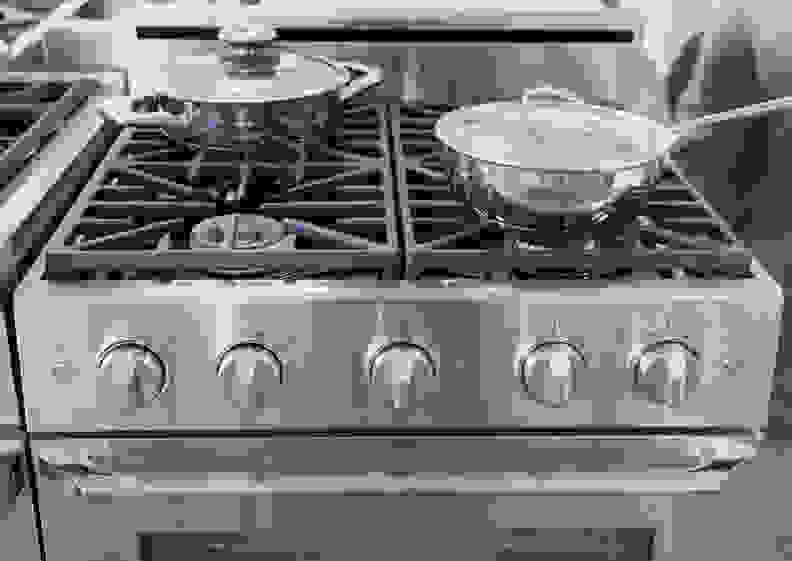 Good looks and simplicity aside, the DR30GS proved its worth during our extensive testing. The rangetop was quick to boil and offered an impressive temperature reach, and the oven excelled when it came to turning out a juicy pork roast. If you want a gas range with the functionality, space, and control to get creative in the kitchen, you should take a look at the Dacor Distinctive DR30GSNG.
Clean and professional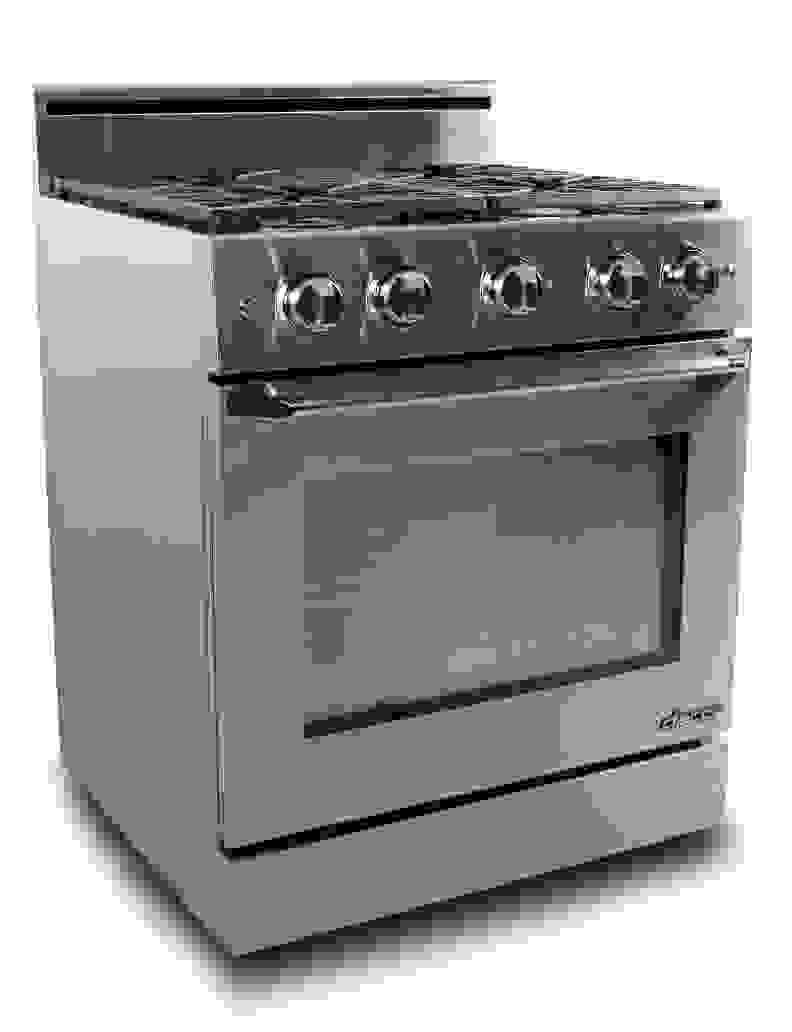 30 inches wide and 24 inches deep, the stainless steel DR30GS should match just about any kitchen that can fit it. With its simple, angular appearance and black grating, we'd be more apt to describe it as subtly professional than "Contemporary Distinctive," as Dacor does. It definitely looks less intimidating than some of the pro-style models from Wolf or Viking.
Buyers can opt for the Dacor DR30GFS—which has a flush-mounted handle—if they'd like to pursue a more contemporary look. The two ranges cost the same, but we think the Epicure handle, with its clean lines and chrome trim, might be a better fit for most kitchens.
The range's only pop of color comes from small blue Illumina indicator lights beside its control knobs, and a stainless steel backguard protects your wall from any pots boiling with a little too much fervor. It does not, however, house a clock or timer, a design choice which preserves the DR30GSNG's commercial-style appearance.
Griddles and grills and pans, oh my!
The DR30GSNG is studded with so many extra features that it's hard to imagine wanting more, but Dacor does have more add-ons up its sleeve. Optional cast aluminum griddles and searing grills fit over the burners to add to the versatility of the rangetop. If you want even more GlideRacks for your oven, they can be had—for an additional cost, of course. Shelling out a bit more could also get you a set of three cookie sheets sized for this Dacor's oven cavity, a broiler pan, or a broil-roasting pan set that includes a roasting pan with a grill and v-rack.
A spacious cooking surface with great temperature reach
The DR30GSNG's gas rangetop is covered by two 14-inch continuous grates, which are coated in porcelain for easy cleaning. Each grate is quite large and very heavy, and we think a four-piece grate would be easier to handle than the two-piece version that sits atop this Dacor. Still, we like how spacious the 30-inch rangetop feels, even when cooking on all four burners. Your large stew pots or skillets should fit comfortably, and the continuous platform grates lend the rangetop a clean, professional look that really emphasizes its broad cooking surface.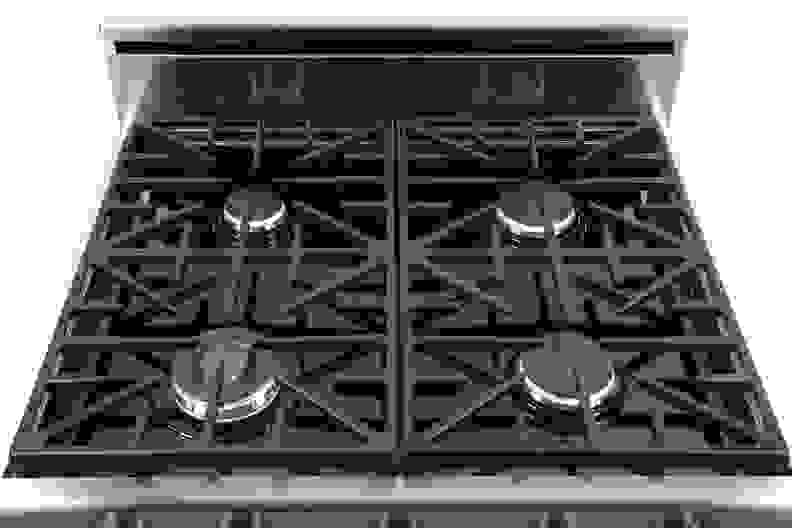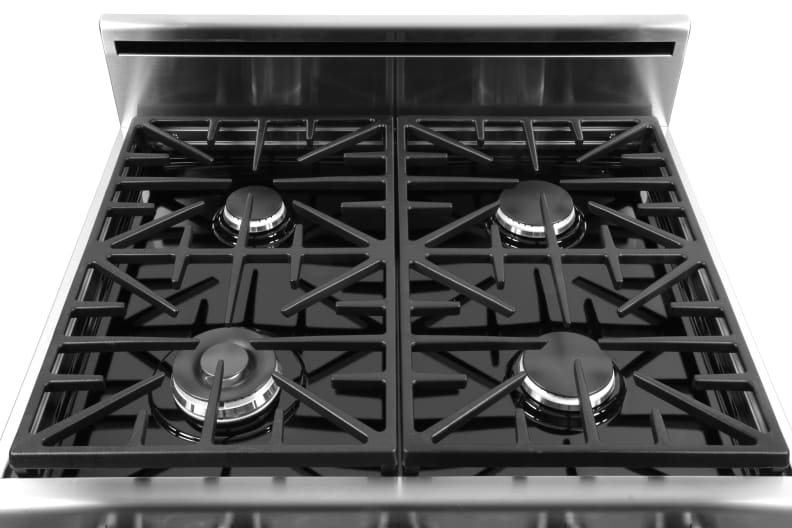 Beneath the grate, there are four sealed gas burners—including a dual-ring 12-inch SimmerSear burner at the front left. It provides from 800 to 18,000 BTUs, allowing for simmering and melting as well as higher-temperature searing. This burner might seem like the superstar of the bunch, offering temperatures as high as 360ºF and as low as 127ºF. But just because it's versatile doesn't mean it should be the workhorse.
In fact, the two 9-inch, 15,000 BTU burners on the right side of the range proved most adept at boiling water, taking about 7 minutes each, and easily got pans as high as 450ºF and as low as 120ºF. Finally, the 7-inch, 9,500 BTU burner at the left rear might seem like it was designed for simmering soup—but it actually had the worst low-temperature performance in our tests.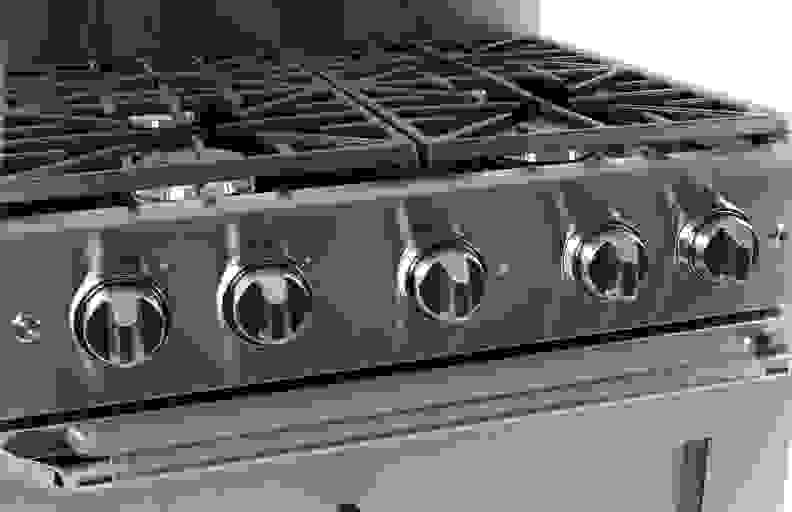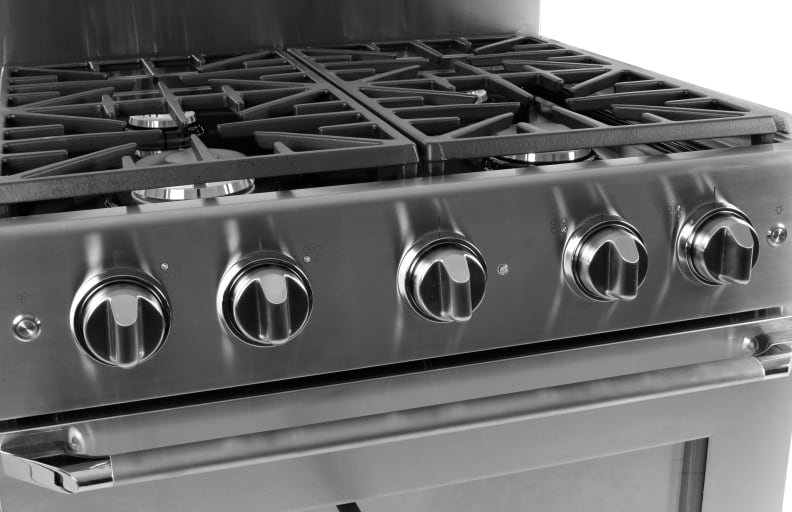 As long as you know which burners to use, you can get power from this rangetop when you need it, but lower flames and gentler heat are also on the menu. All it takes is a twist of the stainless steel knobs on the front of the range. The minimalist look of the knobs adds to the range's commercial appearance, though it's worth noting that they're not easily removable for cleaning.
Dacor really gives the home cook a lot of control here, and our scientific testing confirmed the rangetop's versatility, with burners demonstrating an ability to hit both high and low temperatures beyond the capability of the other luxury rangetops we've tested.
The Miele HR1924DF's gas rangetop can hit slightly lower temperatures and boil water a little bit faster than the Dacor DR30GSNG, but it can't get anywhere near as hot. This Dacor's rangetop is more well-rounded in its strengths than the Viking VDSC5304BSS's gas rangetop, which has an unimpressive temperature reach but a startlingly quick boil time, or the Bertazzoni MAS365GASXE's, which gave a reliably average performance across the board.
A great argument in favor of convection.
The Dacor DR30GSNG offers a 4.8 cubic-foot cavity for all your cooking needs. The racks—two standard and one gliding—can be swapped between seven possible height placements. When it comes time to cook, opening the oven door requires a strong tug, but the door moves smoothly once it's open. It also stays put where you leave it, without slamming shut or falling toward the floor.
The door houses a large tempered glass window, which unfortunately won't offer a great interior view during use, as the window steams up significantly during oven use. Regardless, a bright interior halogen light switches on with the push of a button.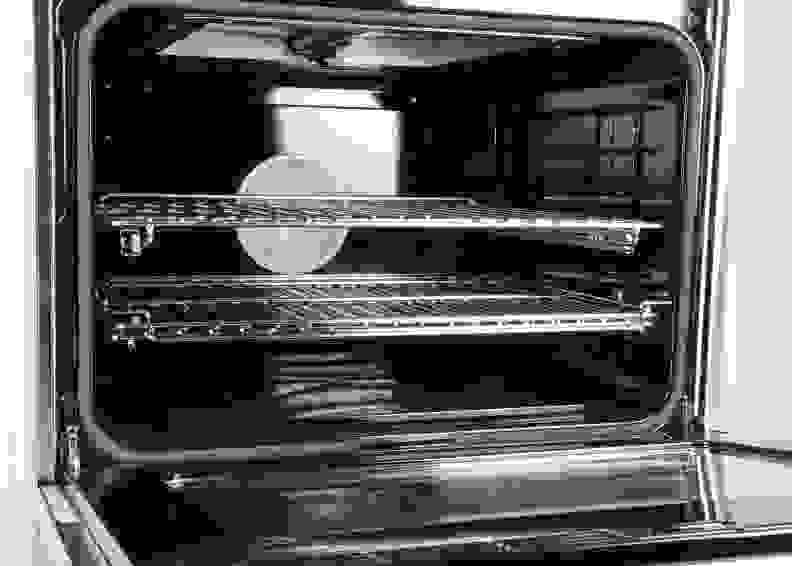 As far as features go, the DR30GSNG boasts four cooking modes—Bake, Broil, Convection Bake, and Convection Broil—most of which can be controlled with the twist of a dial located on the front center of the range. Push the dial to turn on the oven, then turn it to select a regular bake temperature. The broiler is controlled by the same dial, but lacks any adjustability there beyond "on" or "off."
On the left front of the range, there's a button that can switch on the convection fan in either the broil or regular baking settings. It activates a three-stage true convection system, which consists of a fan, air baffle, and convection filter and circulates air around the cavity to achieve a more even temperature.
Again, Dacor gives the user a lot of room to cook as they please here, keeping the oven clean of excess features. The separate convection control button is a little out of the ordinary, but it trusts that the user recognizes convection as an extra feature that can be combined with bake or broil modes for better results, rather than a standalone setting that automatically heats the oven.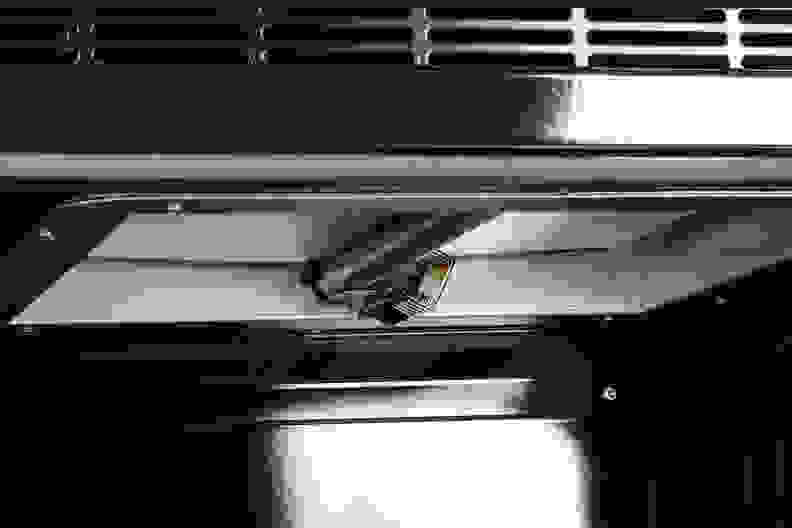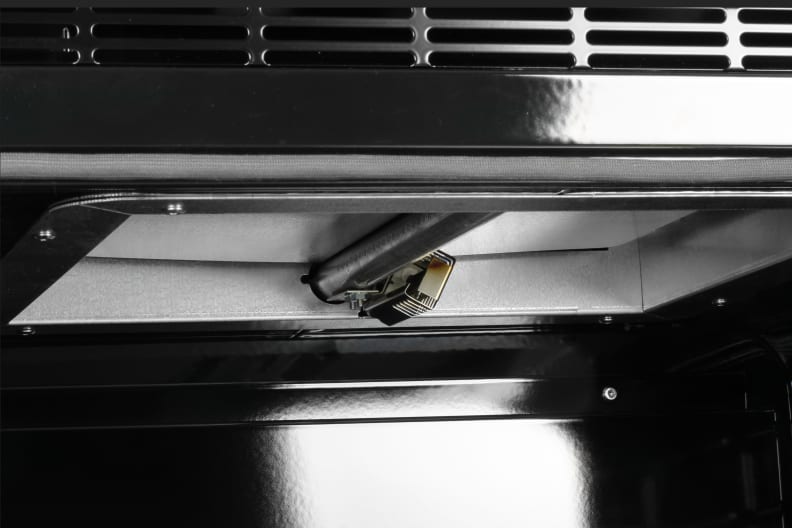 While it's up to the home cook to use the bake, broil, and convection settings as they please, the quality of the resulting food depends in part on the oven's ability to heat evenly.
When we baked cookies and cakes without convection, we noticed that the items on the right hand side of the oven emerged a bit burnt—indicative of a hot spot. Luckily, convection fixed all of these issues, and switching on the fan improved baking evenness.
Likewise, when we roasted pork, turning on convection improved browning but didn't dry out the meat—which is a real problem for some other ovens.
Sometimes a blank slate is best
The Dacor Distinctive DR30GS is a precise tool, designed to stay out of the way and let you do the cooking. Inspired by the professional ranges you'd find in restaurant kitchens, it has high-powered burners and continuous grates, but lacks niceties like touch screens and recipe presets. In fact, there isn't even a timer.
If that sort of spartan experience appeals to you, the DR30GS is an excellent choice for a range. It's not perfect, but we'd be hard-pressed to find a better combination of baking, roasting, convection, and rangetop performance from any range in its class.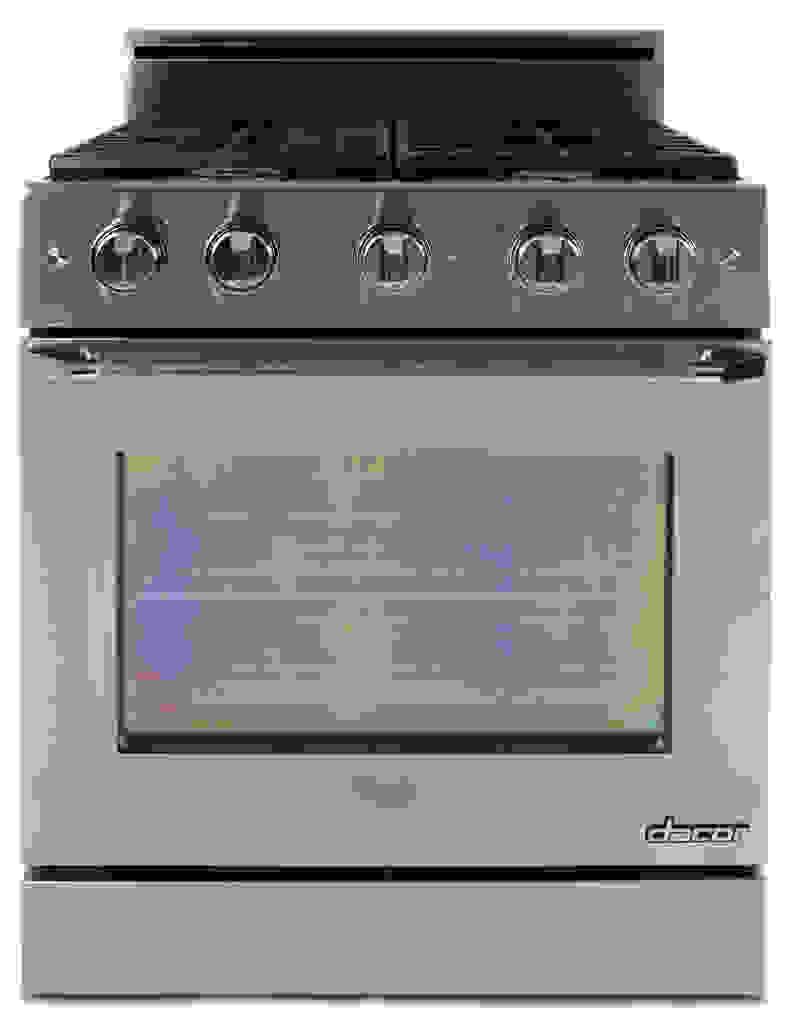 If you're looking for something with more features and a few elements of transitional design, the significantly pricier GE Monogram ZDP364NDPSS (MSRP $8,199) may be right up your alley, but its rangetop is slower to boil, and its oven bakes more evenly but roasts a little less effectively. Miele's new range lineup is full of technology but hidden in a traditional design. And Bertazzoni's MAS365GASXE (MSRP $3,199) will save you a few dollars, but its antiquated controls may be too much of a throwback for most users.
The bottom line is that the Dacor DR30GS offers cooks the space, flexibility, and power to do cook whatever you want. It's sleek, it's simple, and it's powerful. Make of it what you will—and make with it what you will.
Hero image captured at Doyon's TV & Appliance in Bedford, MA.
Meet the tester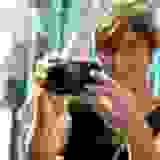 Kori Perten
Former Editor, Home & Outdoors
@Reviewedhome
Kori began her journalism career as a teenage fashion blogger and has enjoyed covering a wide variety of topics ever since. In her spare time, she's an amateur poet, avid reader, and gluten-free cake baker extraordinaire.
Checking our work.
We use standardized and scientific testing methods to scrutinize every product and provide you with objectively accurate results. If you've found different results in your own research, email us and we'll compare notes. If it looks substantial, we'll gladly re-test a product to try and reproduce these results. After all, peer reviews are a critical part of any scientific process.
Shoot us an email