luxuryhome
Thermador Professional Series PODC302J Double Electric Wall Oven Review
Whether it's an entree or dessert, Thermador stays the course.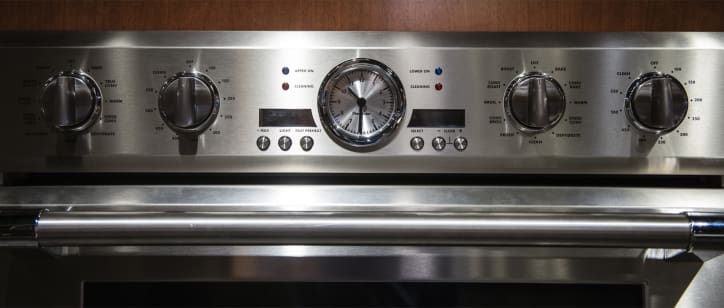 Credit: Christopher Snow / Reviewed.com
Cooking enthusiasts have Thermador to thank for two major 20th century kitchen innovations: the stainless steel finish, and the wall oven—a configuration the company first introduced back in 1947.
Both of those innovations come together in the Thermador Professional Series PODC302J (MSRP $5,999), a classic stainless steel double wall oven that doesn't stray too far from history design-wise, but adds a number of options designed to bring modern versatility into your kitchen.
Alongside a massive and fast MaxBroil Broiler, the oven also comes equipped with a rotisserie, true convection in the upper cavity, as well as standard convection in both. There's a two year parts and labor warranty, too, for peace of mind.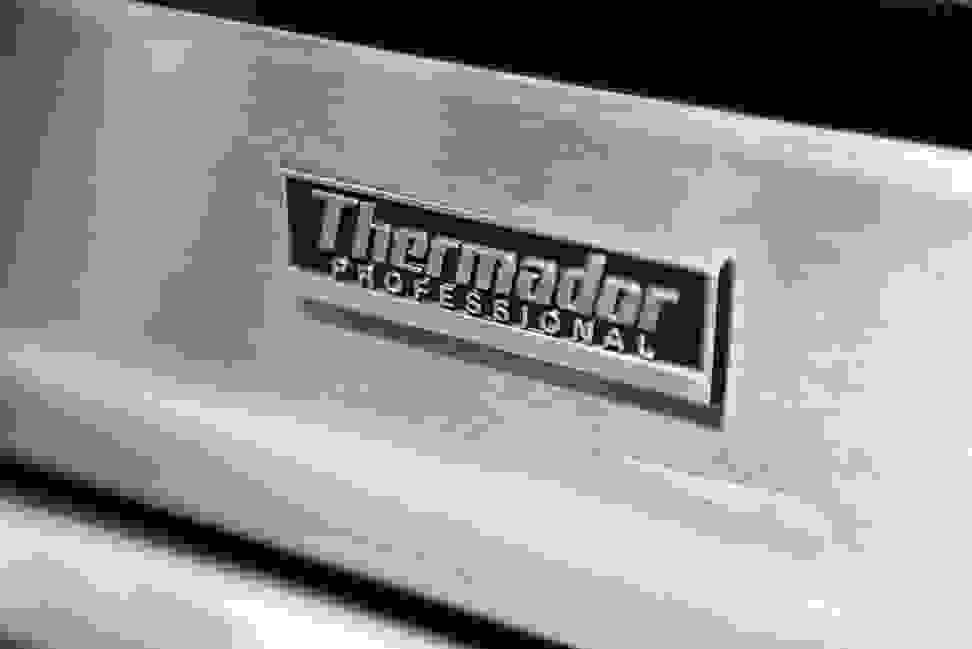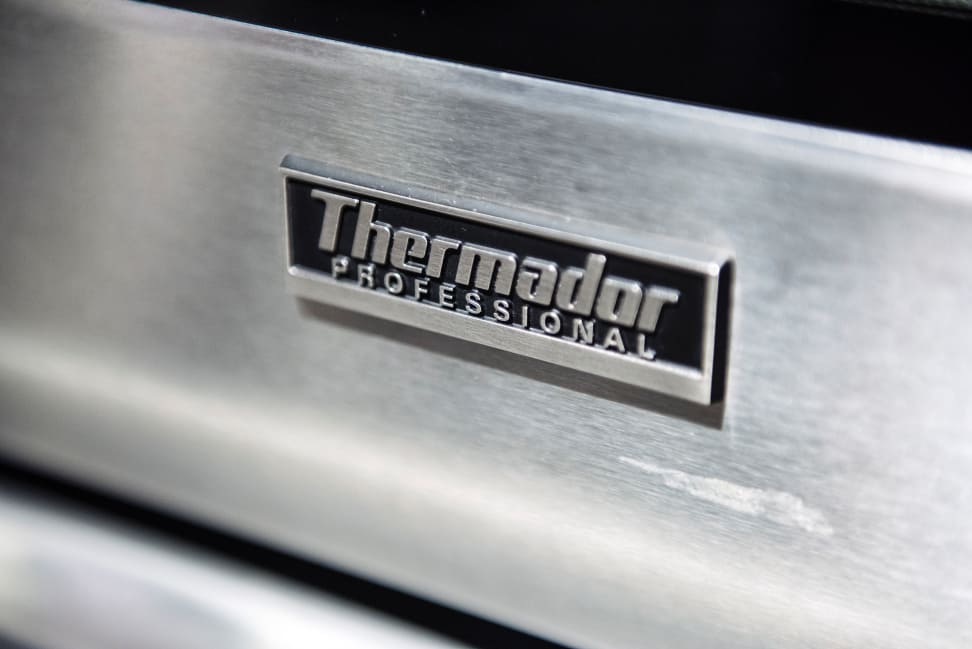 As can be expected from the company that essentially invented the category, this wall oven does most things right: Make no mistake, the PODC302J is beautifully designed and artfully constructed. It offers great broiler speeds, and did well with non-convection baking in the lower cavity. We weren't fans of its fiddly control dials, unremarkable convection setting, and slow preheats.
However, it outperforms many similarly-designed wall ovens, such as the Viking VEDO5302SS. And—at under $6,000—it costs less than much of the competition.
Design
A winning formula
True to it's Professional Series moniker, the PODC302J's aesthetic heavily influenced by ovens found in commercial kitchens. The design is bold and rugged, with a stainless steel exterior, controls, and handles.
Those handles may look great, but their knurled surface is extremely unpleasant to touch. They're designed to be easy to grip with oven mitts on, but on our bare hands the knurling felt a little too shallow, resulting in a sandpaper-on-skin feeling.
If you can stand the handles, the doors themselves are easy to manipulate. They feature Thermador's appropriately named SoftClose design, which essentially makes them impossible to slam. They also stay in any position regardless of placement.
The oven comes equipped with three sliding racks, 3 standard racks, a broiler pan, and a temperature probe. One unique feature is a rotisserie, which is included. It's dishwasher safe, and has a 12 lb. capacity.
Open the doors and you'll notice Thermador's ramp-up lighting. The effect is stunning, although we think the ramp-up and ramp-down take a little too long to reach full brightness. There is also about a three second delay before the light turns on, which had us convinced we had not pressed the button hard enough at first.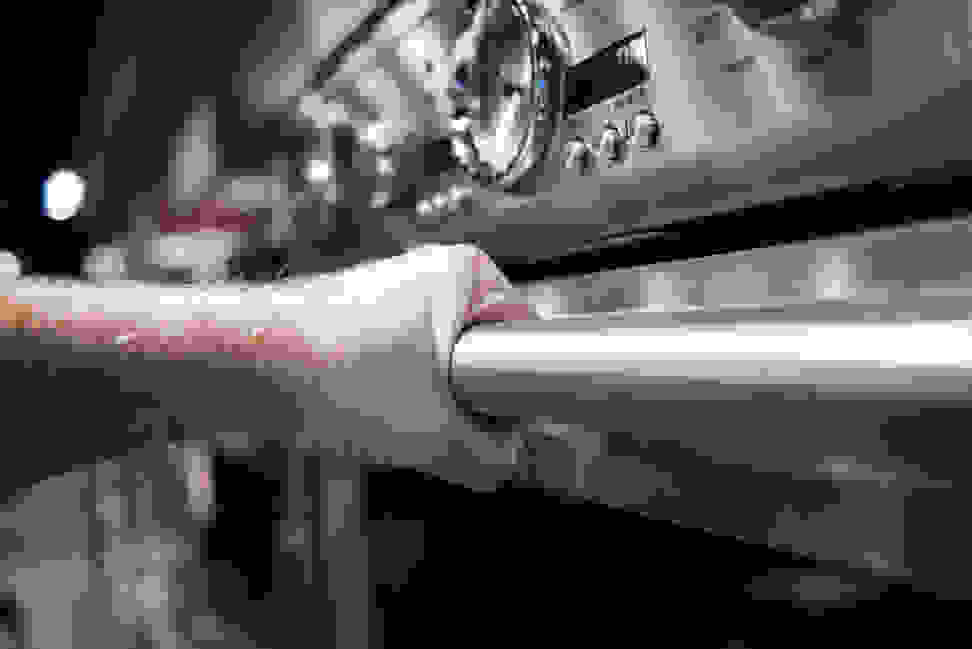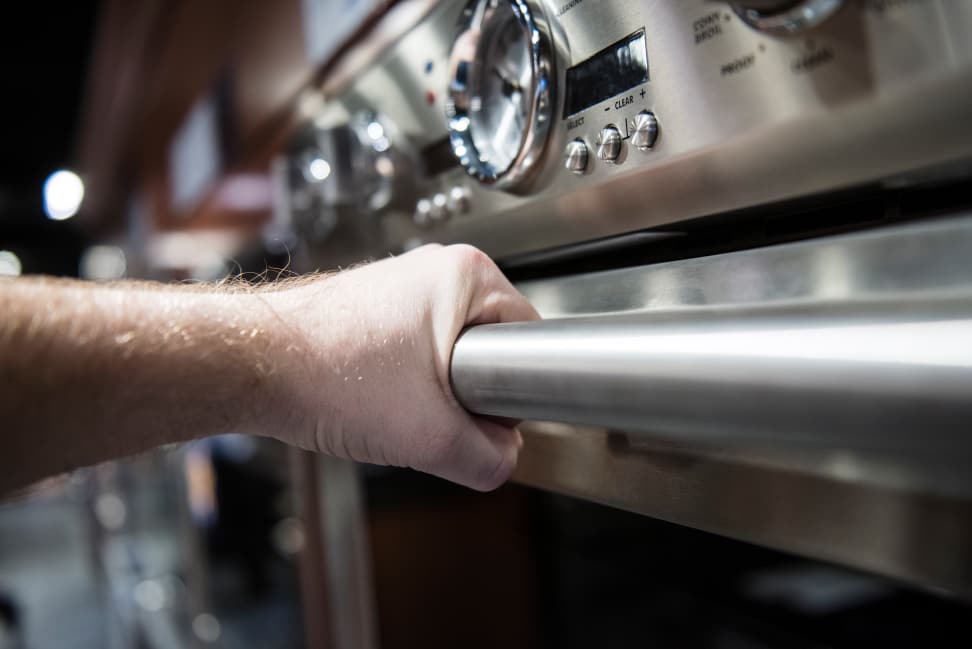 For the most part, both cavities feature the same settings, however only the upper cavty has true convection. Available settings for the upper cavity include: Bake, True Conv, Warm, Speed Oven, Dehydrate, Clean, Rotisserie, Conv Broil +Max, Broil +Max, Conv Roast, and Roast. The lower cavity settings include: Bake, Conv Bake, Warm, Speed Oven, Dehydrate, Clean, Proof, Conv Broil, Broil, Conv Roast, and Roast.
Oven functions are accessed through four sturdy control dials, and each cavity has its own pair of setting and temperature dials. The setting dials are not removable, while the temperature dials are. We can only assume this is for safety reasons, and guards against the oven accidentally being turned on. The dials themselves are suitably weighted, but the indents on either side of Off are stiffer than those between other settings. Again, this is likely a safety concern—but it still requires the user to pay attention. For instance, the amount of force required to turn the oven on occasionally causes the dial to turn too far in the desired direction, and turning the oven from Off to Bake or Broil in one attempt is almost impossible.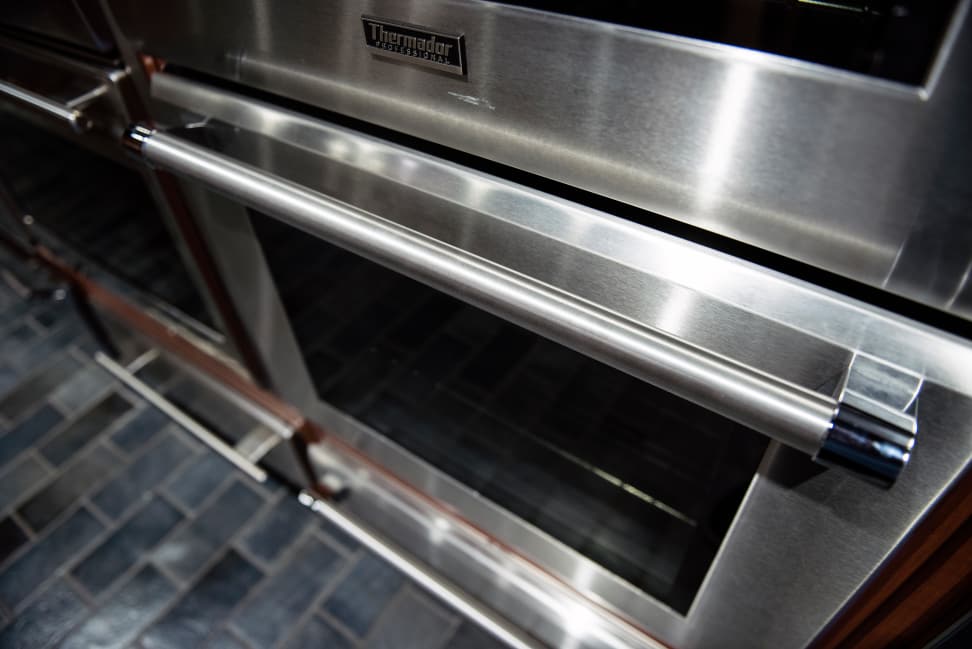 In the center of the panel you'll find the +Max button, which increases the heating area of the upper element for more even broiling of larger items. There are also buttons for turning on the lighting and Fast Preheat, as well as Select and a +/- button that cycles through timer and clock settings.
The analog clock/timer is dead centre, but features two digital readouts on either side. All the controls work as expected, although we had a little bit of trouble with the mystifying Light button. One press turns on the upper cavity light, while a second press turns on the lower cavity light. Turning off said lights require a a third and fourth press respectively.
Customizability
For the most part the PODC302J stands alone among Thermador's double wall oven offerings, and there are not customizable colors available for the appliance. For those looking for a more technologically advanced user experience, there is the ME302JS and MED302JP. Both ovens eschew the traditional dials in favor of a glass touch control panel, while the ME302JS takes things a little further with its contemporary door handle.
Baking
Excellent evenness, although convection is nothing to shout about
There's a dirty truth regarding the sliding racks found in upscale ovens. As convenient as they are, they have a lot more metal than their fixed counterparts, so they cause the oven to take longer to preheat. That explains why both of the PODC302J's 4.7-cubic-foot capacity cavities took a while to heat up. Preheating the ovens to 350°F using the standard bake setting took 17 minutes. The Convection Bake setting shaved off three minutes and brought the preheat time down to 14 minutes.
Once the ovens were ready, we baked several cakes and a number of cookies in both cavities of the PODC302J. Then, we measured their overall doneness and evenness using a photospectrometer, which records variations in color better than the human eye can perceive.
The upper cavity proved itself a fairly adept at baking, at least as far as our test cookies were concerned. When we put the cookies we'd baked side by side, we noticed very little color variance. That indicates good temperature regulation throughout the cavity. The bottoms were considerably darker than the tops, but that's nothing that a lightly colored pan can't fix. The cakes fared about the same, with only a few dark spots on the bottoms.
The lower cavity was clearly the superior oven when it came to the standard Bake setting. The cookies were perfectly uniform and even the tops matched the bottoms—that's almost unheard of! The individual cakes fared better as well. We noticed very few inconsistencies when comparing individual sections of each cake.
We also tested the upper oven's Convection Bake setting, and ultimately it worked well. However, we saw little to no improvement when comparing our results from the standard Bake setting with the results from the Convection Bake setting. The lower oven lacks true convection, which means it doesn't have a heating element inside the convection fan.
Roasting
No clear winners
Each of the PODC302J cavities includes a 10-pass broiler. The upper cavity features a MaxBroil broiler which adds an additional outer element; this allows for a greater cooking area and gives the upper broiler a bit of an edge when you're cooking larger items. Regardless of size, both broilers were excellent. Both took just over four minutes to reach 600°F, so you'll be finishing French onion soups in no time.
Overall the PODC302J did a fine job in the roasting department, although we did notice a few problems. We test overall roasting speed, evenness, and moisture retention by cooking a pork loin, but none of the three settings we tested did well in all three categories.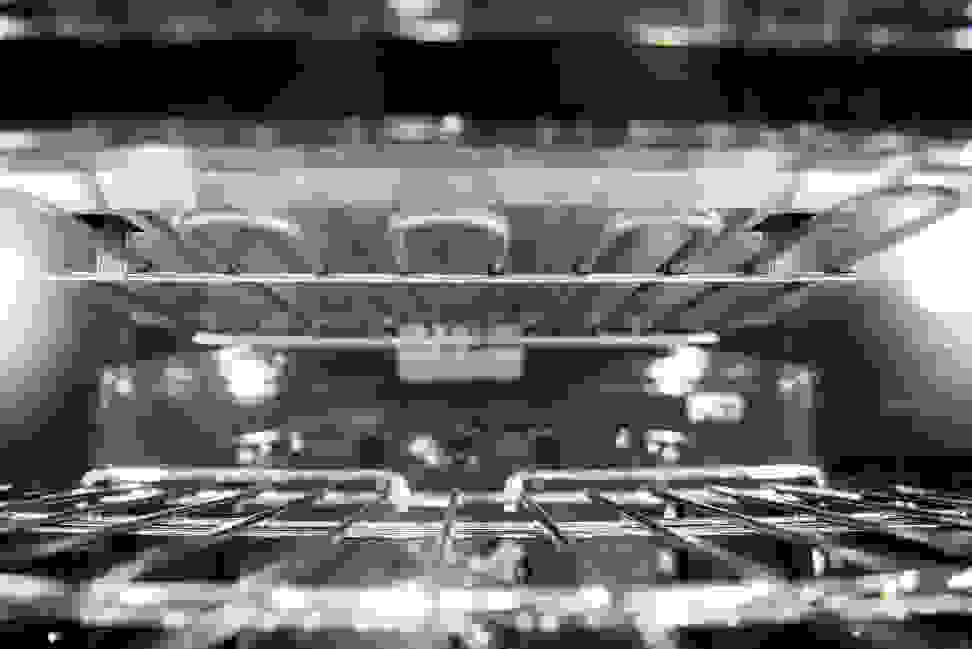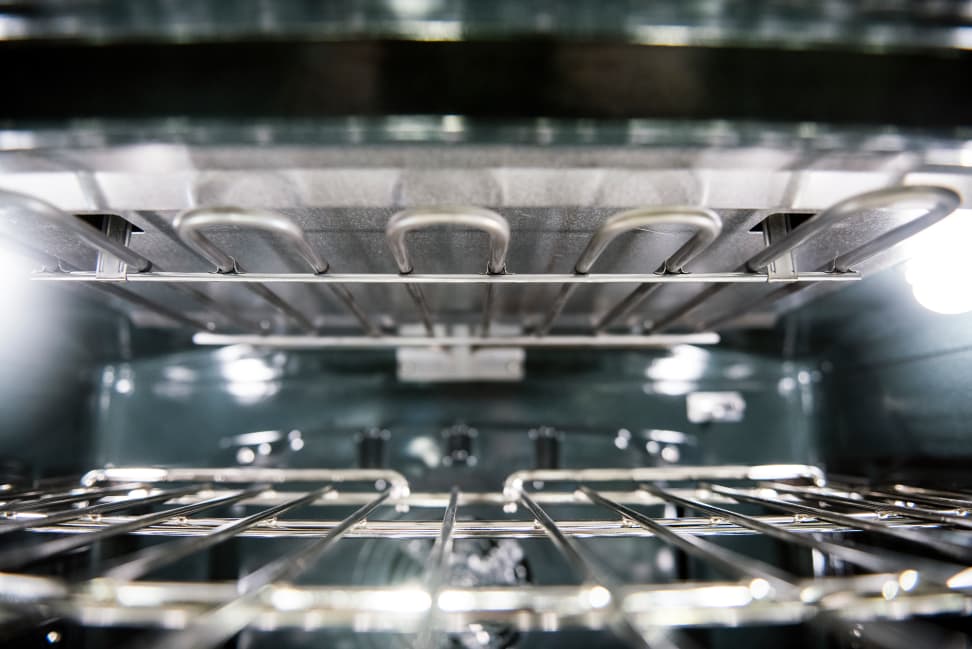 The pork loin we cooked using the standard Roast setting suffered very little moisture loss and took 29 minutes to cook each pound of meat. Unfortunately the meat was unevenly browned, and the large color discrepancies on the surface weren't just visible to our photospectrometer—they were visible to the naked eye.
The lower oven's standard Roast setting was considerably more even, but took four minutes longer per pound to cook. We also recorded a higher amount of overall moisture loss.
Oddly, the upper Convection Roast was the weakest of the three settings we tested. It was less even than the lower oven's standard Roast setting, but took the same amount of time. It also resulted in the most moisture loss out of the three. This was a disappointment.
A Sure Thing
Sticking to what works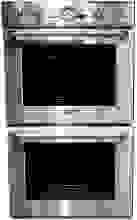 Thermador's PODC302J gets a lot of things right. That's not surprising, considering that Thermador invented the stainless steel wall oven.
If you're partial to the professional aesthetic, this wall oven will tick all the right boxes. From its sturdy handle to the stainless steel skin, it earns the Professional Series designation. Add in bevy of additional features—like a Max-Broil broiler, a dehydrate setting, true convection, a rotisserie, and standard convection in both cavities—and you're left with a wall oven that's not only attractive, but one that offers the tools necessary for superior baking, roasting, and broiling.
When it came to our tests, the Thermador also performed with aplomb—at least in most areas. The broiler was second to none, and the overall baking evenness should leave any pastry aficionado satisfied. As a counterpoint, the roasting settings left us underwhelmed. Unless you intend to use the Fast Preheat setting, expect to wait a while for the oven to heat up.
If you're looking to upgrade your wall oven, or just want to replace the aging Thermador that's already in your home, the PODC302J is ultimately an excellent choice. It may not be the best at everything, but it more than holds it's own when compared with other wall ovens from the likes of Wolf and Viking.
All photos taken at Yale Appliance in Dorchester, MA
Our editors review and recommend products to help you buy the stuff you need. If you make a purchase by clicking one of our links, we may earn a small share of the revenue. Our picks and opinions are independent from any business incentives.
Our editors review and recommend products to help you buy the stuff you need. If you make a purchase by clicking one of our links, we may earn a small share of the revenue. Our picks and opinions are independent from any business incentives.
Advertisement - Continue Reading Below
Our editors review and recommend products to help you buy the stuff you need. If you make a purchase by clicking one of our links, we may earn a small share of the revenue. Our picks and opinions are independent from any business incentives.
Advertisement - Continue Reading Below
Advertisement - Continue Reading Below
Advertisement - Continue Reading Below
Advertisement - Continue Reading Below
Advertisement - Continue Reading Below
Get Our Newsletter
Real advice from real experts. Sign up for our newsletter
Thanks for signing up!