Today, Viking is under new ownership, with an expanded lineup and industry-leading, three-year warranty. The Viking VDSC5304BSS dual-fuel range (MSRP $6,149) is still the company's bread and butter. It's what most people think of when asked to picture a pro-style range, and it shows just what the company is capable of.
Part of the manufacturer's Professional Series, the VDSC5304BSS is a dual-fuel oven, which means it has an electric oven and gas rangetop. It might look a bit stark, but there's more to this commercial-inspired range than meets the eye. See, utilitarianism isn't just a design aesthetic for the VDSC5304BSS—the 30-inch range blends sleek and heavy duty style elements for ease of use. Even though it offers a full set of features, there's nothing overly complex about the VDSC5304BSS, from its continuous grates to its weighted control knobs.
But how well does it cook?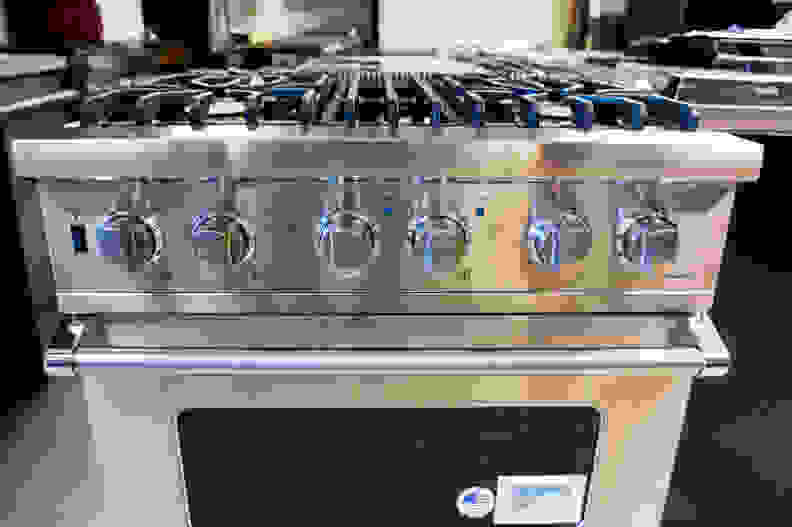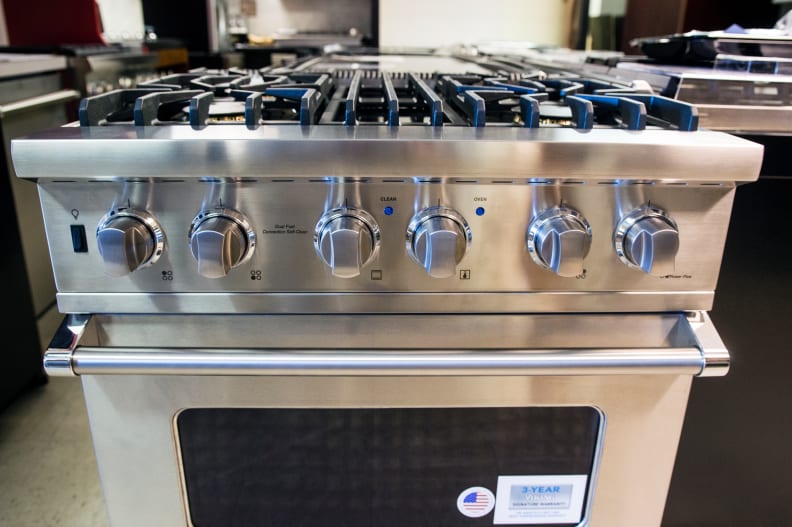 In our hands-on scientific testing process, the rangetop's four powerful burners proved responsive and quick to bring water to a boil, but didn't offer a particularly impressive range of temperatures. When we cooked with the oven, we also found a bit of mixed results: It was alright at baking cookies and cakes on standard settings, but convection helped it shine. Roasts turned out juicy and evenly-done.
Our only major concern is value. The Viking sells for north of $6,000—which is thousands more than pro-style competitors from Dacor and Bertazzoni. You'll have to decide whether the VDSC5304BSS's well-known brand name, three-year warranty, and good performance are worth your extra money.
The numbers don't lie.
We spent some hands-on time with the Viking VDSC5304BSS, running it through a series of rigorous scientific tests. The results saw the rangetop and oven excelling in some areas and falling short in others.
On the rangetop, the left front 15,000 BTU burner has a maximum temperature of 363°F and a minimum temperature of 222°F, showing a variance of just 141°F. During testing, it boiled 6 cups of water in 6:17, making it the slowest burner on the rangetop. We'd avoid using it for all but the least delicate tasks.
The right front PowerPlus burner is the rangetop's strongest overall, with a maximum temperature of 415°F, a minimum temperature of 118°F, and an ability to boil 6 cups of water in 4:58.
The left rear burner is the hottest on the rangetop, reaching its maximum temperature at 435°F—and, unfortunately, its minimum temperature at a still-hot 269°F. It boiled 6 cups of water in 5:37.
The right rear burner has a maximum temperature of 386°F and a minimum temperature of 201°F. It boiled 6 cups of water in 5:53.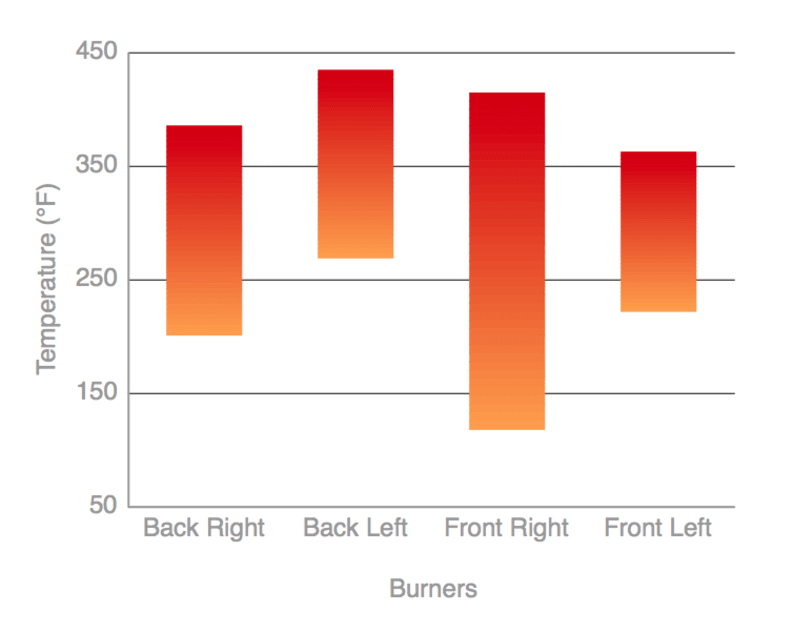 ×
Charts
The oven took ages to preheat—13:30 to reach 350°F. Turning on convection actually added 12 seconds. However, the superb infrared broiler reached 603°F in a quick 3:49.
We baked cakes and cookies in the oven using standard bake settings, and found both to be fairly evenly browned. The cookies baked on the left side of the oven were darker on the bottoms than the ones baked on the right side, indicating that the left side of the cavity may be hotter. Cakes too saw a great deal of variation from one cake to the other. When we baked cakes and cookies using the Convection Bake setting, the results were more evenly browned, an outcome that was repeated more uniformly across the cavity.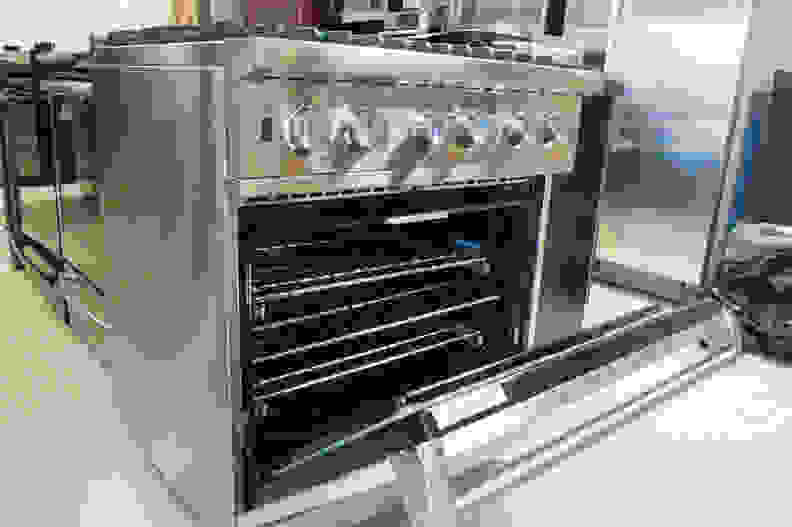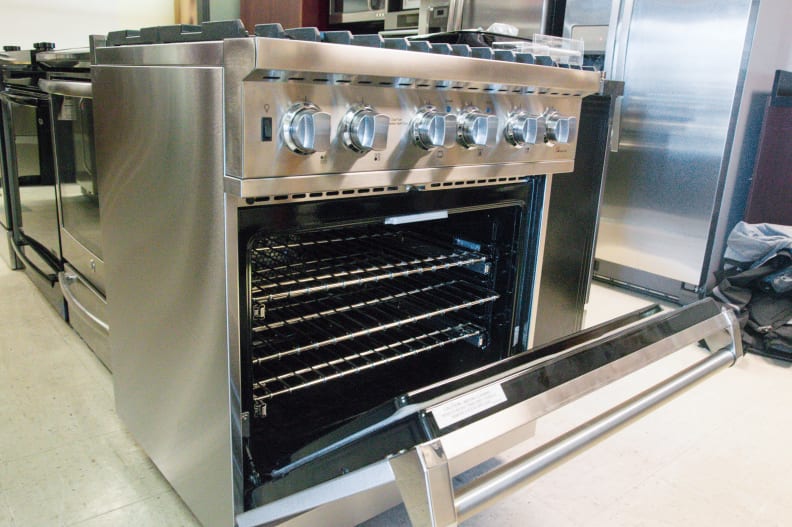 We roasted a pork loin in the oven at a standard bake setting, and then again using Convection Roast. At standard settings, results were decent. The pork loin emerged from the oven having retained a great deal of moisture, as it lost only 0.69 lbs of water during roasting. The pork took about 36 minutes per lb to cook, which is just above average for speed, and showed quite a lot of variation in browning between the sides and center of the roast.
The results improved a bit with use of Convection Roast. The pork loin lost slightly less moisture as it cooked, losing only a total of 9.66 lbs. It cooked more quickly by about 2 minutes per lb, and the darkness of the roast's edges didn't differ as greatly from the darkness of the roast's center.
Professional-style stainless, but with an option for color
The Viking VDSC5304BSS boasts the sturdy, simple commercial look that the company's ranges are known for. The 30-inch-wide, 29-inch-deep range comes with a sleek stainless finish, but those seeking a bolder look can opt for Black, White, Apple Red, Graphite Gray, Cobalt Blue, and Burgundy finishes.
If you opt for a color finish, it covers the body of the range below its front-mounted control knobs, while the control panel, backguard, and thick professional-style handle remain stainless. Weighted stainless steel-covered control knobs sit on the front of the range.
×
Design 2
If you choose the brushed stainless finish, you'll be in luck when it comes to cleaning—at least when it comes to the front of the appliance. In the lab, the range resisted smudges pretty successfully when we got our greasy, food-stained fingers all over it, as did the chunky knobs.
However, the stylish, shinier handle brackets did smudge when touched. And those acres of stainless steel that look so good in the showroom? They'll require some effort to keep clean of grease stains and spatters. Remember—in actual restaurant kitchens, there's a veritable army of workers that clean and polish every night after closing.
Opting to add a pop of color gives the Viking some personality, but even that can't detract from its utilitarian style. After all, this range is so spartan that it even lacks a timer.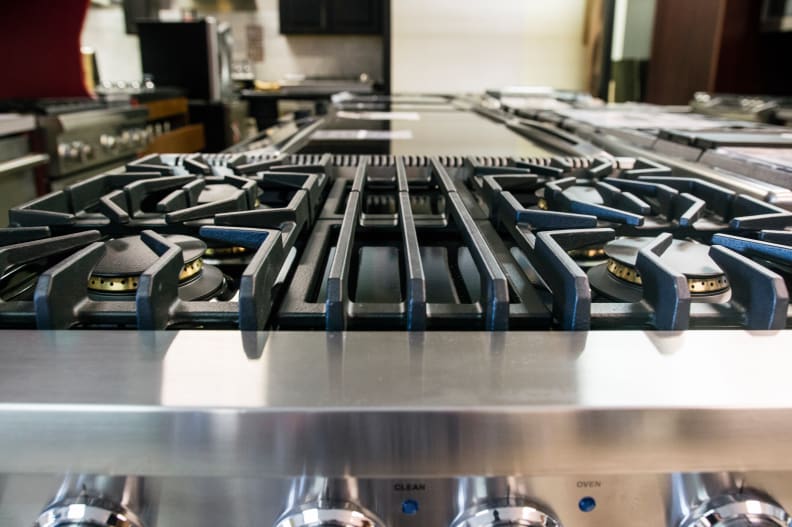 The VDSC5304BSS's four sealed gas burners are each covered by black grates that combine for a continuous surface—even the area between the burners has grates for resting pots and pans.
Unfortunately, the grates are so roughly textured that moving cookware around the cooking surface proves a bit of a challenge—we couldn't help but feel that we were scratching our pots and pans just from moving them around the grates, and they're definitely harder to clean than grates with smooth finishes.
Color options, backguards, and even cookware
This Viking range may favor a pared-down look, but a slew of customizability options can change all that, if that's what you're looking for. The range we tested had a stainless steel finish, but—if you're willing to pay extra—you can also opt for a colored finish in Black, White, Apple Red, Graphite Gray, Cobalt Blue, or Burgundy.
Stainless steel backguards are also available—choose from an 8-inch high model or a 24-inch model with a high shelf for storage. You can give the range a more built-in look with a curb-base front, or rear and side trim kits.
Additional accessories include a bamboo cover, portable griddle, or wok grate to fit over your burners. If you'd like, you can also add a TruGlide Full Extension Rack, broiler pan and tray, and broiler pan rack to your oven. The Viking name is even on cookware, so you could—in theory—match your pots and pans to your range.
One amazing burner
As rangetops go, this one is simple and functional, with a professional look and no extra frills. You've got one powerful burner with great temperature reach, but the supporting cast isn't quite up to the star player.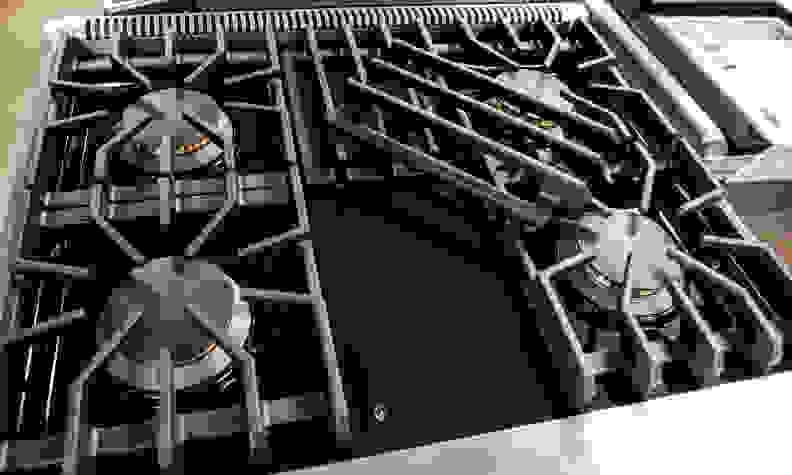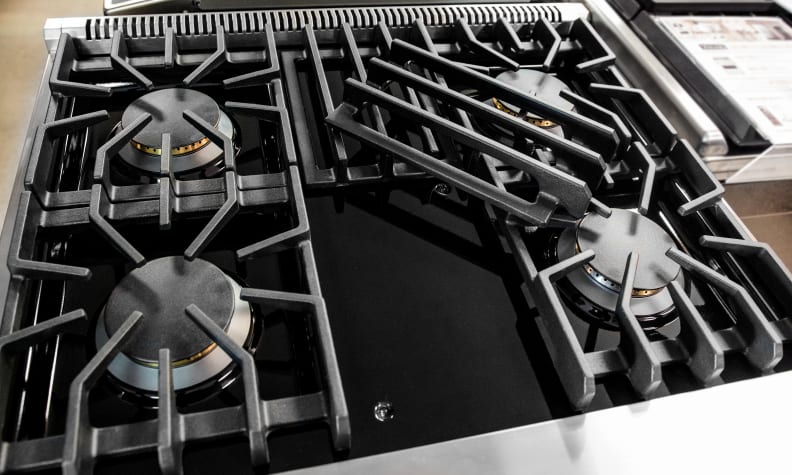 Where other ranges may feature only one or two high-powered burners, this Viking brings the heat with three 15,000 BTU burners, plus an 18,500 BTU PowerPlus burner at the right front. That burner is also capable of low-temp cooking, which we'll cover a bit later.
The user turns each burner on in classic fashion: Press the knob toward the range and turn it all the way clockwise to ignite. You'll hear a clicking noise. When the burner has properly ignited, only then can the knob be turned counterclockwise to select temperatures from low to high, followed by simmer settings.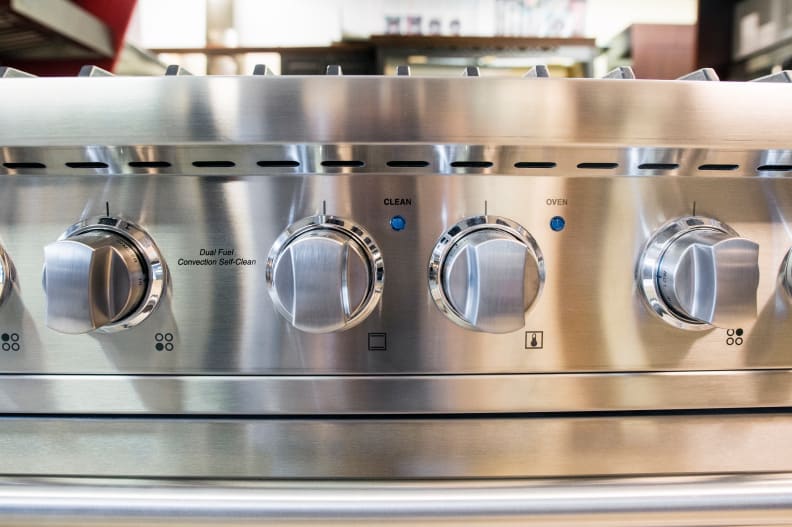 As we expected after looking at the BTU ratings on the Viking's spec sheet, the rangetop's biggest strength proved to be its speed, with each burner boiling 6 cups of water in less than 7 minutes. On the right rear burner, our pan got as hot as 435°F—good enough for searing meat or a stir fry—and the PowerPlus burner reached 415ºF. If it's high heats you're looking for, this Viking delivers.
Low temperature cooking, however, proved unimpressive. The best-simmering burner—the aforementioned PowerPlus—got as low as 118°F, but others couldn't dip below 269°F—a far cry from the 85ºF we measured from a gas Thermador with an ExtraLow setting.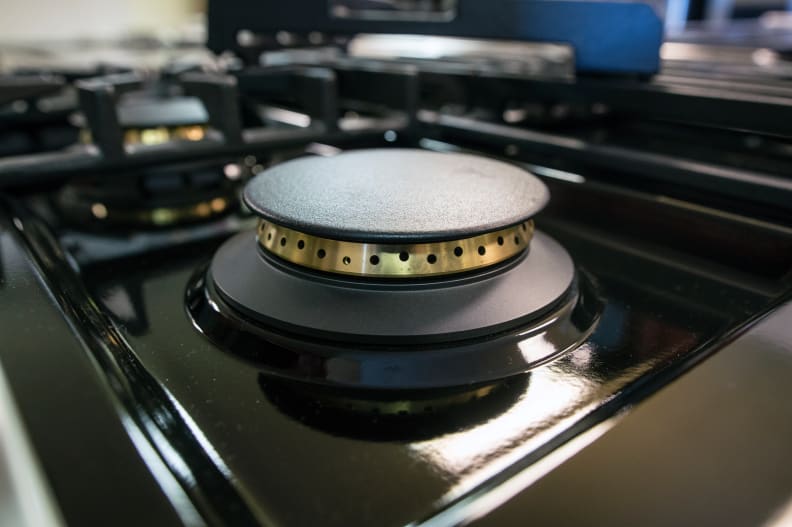 Because the PowerPlus is also great at boiling, you may find yourself in the position where you have to choose between boiling water and simmering a sauce. We think that takes away a lot of the utility of this rangetop.
Great for baking, good for roasting
The Viking VDSC5304BSS sports a 4.7 cubic-foot oven, complete with a concealed 10-pass dual bake element, and an 8.5 inch convection fan. One unique feature is a glass-enclosed infrared broiler, which got to 600ºF in well under four minutes—which makes it one of the best broilers we've ever seen. If you find yourself longing for the salamanders you see in professional kitchens, this is the next best thing.
The professional-style oven door handle matches the brushed stainless steel finish on the rest of the range, but is set into shiny handle brackets for a stylish look. Tug the oven open and you'll find that the door will stop about halfway. Though the door never slammed shut, it didn't close as softly as others we've tested.
The VDSC5304BSS comes with two gliding racks and one standard rack, and is illuminated by three interior lights. You can place the racks in any of six positions, but the two standard racks fit a bit loosely and are difficult to slide in on the first try.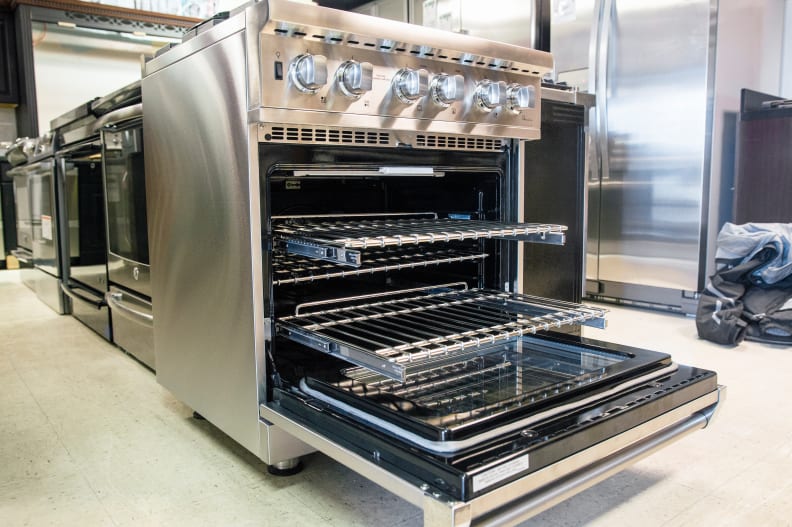 You tell this Viking's oven what to do by turning two knobs: One to set oven temperature, and another to select cooking modes—including Bake, Convection Bake, TruConvec Convection Cooking (recommended for multi-rack baking), Convection Roast, Broil (high, medium, and low), Convection Broil, Convection Dehydrate, and Convection Defrost. The oven also features a pyrolytic self-clean cycle.
While the control knobs and thick commercial-style handle give the VDSC5304BSS a professional look, the many settings offer some extra tools for users who want more than just a heated box. They also encourage users to try out convection, which we found might yield better results.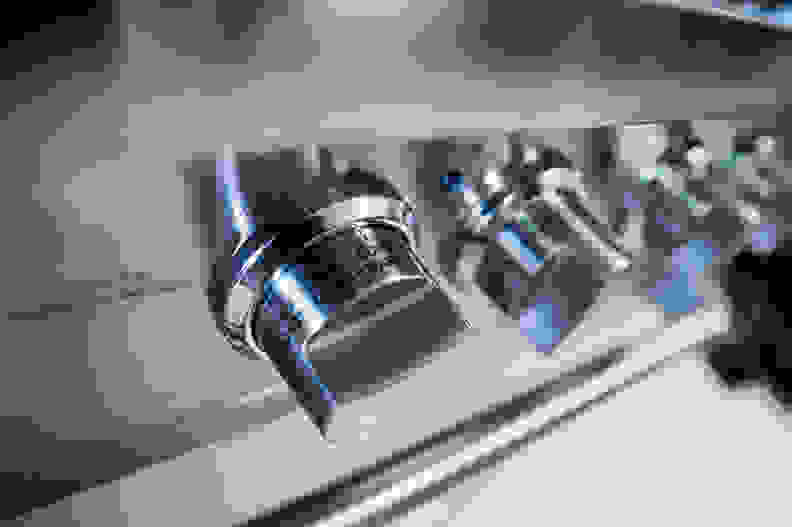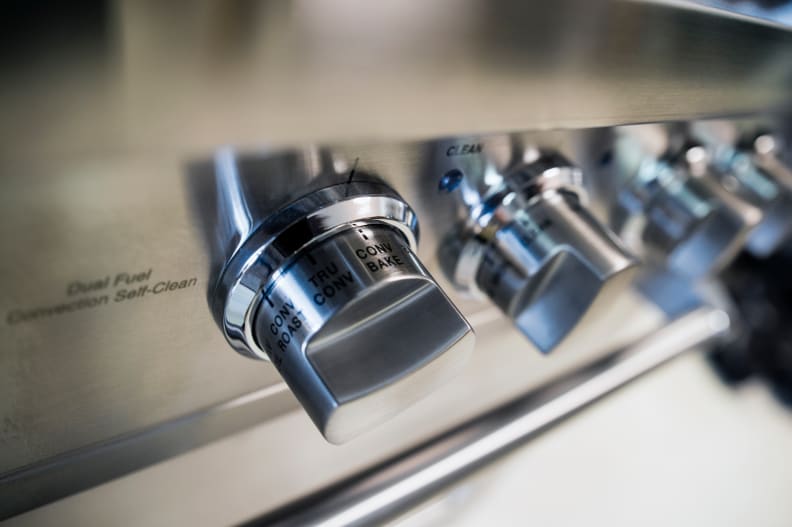 When we baked cookies and cakes without convection, we found that they emerged with varying degrees of doneness depending on each item's location in the oven cavity. That's indicative of hot and cold spots inside the oven.
Those problems all went away when we baked with the Convection Bake setting. Cakes and cookies were evenly cooked throughout, and we didn't measure any overdone or underdone areas.
Similarly, when we roasted a pork loin using the Convection Roast setting, we found the resulting meat to be tender and moist—a fact proven when we weighed it before and after cooking and measured very little water loss. Though the Viking roasted meat quickly with convection, it did have some difficulty evenly browning the surface of the pork loin we cooked. Other ovens took a bit longer, but browned more evenly.
Results you'd expect from a name you already know
If anything, the pricey Viking VDSC5304BSS is nice to look at, offers a three-year warranty, and just might boost your home's resale value. Our tests, however, proved that there's some substance backing up that professional style.
Sure, some aspects of the Viking's design and performance irked us. The rough grates might be hard to live with, and the burners were biased towards high-powered heating. Simmering and melting might be a problem. The oven was slow to preheat, and had some hot and cold spots unless convection was engaged.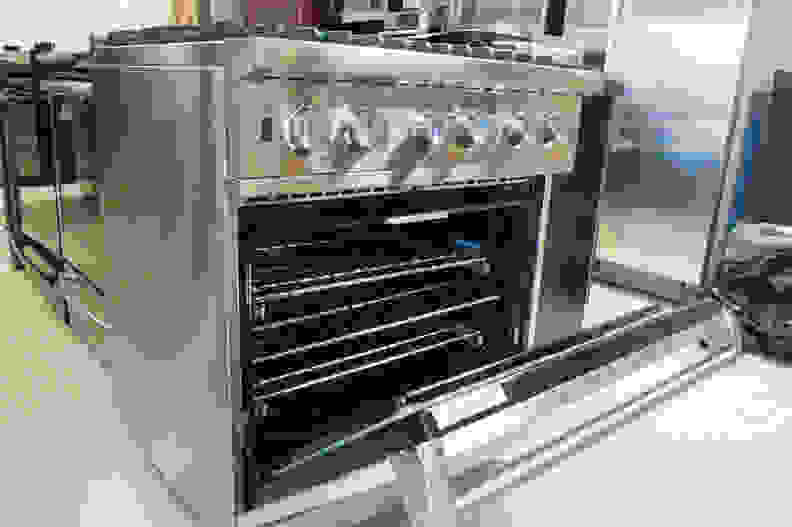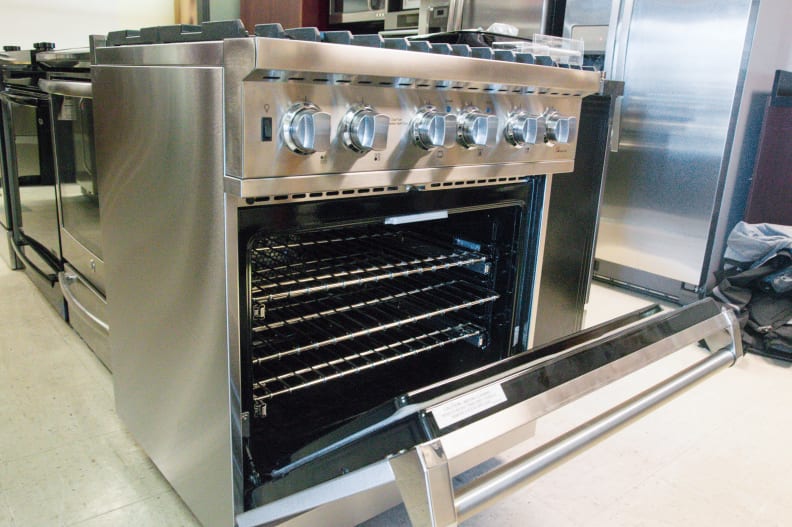 Still, if you know how to use what it's got to offer, the VDSC5304BSS is capable of some pretty impressive results. For instance, the infrared burner is simply spectacular, and even though it didn't match the downright balmy simmer of Thermador's ExtraLow feature, the PowerPlus burner wowed us with its great temperature range.
If you're in the market for a professional-style range and like the idea of powerful burners, and excellent convection baking and roasting, be sure to take a look at the Viking VDSC5304BSS. But be sure to compare it against lower-priced models and make sure the Viking has exactly what you're looking for. Otherwise, you might be paying extra for features that you'll never use.
Photos captured at Tri-City Sales in Ipswich, MA.
Meet the tester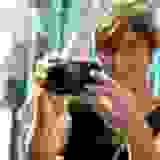 Kori Perten
Former Editor, Home & Outdoors
@Reviewedhome
Kori began her journalism career as a teenage fashion blogger and has enjoyed covering a wide variety of topics ever since. In her spare time, she's an amateur poet, avid reader, and gluten-free cake baker extraordinaire.
Checking our work.
Our team is here for one purpose: to help you buy the best stuff and love what you own. Our writers, editors, and lab technicians obsess over the products we cover to make sure you're confident and satisfied. Have a different opinion about something we recommend? Email us and we'll compare notes.
Shoot us an email