That's because this 30-inch range has an oven capable of handling all sorts of baking and roasting tasks, and the four-burner rangetop is quick to boil and excellent at low-heat cooking. Anyone who does a lot of cooking knows that you're bound to end up with a mess or two during food prep, and if you use this Wolf as often as its performance warrants, well, get out your sponge!
Despite its restaurant-ready aesthetic (indeed, Wolf does make ranges for professional kitchens) the DF304 does have some extra features and settings that make it accessible for new and experienced cooks alike. Our only significant complaint about this range is how the majority of burners take a long while to get hot enough for effective frying or searing.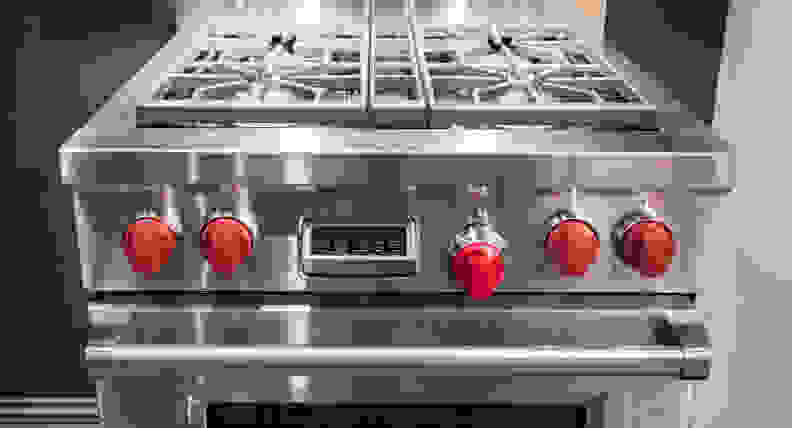 High-heat burner performance aside, the DF304 is a good-looking range with a lot to offer, and its sharp, stainless steel design should fit nicely in most upscale kitchens.
Design
Sturdy and subtle.
The DF304 has the look that made Wolf ranges famous—sturdy stainless steel, thick knobs, and continuous cast iron grates. Doing the heavy lifting are four dual-stacked sealed burners. The grates are coated in porcelain for easy cleaning. There's a grate that covers the left burners, one that covers the right burners, and one that covers the vestigial strip of stainless that separates the two sides of the rangetop.
Those red knobs on the front control both oven and rangetop. Turn the outer ring of the oven knob to unlock additional settings.
Especially notable is the DF304's other oven control option, which is actually a pivoting panel with simple touch controls. It hides out of sight inside the body of the range when you don't need it. The panel offers a lot of the same control options as the knob, but also houses the range's timer/clock. It's a clever way to include a timer in a pro-style range without sacrificing that more minimalist look. For comparison, Thermador's Pro Harmony ranges lack timers entirely, while Miele's upscale range relies much more heavily on a touchscreen.
×
Design
Below, a pro-style handle allows you to easily open the 4.5 cubic-foot oven cavity. Inside, you'll notice nice details like cobalt blue porcelain walls and a recessed broil element.
Ultimately, this range might look at home in a commercial kitchen, but its aesthetic appeal is classic enough to spruce up any home. Wolf does an impressive job preserving the sparser style of a pro-style range while still including lots of extra functions.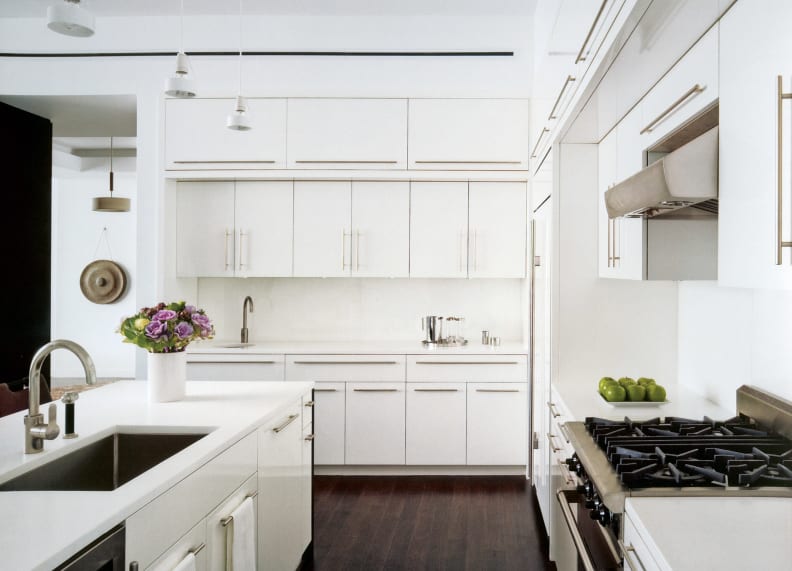 ×
Brand-Supplied
Customizability
Lots of options
The DF304 may have a lot of features, but if you want to add more specialized accessories or tweak its appearance, Wolf offers a slew of customizability options.
Many like Wolf's signature red control knobs because they clearly identify the range as a Wolf at a glance, but buyers also have an option of black or stainless steel knobs. You'll also be able to choose between stainless steel, brass, or chrome bezels.
If you want to make additional aesthetic alterations, you can purchase a stainless steel kickplate or front leg and rear caster covers. If you're looking to protect the wall behind your rangetop from splattering grease, Wolf sells three backguard options for this range: a 5-inch or 10-inch tall stainless steel rise, or a 20-inch version complete with a handy shelf.
Want more ways to cook? You can purchase a cast iron wok grate or S-shaped grates. Hoping to boost your oven cooking options? Wolf offers a bake stone kit—which includes a stone, rack, and peel—to go with the oven's Bake Stone setting. A dehydration kit, with racks and a door stop, could come in handy if you like to make your own trail mix with the oven's included Dehydrate setting. Also available: a temperature probe and broiler pan, a set of 3 standard oven racks, a full-extension easy glide oven rack, and a 30-inch baking sheet. Wolf also has a high altitude conversion kit, too.
Rangetop
Takes awhile to heat, but excellent at low-temperature cooking.
The DF304's 30-inch rangetop houses four dual-stacked sealed burners. That means users can twist the control knobs one way to ignite an inner tier of flames for lower heat cooking, or the other way to ignite two tiers of flames for higher-heat tasks. The lineup includes three 15,000 BTU burners and one 9,200 BTU burner.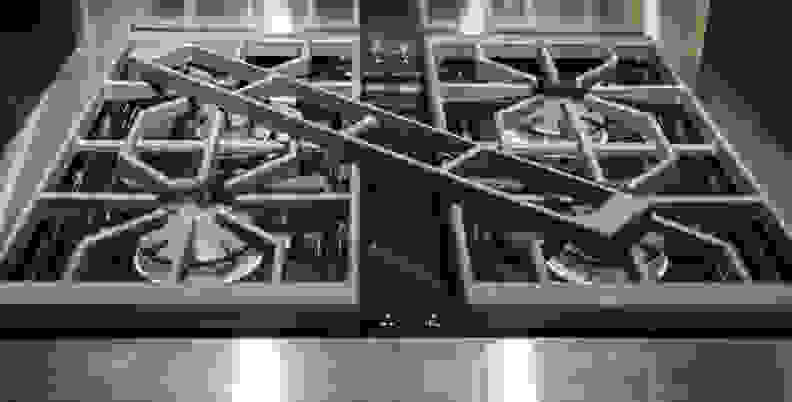 Swapping between one and two tiers of flames felt a little unwieldy at first, but with frequent use you're sure to get the hang of it. We thought the knobs felt wobbly during use, and were dismayed to see a lack of even the most perfunctory heat level indicators. You'll have to rely on the visual feedback of the actual flames for that.
First off, this Wolf was truly excellent at reaching minimum temperatures—and ideal for melting chocolate or simmering a big pot of chowder. The right rear burner hit its lowest heat at a mild 129°F, while the left rear burner and front burner had minimum temps in an impressive range of 118°F to 120°F.
We measured boiling times for the burners that weren't ideal, but shouldn't keep you waiting too long. All but the left rear burner boiled six cups of water each with times ranging from 6:11 to 7:53. Other ranges—like the Thermador PRD304GHU are about a minute or two faster.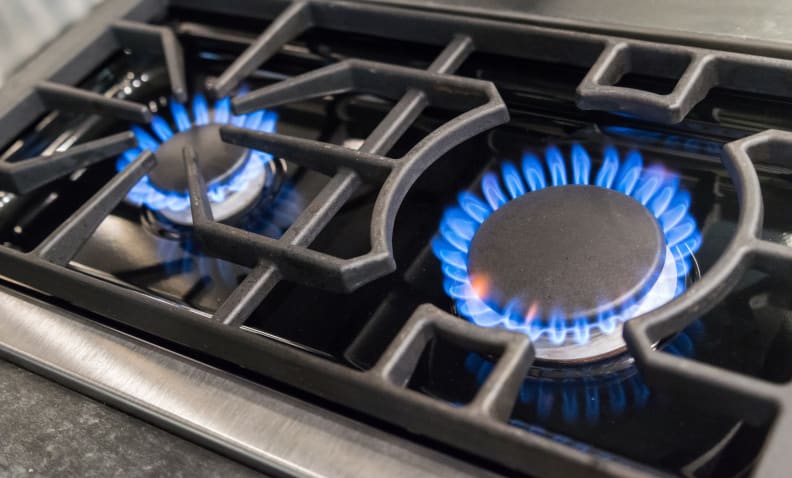 Our testing also showed that the Wolf took a long time to heat pans up to searingly high temps. We measure cooktop heat by placing a perfectly flat metal disc with embedded thermocouple on top of a burner according to a standard test protocol. Ideally, gas cooktops hit at least 375°F after 5 minutes, but in the case of the DF304, only the left rear burner got the job done.
Give five minutes, none of the other burners could get above 355°F, which means you may not want to spring for a wok grate accessory after all—stir-frying works better when you can get your oil screaming hot. That said, if you're okay having one burner that can more or less sear meat without a wait, or if you're willing to preheat your pan in the oven, it shouldn't be a big deal.
Oven
Bake with convection, roast with standard Bake?
The oven also prove a little disappointing came to preheating. The 4.5 cubic-foot cavity took 13:35 to hit 350ºF using the standard bake setting, while convection added almost a minute of wait time. However, the recessed broiler was able to heat the area immediately below it to 600°F in just over 4 minutes.
Regardless of preheat times, the oven is nice to look at when you open the door. Cobalt blue porcelain brightens up the interior walls, as does halogen lighting. The oven houses dual true convection fans and three oven racks (two standard, one full-extension easy glide).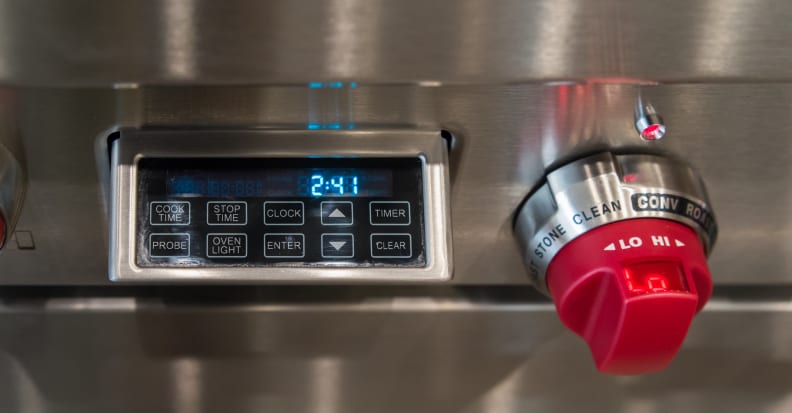 Oven controls are quite clever: A knob on the front of the range has an outer ring that allows you to spin the outer ring to cycle between oven modes, while the center knob can click one degree left or right to change temperature selection or swap between broiler settings. Additionally, a pivoting touch screen hides out of sight inside the body of the range when you want it to, and can be used as an additional way to select temperature and cook mode. It also houses the DF304's timer, as well as a temperature probe option.
This Wolf's ten bake modes include Bake, Roast, Broil, Convection, Convection Bake, Convection Roast, Convection Broil, Bake Stone, Proof, and Dehydrate. Plus, there's a self clean mode. That's an impressive number of settings, especially considering its pared-down commercial-style appearance. It's important to note that some settings, like the Bake Stone mode, may not be of much use to you unless you also purchase the corresponding accessories. Still, ten modes is more than most will ever need, so pick and choose among them to your heart's content.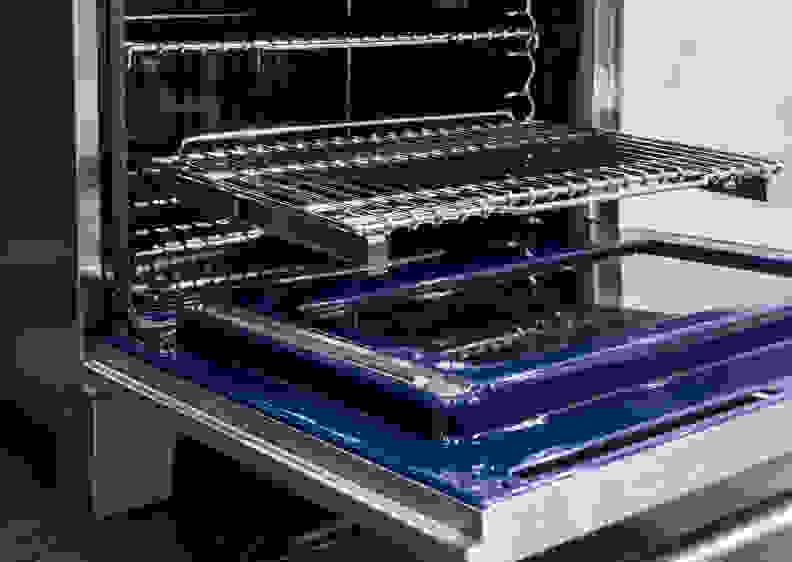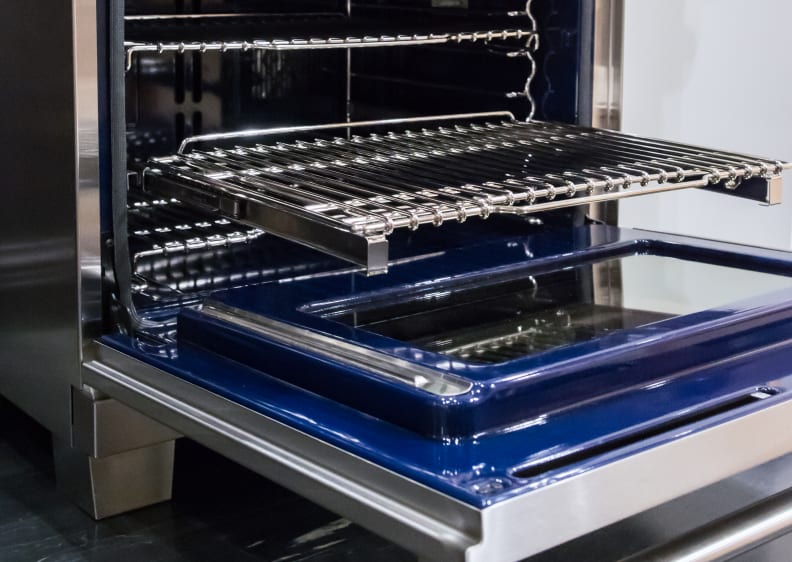 We tried out the standard and convection bake settings, baking a sheet of cookies and two cakes at each setting. Cakes emerged evenly-baked from both settings, but cookies did not fare well when baked at the standard setting. Tops were evenly finished, but the bottoms were darker or lighter depending on where the cookie sat on the baking sheet. Fortunately, the DF304's dual convection fans were able to improve our results. Cookies baked with the convection setting were fairly even throughout, but the cookies closest to the convection heating elements at the back of the oven were a tad darker than the others.
Roasting, on the other hand, actually worked best with the standard bake setting, although the results were only just above average. The pork loin we roasted was quick to cook through, and proved very moist. However, browning was not exactly even. We'd recommend staying away from the Convection Roast setting, as it dried out or pork loin abysmally. And, although we use a photospectrometer to measure the color of a finished pork loin's surface, our eyes could clearly see that it had browned unevenly—so much so that we performed additional tests to ensure this result wasn't an anomaly.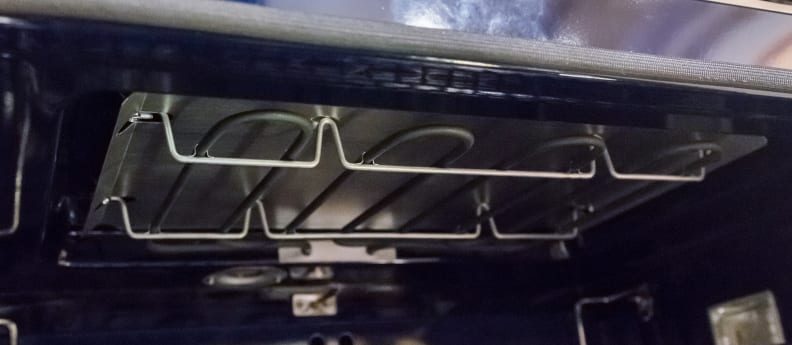 All things considered, this oven has lots of cook modes, an interesting control system, and the ability to cook your food really well—so long as you use the most effective setting.
Warranty
Full two-year, limited five-year.
If you buy this Wolf range, it comes with a full two-year warranty that covers any parts and labor required to repair or replace rangetop defects within two years of purchase. A limited five-year warranty applies to just the burners.
Beyond its MSRP, Wolf doesn't let authorized dealers share pricing information, so call around to get the best deal. Wolf and Sub-Zero share a parent company, and both brands partner with Asko to provide dishwashers for whole-kitchen packages. You might be able to get a discount if you buy an entire suite from Wolf, Sub-Zero, and Asko.
A Kitchen Staple
A worthy centerpiece.
A range can be the focal point of a kitchen. After all, it's large and shiny, and where would you cook your food without it? We'll say this: If your range is going to be the focal point of your kitchen, it might as well look good. The Wolf DF304 has that down.
Furthermore, our lab tests proved that this range isn't too shabby when it comes to cooking. Our disappointing discovery of the DF304's struggle to reach higher temperatures is enough to warrant examining other options if that's something that's important to you, and not all of its many settings yielded ideal results—but the DF304 certainly gives users room to experiment.
Quality baking, impressive low temperature reach on the rangetop, speedy boil times, and those gleaming good looks… There are a lot of reasons to nab a Wolf DF304. If you find any of its characteristics or abilities appealing, we'd definitely consider this range worth checking out.
Photos captured at Clarke Kitchen and Design Showroom in Milford, MA.
The lab doesn't lie.
The Wolf DF304 made its way through our extensive testing process, receiving high marks in some areas and lower ones in others. More specifically, the oven proved capable of greatness at certain settings, and the rangetop impressed us in every area except for high-temperature cooking.
Three of the rangetop's four dual-stacked burners provide up to 15,000 BTUs, and one outputs up to 9,200. However, after five minutes, only the left rear burner was able to heat a pan up to 375°F. The left front burner could only climb as high as 328°F, but the right rear burner didn't fare much better, hitting its peak at 347°F. The right front burner, too, proved disappointing, only getting as hot as 355°F.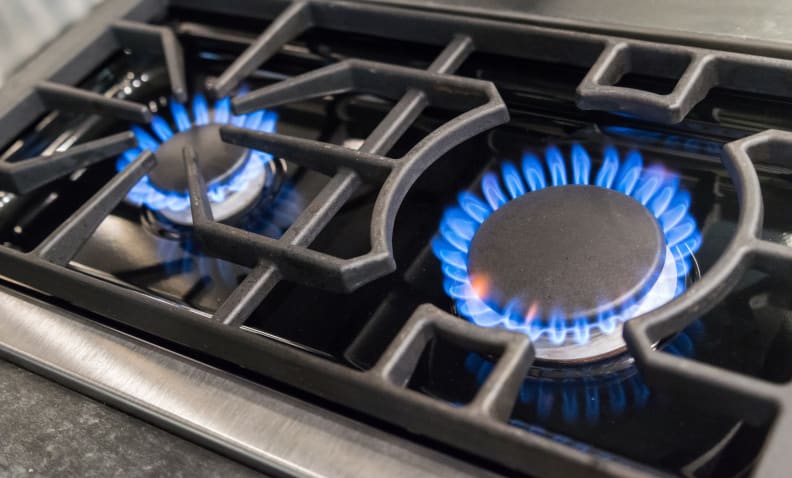 Low heat cooking, on the other hand, is where this rangetop excels. The right front burner had the lowest reach, dipping down to 118°F, but with a left rear burner capable of reaching 119°F and a left front burner able to hit 120°F, melting butter should be a snap. The highest minimum temperature we measured was 129°F on the right rear burner, which is still excellent. If you need mild heat, the DF304's got you covered.
Boiling is middling. The best gas ranges can boil six cups of water in around 5 minutes. The quickest burner on this Wolf was the left front, boiling six cups of water in just 6:11. The right front burner followed close behind, with a boiling time of 7 minutes. The right rear burner also boiled six cups in a speedy 7:53. It's only the left rear burner, which required 15:54 to reach a boil, that you'll want to avoid when making pasta.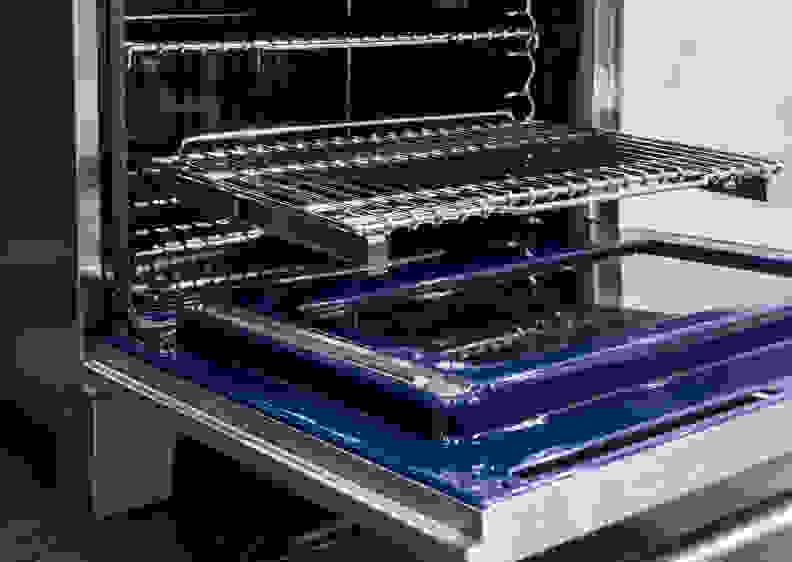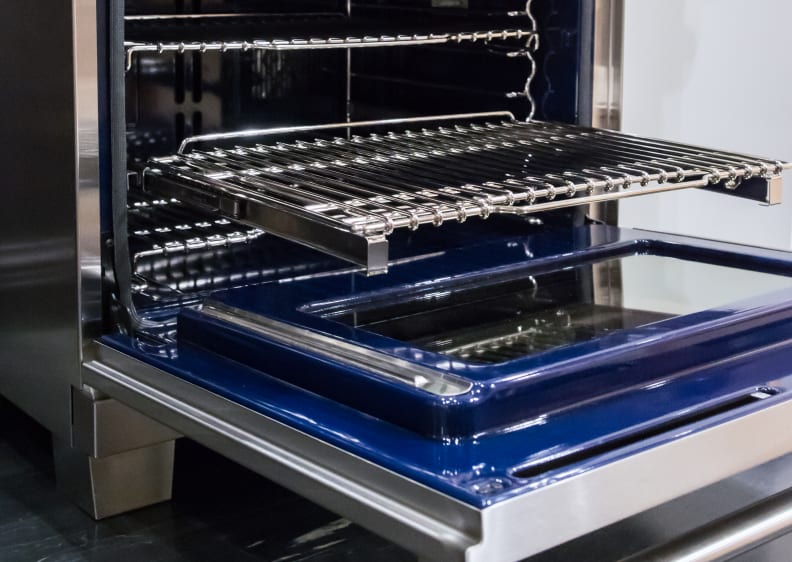 When it came to oven testing, we first looked at the speed of the oven's preheat. It took a lengthy 13:35 to reach 350°F using the standard bake setting, and 14:23 using convection. However, the recessed broiler was able to heat the area below it to 600°F in just over 4 minutes, which is good news for anyone who ever has to finish a dish in a hurry.
In addition, we tried out the standard and convection bake settings, baking a sheet of cookies and two cakes at each setting. Cakes emerged evenly-browned at both standard and convection settings, but cookies did not fare well when baked at the standard setting. Tops were light with burnt edges, while bottoms were dark for all the cookies but especially burnt in the center and right sides of the cookie sheet, indicating uneven heat throughout the cavity.
Fortunately, the DF304's dual convection fans were able to circulate the heat in the cavity, improving our results. Cookies baked with the convection setting had very little variation in browning when we compared their tops and bottoms. However, the cookies closest to the convection heating elements at the back of the oven were a tad darker than the others.
Counterintuitively, we discovered that roasting a pork loin worked best with the standard bake setting. The pork loin cooked through in just under 34 minutes per pound, and only lost 0.64 pounds of water. However, browning was not even. In contrast to the standard bake setting's above-average roasting results, cooking the pork loin with Convection Roast did the meat no favors. The roast emerged dry, having lost a whopping .85 pounds of moisture. It cooked through in a little more than 35 minutes per pound, but browning was incredibly varied across the surface of the pork loin. We'd opt to avoid this setting altogether, especially since the standard bake setting gave much more appetizing results.
Meet the tester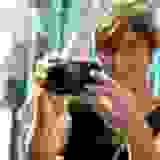 Kori Perten
Former Editor, Home & Outdoors
@Reviewedhome
Kori began her journalism career as a teenage fashion blogger and has enjoyed covering a wide variety of topics ever since. In her spare time, she's an amateur poet, avid reader, and gluten-free cake baker extraordinaire.
Checking our work.
Our team is here for one purpose: to help you buy the best stuff and love what you own. Our writers, editors, and lab technicians obsess over the products we cover to make sure you're confident and satisfied. Have a different opinion about something we recommend? Email us and we'll compare notes.
Shoot us an email