Luxury Appliances
BlueStar's First-Ever Fridge Is Perfect for Bakers
For this appliance maker, it's all about looks.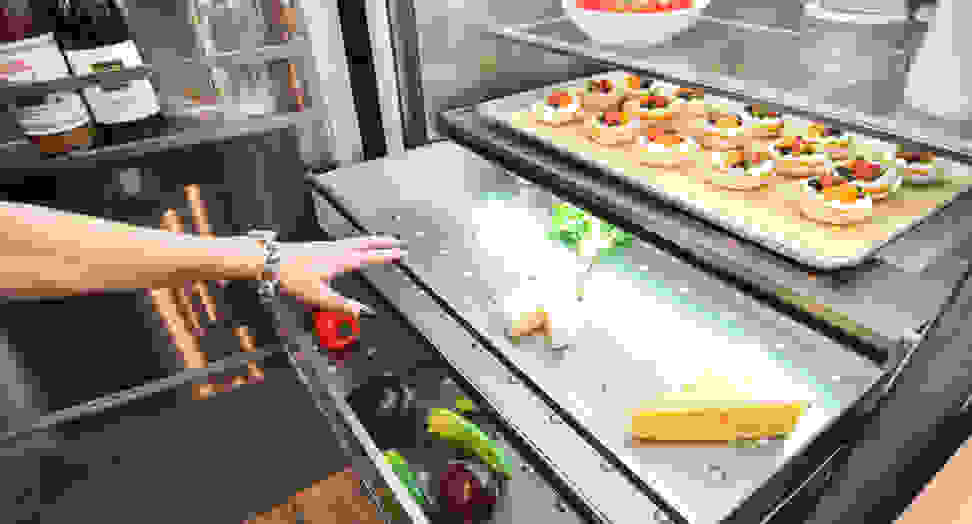 Credit: Reviewed.com / Dave Swanson
Pennsylvania-based cooking manufacturer BlueStar has specialized in making high-end ranges, cooktops, and ovens since 1880. But at a recent event in New York City, the company unveiled a prototype appliance that will find you on the other side of your kitchen.
Scheduled to be released during the first quarter of 2016, BlueStar's first refrigerator introduces several appealing features in one attractive package.
-->
The 36-inch bottom-mount fridge is designed with stainless steel inside and out. The interior walls are stainless, as are many of the shelves and compartments, and those that are not are made of glass—no plastic involved. BlueStar says the materials are better at insulating cold air, but they also just look better.
The company's introductory fridge is counter-depth and built with a single door, with fully articulated hinges that allow the door to swing open past 90 degrees. This allows the freezer and crisper drawers to fully extend from the machine; the same goes for the fridge's huge bottom shelf.
The extendable tray is handy for storing smaller items, as it limits how much reaching and rearranging you'll need to do. But the real attraction here is the size. The shelf is large enough to fit a full-size cookie sheet—a feature that's sure to entice pastry chefs. Even better, the freezer is also big enough to fit a cookie sheet (though with some height limitations).
The BlueStar fridge can be installed at counter-depth, which means the unit protrudes a reasonable inch-and-a-half or so, but it can also be flush-mounted with deeper counters. There are two compressors—one for the fridge and another for the freezer—and an icemaker will be added to the freezer drawer in future prototypes.
-->
Sounds pretty cool, but why is BlueStar getting into the fridge business now? The reason, it seems, is more about aesthetics than technology.
"We've found that we specialize in so many trims, colors, and features for our cooking products that our customers were left without options when it came to refrigerators," explained BlueStar president Michael Trapp.
Trapp says the company toyed with the idea of buying someone else's refrigerator design and incorporating the BlueStar options, but decided to strike out on its own and develop its own model.
BlueStar's usual customizations include more than 750 colors and textures, which the company claims is the widest range in the industry.
For the time being, the company plans to perfect its single-door model fridge, but Trapp confirmed to us that a French-Door option is on the horizon.
Related Video
Up next
Get Reviewed email alerts.
Sign up for our newsletter to get real advice from real experts.