Luxury Appliances
Hanging Gardens Save Water and Fit Almost Anywhere
Where there's a wall, there's a garden.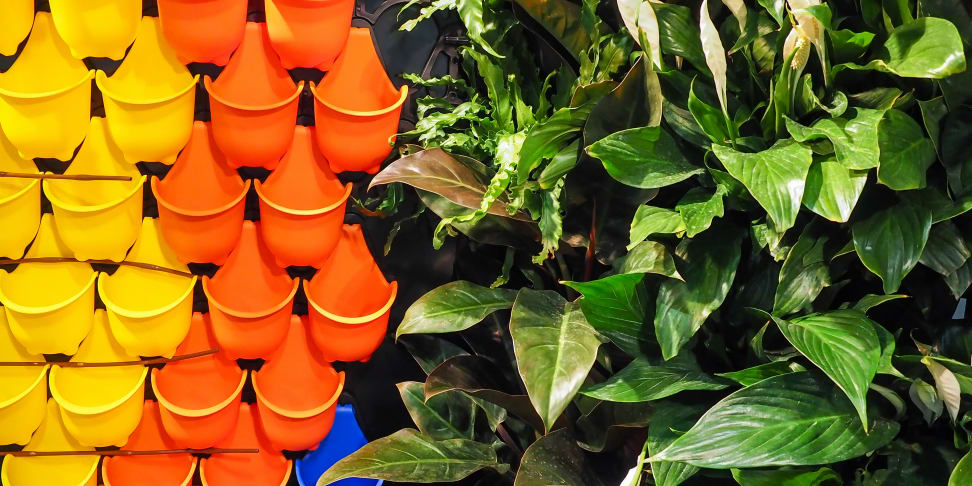 Credit: Reviewed.com / Ben Keough
Water is in short supply in many parts of the world, and land is expensive in dense urban areas. But that doesn't mean homeowners and businesses have to sacrifice green space. A spate of new wall gardens make it easy to turn an apartment, pub, or shopping mall into a lush oasis.
At Dwell on Design, a major trade show in Los Angeles, we caught up with some unique ideas for putting plants anywhere there's a vertical surface. Whether it's a massive 900-square-foot installation in a shopping center or a few plants in your kitchen, it's possible to create a garden that uses very little water but still creates a visual impact.
The Living Wall
The Urban Garden from Bella Builders puts plants between three layers of strong felt. After a month, the plants' roots take hold and grow into the felt, almost like soil. You can grow anything with roots five inches or under, from succulents to white eggplant.
It's possible to create a garden that uses little water but still creates an impact.
A water tank and pump automatically drips water through the felt to keep plants watered—a 10 gallon tank feeds a 12-square-foot panel, which retails for $999; and a 20 gallon tank feeds a 16-square-foot panel, which retails for $2,500.
When water reaches the base of the installation, it's filtered and pumped back up to the top. That makes for significant conservation and very little maintenance.
Skale
While the whole Urban Garden setup is totally self-contained, the folks from an Australian company called Skale offer a solution that's a bit more DIY.
Skale is built on a modular system of interconnected wall mounts and hanging pots. They're designed to install easily, made of recycled material, and manufactured in Australia.
The wall mounts have hooks for running drip lines, and each pot is cleverly designed to drain water through two holes to the pots below. Depending on what's growing, a 10-square-foot installation may only need a liter of water per day, and succulents may only require that much water every two weeks.
While some wall gardens may need a few weeks to mature, the genius of Skale is that it looks good even as plants are growing. The attractive pots and wall mounts are attractive in their own right.
Skale has been installed all across Australia, from a shopping mall that wanted low-maintenance plants to a pub that needed to build an attractive sound barrier. Absent a watering system, it costs about $20 per square foot to install.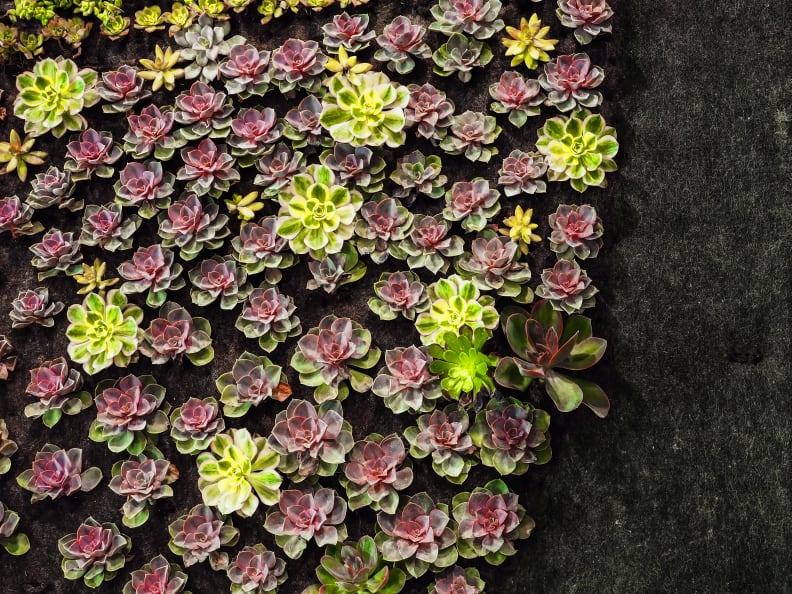 ×
Wall Garden
Related Video