Luxury Appliances
Jenn-Air JGCP536WP 36-Inch Gas Rangetop Review
Jenn-Air makes a bold statement.
Credit:
If you are looking to install a statement piece in your kitchen, the Jenn-Air JGCP536WP 36-inch rangetop is worth considering.
Unlike a cooktop, which drops into a countertop, the JGCP536WP slides into a deep cutout and sits directly on top of cabinetry. It's essentially the top portion of a range, and—as such—it features front-facing controls and a more industrial look.
With it's sharp-edged professional aesthetic, continuous grates, and large physical footprint, this is not the kind of appliance that blends seamlessly into a countertop. Instead the JGCP536WP completely dominates any space it occupies. We think it's best that Jenn-Air has to offer, and in many ways it outperforms the iconic Wolf rangetop that it directly competes against.
Fortunately, the JGCP536WP isn't just physically impressive. It did well in all our cooking tests, and won us over with extra features like an electric griddle.
Design
Not for everyone
It's important to note that the Jenn-Air JGCP536WP is a rangetop, and not a cooktop. This configuration sometimes allows for more powerful burners and features, but may require additional construction.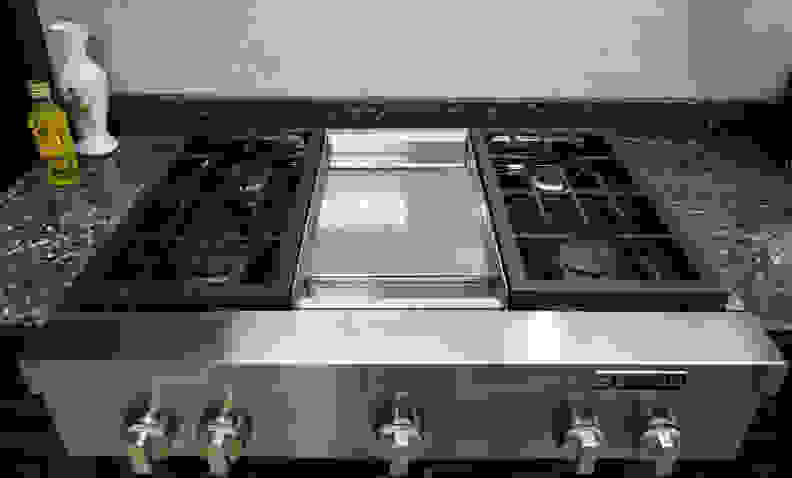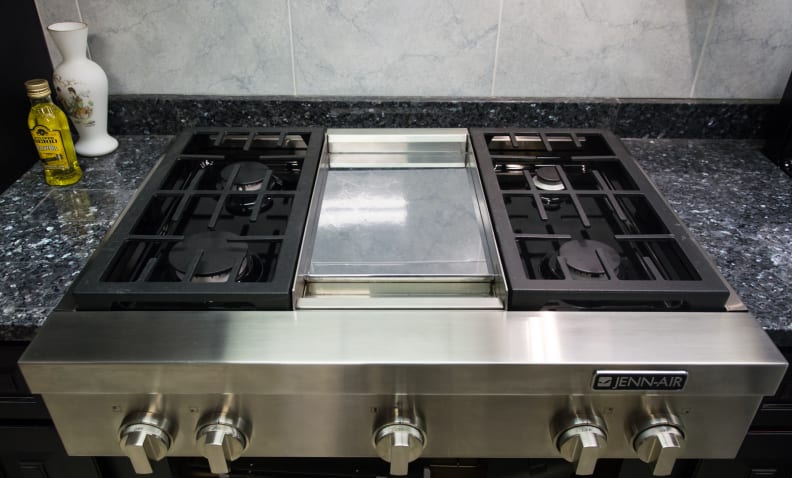 For its part, the JGCP536WP is essentially the rangetop portion of the JDRP536WP. In all but the largest kitchens, the cooktop will seem almost intimidatingly large. Four burners—including one 20,000 BTU PowerBurner—flank a chrome griddle.
Unlike other gas rangetops and cooktops, this Jenn-Air's griddle is electric. As such, removing the actual griddle surface involves unscrewing it, which can make cleaning a bit difficult. At least the griddle drip tray is removable which makes cleaning up the post-breakfast grease a little easier if you decide to do a Full English.
Each burner is controlled by its own dial. Although their diamond-pattern knurled surfaces proved grippy, we also found the dials a bit light to the touch—which had us wondering just how much control they'd offer over a flame. In use, however, the controls proved responsive, and we discovered that we could easily make the most minute adjustments.
Performance
Succeeds where it counts
The Jenn-Air JGCP536WP's wide range of burners should have you covered for most—if not all—cooking tasks. The JGCP536WP comes equipped with a 20,000 BTU PowerBurner at the front left, 15,000 BTU burners at the rear left and front right, and a 5,000 BTU simmer burner at the rear right. The spacious cooking surface is porcelain and the left and right pairs of burners are each housed under a single, sturdy, removable grate.
For us, a cooktop that can't boil water is worthless. That's why we were glad to see the JGCP536WP proved particularly adept: The front left burner got six cups of water to a rolling boil in only five minutes, while the front right and rear left burners boiled the same amount of water in six minutes. For gas, that's as good as it gets.
When it comes to overall range of temperatures, the JGCP536WP does about as well as most gas burners. We recorded an overall maximum pan temperature of 378°F, and an overall minimum temperature of 133°F. That's good enough for searing and even melting, but nothing particularly outstanding.
Where the JGCP536WP shines, however, is control: Its heavy, continuous grates mean your pots and pans should have precise contact with the gas flame for even heating, and the knobs allow for precise adjustments in temperature.
Warranty and Price
Jenn-Air does not allow its authorized dealers to publish price data, so finding a deal might require some conversations with local retailers. We found it on sale in New England for around $3,300, and that price could go down a lot more if you buy a whole package of Jenn-Air appliances.
All Jenn-Air cooking products are covered by a full warranty for one year which covers repairs, labor and material costs. After the first year, Jenn-Air also covers replacement costs of certain components for years two through five after the date of purchase. These additional years of warranty are limited to electric elements, touch controls, microprocessors, electronic controls, and sealed gas burners.
Customizability
Limited customizability, but a number of upfront options
The Jenn-Air JGCP536WP itself is not customizable: That electric griddle will always be at the center. If you don't like it, the 36-inch JGCP436WP replaces the griddle with two additional burners. Meanwhile those in the market for a smaller unit should check out the smaller, 30-inch JGCP430WP. It has four burners, and lacks a griddle.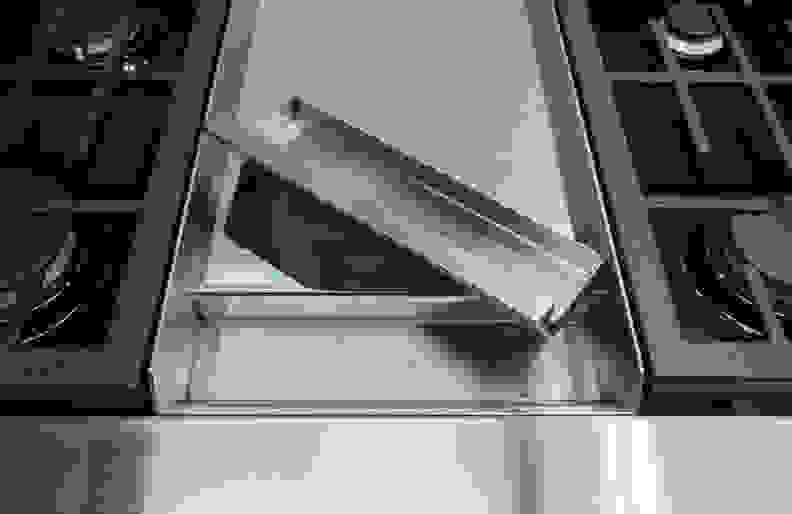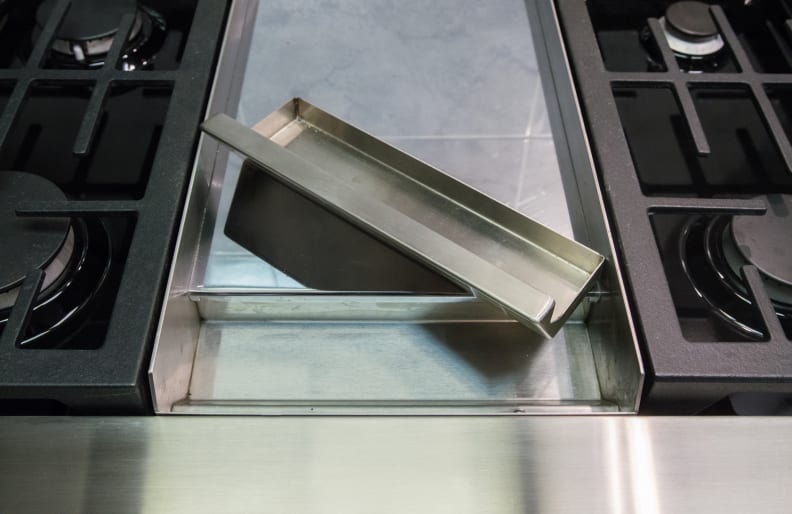 Jenn-Air also offers a number of optional extras such as wok rings, back guards, and griddle covers. They all cost extra, of course. If you're not married to the idea of a Jenn-Air, we suggest you check out some of the similar offerings from GE Monogram. They offer integrated wok grates, plus the option of an integrated gas griddle or ceramic-infrared grill.
It Dominates the Kitchen
Cook with confidence
We enjoyed our time with the Jenn-Air JGCP536WP rangetop. Sturdy grates, precise controls, and powerful burners impressed us as much as its eye-catching design and electric griddle.
If you're looking for minimalism or restraint, it definitely won't fit the bill. But if you want design that's inspired by a professional kitchen, plus performance to back it up, check this Jenn-Air out.
Photos captured at Tri City Sales in Ipswich, MA.