Luxury Appliances
Jenn-Air TriFecta JDB9600CWX Dishwasher Review
Got a need for speed?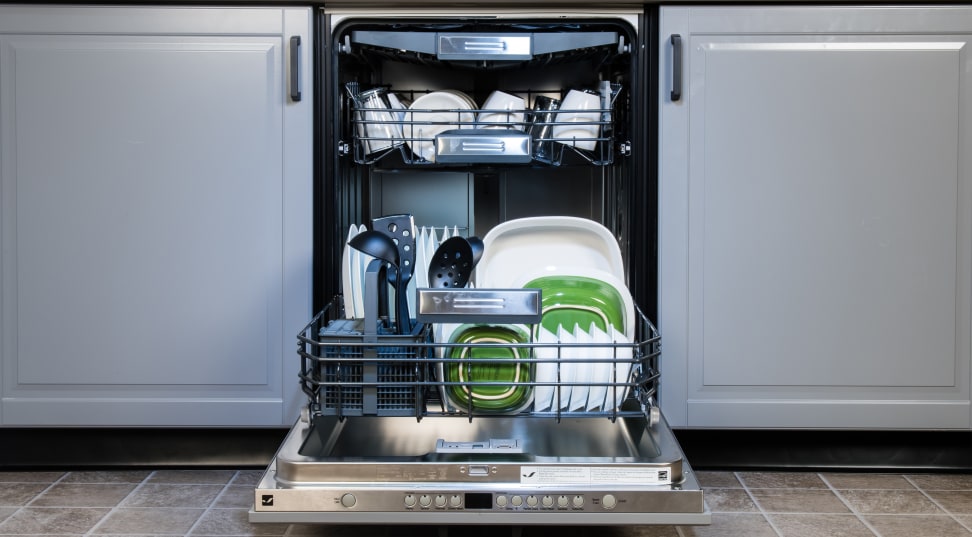 Credit: Reviewed.com / Kyle Looney
By The Numbers
Certain aspects of a dishwasher can't be determined by looks or price alone. Efficiency and cleaning power can only be teased out by rigorous, standardized testing and diligent data collection. That's what our lab is for.
Fast and efficient, the Jenn-Air JDB9600CWX packs quite a punch. This dishwasher may be designed to fit flush with cabinetry, but just because it's designed to be hidden doesn't mean it lacks high-end features.
Between the third rack, compact and adjustable cutlery basket, and many collapsible tines, this Jenn-Air makes loading dishes just as effective and quick as the wash cycles themselves.
Performance
Rarely can a dishwasher clean both thoroughly and quickly, but the JDB9600CWX managed to pull it off. We expect everyday-use cycles to clock in around two hours and heavy duty cycles to take around three. This dishwasher's Normal cycle stuck to the status quo at 2 hours and 9 minutes, but its Heavy cycle finished in a brisk 1 hour and 37 minutes.
The Jenn-Air's speed did not come at the cost of cleaning power.
This speed did not come at the cost of cleaning power. The Heavy cycle removed nearly all of our test various food stains with 100% efficacy, including dried milk, baked-on egg, and burnt sugar. This cycle's only downfall was with our burnt cheese test, scoring an average of 72.25% stain removal. Still, many dishwashers we've tested at all price levels have trouble with this test, which requires the perfect combination of heat and spray intensity.
The 30 Min Wash cycle is this Jenn-Air's main weakness. It actually took about 33 minutes according to our clocks, which is still very fast, but the cleaning ability demonstrated in the Heavy cycle was noticeably absent. With scores as low as 86.72% stain removal on milk and 93.15% on oatmeal flakes, you'll want to save this cycle for light stains only.
Design
All the support you need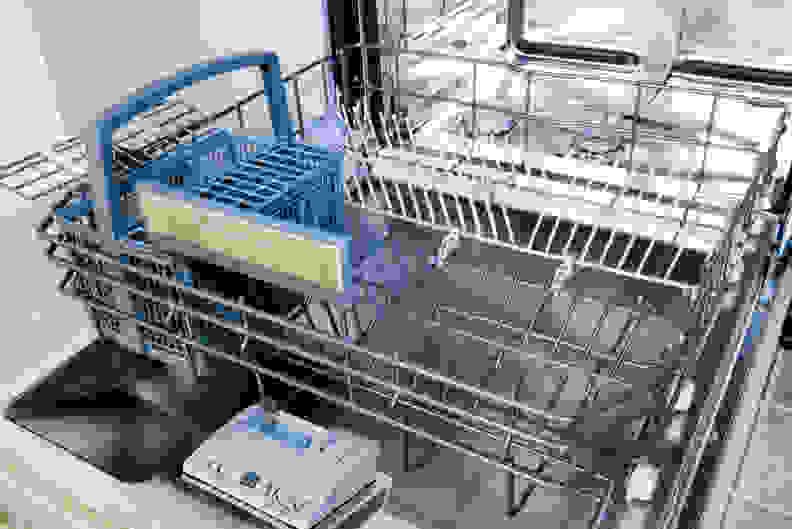 The first thing you'll notice about the JDB9600CWX's bottom rack is the sheer number of plate supports. They're spaced closely together, and we were able to fit ten plates in just one quadrant of the rack. On other dishwashers, the same number of plates easily take up half of the entire lower rack. Of course, this could be a problem if you have thicker plates, but standard dinner plates should fit nicely.
A small cutlery basket sits on the lower rack, and it's cleverly designed to rest over any row of plate support tines. Even if you fold down a few rows of those tines to make room for large and unwieldy items, there will still be a place to put the basket.
Of course, you might not need the cutlery basket at all, thanks to the JDB9600CWX's third rack. This pull-out tray is specifically designed for holding silverware, and lives above the upper (technically middle) rack. Like the cutlery basket, individual slots keep your eating utensils separated, ensuring that water can hit them from all sides.
The upper rack doesn't have as many rows of plate supports as you might see on other dishwashers, but that leaves more room for glasses, mugs, and stemware—the usual items that go on the upper rack. And if you need to wash some extra-tall champagne glasses or water bottles, the JDB9600CWX's upper rack has you covered with an easy-to-use height adjustment mechanism.
Lastly, the JDB9600CWX's hidden control panel is very easy to use. The round buttons have bright indicator lights and click satisfyingly when pressed, providing great tactile feedback. There's one button for every cycle and wash option, making it simple to key in the settings you want, and an LCD screen conveniently gives you an estimate of how long each cycle will take to run. You won't be able to see the screen once the door is closed, so the JDB9600CWX beams a red light on the floor to let you know when it's running. Rated at 44 dB, it's quiet enough that you might not otherwise notice when it's cleaning dishes.
The JDB9600CWX is 22-7/16 inches deep, which means it can be installed flush with cabinetry for a seamless, modern look. In fact, it's the only Jenn-Air dishwasher that can be flush mounted. Attaching a custom door panel to this Jenn-Air is very easy: It's held on by a series of screws along the inside edges of the dishwasher's door. All you'll need is a screwdriver with a Torx (star-shaped) head. The dishwasher even comes with a template for drilling holes in a cabinet front.
If all these features look familiar, it's because this particular Jenn-Air is made in Germany by BSH—parent company of Bosch, Thermador, and Gaggenau.
Cleaning
The triple whammy of speed, efficiency, and cleaning power
This Jenn-Air has a sparse selection of cycles, but a multitude of customization options allow you to fine-tune each cycle to your liking. You can start with a Heavy, Normal, Sensor, or 30 Min Wash cycle, then add options like Partial Load, Extra Wash, Extra Dry, and Sanitize. There's also a Delay for up to 24 hours if you don't want to start a load immediately.
The combinations of cycles and options give you a surprising level of versatility and control without complicating matters too much. Of course, users can also simply select the Normal or Sensor cycles, press Start, and reasonably expect to come back to a load of clean dishes with no hassle.
And it's fast. Exactly how fast are we talking? The Normal wash took a little over two hours, which is about average for an everyday workhorse cycle. However, the Heavy cycle, which is designed to take on the toughest, nastiest stains, clocked in at an average of 97 minutes. This means you can feasibly run a Heavy cycle after dinner and still be awake when it's done, allowing you to squeeze in another load if need be.
After rigorously testing the Normal and Heavy cycles with standardized loads of filthy dishes, we found that even the dirtiest plates emerged spotless.
One of our tests involves loading bowls with baked-on spinach into the wash. Spinach tends to clog dishwasher filters, and therefore ends up all over the dish load instead of washed down the drain—a phenomenon called redeposit. This Jenn-Air showed virtually zero instances of it.
The JDB9600CWX also excelled in the efficiency department. Actual dollar savings over a less efficient model are minimal—as little as $7 a year—but the Normal cycle only used a little more than two gallons of water per wash and still got dishes exceptionally clean.
For in-depth performance information, please visit the Science Page.
Efficiency
The JDB9600CWX excels when it comes to conserving water and electricity. The Normal cycle used 0.58 kWh of power and 2.37 gallons of hot water with each run, which translates to a cost of about 9 cents per cycle. The Heavy cycle took 1.05 kWh and 5.28 gallons, and the 30 Min Wash took 0.39 kWh and 3.08 gallons.
Each cycles' water and energy usage is lower compared to equivalent cycles on other dishwashers. In total, the JDB9600CWX should only cost you an average of $23.50 a year to run, significantly less than the $29-30 per year average of other machines.
Capacity
This Jenn-Air was able to hold eleven of our standardized place settings and a serving setting. As noted earlier, the plate supports on the lower rack are rather narrow. They'll work just fine for standard dinner plates, but won't fit thicker ones. The sheer number of supports on both racks means you'll be able to find room for any dish, and the cutlery basket combined with the third rack gives you tons of places to load silverware.
Why We Like It
Simple and streamlined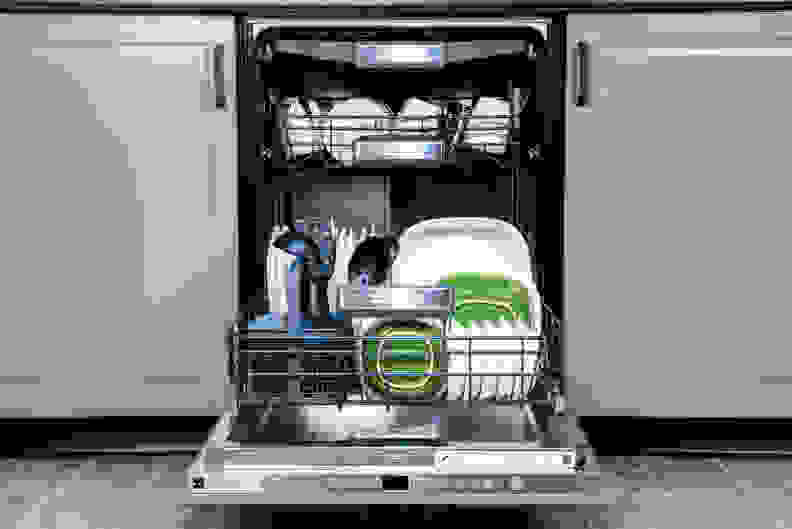 With its ability to be flush-mounted with cabinetry, the panel-ready Jenn-Air JDB9600CWX may have been designed to be unobtrusive. But in our lab tests, its performance stood out.
It's fast, it's efficient, and it does a great job getting dishes clean. Fit and finish was top notch—racks glided with ease, and there was plenty of room for plates.
While it may be lacking in fancy features, such as interior lights or specialized high-intensity power nozzles, this Jenn-Air is designed to streamline the dishwashing experience. If you want to keep your interactions with your dishwasher to a minimum, the Jenn-Air JDB9600CWX may be a good fit.
Photo Gallery