Microwaves
Pop Art: Popcorn Monsoon Puts the Fun Back in Snacking
Willy Wonka inspired this delightful take on the classic popper.
Over the years, popcorn has succeeded in wrapping its fluffy, buttery deliciousness around the cobb of our society. Even with all our modern fears of high-fructose corn syrup and inflated movie theatre prices, it's hard to feel anything but love for the crunchy, salty snack.
Making popcorn at home, however, is a drearily mundane experience. Even folks who cut the microwave cord and turn to old-school poppers have had to contend with bland, clunky, plastic machines or hefty vintage models that look fun but seem out of place in smaller kitchens.
Until now, that is.
Taking her cue from Willy Wonka (never a bad idea, unless you consider his reckless endangerment of countless children) graphic designer Jolene Carlier decided to add some whimsy to snack time.
Following Wonka's missive to "Come with me, and you'll be in a world of pure imagination," Carlier sketched out a series of fantasy objects that are rife with color, fantasy, and mysterious purposes. While inspired by Wonka's ethos, Carlier explains that they're all still meant to make sense in the real world.
To back that up, one of these magical designs has actually been turned into a functioning popcorn popper known as—drum roll, please!—the Popcorn Monsoon.
While the intial drawing and final product were firmly in the realm of fantasy, Carlier informed us that "like any other functional product it had to be conceptualized and constructively thought through." The final product was meant to emphasize the excitement of making popcorn for children and adults alike.
×
Popping Process
Popcorn kernels are poured into the base via a test-tube-like funnel. Slowly agitated by the hot air, the corn bounces and dances around until shot up through an inverted U-shaped funnel. The popped corn lands in an appropriately colored butter-yellow bowl, ready to eat. While it's running, the whole device looks like nothing so much as a popcorn rainbow.
(In case you haven't guessed, I love popcorn.)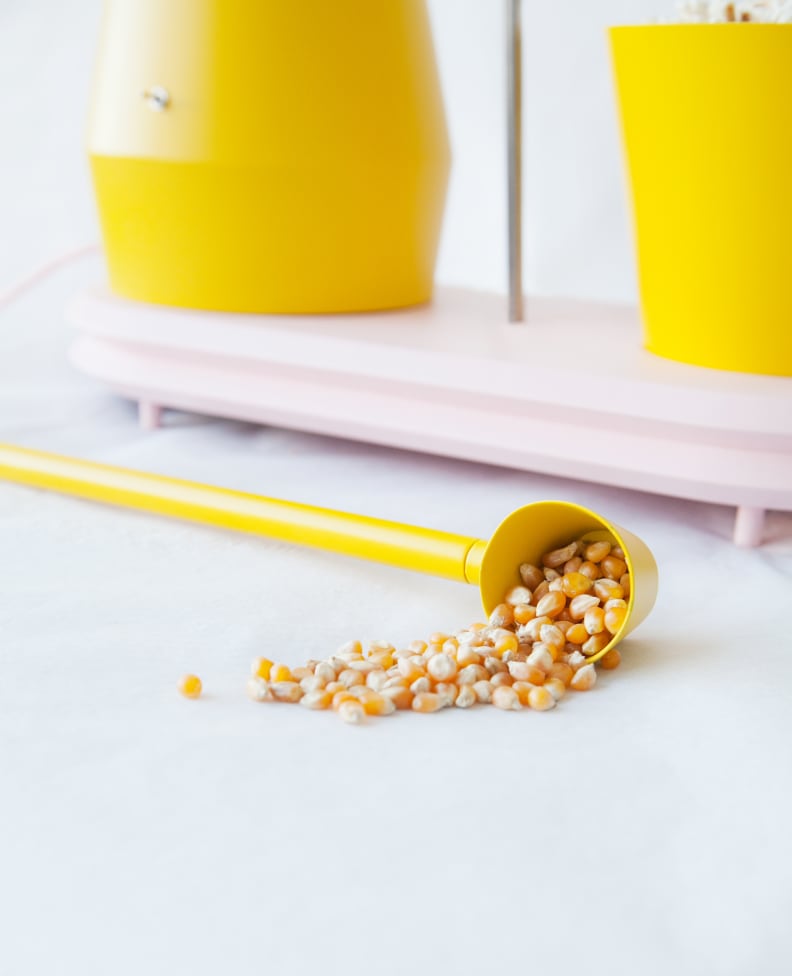 ×
Popcorn Monsoon
In terms of practicality, of course, it's not the best popper around. In the demo video, you can see a number of kernels falling outside the bowl, and the comparatively long distance the corn has to travel means it takes longer to get to its final destination. What's more, the device is a bit of a snacking tease—it's not available for purchase, though Carlier told us she's looking into some possibilities for taking the Monsoon into production.
Nevertheless, the Popcorn Monsoon adds some much-needed flair to the process of making one of the best snacks known to humanity. For that, we have to say well done, Jolene. Well done.
Related Video