Microwaves
You've Never Seen a Microwave Like This Before
Now that's what we call thinking outside the box.
Credit:
Chances are, you own a microwave. Chances are, it's shaped like a box. It has a door on one side and an array of buttons with phrases like Time Cook, Popcorn, and Start next to it. There's probably a clock and a timer, too. And you only use your microwave for heating pre-packaged or frozen food.
Truth is, modern microwaves don't vary much from one another. In fact, the 1967 Amana Radarange, considered the first domestic countertop microwave, has a startlingly similar design to today's machines. There just hasn't been much innovation in the microwave design department.
Enter: UK designer Jake Rich.
His design, the Mediumwave, is a microwave oven like you've never seen before. The heavy box shape has been discarded in favor of something more pod-like, and it's even made portable by a pair of wheels.
Rich was aiming for an appliance that was more intuitive and responsive. To that end, it includes a clear lid through which you can see your food at any angle, and it's set on a base the size of a dinner plate. When the lid is on, it creates a circuit used to cook your food. When the lid is removed the circuit is broken, and you can safely check on or stir your food.
"Having your food accessible at any moment was a way of trying to counter the feeling of detachment people have from their food when they cook it in a conventional microwave," Rich told Dezeen.
Controls have also been simplified, including just a power dial and a timer. There's also a light in the lid that brightens at higher power levels and dims at lower levels. The power itself can even be changed while the Mediumwave is on.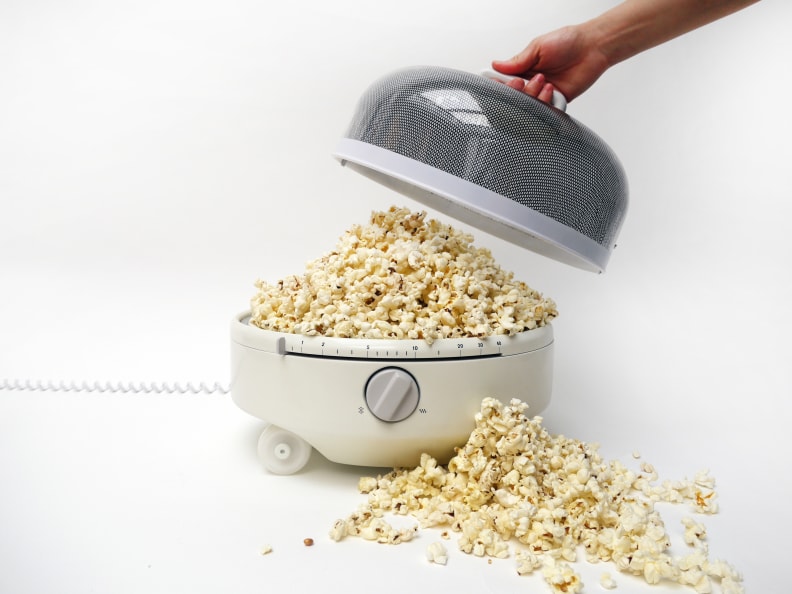 ×
New Gallery
The result of Rich's careful work is an appliance that appears both friendly and easy-to-use. It's the kind of familiar cooking you're more likely to encounter on a stovetop than a conventional microwave. It's also just an intelligent example of how good design can drastically alter the way we use and interact with a product.
We're itching to outfit our own kitchens with Mediumwave microwaves, but sadly the appliance has yet to be mass-produced. Rest assured, though: Jake Rich is working on it.