Ovens & Ranges
Frigidaire FGEF306TMF 30-Inch Electric Range Review
Two ovens are better than one, and these are better than most.
Credit:
From the Chicken Nugget Lab
We submitted the Frigidaire FGEF306TMF to our vigorous oven tests, and despite a few shortcomings it aced almost all of them. Range performance was stellar and the oven—barring a few accuracy issues—was pretty impressive.
The majority of ranges fall comfortably into the "average" category: Not too bad, but not exceptional. So it's always exciting when we review a range that completely knocks it out of the park. The Frigidaire FGEF306TMF (MSRP $1699.00) is an electric freestanding double oven range that combines an understated appearance with extravagant performance. It's easily one of the best ranges we have seen this year, and possibly one of the best ranges we have seen, period. Performance aside, what really sets this range apart is the two dual ovens, each large enough to cook a 28-pound turkey. With the (welcome?) specter of Thanksgiving looming over us all, it's comforting to know that this oven is out there.
Design & Usability
Wallflower or standout? The jury is undecided.
If Frigidaire wants to market its oven as a high-end appliance, it may want to rethink the inclusion of the Chicken Nugget setting.
There is a bit of a divide in the office about this range. Personally, I find its appearance pedestrian and boring. But a co-worker says it's stylish and classic. It is early days, but I predict that this difference in option will form a rift within the office resulting in the appliance equivalent of a holy war. While this horrific event is inevitable, for now I will concede that the Frigidaire FGEF306TMF does have a certain appeal, especially if you have a taste for the understated. 
We rejoiced when we heard that Samsung's latest upscale ranges would lack a dedicated Chicken Nugget setting. It seems our celebration was premature as Frigidaire has taken up the mantle and now, nesting besides the Pizza setting, is the offending Chicken Nugget button. While we have nothing against chicken nuggets, and we respect the amount of money and effort it takes to research and develop the perfect mixture of time and temperature required to automatically cook frozen processed reconstituted chicken product, we don't want evidence of our nugget habit in our luxury kitchen. If Frigidaire wants to market its oven as a high-end appliance, it may want to rethink the inclusion of the Chicken Nugget setting. 
Oven & Broiler Performance
All ovens are equal, but some ovens are more equal than others.
As we said before the upper oven is definitely superior when compared with the lower oven. The upper oven offered both exceptional accuracy and precision in both the Keep Warm and 350ºF settings. The Keep Warm setting averaged 175ºF and maintained almost perfect precision. The 350ºF was similarly impressive with an average of 340ºF and a total oven variance of ±20ºF.
The lower oven—while the lesser of the two—was still perfectly usable. We recorded an average temperature of 199ºF for the Keep Warm setting, while the 350ºF setting averaged 337ºF. Strangely enough, accuracy and precision dropped when we tested the convection setting. The setting averaged 327ºF, with a total variance of 33ºF.
We never test "fast preheat" settings so we cannot comment on the FGEF306TMF's Fast Preheat effectiveness. Using the standard oven settings we recorded a 16-minute preheat. The broiler was notably quicker with a preheat of 7 minutes.
Rangetop Performance
You would be hard pressed to find a better electric rangetop.
The FGEF306TMF pretty much excelled in every one of our rangetop tests. The primary burner boiled 48oz of water in only 4 minutes, and had an average boil time of 1½ minutes to boil 1 oz. of water. The FGEF306TMF also had an exceptional range of temperatures. We recorded a maximum burner temperature of 830ºF with a average high temperature of 751ºF. The minimum temperatures where equally impressive: we recorded a low temperature of 77ºF with an average low temperature of 79ºF.
Rangetop
The Usain Bolt of rangetops
This rangetop is kind of a big deal.
We were floored by the FGEF306TMF's incredible rangetop performance. Outside of an induction range, we rarely see results this good. The FGEF306TMF features a total of five burners—six if you count the dual burner, which allows users to switch between simmer and searing temperatures on the fly. With the exception of the simmer burner, each powered through our boiling test with no trouble. The main burner took only four minutes to boil 48 oz of water. That's an amazing result, when you consider that most electric ranges take around 8 minutes to boil an equivalent amount of water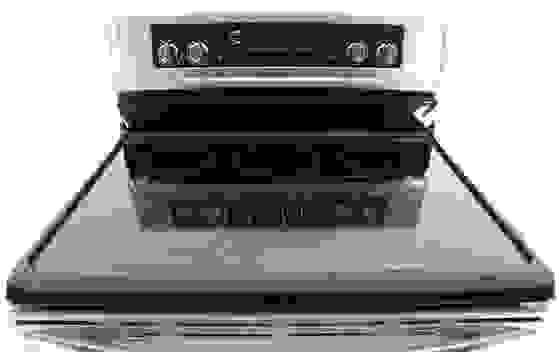 But boiling wasn't all the FGEF306TMF aced. Whether simmering or searing, this range had no problem reaching temperatures high and low. We recorded temperatures as low as 77ºF and as high as 830ºF. So yeah, this rangetop is kind of a big deal. Just don't expect the control you would get in a gas or induction range.
Oven, Broiler, & Convection
It ain't perfect, but it's pretty darn close.
So is there anything this oven can't do?
The FGEF306TMF's ovens didn't exactly blow us away, but they both proved pretty darn impressive. Unlike most dual oven ranges the FGEF306TMF features two ostensibly identical ovens. When comparing the results of the FGEF306TMF's upper and lower ovens, we couldn't help thinking of the otherwise forgettable 1988 film classic Twins. You probably figured out where we're going with this, but the in the case of the FGEF306TMF, the upper oven is clearly the Schwarzenegger in this equation. While both ovens performed well, the upper oven clearly had the edge in terms of accuracy and precision. That makes the bottom oven Danny DeVito.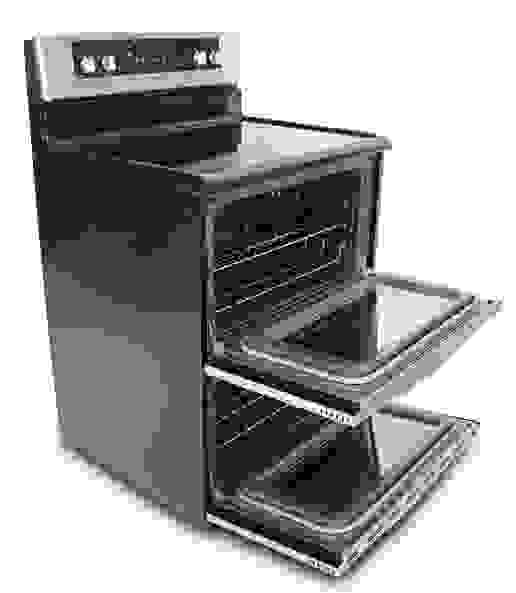 We were pleasantly surprised with the FGEF306TMF's perfectly adequate broiler. Sure, it's no match for a real grill, but it had no problem reaching a target temperature of 600ºF in just 7 minutes. So is there anything this oven can't do? Well the convection setting was less than stellar, in both accuracy and precision. The oven was also exceptionally slow to preheat, taking a total of 16 minutes to reach 350ºF. We should point out, however, that the Frigidaire FGEF306TMF features a Quick Preheat setting. If manufacturer claims are to believed, it preheats the oven in only four minutes. As a rule, we don't use custom settings, as we must test all ovens on an equal playing field.
Conclusion
A nugget of wisdom for you: Buy this range.
In the simplest possible terms, the Frigidaire FGEF306TMF is an amazing range. We were blown away by the lightning-fast boil speeds, astounding temperature range, and solid oven performance. Sure, it had its hiccups here and there: the lower oven paled in comparison to the upper oven, the convection setting was surprisingly weak, and the preheat did not exactly blow us away. But despite these minor issues we can happily say that the Frigidaire FGEF306TMF is a tough range to beat.
Now $1,699 is not exactly chump change, but when you consider what you get in this minimalist package it's hard to disagree that the FGEF306TMF offers superb value for the money. Incredible range performance? Check. Two excellent ovens? Check. Stunning good looks...? Ah what the heck, check.