Ovens & Ranges
Kenmore Elite 75232 Gas Range Review
Don't judge its looks—check out how it cooks.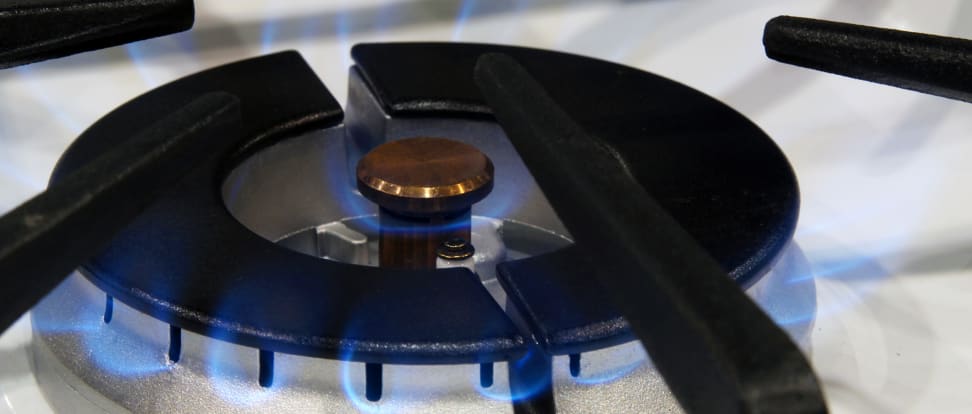 Credit:
When the unremarkable-looking Kenmore Elite 75232 gas range (MSRP $1,599.99) came into the labs wearing an all-white finish and a high MSRP, we weren't expecting anything special.
However, much like the great racehorse Seabiscuit, who rose from underdog to champion, the 75232 vastly exceeded our expectations where it counted: The range handled our real-world baking tests with finesse, turning out beautiful cookies and cakes. Since the purpose of the oven is to cook food, this kind of high-quality result has earned the unassuming range our sincere recommendation.
As far as the looks and the price are concerned, the identical 75233 mixes stainless and black trim, and retails for a more reasonable $1,259.
From the Lab
We ran the Kenmore 75232 through a series of rigorous tests, and despite a few twists and turns, it earned high scores.
Oven & Broiler Performance
In order to see how the oven handles real food, we run real-world baking tests. The cakes and cookies we baked in this oven were near-perfect, emerging from the cavity both uniform and consistent. This tells us that any temperature variation we measured with thermocouples was intentional, rather than problematic.
×
Cakes & Cookies
Ovens are sometimes designed to compensate for factors that we don't include in our testing, such as air flow, cavity shape, and how the user interacts with the oven. We can see that the temperature fluctuation at the 350°F and Keep Warm settings appears to be carefully and evenly calibrated—otherwise our cookies and cakes wouldn't have tasted so good.
×
Oven Charts
The convection setting has a different chart, showing the temperature shooting up above the target temperature very quickly, then gradually falling below. Sometimes ovens are designed to follow this temperature pattern in order to compensate for the heat lost when the user opens the door immediately after the preheat to place the food inside the cavity.
The infared broiler was solid, but it didn't wow us, and took 6 minutes 45 seconds to reach 605°F.
Design & Usability
A boring look, but it can cook!
Definitely a weak point of the 75232, this range isn't exactly a treat for the eyes. It's nice to see a white range in a sea of stainless steel, but without any interesting details to pick it up, the 75232 falls visually flat. The contrast of stainless and black on the otherwise-identical 75233 is more to our liking—but it's up to you which finish you choose.
If you just want something to match your white fridge, or seek function over form, this range should do just fine. A continuous black grate covers five gas burners, which are controlled by knobs at the front of the range. Below, you'll find a respectably sized 5.6 cubic foot oven cavity and a warming drawer.
×
Design & Usability
In terms of extra features, this range sticks to the basics. While it lacks dedicated bread proofing, pizza, and chicken nugget settings, it should have everything you need to comfortably prepare a meal.
Rangetop
Four burners out of five can keep the flames alive
This rangetop performed as a gas range should. The two front burners, center burner, and left rear burner boiled water quickly, with the fastest burner boiling six cups of water in under five minutes, and the remaining three coming in around the ten-minute mark.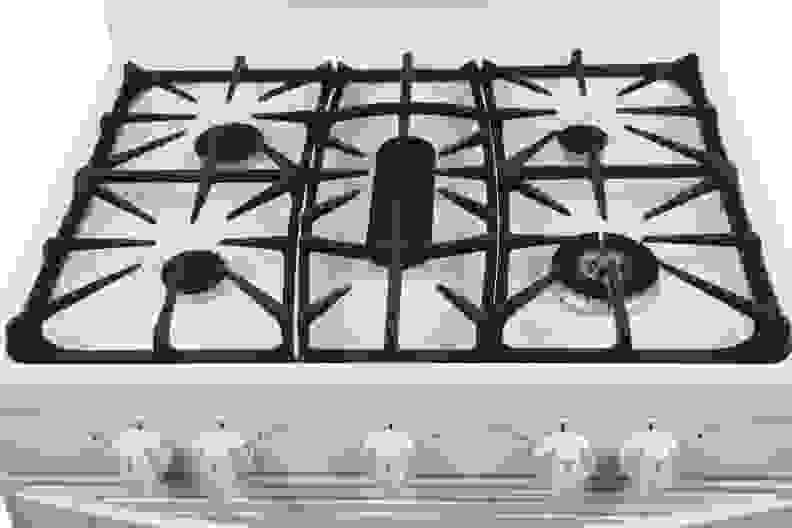 We were unimpressed with the 406°F average maximum heat, but gas rangetops just don't get as hot as electric or induction. On average, burners could reach a low temperature of 126ºF for simmering.
The right rear simmer burner only reached 291°F, which explains why it was unable to boil water. Unfortunately, it also had trouble staying lit when we turned it down lower than the other burners. If you make your own sauces and soups, this rangetop may not be for you.
Rangetop Performance
Rangetop performance was good, but not excellent. You should have no major issues here, so long as you avoid the problematic right rear burner.
The right rear burner was unable to combust at low temperatures, but the other four burners received excellent scores for low temperature cooking ranging from 125°F to 198°F. Only one burner (right front) out of the four hit its lowest temperature above 128°F.
Maximum temperatures fell far below what you'd expect from a good electric or induction rangetop, but with gas rangetops, you trade in some of that heat for the bonus of visual feedback from the flames. Gas burners just aren't able to get as hot. Temperatures were as low as 291°F (right rear, of course) and as high as 421°F (left front). These aren't scorchingly hot temps, but with three burners within 21° of 400°F, you'll be able to sear tuna and bring water to a boil at the same time.
×
Rangetop charts
Boiling times were reasonable. The right front burner hit a boil in under five minutes, while the longest time we measured was 13 minutes 16 seconds. The right rear burner was unable to reach a boil during testing at all.
Oven, Broiler, & Convection
We are lovin' this oven.
This is a great oven, and the proof is in the pudding. Or rather, the cakes and cookies from our baking test.
The cakes and cookies we baked in this oven were about as close to perfection as we could dare to hope for: Even browning all across the board, with no dark bottomed-cookies or mismatched cakes—now those are the kind of surprise results we like to see.
A reasonably good infrared broiler, lightning-fast preheat, and self-clean cycle only serve to make this oven more enticing. Almost as enticing as those perfectly even baked goods....
Conclusion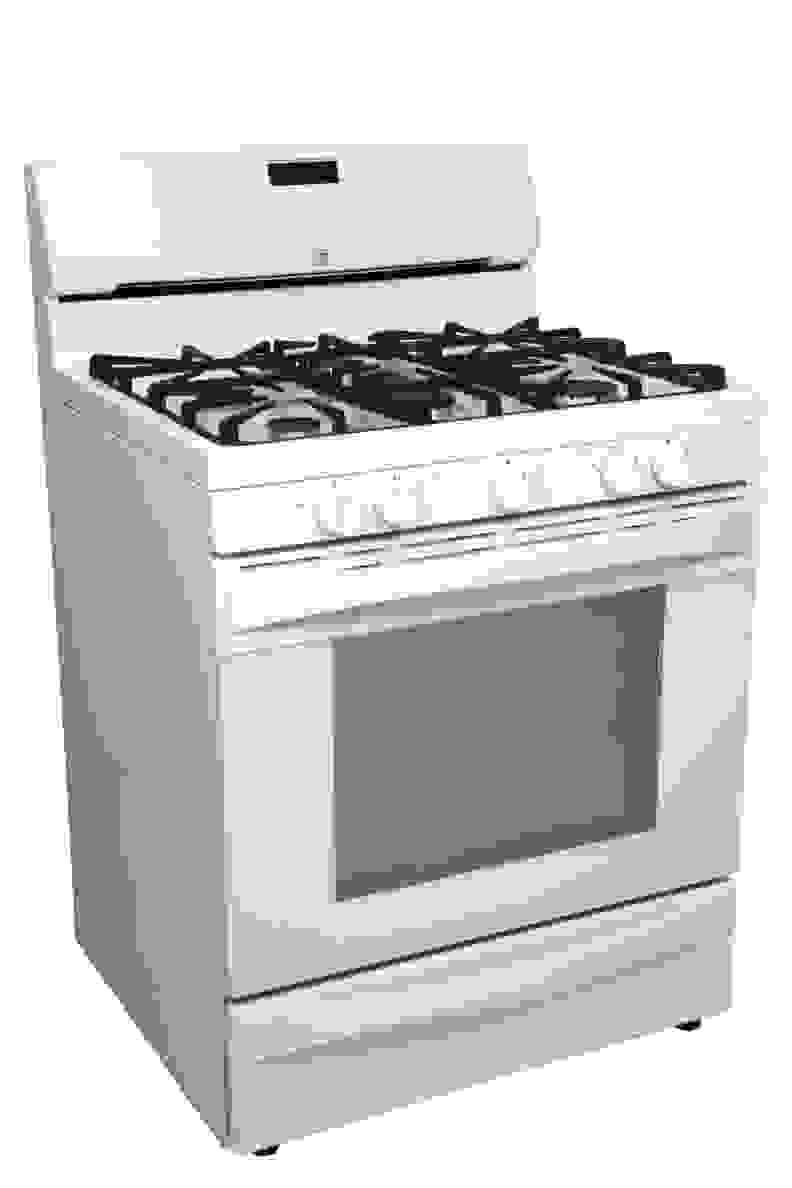 We think this range is a pretty good deal—and up to cooking an excellent meal.
It may not win any beauty contests, but this is a great range from the inside out. The rangetop wasn't great, but it performs reasonably—so long as you aren't boiling two things at once or cooking on low heat.
The oven, on the other hand, is downright fantastic. At the end of the day, all we want is an oven that can cook our food well and quickly, and this one is up for the task.
Though the exterior is plain, we found sale prices as low as $1,099.99. In our opinion, that makes for an attractive range.