Ovens
Electrolux EW30EW55PS 30-Inch Single Wall Oven Review
This Electrolux features something for everyone.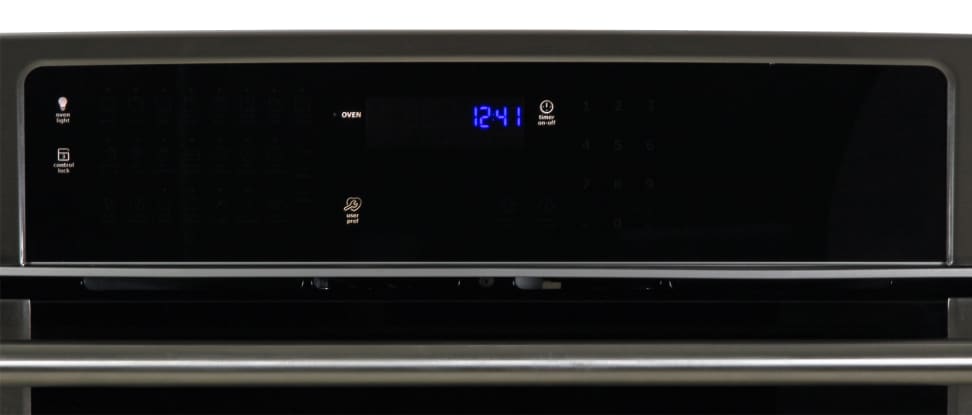 Credit: Reviewed.com
The Electrolux EW30EW55PS (MSRP $2,549) 30-inch electric wall oven has everything you need for baking and roasting—and then some. In addition to an aesthetic that would fit in any kitchen, the oven also features an abundance of high-end features all designed to take some of the guesswork out of cooking.
While frills are fun, the real value of an oven is determined by its ability to cook food well. Fortunately, Electrolux has not disappointed in that department either. In addition to even baking and roasting, the EW30EW55PS has a brilliant broiler and a $1,799 sale price, which makes this Electrolux wall oven a great value.
Design & Usability
Kitchen sink not included
Electrolux hasn't deviated far from its established design language with the EW30EW55PS's design, and we approve of the overall aesthetic. The EW30EW55PS (available in stainless steel or black) is an example of transitional design and occupies a space between professionally inspired and European-style modern appliances. Of the two, it definitely leans toward the contemporary end of the spectrum.
When you spend around $2,000 on a wall oven, it's reasonable to expect at least a few bells and whistles, and this wall oven is about as feature rich as they come. For starters, the unit features a Wave-Touch control panel, which displays only the options that are applicable for each cooking mode. That results in an uncluttered interface.
One particularly interesting feature is Multi-Stage Cooking. If you want to bake something for 20 minutes and finish it off with a broil, or change temperatures midway through a recipe, you can program the oven to automatically adjust while cooking.
Inside the oven you'll find two standard racks and one glide rack. Each rack has a built-in handle which makes removing them a little easier. Each rack is also porcelain-coated, and can be left in the oven during a self-cleaning cycle.
You can program the oven to automatically adjust while cooking.
Speaking of self-cleaning, the EW30EW55PS incorporates Electrolux's Fresh Clean oven cleaning feature. The oven uses a traditional pyrolytic method that heats up the cavity and essentially burns away any grime. While this method is effective, it's time consuming and often results in a pretty pungent odor. To remedy this, the Fresh Clean feature has three time settings: two hours, four hours, or six hours, depending on the degree of filth. Additionally, the oven has in a built in catalytic converter (similar to those used by car exhausts) that eliminates VOC's given off by burning away stains.
Other features include a temperature probe, a dehydrate function, a bread proof option, convection conversion, three programable favorites options, and ramp-up lighting. A Perfect Turkey promises Thanksgiving dinner at the touch of a button. The EW30EW55PS also has a flat oven door—not exactly the most innovative feature, but it keeps the design sleek and it's easier to clean than a beveled door.
Oven, Broiler, & Convection
Slow to start but worth the wait
Even without the surplus of features, the EW30EW55PS's overall baking evenness goes a long way toward justifying its price.
To test baking evenness we bake a batch of cookies and two cakes (separately, of course) in both the standard bake and convection settings. We then use a light spectrometer to measure the difference in doneness between individual cookies, between the tops and bottoms of the cookies, and among sections of the cakes.
The standard bake setting was extremely kind to our test cookies: we noticed little to no difference in color between them, and the tops and bottoms were almost identical. This indicates no airflow issues or hot spots. Cakes baked using the standard setting did fare slightly worse. There were a few darker sections, and a noticeable difference between the left cake and the right.
The dual fan convection setting remedied all of the standard setting's evenness trouble. The cookies were perfectly even from top to bottom and from side to side, as were the test cakes.
The eight-pass broiler was also exceptionally fast, and took only six minutes to reach 606°F. The only sore spot in this oven's otherwise-stellar set of results was the extensive preheat time. The standard mode took a staggering 16 minutes to reach 350°F, and the convention setting was only 10 seconds quicker. The oven does have a quick preheat setting which may speed things up a bit.
Warranty
The Electrolux EW30EW55PS is covered by a limited warranty that covers the repair, without charge, of any problem that occurs during the first year after the original date of purchase.
-->
And while it isn't, strictly speaking, a warranty, the EW30EW55PS is also covered by Electrolux's Perfect Fit guarantee. Essentially, the company guarantees the wall oven will fit in an existing 30-inch cutout. If not, Electrolux will reimburse customers with up to $300 for installation costs.
Why We Love It
You get what you pay for, and then some
There's no getting around the fact that the EW30EW55PS costs more than a basic wall oven. However, we're happy to report that the cost is more than justified. For the current sale price of $1,799 you get a plethora of features, high-end design, and some extremely even baked goods.
Whether you're a novice who still wants to cook Thanksgiving dinner, or an enthusiast who needs an oven that can micro-manage a recipe, this Electrolux has you covered.
Up next
Get Reviewed email alerts.
Sign up for our newsletter to get real advice from real experts.