Ovens
Frigidaire FFGF3047LS Freestanding Gas Range Review
A basic, affordable gas range.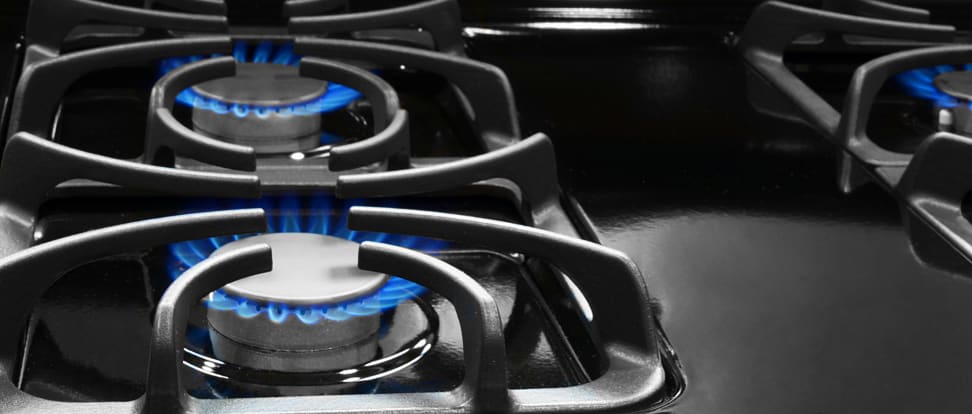 Credit:
From the Lab
We put the Frigidaire FFGF3047LS gas range through its paces in our testing facility, measuring everything from rangetop temperature variance to how evenly it can bake cookies. While it didn't earn high marks in every category, the FFGF3047LS performed well among ranges at its price point.
If you want to upgrade your gas range to a new model with stainless trim, the Frigidaire FFGF3047LS 30-inch freestanding gas range (MSRP $749) is just about the least expensive way to do so. You can find it on sale for under $500, which makes it one of the more affordable gas ranges on the market.
But affordability is just part of its appeal. The range has versatile gas burners and an acceptable oven—so long as you're willing to make some recipe adjustments. Fancy features aren't common at this price, but Frigidaire does include a simmer burner. Broiling is done in the drawer beneath the main oven cavity, and there's no self-clean option, which makes the FFGF3047LS feel like it belongs in an inexpensive rental—not a luxury home.
At the end of the day, though, the FFGF3047LS is solid for a sub-$500 range. Sure, you could easily find something more stylish, better at cooking, or more feature-rich—but not at this price point.
Design & Usability
Simple and functional
The 30-inch FFGF3047LS looks appealing enough, even if it's unlikely to win any beauty contests. Frigidaire elevated the range above other cheap models by covering the front with stainless steel trim, but there's still quite a bit of plain black on display.
Individual cast iron grates coated in a matte black cover each of the rangetop's four sealed burners, including the right rear simmer burner. The rangetop is controlled using knobs set at the front of the appliance, just above the curved, stainless handle used to access the 4.2-cu.-ft. oven. Further down, you'll find the matching handle that opens the broiler drawer.
An interior light comes on automatically when the oven door is open, but can also be manually operated via a button on the backsplash when the oven door is shut.
The electronic oven's control panel is located on the FFGF3047LS's backsplash, and includes little more than the most basic features. You'll find a Bake setting and arrow buttons that can be used to adjust temperature. The Broil button switches on the broiler—surprise, surprise—and allows you to choose between a Hi/Lo setting as desired. There's not much more than that—no convection mode or self clean—but at least Frigidaire included a digital clock and timer!
Oven & Broiler Performance
Our real world baking tests are an important component of testing. We put a sheet of cookies in the oven to see how the FFGF3047LS stood up to the task of baking. Cookies had pale tops and burnt bottoms, but followed this pattern consistently across the cavity. When we baked two cakes side-by-side, they also had dark bottoms and light tops.
Each cake was also burnt on the edge where the cake neared the side of the cavity. The fact that the two cakes had near-identical issues with browning—as the cookies did—means that you'll be able to manually compensate for the hotter bottom and sides of the cavity. We recommend you keep your food away from the edges and use a light-colored pan. Also, consider reducing bake times or temperatures to improve your results.
The oven preheated very quickly, reaching 350°F in 5 minutes 55 seconds. The broiler drawer was significantly slower, taking 9 minutes and 40 seconds to heat up to 600°F. That's a longer wait than we like to see from a broiler.
Rangetop Performance
Like all gas ranges, the FFGF3047LS's burners don't get as hot as electric or induction. Still, the rangetop surprised us by hitting temperatures that other gas ranges sometimes can't. Only the right rear simmer burner missed 400°F, maxing out at 358°F. The other burners exceeded this temperature by quite a bit: The right front burner led the pack with a max temp of 489°F, but the left front burner was no slouch with a max temp of 465°F. The left rear burner hit a solid 440°F.
Minimum temperatures were far more impressive. That right rear simmer burner dipped as low as 105°F, while the left front and left rear burners danced around minimum temperatures of 140°F. Only the right front burner neared 200°F, with a low temp of 181°F.
Boil times may have been the worst area performance-wise, but we found them at least adequate. The left front burner took around 8 minutes to boil 6 cups of water, and the right front took about 7. The back of the range was on the slower side, with the left rear burner boiling 6 cups in 10 minutes and 12 seconds, and the right rear simmer burner struggling to boil in under 30 minutes. Basically, as long as you boil on a regular burner, you won't be waiting all that long.
Rangetop
Excellent high and low heat
This Frigidaire offered up a surprisingly wide span of temperatures for such an affordable range. The simmer burner only reached 358°F—not a surprise, since it's designed for low heat—but we measured maximum temps as high as 489°F from other burners—very impressive considering that gas doesn't usually get as hot as electric or induction. You should be able to throw together a sizzling weeknight stir-fry with ease.
Low temperatures were especially excellent, with the simmer burner dipping as low as a mild 105°F and the others staying well below 200°F. Bakers will be able to melt butter and chocolate, while amateur sauciers can simmer to their heart's content. In fact, even ranges costing thousands more struggle to simmer this well.
The FFGF3047LS isn't terribly quick to boil water, but times we recorded weren't all that bad: roughly 7 or 8 minutes on the front burners for 6 cups of water.
Oven & Broiler
Gets by without convection
We didn't expect much from this small, 4.2-cu.-ft. oven—especially given the lack of a convection setting—but the FFGF3047LS turned out to do a good job regulating temperature throughout the cavity.
We baked a sheet of cookies in the oven and found they emerged with very dark bottoms and light tops. However, this browning pattern was repeated almost identically across all individual cookies. We also baked two cakes side by side and found darker bottoms as well—not an issue, since the two cakes matched. However, we did measure edges that were more burnt closer to the walls of the oven cavity. That's a sign of poor heat distribution.
Since the oven's performance was at least consistent every time we used it, there are steps consumers can take to make recipes fit the oven: reduce baking time, use a slightly lower temperature, place the pan on a higher rack, or use a lighter-colored pan. As long as you keep your food away from the extreme edges of the oven, the end result should be just fine.
The oven was lightning-fast to preheat, reaching 350°F in just under 6 minutes. The broiling drawer was decidedly more sluggish, taking a little less than 10 minutes for the drawer to reach the desired 600°F.
Why We Like It
Bang for your buck
-->
The Frigidaire FFGF3047LS is inexpensive and unassuming. Despite its stainless steel front and backsplash—a welcome addition to a real estate listing—it won't be a kitchen conversation piece. However, the food you make with it might be.
The rangetop is especially adept, with low simmering temperatures, above-average highs, and rapid boiling potential. The oven has some issues radiating greater heat on the bottom and sides, but makes up for this by otherwise consistently regulating temperature. Use it with care.
While we always like to see a convection option—or at least a standard pyrolytic self-clean cycle—the extremely affordable FFGF3047LS should give you your money's worth.
Up next
Get Reviewed email alerts.
Sign up for our newsletter to get real advice from real experts.