Ovens
GE JGB600SETSS Gas Range Review
One of the best conventional ovens we've seen.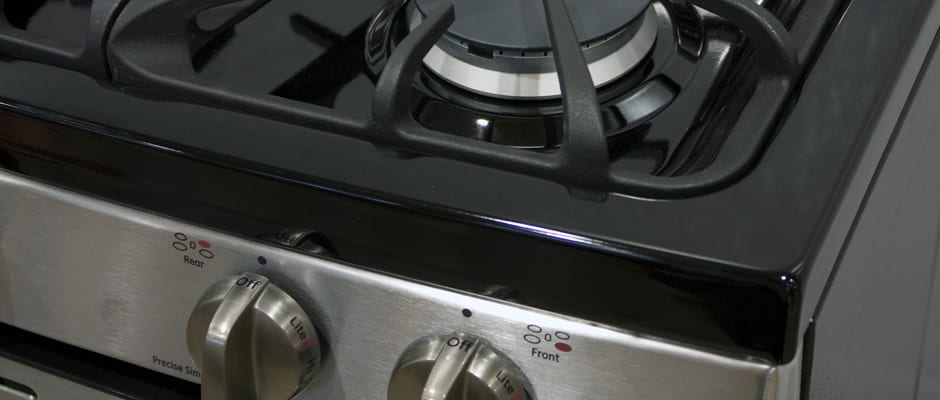 Credit:
Introduction
The is a low cost single oven gas range. Priced at about under a thousand dollars, it offers a basic set of features, but includes the basics that most users will need.
But despite all these basics, we've seen one of the most fantastic conventional ovens we've ever seen. This oven is a baker's delight. Perhaps a baker's delight only, as the rangetop and broiler are underpowered.
Front
Range-top
Upper Oven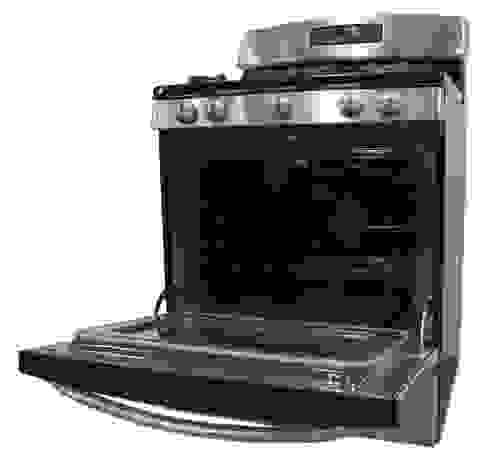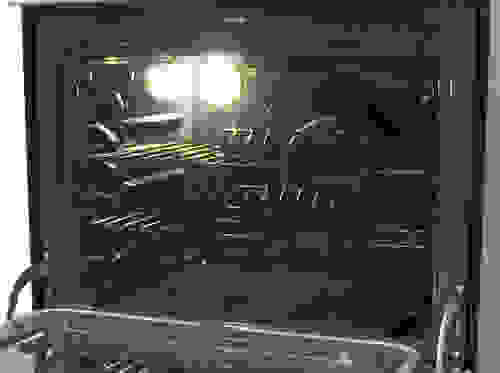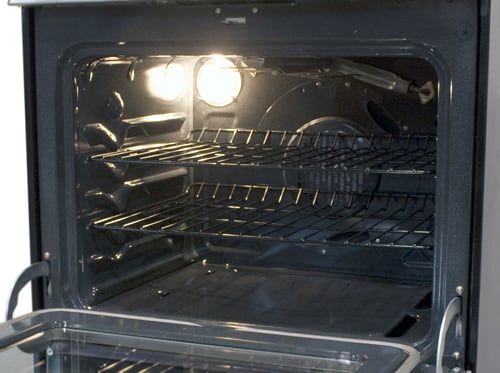 Lower Oven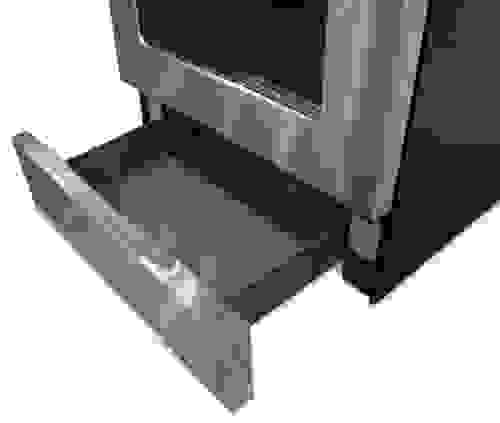 Cooking Performance
The performed weakly for our rangetop tests of boiling and searing, but performed incredibly well in our oven tests for averaging the target temperature, and staying close to that average on all settings from low to high. Don't buy this for its broiler, as it didn't perform well in our tests.
Range Performance Overall
The was a mixed bag in terms of performance. It managed to produce a good range of temperatures in our tests that simulate the bottom of a pan, but was rather slow to boil water.
Water Boiling
We did find one extremely fast burner, boiling six cups of water in five minutes, but the rest of the burners were very slow, boiling six cups in eleven and sixteen minutes. The simmer burner did it in forty minutes, but it's not suppose to boil quickly.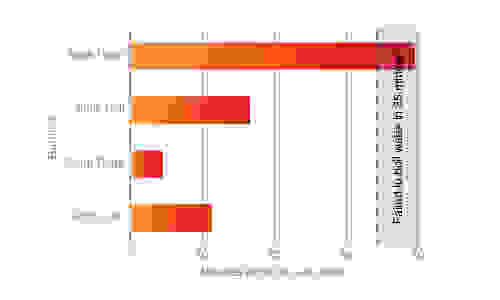 Low Temperature Cooking
The produced nice low temperatures in our simulated pans with the controls set to the lowest setting, with all four burners producing temperatures of around 120°F. That makes for a nice gentle simmer, which will mean that your sauces or soups will cook nice and slowly, and your other foods will keep warm, but won't get burned.
Range-top Temperature Range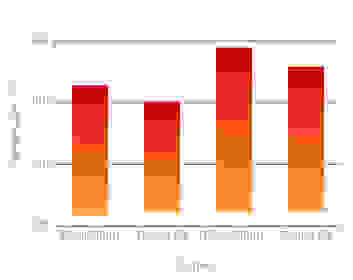 High Temperature Cooking
The burners are also capable of producing high temperatures: all of them managed to produce temperatures above 300°F in our simulated pans. The back left burner could produce the highest temperature of 389°F. This means that they can produce a lot of heat for frying or searing meat.
Overall Oven Performance
The single oven on this model had decent performance, as it was capable of producing a decent range of temperatures and keeping these temperatures consistent over time. However, we did find that the keep warm temperature was rather high, which could mean that your food dried out a little quickly if you like to cook in advance.
Target Temperature Accuracy
The range of temperatures that the oven of this range could produce was fairly wide, ranging from 172°F up to 582°F. That is rather warmer at the lower end than we like to see, though, as most ovens are able to produce temperatures that are closer to 150°F than 175°F. Although the difference is not huge, it could lead to food that is stored in the oven to keep warm drying out over time, which could be a problem if you need to cook in stages.
Temperature Fluctuation
Although the temperature range was not ideal, this oven did do a good job of regulating the temperature, with the temperature in all of our tests varying only slightly over time. In particular, we found that the temperature in our test at 350°F was very stable, which means that anything that gets cooked at around this temperature should get cooked very evenly, and without major issues.
Broiler Performance
We found that the broiler had only lackluster performance. In particular, it was rather slow to heat up, managing to raise the temperature of our test plate to only 457°F in the 16 minutes that we test for. Other ovens had already reached 600°F and higher by this time, which is the optimal broiling temperature. So, this broiler would be slow to heat up and would broil slower than others.
Broiler Features
The broiler is a no-frills model that is located on the top of the oven cavity. It is placed so that the top setting for the oven rack is fairly close, but no dedicated broiling rack is included: you will have to buy one separately if you do a lot of broiling.
Overall Efficiency
We test the efficiency of all ranges by measuring the amount of gas or electricity they use when running, and we found that the used less gas than most, meaning it will cost less to run in the long term.
Range Efficiency
The five burners of the were not huge gas guzzlers: with the outer four of them running, we found that the range consumed just under over 43,500 BTU of gas, which is lower than most.
Oven Efficiency
The oven was also quite efficient: running at the highest setting, it used about 17,308 BTU of gas, while the Broiler used just over 14,250 BTU. Again, both of these numbers are lower than average, but the oven is not as efficient as the range top.
Features
The has five gas burners on the range top, which range from the 5,000 BTU back right burner to the much more powerful 17,000 BTU front right burner. The large burner in the center of the range top is a fish burner (so called because of the shape, which is designed to allow you to cook a whole fish) that is rated at 6,000 BTU.


The single oven has a capacity of 5 cubic feet. That's a little smaller than most, but it is still large enough for several dishes at once. It comes with three racks, and there are just five positions for these. That is fewer than most, so the racks are not as flexible as other ranges.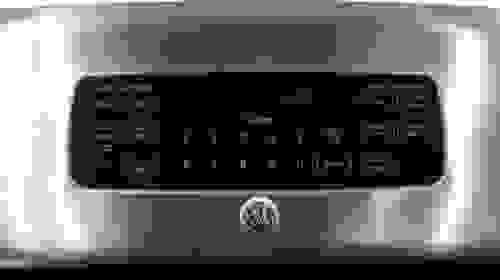 The usual timer controls are available from the control panel. These allow you to set alarms or to set a delayed start for the cooking process.
Controls
The burner controls are plastic and are smaller than most. They are well latched, though, and require a lot of force to push in and turn for use. That is a good thing, as it means that they are unlikely to be turned on by accident if you lean against them. The automatic lighter worked well in our tests, but it is possible to turn the dial without triggering the lighter if you turn it quickly, so you might occasionally turn the ring on without lighting the gas.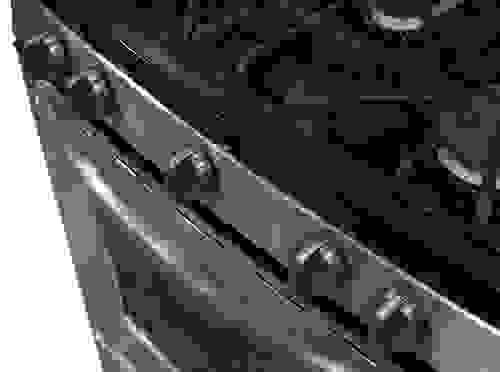 The oven controls are touch buttons, with indicator light above some that light up when the option is selected. These buttons have a good positive feel, and an audible beep indicates when they have been pressed. Next to this is a 3-dight LCD display, which is somewhat smaller than most. This LCD display is rather dim, especially in bright light, and the small display means text message scroll by very fast.
The controller panel is smaller than most, but the fact that it has fewer buttons means the buttons are a decent size, and the labels are large enough to read from a distance.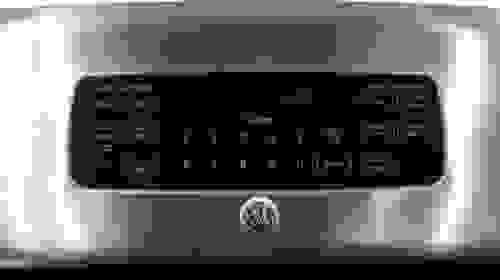 The broiler is controlled by the same touch button panel as the oven, so it shares the same pros and cons. There is no way to control the level of broiling here: it is just on or off.
Cleaning
This range uses a pyrolytic cleaning system, where it tries to remove dirt from the oven interior by heating the oven to bery high temperatures to burn them off. This method is effective, but requires more time and uses more energy than the steam cleaning system that other ovens offer.
Conclusion
The is a balancing act: it offers a good selection of features, but without some of the high-end features that other models offer. It is well priced at under $1000, but it still offers very acceptable performance for the price. And, as such, it will hit the price/performance sweet spot for many people who want a 5-burner range that performs well, but without breaking the bank.
If you are a baker or someone else who requires a high performance oven in the kitchen, this is one of the finest conventional ovens we've seen.
Up next
Get Reviewed email alerts.
Sign up for our newsletter to get real advice from real experts.